Davis '17 Pens Debut Novel, "Everything Must Go"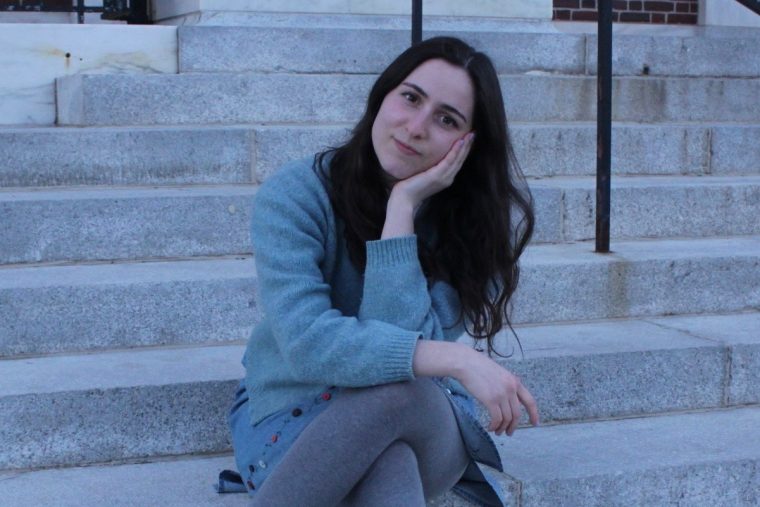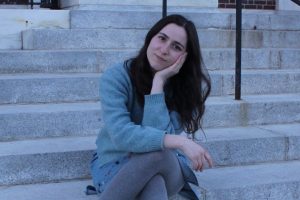 (By K Alshanetsky '17)
Since graduating just last May, Jenny Fran Davis '17 has become a published author with the fall release of her debut novel, Everything Must Go. The story revolves around Flora Goldwasser, a teenager from New York City who has just transferred to a rural, Quaker boarding school in her junior year. Through a collection of journal entries, e-mails and other archived materials, Flora pieces together her experience and lets readers into her tumultuous period of adjustment.
Davis wrote the book in her freshman year of college and spent the next few years editing, before landing a contract for two novels with St. Martin's Press in 2016. In this Q&A, Davis discusses how it feels to be a published author, in what ways her time at Wesleyan has impacted her writing and what readers can expect from her next book.
Q: Since you were much younger during the writing of Everything Must Go, is it strange to reread now, years after authoring it?
A: It's very strange and discombobulating to read it and talk about it now, and it's funny to see all the issues I was so earnestly and deeply concerned with as an 18-year-old on clear display in the book. I do feel like the book and I grew together to a certain extent, because I edited it over the four years between its writing and its publication, so there's definitely an underlying kinship. But I still see it as a reflection of a slightly younger version of myself, because the revision process was devoted to clarifying and complicating the issues broached in the initial draft. I guess that's hard to avoid in writing, because the publishing process is so long, but college strikes me as a uniquely formative four years, so the contrast is more pronounced. I wasn't initially writing with the intent to publish, especially because so much of what's in it was based on my and others' experiences—the early drafts read much more like autobiography. But as I edited, it moved away from me, and I began to shape it in ways that felt less personal. Then it felt easier to try to publish it.
Q: How are you taking what you've learned from working on your first novel into the writing of your second book?
A: Writing the first book has been very instructive. It's been a lot harder and more taxing to write the second book, partly because I'm a bit burnt out from college and writing the first book, and partly because it's a project that's challenging on another level. But writing and revising Everything Must Go really taught me how to write a book—what a book is, what a book needs in a general sense. I do think that the category of the novel can and should be tested, and that's sort of what I'm trying to do with Book Two: thinking about writing about ourselves and other people, making others characters and characterizing ourselves. Broadly, it's about a group of editors of a teen feminist magazine coming of age as mostly queer women and using philosophy, literature and art to situate themselves.
Q: Your book has been classified as a young adult (YA) novel. In the future, do you plan to continue writing in this genre?
A: I'm not opposed to it, but what I'm more interested in these days is more experimental stuff: theoretical fiction and auto-theoretical nonfiction. I didn't really know that I was writing a YA novel until I decided I wanted to publish it and was forced to categorize it in some way. In Britain it's being sold as adult fiction, because they don't have as robust of a YA genre over there. It's an odd book that I don't fully understand, and it's one that I think can be described as a crossover, another made-up category.
Q: Was there any particular professor or text that you were assigned to read as an undergrad that has influenced or stuck with you?
A: Most of the literary analysis that Flora does in the book comes out of work that I've done in classes at Wesleyan and in high school. It's a really neat thing to be a student while writing a book, because you can slip into these modes of double-thinking, thinking as both a literary analyst and a writer. Suddenly everything you read is applicable and pertinent. Jane Eyre (Charlotte Brontë) and Emily Dickinson are foundational and contribute to a particular canon of writing by and about women, but I found myself thinking about more contemporary novels as I wrote, as well as media texts like newspaper and magazine articles (I read a ton of Rookie) and e-mails and texts from friends. I loved studying Sylvia Plath (The Bell Jar), Jacqueline Susann (Valley of the Dolls), and Toni Morrison (Beloved and The Bluest Eye) with Sally Bachner in my Women's Lib, Women's Lit class, and reading Roxane Gay in a Writing through Trauma student forum was very exciting and momentum building.
Q: What has it been like to publish a novel only a few months out of college? How has this impacted your post-grad experience?
A: It's been weird! I had a ton of anxiety throughout the spring and summer, and it didn't start to get fun until the fall, when the book came out and it was time to celebrate it. Now it feels sort of normal, and everything has mostly settled down, but the anxiety persists. I don't know if it will ever go away, which is a thought that doesn't scare me as much as it used to. The task of writing Book Two this summer and fall has made me realize how much I need structure and stimulation in order to keep writing, so I don't think I'd ever be able to handle writing full-time. I started working at a vegan café and yoga studio in Cambridge, where I live, and it's been sufficiently inspirational.
Everything Must Go is available at the Wesleyan RJ Julia Bookstore.