In this continuing series, Annie Roach '22, an English and Italian studies major from Northampton, Mass., reviews alumni books and offers a selection for those in search of knowledge, insight, and inspiration. The volumes, sent to us by alumni, are forwarded to Olin Library as donations to the University's collection and made available to the Wesleyan community.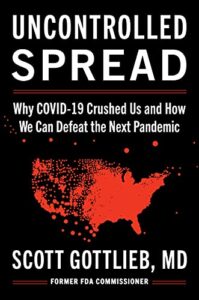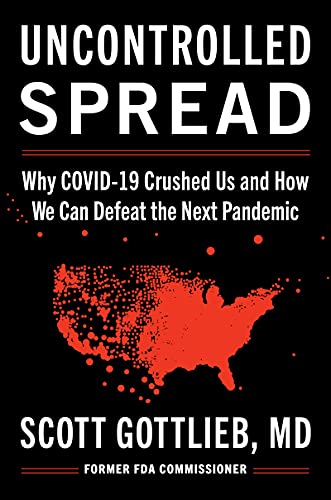 Scott Gottlieb '94, Uncontrolled Spread: Why COVID-19 Crushed Us and How We Can Defeat the Next Pandemic (Harper, 2021)
Since March 2020, the news cycle has been riddled with despair, conflicting information, and false theories. Even with vaccines, social distancing, and masking, COVID-19 isn't going away, and the next pandemic could be around the corner. Since our realities have changed so much, it's hard to pinpoint where and when exactly the United States (and the world) went wrong in handling the COVID-19 crisis, and what the best steps are moving forward. In his new book Uncontrolled Spread: Why COVID-19 Crushed Us and How We Can Defeat the Next Pandemic, physician and former FDA commissioner Scott Gottlieb addresses everyone's most pressing questions concerning the COVID-19 pandemic and consolidates his answers into a strong, cohesive narrative.
Gottlieb offers a path forward that is hopeful yet urgent, compelling his readers and the American government to be proactive about preventing a future crisis that could be even more devastating than the one we've already experienced. Using historical knowledge, epidemiology, and political science, Gottlieb forms a strong argument that will leave readers with a clearer understanding of the world we've been inhabiting and a more urgent mission to improve its future.
Scott Gottlieb is a resident fellow at the American Enterprise Institute. He served as the twenty-third commissioner of the US Food and Drug Administrator and is a contributor to CNBC and a partner at New Enterprise Associates. He is a member of Wesleyan University's Board of Trustees. He is on the board of directors of Pfizer Inc. and Illumina, Inc. He lives in Westport, Connecticut.