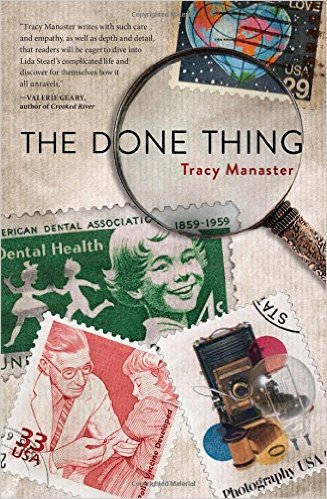 In The Done Thing (Tyrus Books, 2016), author Tracy Manaster '01 introduces us to Lida Stearl, a newly retired widow growing more obsessed each day with her ex-brother-in-law Clarence, on death row for the murder of her sister almost 20 years earlier. We watch as Lida strikes up a correspondence with Clarence while posing as a naïve twenty-something in need of a friend. We witness the rawness of Lida's pain when she realizes that her niece Pamela, whom she raised as her own, has been in contact with the man she has despised for all these years. And we stand by helplessly as we observe Lida's obsession, once kept in check by her marriage and her career, spiral out of control—setting in motion a chain of events that threatens to destroy the one thing that matters most: her relationship with Pamela. Library Journal, in a starred review, says, "Manaster has written a deeply human and morally saturated novel, with captivating language. Don't miss this sympathetic examination of how a tragic incident can irrevocably change a life's course." While Publishers Weekly says, "In this engrossing story about the effects that vengeance can have on love, Manaster refuses to take the happy, easy way out, instead leaving her strikingly relatable characters with just enough room to breathe."
In this Q&A, Manaster talks about the characters she brings to life in The Done Thing.
Q: Where did the idea for The Done Thing come from?
A: The Done Thing had its inception in the worst short story written in the 80-year history of the Iowa Writers' Workshop.  In an attempt to settle a pretentious bar argument about whether or not a piece could have both a twist ending and emotional heft, I had a proto-Lida—I think her name was Joan—puttering about her house in a state of focused fury, knowing that miles away in Arizona a proto-Clarence was being executed for the death of her sister. The twist was that because Arizona does not observe Daylight Saving Time, she misses the actual moment of his passing.
It was a terrible story. I lost the argument. The twist robbed the narrative of emotional resonance. But the premise was a good one, meaty enough to carry a book, and I began to hone in on Lida: her voice, the world she navigates, the impossible resolution she craves. It took nearly a decade—and everything I learned from writing, editing, and publishing my debut, You Could Be Home by Now—for me to become an adept enough writer to be equal to that voice.
Q: Was it always your intention to create a character like Lida, with whom we empathize, even when she's at her worst? Was it a creative struggle to keep that balance in mind—the fine line between righteous anger and going too far—as you moved through the story?
A: After the initial "hey, wow, this could be an actual book" inspiration, Lida's essential character gave me very little trouble.