Alumni, Faculty Discuss Russia's Return to the World Stage at Shasha Seminar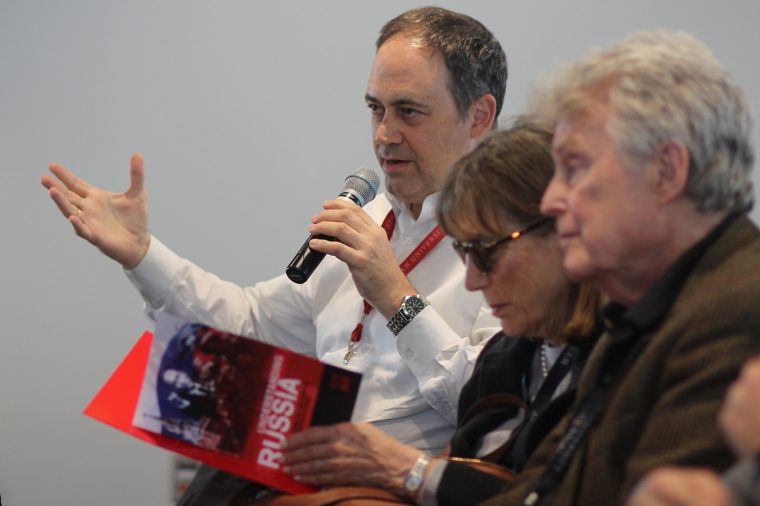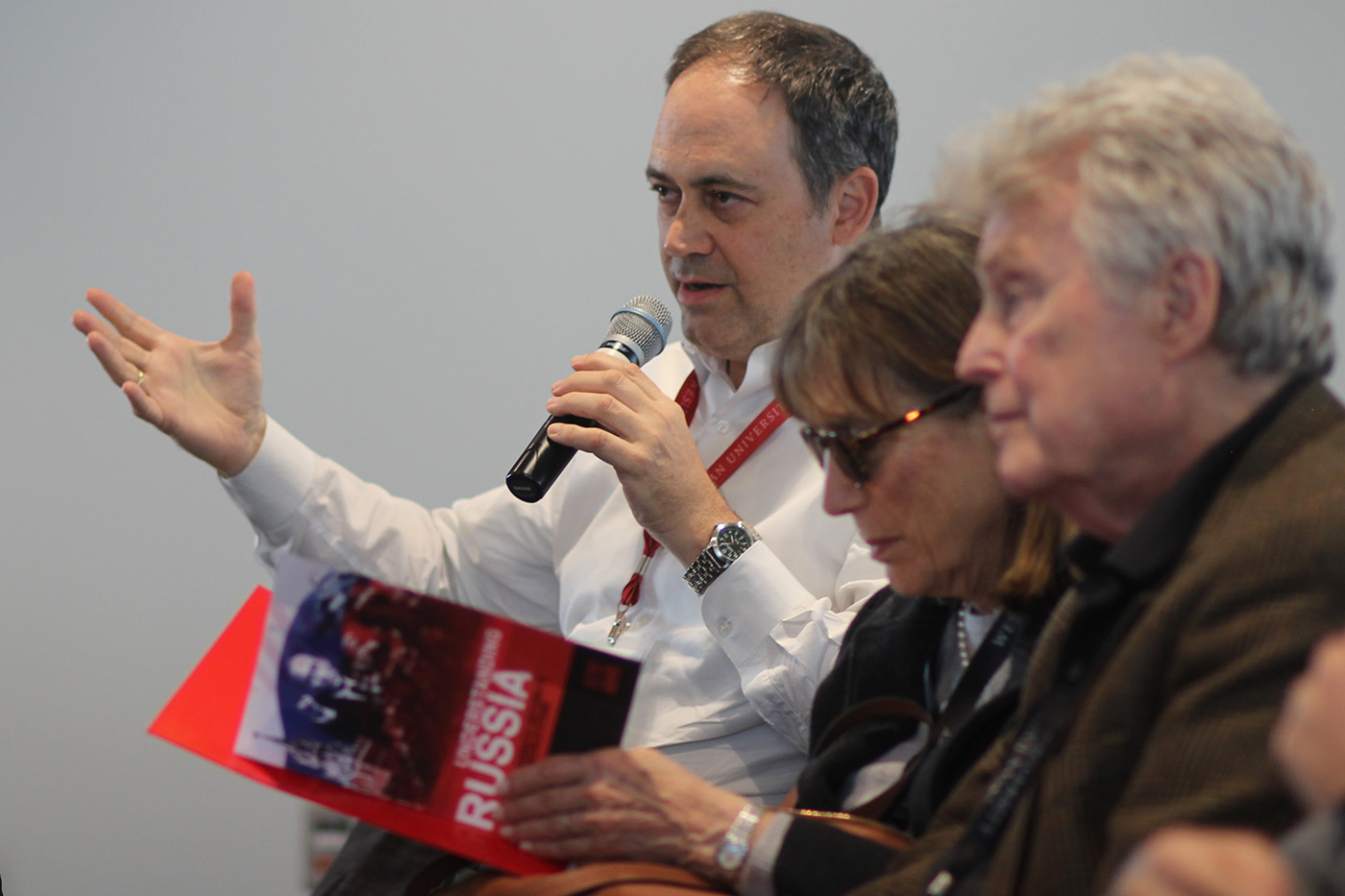 Russia has returned to the world stage in dramatic fashion in recent years with military interventions and interference in elections.
What is driving this aggressive behavior? Will the current political system survive the scheduled departure of its architect, Vladimir Putin, in 2024? How should the United States deal with Russia?
On Oct. 11–12, Wesleyan alumni and faculty panelists tackled these questions and more during the 2019 Shasha Seminar for Human Concerns. This year's theme was "Understanding Russia: A Dramatic Return to the World Stage," with Peter Rutland, the Colin and Nancy Campbell Professor in Global Issues and Democratic Thought, serving as this year's director. Rutland works on contemporary Russian politics and political economy, with a side interest in nationalism. (For a Q&A with Rutland, previewing the seminar, click here.)
The Shasha Seminar for Human Concerns, endowed by James Shasha '50, P'82, supports lifelong learning and encourages participants to expand their knowledge and perspectives on significant issues.
Andrew Meier '85, associate professor of writing at the New School in New York City, delivered the Shasha Seminar's public lecture titled "Russia and America: What Is to Be Done?" in Memorial Chapel. A former Moscow correspondent for Time, he is the author of two award-winning works of nonfiction: BLACK EARTH: A Journey Through Russia After the Fall (W.W. Norton, 2003), widely hailed as one of the best books on Russia to appear since the end of the USSR; and THE LOST SPY: An American in Stalin's Secret Service (W.W. Norton, 2008), a biography of the first-known American to spy for the Soviets, Isaiah "Cy" Oggins.
"Andrew Meier did an excellent job on Friday night of conveying the broad canvas of Russian history from the fall of the USSR to the present," noted Rutland. "He stressed the importance of understanding generational change, that the culture of young Russians is very different from the Soviet era. Thia set the scene nicely for the opening panel on Saturday, which was about popular culture in contemporary Russia. It was very satisfying to see how the disciplines of literature, history and political science were able to talk to each other and build on each other's insights."
On that second day of the seminar, 13 alumni and three Wesleyan faculty led a series of four panels on culture, history, politics, and business. (View all bios online here.)
The culture panel discussed the prickly relationship between art and power in Russia and questioned what contributions from Russian culture still speak to us in 21st-century America. Panelists included Susanne Fusso, Marcus L. Taft Professor of Modern Languages and professor and chair of Russian, East European, and Eurasian studies; Lindsay Ceballos '07; Elizabeth Papazian '91; and Emily Wang '08.
The history panel focused on narratives that Russians have constructed to explain traumas of 20th-century Russian history. Panelists included Roman Utkin, assistant professor of Russian, East European, and Eurasian studies; Victoria Smolkin, associate professor of history; Amy Randall '89; and Ilya Vinkovetsky '88.
The politics panel explored how public opinion constrains Kremlin decision-making and ways elite factions are positioning themselves to handle the transition to post-Putin Russia. Panelists included Anthony Richter '84, David Abramson '87, Danielle Lussier '98, Lauren McCarthy '01, and Elizabeth Plantan '10.
A panel on business and careers discussed the trajectory of Russia's economic development, the prospects for foreign investors, and the range of careers available to graduates in Russian studies. Panelists included Nancy Herzog '90; Ian Hague '83, P'18; Kate Hardin '90, and Lydia Tomkiw '11.
"It was a striking example of the kind of cross-fertilization that is possible in a small university/liberal arts college environment—and only possible in this case thanks to the Shasha Seminar, bringing together the alumni and current students," said Rutland.
Students concurred. Junior Max Mayer '21, who had entered Wesleyan believing he would be an art history major is now a government major and enrolled in Rutland's class on Russian politics. "I had the opportunity to speak individually with some of the alumni who came. I sat down with one of them for about 20 minutes and talked about a career path," he said, noting his appreciation for both the individual attention from and interactions with the alumni community which the seminar made possible.
Perhaps Mayer's favorite session, he said, was the one on Russian culture. "I have a big interest in Russian film, and I actually got the opportunity to pose an interesting question to the panel about how funding for the arts works in Russia for film, a question I'd been curious about for a while. I asked the panel about the funding for Leviathan by Andrey Zvyagintsev, which came out in 2014. The film is very critical of the current regime in Russia. And the panel said that there were some repercussions for Zvyagintsev, because of the content of this work."
Dmytro Babachanakh '20 remarked on the variety of the programming. "What made the seminar great was that there were many speakers with different backgrounds: academia, government, private organizations. I was glad to hear from them because some of their career trajectories were of interest to me, and it was great to have an opportunity to chat informally," he noted. "And I was surprised to see many alumni who were not speakers show up, some of them graduating as early as 1949. It seems that the Russian Department produces a strong and dedicated cohort of alumni."
In summary of Saturday's events, Rutland noted, "We were able to critically examine Russian politics and society and look for areas of common interest and possible future progress, without disguising the political challenges the country faces and the pernicious aspects of the regime's behavior at home and abroad."
Mayer, who also noted the high level of engagement he'd felt during the seminar, added, "The fact that we had this opportunity and were encouraged to take was, really, a gift. I'm thankful to the Shasha family for making it possible."
Photos of the Shasha Seminar are below: (Photos by Nick Sng '23 and Kayleigh Schweiker '22)