Palmer '98, Pope to Showcase Semester's Work on Dec. 9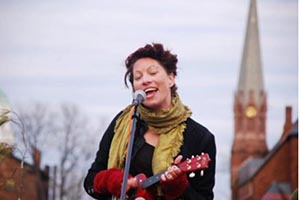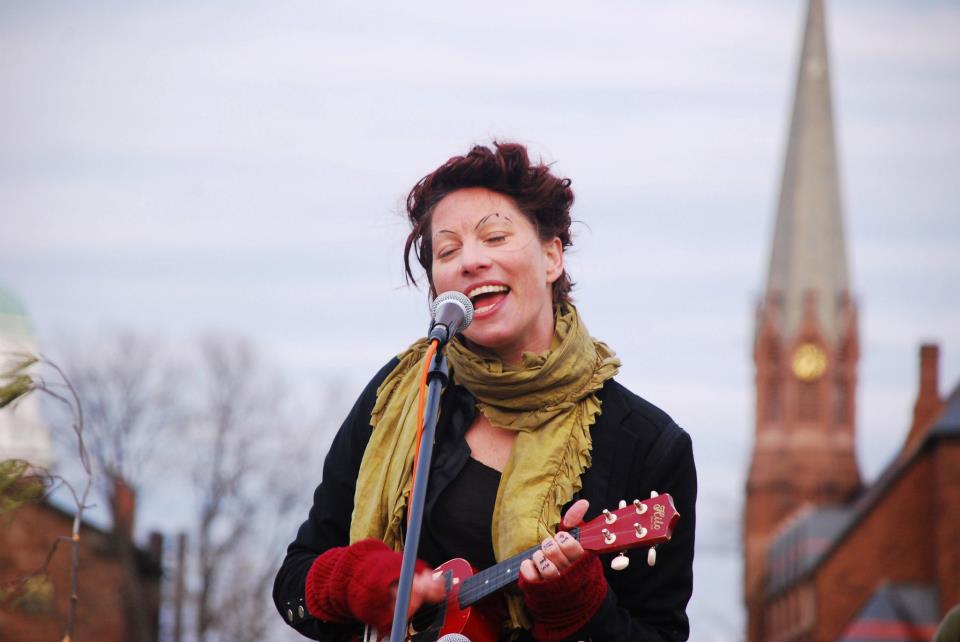 This fall, singer-musician-writer Amanda Palmer '98 and award-winning independent filmmaker Michael Pope teamed up to teach The Art of Doing: Creative Project Production and Making It Happen. On Saturday, Dec. 9, at 8 p.m., Palmer, Pope and their students will screen the class's final project—a music video for an original song by Palmer, inspired by a free-writing exercise with the students—at the Goldsmith Family Cinema at Wesleyan, followed by a short performance by Palmer. Seating for the free event is limited. Doors open at 7:30 p.m.
In this Q&A, Palmer and Pope reflect on their experience this semester.

Amanda, what's it like to be back on campus in such a different role? Scary? Empowering?
Amanda Palmer [AP]: Both! It's really bizarre to be walking the same paths in a different body. I had a lot of difficult times as a student here and a lot of my brain-energy is spent resisting regret. But that's a really worthy brain-activity, don't you think?
You had a particular experience as a student at Wesleyan. How do you think that experience influences how you approach teaching and the students?
AP: I think one of things I resented most as a student was teachers being patronizing, so I've clutched that reminder close to my chest, and I've approached these students as collaborators, not "people who are here to learn from me," but "people who I am working with right now." I wish I'd felt more like that in my classes.
What's your role in the class—team teaching or a guest?
AP: [Michael] Pope has definitely done 97 percent of the teaching, and I've joined in the class as an active participant and guest artist. The entire point of the class was to harness our collective creativity and make a song and music video together, with Pope at the helm of the video and me at the helm of the song, and what we've created is actually pretty magnificent—we just finished shooting. I'm incredibly proud of everybody.
How did you prepare for the class? Did the two of you work out who would do what or did one of you come up with the format and the other figured out where to fit in?
Michael Pope [MP]: Amanda and I hammered out the basics together. We knew we didn't want to offer a straight up video production class as much as a class that focused on distilling ideas—often undoable grandiose ideas—into actual creative action.
You've worked together on many projects over the years. How is it different working together in this capacity rather than as musical/artistic collaborators in a less "restrictive" environment? Are you both on the same page in your thinking—or did you just let things evolve?
AP: We're totally on the same page, which is why a teaching collaboration like this can work. And I'm used to being in Pope's passenger seat; don't forget he's directed me in a dozen videos, so I'm used to giving him my input and letting him take the keys to drive.
MP: We're both generally a head bump or two from being on the exact same page and we're both fully committed to the evolutionary aspect of both this class and the creative process in general. So in that regard there really isn't much of a difference at all. Generally speaking, Amanda's schedule made her somewhat of a visitor to the classroom, which we understood would be the case, but that is the primary difference between how we normally work together.
How would you describe your teaching style? Is "the trip the thing," as Kerouac would say, more about the process than the product or…?
AP: The Trip is Totally the Thing!!! I think it's a lot like parenting, actually, which I've also been doing recently. A therapist friend of mine once said: "It isn't what you say to people, it's how you say it. And it isn't even how you say it…it's how you are with them." This is so true. It's like: I'm an artist-person, in a room, trying to work with you. I'm going to share the greatest teachings by my quality of patience, and graciousness, and compassion. I remember one artist coming to Wesleyan and just being short and snippy to all the students, and I was like: What is that teaching your students? It doesn't work like that. You get way more done—in the cosmic sense—when you're nice to everybody.
MP: At first glance, anyone that's worked with me would say with total certainty that I'm a "process" artist. There is a real emphasis on a fully engaged, dynamically challenged camaraderie that is wholly in service to the highest ideal of the project. That being said, we are always looking to MAKE A THING. And we aim without hesitation—to make that Thing truly awesome. So in that way, I really don't separate the end result from the process itself. The product is as much a part of the process as the process of making the product is. That's my tongue twisting answer to that.
Which of your strengths do you think makes you a good teacher—and which of your weaknesses makes teaching a challenge for you?
AP: Ah. I think my own insecurities are always the killer. DO THESE KIDS LIKE ME? has been my endless refrain since I was 6, and it hasn't gone away.
MP: Well, I'll leave the strengths for others to determine, but just add that the thrill I get out of the creative process is absolute, and that can help get a group to the other side of a project even through rough waters. That and the fact that I've failed miserably at every great thing I've ever accomplished so I don't get thrown off by the seemingly impossible.
How's the collaborative dynamic in the class?
MP: The short answer is: Amazing. The work many of these students are doing is beyond the confines of their various skill sets. Their ability to collaborate and cooperate is truly notable, and during the actual shooting days they were doing this in real-time onset weather conditions that were really tough.
Do either of you have any past influences—teachers in our outside of the classroom—who really spoke to you? Are you bringing some of those influences to your teaching?
AP: Oh, yes. A lot. Both Pope and I channeled my theater mentor, Steven Bogart, a ton. He was my greatest teacher in high school and I still work and collaborate with him to this day. He had an incredible generosity of spirit and never acted like a teacher. He just acted like a director who wanted to make amazing theater and his actors happened to be between 14 and 18. His trust and faith in our intelligence changed my life.
MP: My own greatest teachers were outside the classroom. But I think the two strongest influences have been watching the way my brothers raised their kids. A combination of caring and knowing no one involved is going to always get what they want and how to move forward in that dynamic.
Amanda, you're known for your commitment to—and protectiveness toward—your community of fans. I think I read somewhere where you described that relationship like a marriage: even when it's hard, you put them first.
AP: I try. It's hard now that I have a baby—it's like being in a three-way marriage. Maybe four if you count my husband.
How has becoming a mother changed your philosophy, if it has? Has it made you more or less critical or yourself—or more or less accepting? Has it affected your work and your work process?
AP: It's definitely made me more productive in an hour-to-hour way. I don't diddle around on the Internet, I don't waste time with my thoughts. There's too much to do and not enough time in which to do it.
And it's made me a better, more focused feminist. Being a mom can be like being stuck in a ghetto, and I'm now in this ghetto with billions of women and I'm like: This is ridiculous. We're amazing. Why are we letting them PUT US IN HERE!? LET'S GET OUT. See: My new video for "Mother," in which I breastfeed the [U.S.] president.
Tell us about the video project for The Art of Doing. Which song is it for—and why did you choose that particular song?
AP: The song was written in a quick session inspired by a bunch of pieces of paper that the students handed me with their free-writing on a topic I gave them. Then I wrote and I handed them back the song, and then they handed US back the video treatments. It's about feeling trapped by someone who wants to "fix" you—and it's great. The song is called "How Would You Like To Play God?" We shot the entire video in an abandoned house on campus and it was FREEZING COLD. I think that was probably the biggest test of the students' willpower: enduring a shoot with no heat. I've been there before, it's a rough one. And we all made it out the other side, and the footage is STUNNING.
MP: The video shoot was less of a process of "teaching" them in a classroom and then letting them loose with gear than it was a bitter cold real-time onset production classroom, where they were expected to step fully into their roles while holding firm to the collaborative nature of the project AND learning things they simply did not know—while freezing their tails off. I wouldn't wish it on my worst enemy, and I wouldn't trade it for anything in the world.
Michael, what's next for you?
MP: I'm in the midst of a new transmedia project titled SYNEMATIKA, and the themes I've been working with—quantum poetic distillation and the physical nature of human imagination—directly informed class design. That overlap made it possible for me to take the time away from my own production work, as I was essentially attending a kind of development lab.
Amanda, now that you've "conquered" teaching, what's next on your bucket list?
AP: Broadway? With live babies?