17 Seniors Elected to Phi Beta Kappa Honor Society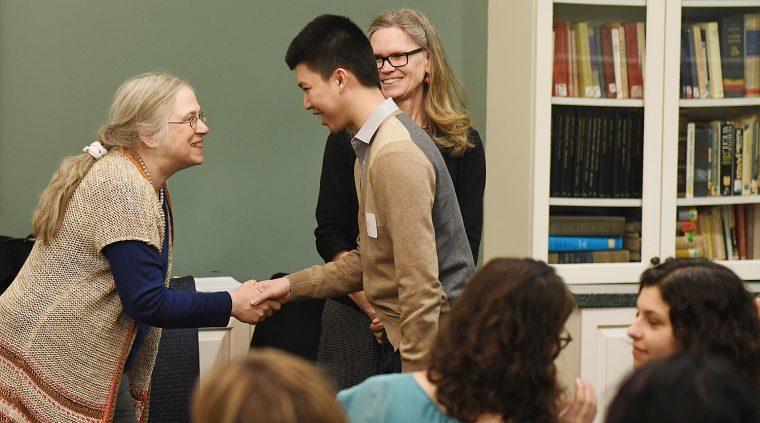 During an initiation ceremony on Dec. 6, 17 Wesleyan seniors were elected to the Connecticut Gamma Chapter of Phi Beta Kappa honor society.
To be elected, a student must first have been nominated by the department of his or her major. He or she also must have demonstrated curricular breadth by having met the General Education Expectations and must have achieved a GPA of 93 and above. During the ceremony, Gamma Chapter PBK President Steven Horst, professor of philosophy, professor of science in society, said this class has a 94.4 GPA and above.
"For students elected this fall, it is an especially exacting selection process because admission is based on a student's performance at Wesleyan only through their junior year," Horst said. "These new members' accomplishments during their years at Wesleyan should be a source of pride for themselves and to their families."
The new inductees and their majors include: Celeste Barnaby, computer science and mathematics; Natalie Bina, sociology and data analysis; Christina Glusac, psychology; Mira Guth, science in society; Talia Kaplan, government; Lila Levinson, neuroscience and behavior; Xiping Liu, mathematics; Maya Marshall, chemistry and Hispanic studies; and William Moss, history and religion.
Also Hui Yao Ong, College of Letters and English; Katherine Paterson, environmental studies and theater; Sophia Shoulson, College of Letters and German studies; Christina Sickinger, economics and German studies; Sonya Sternlieb, American studies and biology; Aaron Stratton Stone, chemistry and mathematics; Olivia Won, environmental studies and science in society; and Rebecca Zegans, philosophy and psychology.
Phi Beta Kappa was founded by five students at the College of William and Mary in Williamsburg, Va., in December 1776. John Heath, the first president of Phi Beta Kappa, was determined to develop a student society that would be much more serious-minded than its predecessors at the college, one devoted to the pursuit of liberal education and intellectual fellowship. The Greek initials for the society's motto, "Love of learning is the guide of life," form the name Phi Beta Kappa.
Dean Louise Brown, secretary and marshal for Phi Beta Kappa, presented the new initiates with their certificates of membership. The students also were congratulated by Horst; PBK treasurer Krishna Winston, the Marcus L. Taft Professor of German Language and Literature; Karen Collins, the Edward Burr Van Vleck Professor of Mathematics; and Joyce Jacobsen, provost and vice president for academic affairs.
"You have worked hard to get to this point and it is our hope that as you move into your future, you will continue to employ the work habits and ethics that have served you well thus far," Horst said.
Photos of the initiation ceremony, which took place in Downey House, are below. (Photos by Olivia Drake)