Chanda '96, Peltzman '96 Podcast With WNYC Studios Has Fleas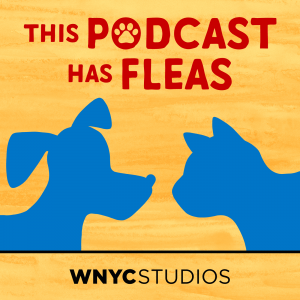 On Dec. 4, This Podcast Has Fleas, a partnership between WNYC Studios and kids' television veterans Adam Peltzman '96 and Koyalee Chanda '96, joined that studio's roster of innovative audio programming and signaled its foray into children's podcasting.
This Podcast Has Fleas is six-episode scripted comedy series about a dog, Waffles (Emily Lynne), and a cat, Jones (Jay Pharoah), who live in the same house, each hosting their own competing podcasts. Additional household pets are a goldfish played by Alec Baldwin and a gerbil played by Eugene Mirman.
Chanda and Peltzman, whose television credits include Blue's Clues, Wallykazam! and the Emmy-winning Odd Squad, The Electric Company and The Backyardigans spoke with The Wesleyan Connection about their path from Wesleyan into children's television programming, and now into their newest audio project.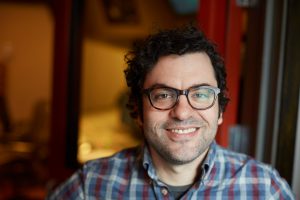 Connection: How did you two start your collaborations?
Koyalee Chanda: We were close friends at Wesleyan, and after we graduated, we both had an interest in kids' content. We moved to Brooklyn within a few months of each other and we'd meet at a coffee shop and brainstorm kids show ideas.
Q: Why kids' programming?
Adam Pelzman: Koyalee thought of it first. In senior year, while the rest of us were having angst about "I don't know what I want to do," she would say: "I want to work with Muppets," which she eventually did. I was an English major. I had done a lot of writing, some teaching, and a little improv. Kids' television seemed like it could combine those things.
KC: I was a theater major. I knew I loved directing, but if I were to climb to the top of the theater ladder, I would be serving a very small and privileged audience. Instead, I wanted to throw myself into something where I'd get to reach a wider audience. I wrote my thesis on Theater of the Absurd and loved Samuel Beckett, but really, when it came to choosing content to watch, it was my Muppet and Pixar DVDs.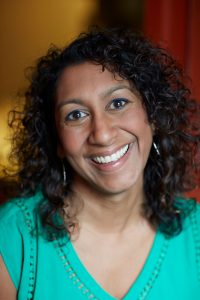 Q: What kind of community do you find in this industry?
AP: People who work in kids' TV are in it for the right reasons. They're a friendly and thoughtful bunch that cares about the content they're putting out there; it's a good community.
KC: It's an industry with integrity: the people have a deep sense of responsibility to their audience. I was happy to be part of that.
Q: What makes a kids' program successful?
AP: You have to get a kick out what you are creating in order to bring life to it. This podcast started purely with an idea that just made Koyalee and me laugh, so that was a perfect starting point.
KC: Often the nut to crack is how to be funny and have heart. The kids' content that appeals to me personally has both of these things.
Q: And how did you move from television to podcasting?
KC: A few years ago a younger co-worker of ours asked, "Why aren't there any kids' podcasts?" Now since then, there have been some really great kids' podcasts produced, but at the time, I found only a few—lullabye and storytime podcasts—and they were all geared towards younger ones. So we started brainstorming about what would be our take on a podcast for kids.
It was Adam who came up with the idea that a podcast for kids would be like a cartoon without pictures—and we started asking ourselves well, what could that mean? How do you create an immersive audio experience for kids who are so used to the visual?
We decided that it needed to set in a place that was universal, generally understood, and didn't need a lot of explanation, which is how we came up with a dog and a cat, living in a house together.
AP: There, the comedy kicked in. And once we got the idea that the two pets have rival shows, it started to take form. Part of the challenge is, you want to paint a picture in the child's head.
When you're dealing with a screen, you have special visual effects, physical gags.
So we started thinking, what are the storytelling tools we have in audio? Here, we use sound effects and music, and we started to give one character the more slickly produced show—all the sound effects, and music, and the auto-tuned voice, and explosions. In contrast, the other one is more down-home and conversational. It's like Jones the cat has the equivalent of a morning zoo show with gratuitous sound effects, and Waffles has a more NPR-like show.
Q: Anything that surprised you?
KC: We were surprised by how much the sound effects could really paint the picture. We didn't trust it before we heard it. We thought we had to add in extra lines: Like— "I'm going to open the door," and then you hear the door creak open, but we realized we didn't need to spell it out.
AP: And it was exciting to see how the talented actors brought the characters to life.
We were nervous about the Jones character: We needed someone wacky and musical, who can do all these voices and can play it cool but also be a total goofball. And then our casting director asked, "What do you think about Jay Pharoah, the impressionist on Saturday Night Live?"
He had a great take on the character as soon as he got in the booth and Koyalee did such a great job of directing him. He brought Jones to life in such a perfect way. And we were equally lucky with finding Emily Lynne, who brought a hilarious and conversational quality to the dog, Waffles – likable and heartfelt, but never saccharine.
Q: And your takeaway on the future of podcasting?
KC: It's so funny, how everyone thinks, "Oh, this hot new thing, podcasts"—but… it's really just like old time radio shows before there even was television.
Find This Podcast Has Fleas at WNYCStudios.org, Apple Podcast, and all places where podcasts may be downloaded.