Liseo, Hardigg '90 Share WESU Connection Spanning 3 Decades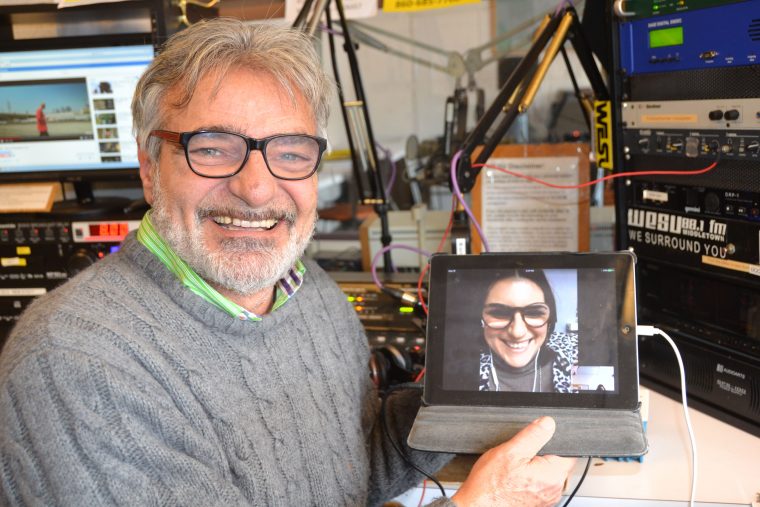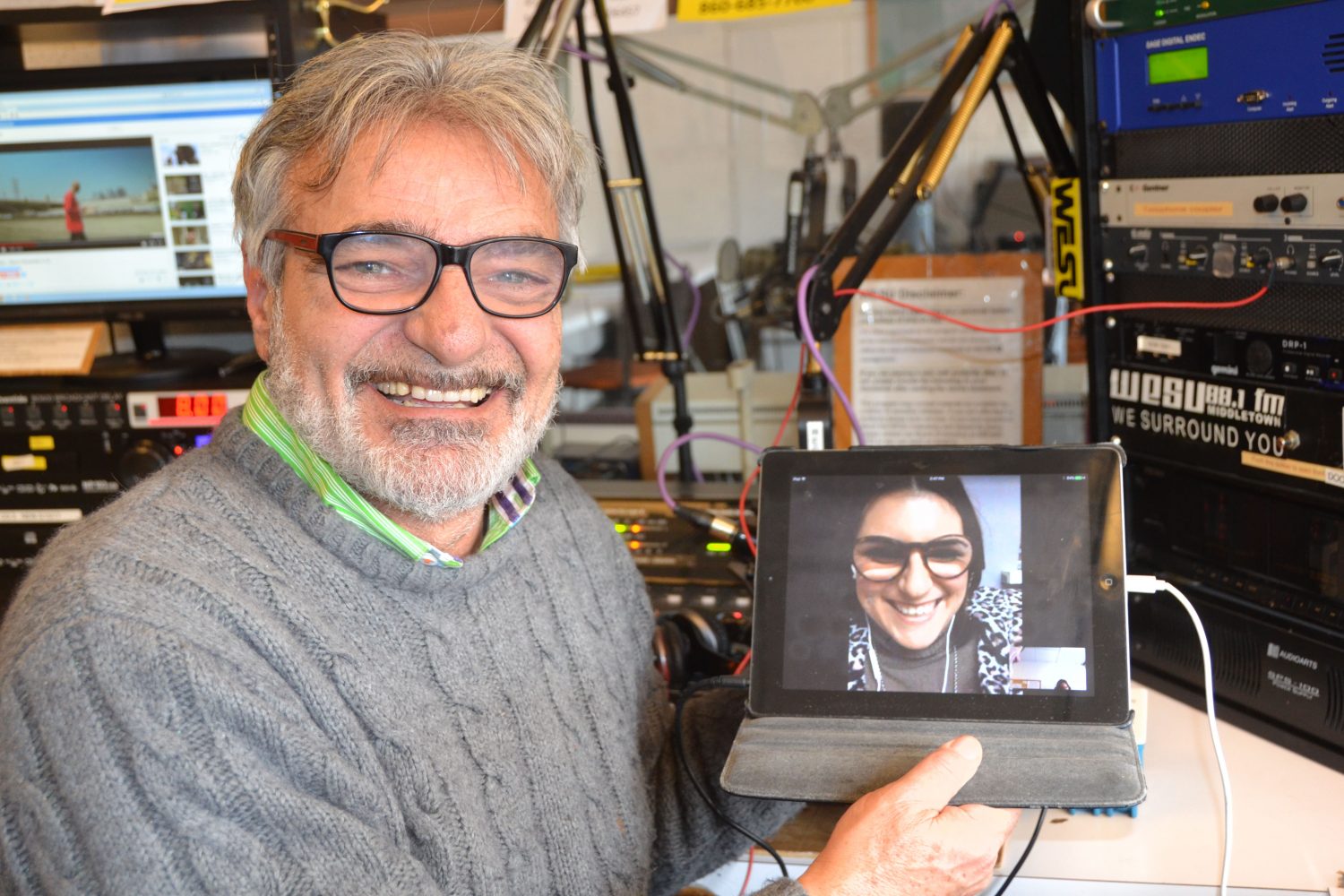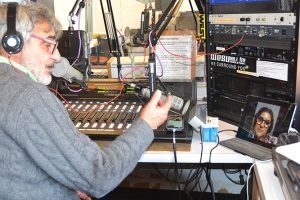 For two hours every Saturday—and any early morning or late night shift available—Middletown resident Franco Liseo fills the airwaves of WESU 88.1 FM, with Italian music. His specialty is the sounds from the '60s and '70s; "Love songs," he says. "When I left Italy, I left with the music"—and he's been doing this for 30 years.
The Saturday show is special; he broadcasts with a co-host, Lucilla Caminito, the daughter of a childhood friend, who Skypes in from Melilli. These shows feature contemporary music that Caminito chooses and sends to Liseo (whose DJ name is "Francaccio") via the internet, YouTube, or on a CD. "She's prepared for this music; it's more rap sounds now, the new generation," he says.
Between songs, the two talk on air in rapid-fire Italian, smiling always and laughing frequently—never with a script—until it's time for Francaccio to announce, "WESU Middletown," and push the buttons for another song for their listeners throughout Connecticut and in his native Italy. Then he relaxes, continuing a conversation in Italian with Lucilla, switching to English if they have a visitor in the Broad Street studio above Red and Black Café.
"Right here," he says, opening his arms wide to encompass the whole studio. "I am home; the radio is me; I'm in paradise."
His is the story of a child who always wanted to be on the air, who mimicked announcers from the only two radio stations in Italy back then, who would carry around a stick of wood, pretending it was a microphone. He was always ready to perform. "I was always the loud one," he admits. When he came to the United States, he looked for a station he could join and found WESU.
Nick Hardigg '90 was active as an undergraduate in WESU-FM, when it was broadcast from the basement of Clark Hall. He served as its president during his junior and senior year. He recalls when Franco first appeared in 1988: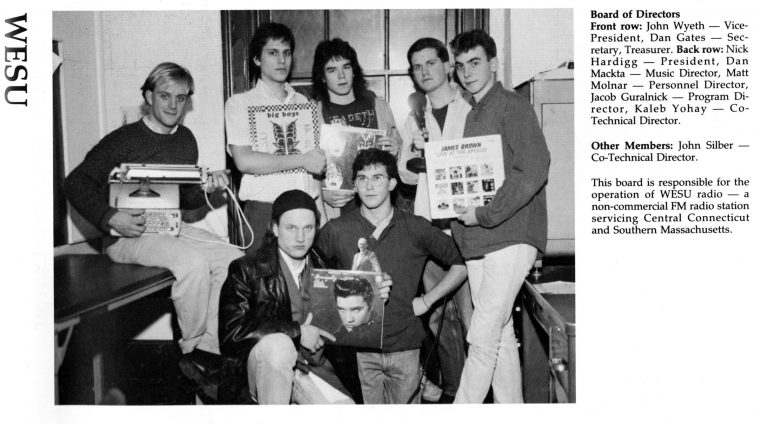 "One day these two men—Franco Liseo and Sebby—came in. Their English wasn't very clear, and they asked if they could get their licenses and create an Italian music program. We didn't have many community members broadcasting then, and those who did seemed to have a history with Wesleyan. Should we let these two new guys—rank amateurs—have a program? They were persistent. We talked about it, and—though I'm embarrassed about it now—I think we found them a bit intimidating: older guys, from Middletown, with a far different background than we had. But our board gave them a chance. Franco had such a great smile and friendly way about him—I liked him immediately. So these guys got their broadcast licenses and took all the broadcast slots nobody wanted—early morning slots, late-night slots . . . everything. And their listenership just boomed. I don't know how we gauged listenership, but I believe it was one of the most popular shows in Connecticut, certainly for WESU. And now it's been running 30 years."
In the studio on a Saturday in January, Liseo comments on the changes over the decades, noting that the odd hours—early mornings, for instance—work well for him. A 2 a.m. slot will reach his listeners in Sicily just as they are getting ready to start their day. The Saturday afternoon show with Caminito reaches the folks in her country after dinner, perhaps as they are getting ready to go out. Caminito joined his show four years ago, and it worked. At first, says Liseo, she was less relaxed; now the two have an easy on-air rapport.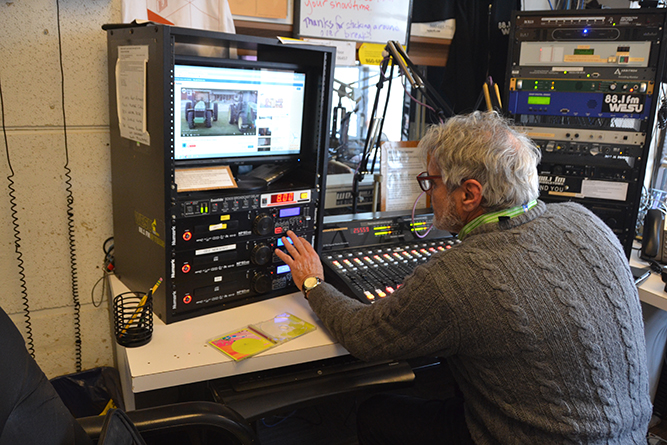 "On our program, we have no bad news," says Caminito. "That's everywhere else. But we give a show that is two hours of love."
Prior to becoming an NPR affiliate in 2006-07, news was, however, part of the service Liseo provided his listeners, especially in the pre-internet days. With a phone call to his sister in Mellili, he'd have direct access to Italy's updates as she read highlights from the Italian newspapers.
Hardigg remembers his own newscasting—when WESU news director Len Besthoff '88 asked Hardigg to try it out. "I'd get up early, head to the basement of Clark Hall, gather the national news from the UPI wire printer in a giant pile on the floor, and cut it with razor blades into stories that fit into clear sheets. I'd rewrite the stories slightly—we called our work 'rip and read news'—and put it on the air live at 8 a.m. for five minutes. It was exciting to be on the air and I was a news junkie for four years—eventually becoming news director and then president. WESU was my community—we were a board, we felt we were a part of something, we learned by doing. It was really quite empowering."
Liseo notes that other changes occurred over the years. "The studio was so dirty in the beginning," he says. "I'd clean while the music was playing. Now, it's more professional in here."
Hardigg concurs: "Keeping the station orderly and professional was a challenge. We created mandatory work-service hours—you couldn't get your time slot for a show without committing to those hours of volunteer work duties. That was a game-changer, and it created a sense of shared responsibility for WESU."
Additionally, Liseo notes music is easier to access now than when he began. He points to his small carrying case that has a few CDs. His iPhone is connected to the computer cords, its music playing across the wires. "It used to be all tapes I'd bring in," he says.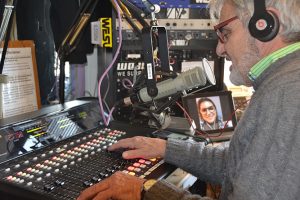 Hardigg says he reconnected with WESU-FM when he returned for his 25th Reunion. He met some students and also learned that Liseo was still there and connected with him on Facebook.
When asked what his relationship with Liseo and community radio has meant, Hardigg replied via e-mail:
"After I graduated, Franco asked me if he could take me out to dinner, as a gesture of thanks for giving his show a chance. I felt really honored. He picked me up and said that before dinner he wanted to explain part of Middletown to me. He brought me to one of the Italian clubs in town and started introducing me to people, which sounded to me like 'something-something-something Presidente du WESU Middletown something-something-something.' And everyone seemed so happy to see Franco and to meet me, and they said thank you, or 'grazie,' and shook my hand.
"Then Franco explained: 'You look around here; you see a lot of people and some very old people. We come here every day, and we watch football, have a beer. We live to come here, and if this place closed, I bet you many of the people in here would be dead in a week!' He joked, but he was serious, too. 'This is our community! And you are welcome to come here. You just tell them you are my friend.'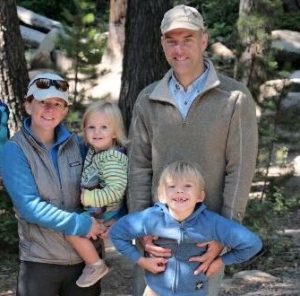 "Next he drove me to a restaurant in Hartford and helped me order from the menu. I can still remember the dish—'zuppa de pesce'—lots of seafood, and a big lobster tail. 'These people here, they know me; they know my show; they said they cannot charge us,' he told me. Then the owner came out. 'Franco's show means so much to all of us,' he said. 'It's a big part of our community. Thank you for supporting it.'
"That night it dawned on me how little I had understood, or even tried to understand, Middletown," says Hardigg. "He took time to show me his community, and how people appreciated a program I'd had a small role in supporting. That stuck with me, changing my career path. I feel I owe him—the professor who had no degree."
"I'm no celebrity, but in the Italian community, everybody knows me," says Liseo. "I'm happy. I have my own show. I'm my own boss. I come anyway, even if I'm sick. I have to be here on Saturday. People sometimes say, 'Why do you do this; you don't get paid!' I say, 'You don't understand: Do you see those people at the front desk of the hospital? They don't get paid. It's a volunteer job.' This is my volunteering for the Italian community. They enjoy that I do this. I enjoy to do radio."
Liseo adds, "I've got a lot of Americans who listen; they love the music."
Benjamin Michael, the general manager of WESU-FM since 2005, says, "Franco's show is unique. His spirit for radio is unparalleled, and his legacy is a pretty amazing example of engagement at WESU. The dynamics between Nick and Franco are pretty cool too! So many WESU alumni speak about the value of working alongside community volunteers at WESU."