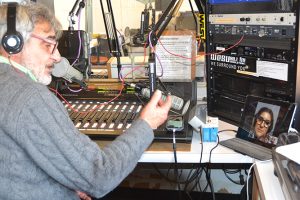 For two hours every Saturday—and any early morning or late night shift available—Middletown resident Franco Liseo fills the airwaves of WESU 88.1 FM, with Italian music. His specialty is the sounds from the '60s and '70s; "Love songs," he says. "When I left Italy, I left with the music"—and he's been doing this for 30 years.
The Saturday show is special; he broadcasts with a co-host, the daughter of a childhood friend, Lucilla Caminito, who Skypes in from Melilli. These shows feature contemporary music that Caminito chooses and sends to Liseo—whose DJ name is "Francaccio"—via the internet, YouTube or on a CD. "She's prepared for this music; it's more rap sounds now, the new generation," he says.
Between songs, the two talk on air in rapid-fire Italian, smiling always and laughing frequently—never with a script—until it's time for Francaccio to announce, "WESU Middletown," and push the buttons for another song for their listeners throughout Connecticut and in his native Italy. Then he relaxes, continuing a conversation in Italian with Lucilla and in English with any visitor to the Broad Street location above Red and Black Café.
"Right here," he says, opening his arms wide to encompass the whole studio. "I am home; the radio is me; I'm in paradise."