Wesleyan Media Project Research Informing Work in Government, Private Sector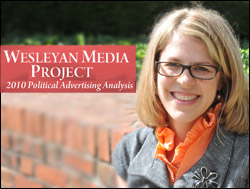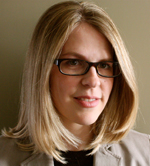 The Wesleyan Media Project's research is resonating in our nation's capital and beyond.
Associate Professor of Government Erika Franklin Fowler, together with a team of Wesleyan students and colleagues at several institutions across the United States, conducts research on campaign advertising and health media, which is informing work in government, nonprofits and the private sector.
In January, the Bipartisan Policy Center released a major report, The State of Campaign Finance in the U.S., which relied heavily on data and research from the Wesleyan Media Project. The task force that developed the report, led by a Stanford law professor and top lawyers from both parties, intended for it to "lay the groundwork for a common, bipartisan understanding of how Citizens United shaped the campaign finance landscape with an eye toward any possible future reforms," said Fowler. It is likely to be used by policymakers and legislators.
A WMP report on outside group activity including dark money trends, co-authored with the Center for Responsive Politics, is also available on the Bipartisan Policy Center website.
Additionally, in September 2017, WMP's health media research was cited in a letter from Democratic members of the House Committee on Energy and Commerce to Health and Human Services Secretary Tom Price and Seema Verma, administrator of the Center for Medicare & Medicaid Services. This research found a strong relationship between the volume of TV advertising on health insurance coverage, and reductions in the uninsured rate under the Affordable Care Act.
Surprisingly, the WMP found that health insurance advertising had not diminished even after the Trump administration's decision to slash the federal advertising budget for the health insurance marketplace. The spike in overall health insurance advertising was coming from private insurers, according to a WMP report issued in December.
"Insurance company advertising is not a replacement for federal advertising, which in the past drove enrollees explicitly to HealthCare.gov, and yet the demand for health insurance through the ACA marketplace during the last enrollment period was higher than expected given the drop in federal ads," said Fowler. "In future work, we hope to utilize both our advertising and our local television news tracking data, which would have picked up efforts by advocacy groups and others to spread the word in earned media, to understand how messaging contributed to insurance sign-ups. Even though the private insurance ads weren't explicitly advertising for the federal marketplace, more ads in a shorter window may have made it more likely that consumers encountered health insurance messaging on television, which may have helped to boost awareness and encourage enrollment generally, complementing other efforts."
The Project's health media research is also being used by staff at the Congressional Budget Office.
"Our research helped to convince them to include advertising as a control variable in their own research," said Fowler.
Publications by the Wesleyan Media Project were among the top most-read articles in 2017 in two journals: the Journal of Health Politics, Policy and Law and Health Affairs.
Finally, Facebook has sought help from the Wesleyan Media Project in leading conference calls soliciting wide-ranging journalist and academic feedback on the digital ad archive they are building.