Olson Lab Explores How Cholera Infection Spreads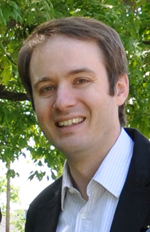 Associate Professor of Molecular Biology and Biochemistry Rich Olson and members of his lab have uncovered the structural basis for how the bacterial pathogen responsible for cholera targets carbohydrate receptors on host cells—an important finding for the future development of treatment strategies against infectious bacteria.
In their paper "Structural basis of mammalian glycan targeting by Vibrio cholerae cytolysin and biofilm proteins," published in the Feb. 12 issue of PLoS Pathogens, Olson and his team—Swastik De PhD '16; graduate students Katherine Kaus and Brandon Case; and Shada Sinclair '16—looked at Vibrio cholerae, an aquatic microbe responsible for cholera, a potentially life-threatening disease for populations with limited access to health care.
The team studied two of the virulence factors that this particular bacterial pathogen uses to help spread infection: a toxin that creates pores in the membranes of target cells (such as immune cells) and a protein that helps form a protective sheath around the bacterial colonies as they grow.
Study results showed that both of these factors use similar carbohydrate receptors to recognize and target cell surfaces, suggesting that strategically disrupting carbohydrate interactions could affect how V. cholerae and other organisms like it are able to infect human hosts and spread disease.
"Understanding how pathogens specifically recognize targets on human cells is essential for the development of effective drugs and vaccines to fight pathogenic bacteria and prevent outbreaks," Olson explained.
Read the full paper here.