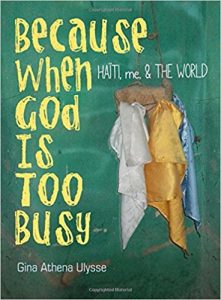 A book by Professor of Anthropology Gina Athena Ulysse was long-listed for the PEN Open Book Award.
The PEN Open Book Award confers a $5,000 prize upon an author of color to celebrate racial and ethnic diversity within the literary and publishing communities.
Ulysse's first poetry collection, Because When God Is Too Busy: Haiti, me & THE WORLD, was published in 2017 by Wesleyan University Press. The lyrically vivid meditative journey embraces and reclaims a revolutionary Blackness that has been historically stigmatized and denied. Ulysse crafts experiments with "ethnographic collectibles" of word, performative sounds and imagery to blur genres and the lines between the geopolitical and the personal. These poems, performance texts and photographs gather fractured memories—longings laced with Vodou chants confronting a past that looms in the present.
Ulysse also is professor of anthropology and professor of feminist, gender and sexuality studies.
Read "I am a Storm" from Because When God Is Too Busy in this Wesleyan Magazine Backstory.