Nguyen to Research Refugee Narratives in New Orleans as ACLS Fellow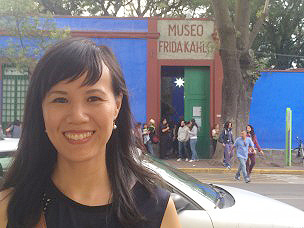 As an American Council of Learned Societies (ACLS) Fellow, Marguerite Nguyen will spend the 2018-19 academic year working on her second book project in New Orleans, La.
Nguyen, assistant professor of English, received the ACLS Fellowship in February.
ACLS, a private, nonprofit federation of 75 national scholarly organizations, aims to advance scholarship in the humanities and the social sciences by awarding fellowships and strengthening relations among learned societies. Since 1957, more than 40 Wesleyan faculty have received an ACLS fellowship.
Nguyen will focus her fellowship on Vietnamese American accounts of forced displacement in New Orleans to outline a broader paradigm for interpreting refugee culture. Her project is tentatively titled "Asian American New Orleans: Rethinking Refugee Aesthetics, Agency and Archives."
"When we see refugees portrayed in the media, they are typically depicted in terms of crisis and emergency," Nguyen said. "But refugee narratives often describe migration differently—as temporally elongated experiences that cannot be understood in terms of finite periods of migration, asylum and resettlement."
Hurricane Katrina, she said, revived debates in New Orleans concerning refugees, or defining who are refugees. In particular, most Southeast Asian refugees who resettled in New Orleans after the Vietnam War refer to multiple experiences of forced migration, "so it becomes necessary to think about what I am formulating as a refugee aesthetics of protraction," Nguyen said.
As the child of refugees, herself, Nguyen has always been interested in how people find ways to narrate short and long-term forced migration.
"Refugeeism is something I think my parents always carried around with them," she said.
In addition to researching New Orleans and refugee literature, Nguyen will explore various archives related to refugee history in and around New Orleans—a history that goes back to the city's founding—to understand the relationship among race, place, citizenship and cultural form. She also will spend time with members of various Southeast Asian American communities to get a sense of how they continue to grapple with and talk about the effects of Hurricane Katrina and the Deepwater Horizon oil spill.
"The fellowship will allow me to gain a better understanding of how these groups' experiences shed light on refugee situations in the current moment, especially considering that the number of asylum seekers in the world has reached record levels," she said.
At Wesleyan, Nguyen studies 20th- and 21st-century American literature, specializing in the politics and aesthetics of Asian American literature, refugee contexts and literary history. She is the author of America's Vietnam: The Longue Durée of U.S. Literature and Empire (Temple University Press) and co-editor of Refugee Cultures: Forty Years after the Vietnam War.