Taylor, Alumni, Students Co-Author 3 Journal Articles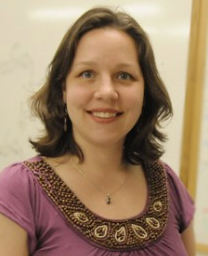 Erika Taylor, associate professor of chemistry, is the recent co-author of three articles. Two publications are related to disrupting the formation of Lipopolysaccharides (LPSs), a cell surface component that is important to Gram-Negative bacteria's ability to form biofilms and become resistant to hydrophobic antibiotics. These papers describe inhibition of enzymes from E. coli, as well as enzymes from related pathogens including Vibrio cholerae (the bacteria that causes cholera), and Yersinia pestis (the bacteria that causes plague). Understanding how enzymes can be inhibited opens up possible new strategies for fighting diseases.
The third paper builds on her prior work investigating the ways in which sucralose (an artificial sweetener known primarily as Splenda) interacts with proteins, in comparison with its natural disaccharide counterpart, sucrose (common table sugar). She and her co-authors present data showing that sucralose interacts more strongly with hydrophobic patches on protein surfaces than does sucrose, which may be part of the way in which it causes destabilization of proteins.
These papers include alumni authors Noreen Nkosana B.A. '11, MA '13, Daniel Czyzyk PhD '15, Zarek Siegel BA '16 and current student authors Joy Cote Chemistry PhD '18, Nimesh Shukla Physics PhD '18, Cody Hecht '18, in addition to Taylor's longtime collaborator, Christina Othon, associate professor of physics at Ripon College.
Taylor also is associate professor of environmental studies and of integrative sciences.
The papers are:
"Synthesis, kinetics and inhibition of Escherichia coli Heptosyltransferase I by monosaccharide analogues of LipidA," published in Bioorganic and Medicinal Chemistry Letters, 2018, in press.
"The Glycosyltransferases of LPS Core: A Review of Four Heptosyltransferase Enzymes in Context," published in the International Journal of Molecular Sciences, 2017, 18(11), 2256. This article belongs to the Special Issue Lipopolysaccharides.
"Hydrophobic Interactions of Sucralose with Protein Structures," published in the Archives of Biochemistry and Biophysics, 2017, 639, pages 38-43.