3 Student-Led Ventures Awarded PCSE Seed Grants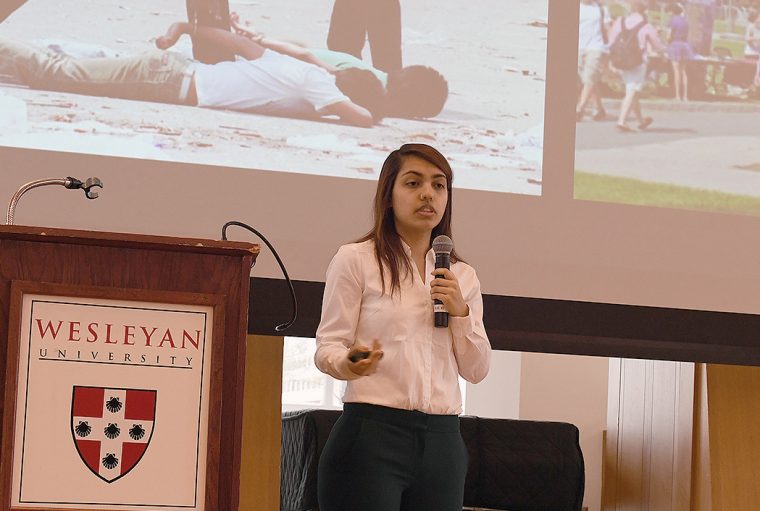 On March 2, Wesleyan students pitched their project ideas to a panel of judges at the Patricelli Center for Social Entrepreneurship (PCSE) Seed Grant finals. Of the six finalists who presented, three teams were awarded $5,000 seed grants to fund the launch of their social enterprise, program, organization or venture.
The winning projects address a compelling social problem, have a clear objective and data strategy, and have potential to produce a lasting and replicable impact. In addition to the project itself, judges based their decisions on the applicants' passion, commitment, tenacity, leadership and personal integrity.
The 2018 Seed Grant recipients are: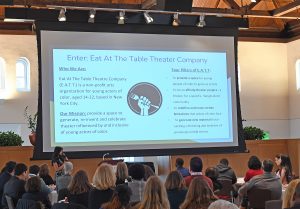 Eat at the Table Theatre Company
Kai Williams '20 and Emma Morgan Bennett
E.A.T.T. is a nonprofit theatre arts organization that is both founded, operated by and offers membership to actors of color under 22 years old. They will create theater opportunities for young actors of color in New York as a means of combating discriminatory and racist practices within the theater industry and to focus on developing and centering the work of marginalized artists.
Cardinal Kids (previously Middletown Green Youth Association),
George Perez '20, Jessica Russell '20, Jenny Chelmow '19, Vera Benkoil '18 and Katie Murray '19
Cardinal Kids is a financially self-sustaining program that will bring affordable arts, tech and literacy programming to Middletown youth. The program will be a Monday through Friday after-school program taught by Wesleyan students.
Young Achievers Foundation Ghana
Ferdinand Quayson '20, Derrick Dwamena (Michigan State University), Archibald Enninful (Yale University), Felix Agbavor (Drexel University) 
Young Achievers Foundation (YAF) Ghana is a student-run initiative which promotes access to higher education for students in Northern Ghana through scholarship workshops and innovative in-school mentorship programs.
The 2018 Seed Grant finalists are:
A Bridging Community Dinner (AB-CD) Project
Isobel McPhee '19, Serene Murad '18, Willa Schwarz '19 and Shellae Versey (faculty fellow, College of the Environment; assistant professor, African American studies) 
AB-CD Project seeks to bridge communities through a simple concept—connecting with others through sharing meals. It provides the opportunity for refugees to build community relationships through communal dinners and to evaluate the project's efficacy in helping refugee groups feel welcomed, build relationships and gather resources through community partnerships.
Caput Productions
Kelly Acevedo '20 and Alex Vazquez (academic technology training specialist), with support from Asa Palmer '18, Langston Lynch '20 and Rachel Ellis Neyra (assistant professor of English)
Caput Productions will produce films that display the potential of South Central Los Angeles in spite of the "hood mentality" that so often prevents it from receiving needed resources. Their first film is "Sweet and Sour South Central Child."
The Black Lady Theatre Summer Camp
Arline Pierre-Louis '19
The Summer of Peace Theatre Camp, sponsored by the Black Lady Theatre, will expand arts education for students that are trapped in New York City's school-to-prison pipeline.
A video recording of the pitches will soon be made available on the Patricelli Center website.