Center for Prison Education Hosts First Graduation for Incarcerated Students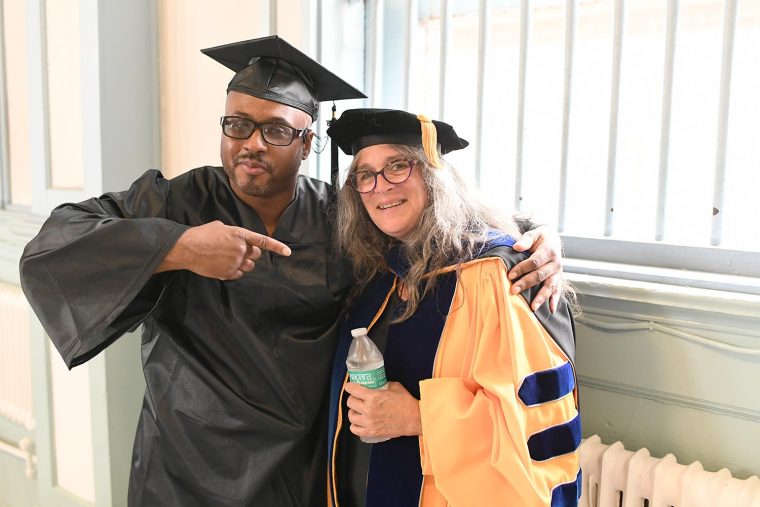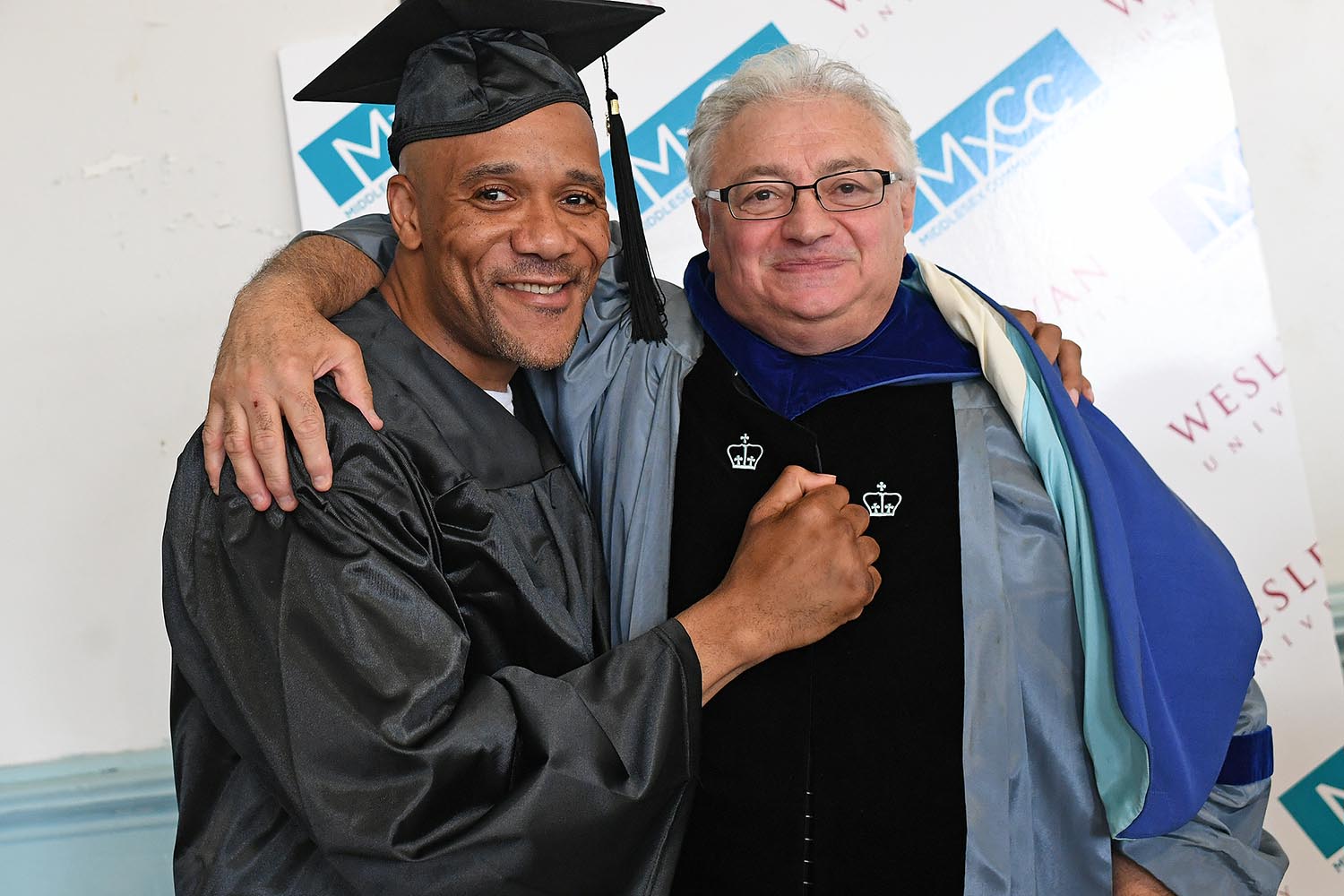 It was a typical graduation on Aug. 1, 2018: tasseled mortarboards and academic gowns, faculty in academic regalia, proud family members, the strains of "Pomp and Circumstance," speeches—some recalling challenges; others looking toward further success—diplomas, handshakes, smiles for the cameras, and bear hugs of congratulations.
It was a graduation like none other: held in Cheshire Correctional Institution, it was the first time 18 incarcerated students in the maximum security prison received associate's degrees through an innovative collaboration between Wesleyan University's Center for Prison Education and Middlesex Community College.
A week earlier, a similar graduation had taken place in York Correctional Institution, with six women donning caps and gowns to receive their associate's degree diplomas.
Since 2009, CPE has offered accredited Wesleyan courses to students at Cheshire Correctional Institution, a maximum-security prison for men. Wesleyan faculty teach courses ranging from English to biology to philosophy, which have the same rigor and expectations as courses on Wesleyan's Middletown campus. About 50 Wesleyan students volunteer in the program each semester, working in study halls at the prison or on campus filling research requests and serving as project assistants. The program was expanded to serve incarcerated students at York Correctional Institution in spring 2013.
In 2016, Wesleyan partnered with Middlesex Community College (MxCC) to allow students who are participating in the program to take courses rostered at either institution and earn an associate's degree from MxCC.
Offering welcoming remarks at Cheshire and York was Steven Minkler, the interim campus chief executive officer at Middlesex Community College, who noted that "educational programs in prison transforms lives… they change the educational trajectory for generations."
Also at Cheshire was Wesleyan President Michael Roth '78, who offered remarks, noting that he'd been a college university president for 18 years—with 18 years of commencements of handshaking… "and I always had a script," he said. "Walking into Cheshire today, seeing the graduates—there is no script. You are making history of the best kind, that allows other people to build on your accomplishments.
"Our thanks to those students, faculty, and staff at Wesleyan who envisioned this day, who saw that incarceration should not be the end of the line, but an opportunity to change your lives."
In his address to the graduates, Governor of Connecticut Dannel P. Malloy, an advocate for criminal justice reform, noted that by embracing education, the graduates had "called upon a grace" to envision themselves as part of a larger world. "I need you to experience that grace, to embrace it throughout your lives, to prove that what we are doing here in Connecticut is worthy, is worth it. You need to be the living proof that a different approach can make a difference."
Three graduates also spoke at Commencement: Ruperto Joseph Alvarado spoke on labels, recalling negative ones that had been applied to him earlier in his life. "It is by embracing the label of student that I stand before you as a graduate," he said, and expressed his gratitude for all who made it possible for him to make his family proud on that day.
Clyde Meikle's speech featured wordplay of "invisible" and "in the visible," "injustice and In [the system of] justice." Calling himself a "convicted scholar" and the "object of justice," he concluded, "We are in justice and it our responsibility to see ourselves visible."
James Davis III recalled a childhood where books such as Call of the Wild and White Fang provided an escape into another world, away from the shame and anger of being judged unworthy by others. "Wesleyan introduced me to a new kind of judgment. Russ Perkins '09 and Lexi Sturdy '10 judged us worthy to have a Wesleyan education. In CPE, we're being judged, but with our permission…. We thank all of you who judge us as we are, not as we were," he concluded.
Speaking with the graduates about their favorite class, several cited Professor Lori Gruen's Philosophy Pro Seminar, with a number of speakers attending and the variety of philosophical approaches they explored. Andre Pierce also recalled a narrative theory class with Matthew Garrett (associate professor of English and American studies), but added, "I could only appreciate it because of Professor Gruen's class; that course deepened my thought process. I'm thankful that Wesleyan sees the inherent value of democratizing an otherwise privileged opportunity."
Kristen Inglis, the academic development and planning manager for the CPE, concurs. "A college degree carries significant social capital, so conferring a degree to incarcerated students disrupts prejudices about the academic and broader potential of these students, many of whom come from socially marginalized communities. Sixty-five percent of CPE students are African American or Latino; the majority of them got their GEDs and are first-generation college students. So the ceremony and the degree send a powerful message about the potential of students from communities that are often denied access to high-quality education."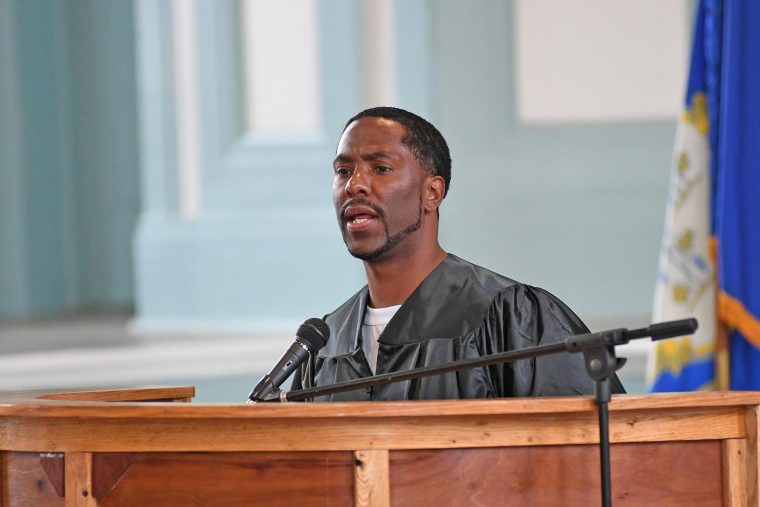 Ruperto Alvarado said, "There's a general assumption that we're not capable of doing academic work at a high level. But these courses are not watered down. It's the same syllabus in each place. We have the capability; we need opportunity and resources, and that's what CPE has proven."
His own goal after release is to work with kids who are in the junior-high age group. "That's a crucial juncture in young peoples' lives," he said. "That's where we need to rethink our justice system and have someone there for them."
Graduate Shawn Gallagher noted his appreciation for his fellow graduates who spoke and was particularly moved by Meikle's talk. "I know what a wonderful person he is," said Gallagher, "so I was glad that other people got to hear his talk." Gallagher's parents were among those in attendance. "It was a bringing together of two worlds," he said.
Graduate James Davis III hoped for further conversations with on-campus Wesleyan students. "I think it would be really interesting for us to consider how similar our experiences are. We've had the same professors, doing the same work. We are connected in ways that neither of us is connected to students at other universities."
Russell Perkins '09, who as an undergraduate had been active in advocating the formalization of the CPE program and continues on its board today, observed that connection. "As the faculty stood for the graduates, I immediately remembered watching them do the same thing at my graduation in 2009," he said. "There were so many of the same, amazing professors that I knew as a students—Lori Gruen, Andy Szegedy-Maszak, Sean McCann, and others." (View the full CPE faculty and team list here.)
Added Clyde Meikle, "I'd like to tell Wesleyan: Keep that bachelor's degree in mind! That's my next goal."
Additional photos of the men's ceremony are below: (Photos by Olivia Drake)