Director Becker '12 Brings bad things happen here to Edinburgh Fringe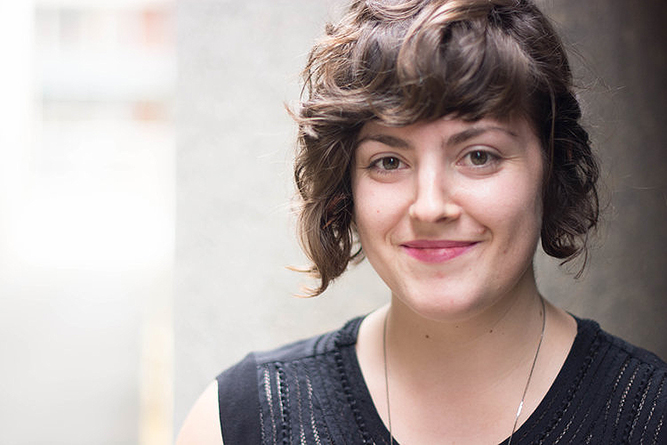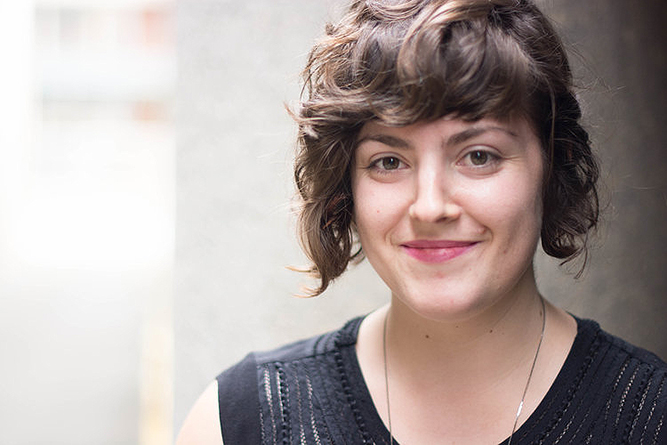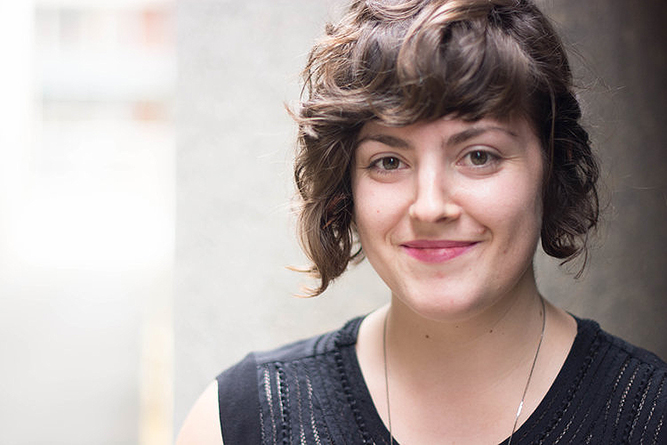 This summer, bad things happen here, a play directed by Lila Rachel Becker '12, was featured at the Edinburgh Fringe Festival.
An MFA student at the University of Iowa, Becker has been paired to work with Eric Marlin—whom she calls "an incredible playwright, a brilliant collaborator"—since she began her graduate work in 2017. She is drawn, she says, to "incendiary" plays—and after producing this one in Iowa last November, a few professors encouraged the partnership to take it around to festivals. Noting that the spare design of bad things happen here made it easy to bring across the ocean to the eclectic theater spaces of the Fringe Festival, Becker adds: "Edinburgh is this huge platform for international theater artists. We were both particularly excited about that aspect of it."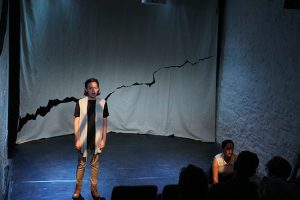 When asked about its "incendiary" quality, Becker explains that the short scenes "take you through a world and, as the play goes on, you start to figure out what's happening in this world, the way that the government is committing violence, the way that surveillance has become omnipresent." She adds that Marlin actually wrote it six years ago, in response to the "political mechanisms of the Argentine Dirty War and the way that language got corrupted during that period in Argentina's history."
A look at Becker's website shows a clean, minimalist design with a bio that touts highlights from her Wesleyan undergrad days—College of Letters and a continuing affinity for Taiko drumming. She also pursued theater at Wesleyan, focused on acting, until Professor Yuri Kordonsky suggested her real path in theater was directing.
"He told me, 'You don't want to act; you want to direct.' I told him, 'What do you mean? Of course I want to act.' But then I directed a play and I realized, 'Oh, this is exactly what I want to do.'"
At the University of Iowa, she has particularly enjoyed the collaborative directing process with both actors and playwright, describing it as so organic that it is difficult to name particular innovations to the play that one single party has introduced. What isn't difficult to see, however, is that the political reverberations of this play have deepened since they began work in 2017.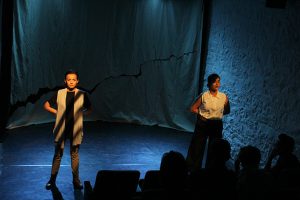 "There's a scene in which two schoolgirls are trying to find a friend to play with, and they realize that all of their friends have disappeared. There's this long list of names of children who've disappeared," recalls Becker.
"Just before we headed off to Edinburgh, we did a little showing in Iowa. At that point, we'd been working on the play for a year, and had become a bit matter-of-fact about the content, but when we got to that scene, one of my directing colleagues leaned over to me and whispered, 'With everything that's happening at the border right now, this scene feels particularly cruel.' Eric had started working on this play before that was even happening and, in the course of presenting this play, we lost track of that resonance."
While Becker has other plays to look forward to this year, she was particularly glad to bring this one to Edinburgh.
"One of the things that puts me in the most despair about the current world situation is that I don't know how to make anything better. But there's something very powerful about being a group of theater-makers who come from all across the U.S., who represent a broad spectrum of America, and who are committed to showing an international audience this play about complicity and language and authoritarianism.
"If you choose to produce a play now, you're saying that there's something in this play that speaks to contemporary audiences. I think that's already a political move, but this play, in particular, is speaking to a lot of things that are happening globally with the rise of authoritarian regimes and state-sponsored violence and state surveillance.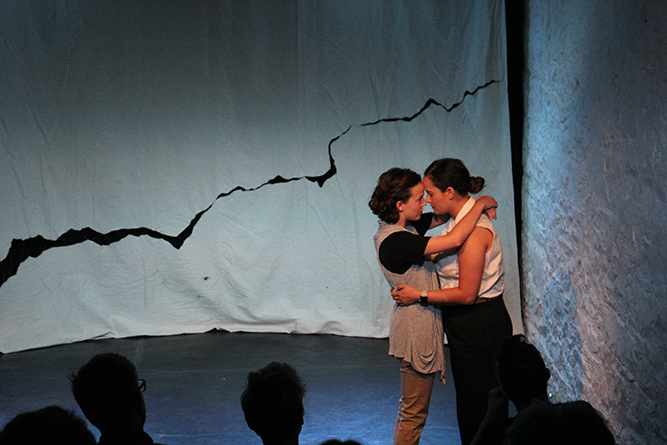 It was exciting to me to bring that to an international audience and say, "There are people who are in the U.S., all over the U.S., who are thinking critically and who don't believe the things that you probably hear that we believe."
Becker is working on the future life of bad things happen here, which she anticipates will be on tour next summer. Please check here for updates on her work and to find out where you can see this play and others she is directing throughout the year.