Bobkoff '05 Explores Cultural History of 'Household Name' Brands in New Podcast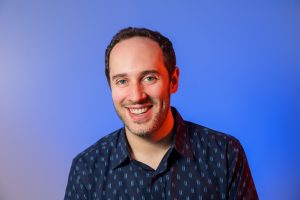 Dan Bobkoff '05 believes that, for better or worse, much of American life is lived through brands.
"Whether you like iPhones or Androids is almost like a religious affiliation," he says. "Or you might have had a poignant family moment at McDonald's."
This is the lens through which Bobkoff explores brands in his new podcast, Household Name, from Business Insider. Bobkoff launched the podcast in July, and will produce and host 36 episodes over the course of the year. Its tagline—"Brands you know, stories you don't"—captures the cultural history and surprising stories of unintended consequences that are featured in each episode about brands such as Pizza Hut, TGI Fridays, and Blockbuster.
"This is not a show for Wall Street traders. It's a show for people who like stories and want to think about how we live," he says.
For example, one episode explores how Starbucks' celebrated Pumpkin Spice Latte became a treat that millions look forward to every fall—and then was transformed into the icon of "basicness," the idea that someone does not have interesting taste. In other episodes, the show visits the last remaining Blockbuster stores, introduces listeners to the real "Chuck" behind Trader Joe's "Two Buck Chuck" wine, and asks why there are so many Mattress Firm stores in the country.
Bobkoff majored in philosophy at Wesleyan, and later went on to earn a Master of Science from Columbia University through the Knight-Bagehot Fellowship in Business Journalism. While today he rarely draws on the specifics of his philosophy courses, he says, "the framework informs everything I do."
After all, for a journalist, "What's better than a discipline that questions everything and thinks deeply about ethics?"
Bobkoff spent over a decade reporting at NPR, Marketplace, and a variety of public radio stations before turning to podcasts.
"There's a joy in reporting short radio stories. They're almost like haikus: how much information and joy can you pack into 45 seconds or 3.5 minutes?" he says. "Podcasting and radio are obviously very similar mediums, and some would argue we should just call it all radio. The biggest difference with podcasts is the ability to tell more complex stories because listeners are with you at the very beginning, rather than cycling in and out during the hour like on the radio."
The challenge with podcasts, though, is how to stand out and be heard from amongst the hundreds of thousands of available options.
Bobkoff says inspiration for story ideas can come from anywhere—from an interesting tidbit in a news article to a story shared by an intern to his own curiosity about the origins of a favorite product. He encourages people to send their burning questions about a brand, or to share how a brand has affected their lives.
After all, in one episode he learned that Donald Trump's rising celebrity in the 1990s was closely tied to Pizza Hut's invention of stuffed crust pizza. So you never know how a brand could affect our future.