Stein '08 Wins 2018 Marine Corps Marathon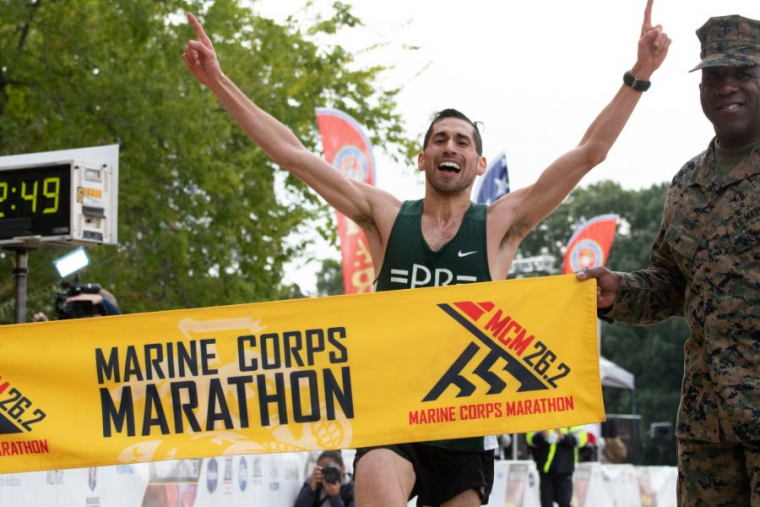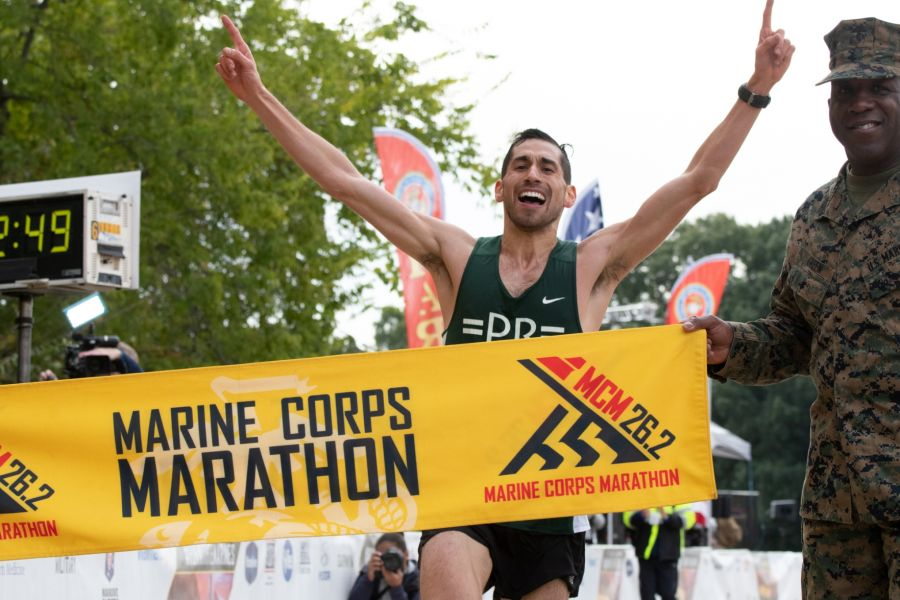 Jeffrey Stein '08 had only one thing on his mind when he registered for the 43rd Marine Corps Marathon in Washington, D.C.—redemption.
After a wrong turn off-course a quarter mile into the race in 2017 landed him an 8th place finish and a trip to the hospital for heat stroke, Stein registered for the 2018 race with one overriding goal: "to reclaim a little bit of dignity." He achieved his goal and more, surging ahead in the last 2 miles to finish first with an official time of 2 hours 22 minutes 49 seconds.
A Science in Society major and swimmer when he was at Wesleyan, Stein set school varsity records in the 200 and 400 Free Relays that remained unbroken until just this past year. After graduating, he stopped swimming, but during his first year with the Public Defender Service, he competed in an Ironman and eventually transitioned to just running. "I decided that although I loved triathlons, cycling and traveling to pools required too much time, so I settled on just running. It's the most logistically efficient of all sports—you can do it virtually anywhere, at any time of year, and it doesn't require any real equipment."
The relative efficiency of the sport was fortunate, as Stein was in the middle of working on a high-profile trial case that demanded most of his time during the period when he should have been training heavily.
"Because of my trial schedule, I was heading into the marathon having done virtually no marathon-specific training and didn't have a good sense of what my legs would be capable of on race day. The plan was just to get to the front of the lead pack, hang out there as long as I could, and once I could feel the finish line approaching, let loose."
He purchased a run commute backpack and did maintenance runs during the week, running about 5 miles back-and-forth to the office. On the weekends, he fit in longer runs. By the time race day came, Stein was able to stay shoulder-to-shoulder with race leader Samson Mutua for the first 18 miles before a final surge at mile 24 allowed Stein to pull into first place ahead of Mutua and another challenger, Patrick Hearn. It was Stein's first marathon victory and a fitting redemption after last year's disappointing results.
For next year, Stein will forego defending his title and instead has his sights set on racing in the California International Marathon. And with a longstanding dream to qualify for the 2020 Olympic Trials, he won't be returning to swimming anytime soon. Despite last year's wrong turn and this year's training challenges, Stein thinks back on his record-setting stint with the Wesleyan swim team and notes:
"Even the coldest, rainiest, most unpleasant morning run is mentally more appealing than jumping into an ice-cold pool at 5:30 a.m."
For more on Stein's victorious run, see these articles from the Washington Post and Washington CityPaper.