Wesleyan, Eversource Begin 3-Year Strategic Partnership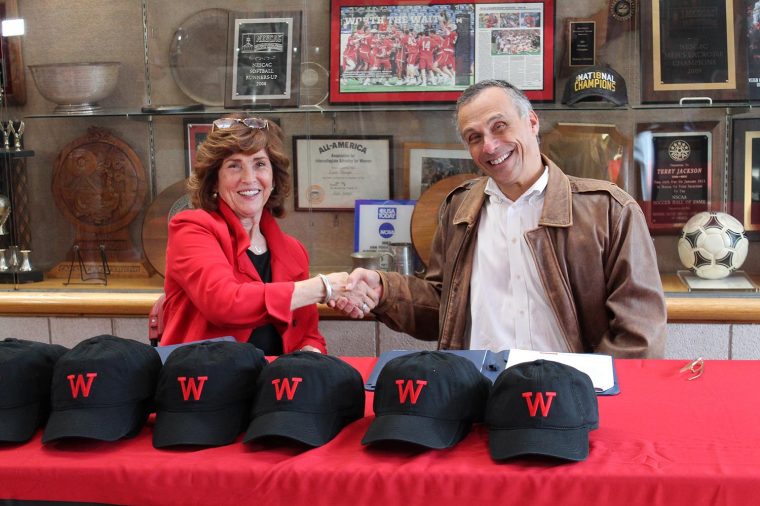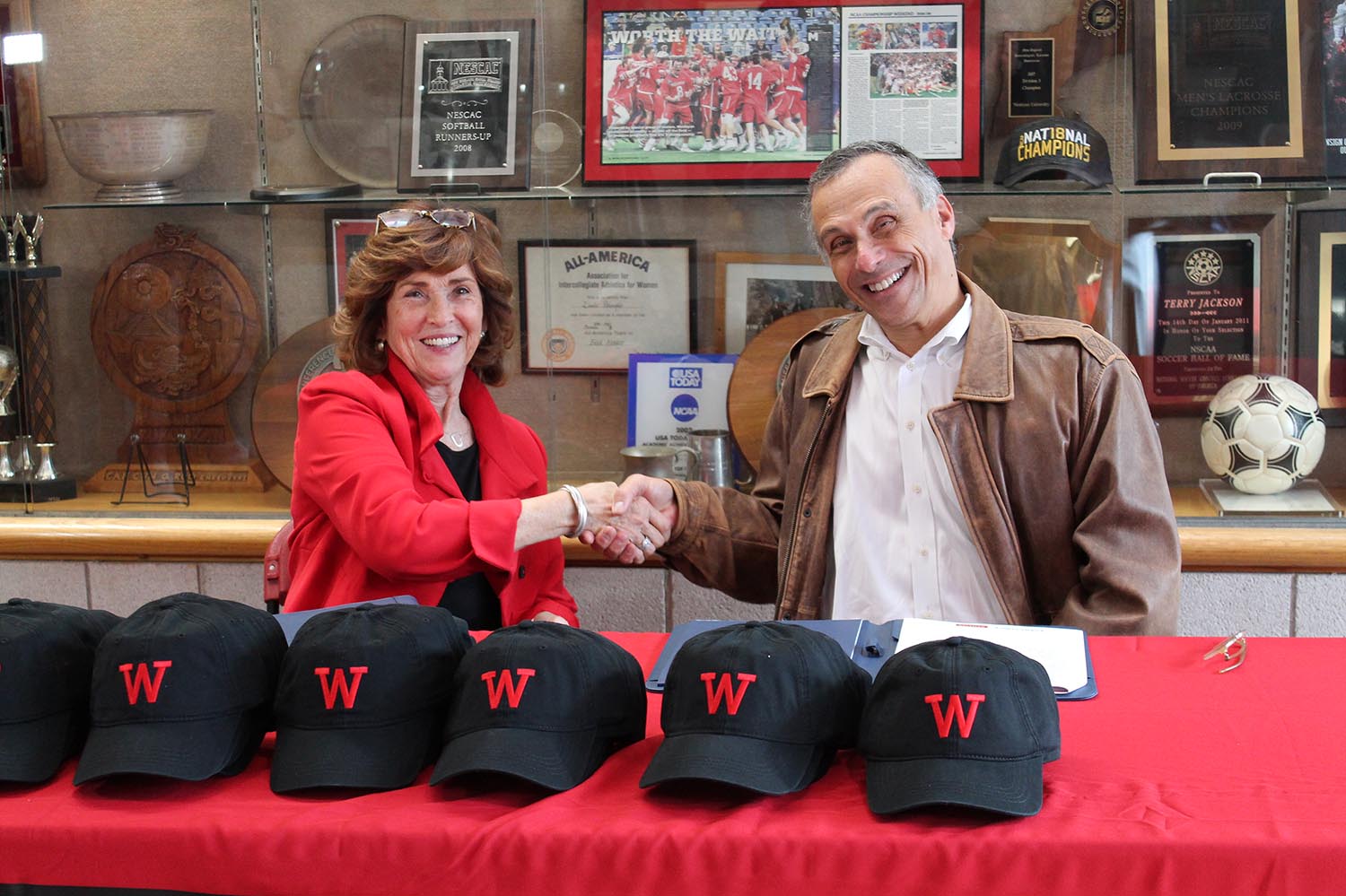 Wesleyan recently kicked off a strategic partnership with Eversource Energy that will support the University's goal of achieving carbon neutrality by 2050.
Wesleyan President Michael Roth and Eversource Vice President of Government Affairs Margaret Morton signed an agreement on Oct. 30 before receiving a tour of the Freeman Athletic Center's recent energy efficiency upgrades.
The new strategic partnership supports a three-year energy efficiency plan that will save an additional 3.2 million kilowatt-hours of electricity annually.
In the past four years alone, energy efficiency efforts have saved the University almost four million kilowatt-hours of electricity annually, have reduced energy costs by approximately $480,000 a year, and have resulted in annual carbon reductions of nearly 262 tons—the equivalent of taking nearly 60 cars off the road for a year.
Members of the Wesleyan Sustainability Committee and Eversource representatives also participated in the discussion of this and other planned and ongoing campus efficiency projects.
During the event, Middletown Common Council Member Gerald Daley noted that Middletown is the first municipality in the state to enroll in the Sustainable CT Program, a comprehensive program trying to advance sustainability and resiliency in everything from economics to ground redevelopment to energy efficiency to food equity.
"Wesleyan set an example to the city as they followed our sustainable ways," Daley said. "(Wesleyan's former president) Doug Bennet had a saying —'What's good for Middletown is good for Wesleyan'—and of course, I would return with 'What's good for Wesleyan is good for Middletown.' And that attitude fostered a great partnership."
Eversource's participation in this partnership is made possible by its Energize CT initiative. This program is funded by a charge on customer energy bills and offers rebates, financing, and services to homes and businesses for energy efficiency and clean energy improvements.
"We broke from 10 years of tradition to do something completely different this summer and the results are totally obvious," said Alan Rubacha, director of Physical Plant.
The event concluded with a tour of newly installed lighting arrays located in the Freeman Athletic Center natatorium, Spurrier-Snyder Rink, Andersen Fitness Center, and Silloway Gymnasium. Combined, the project spanned 636,000 square feet and involved replacing 8,000 light fixtures.
Peter Solomon, head coach of Wesleyan's men's and women's swimming and diving programs, attested to these improvements explaining that one of the biggest factors (of fast pools) is lighting.
"Lighting has both psychological and physiological impacts on the athletes," Solomon said. "When we switched over to these beautiful lights, instantaneously the feedback we got from the coaches and athletes, was nothing but stupendous. Having this lighting helps make Wesleyan's facility one of the best ones in the United States."
The event wraps up Campus Sustainability Month, an international celebration of sustainability in higher education, and will highlight sustainability-related activities and initiatives completed and planned at the school.
Additional photos of the facilities tour are below: