5 Students Attend Clinton Global Initiative University Conference in Chicago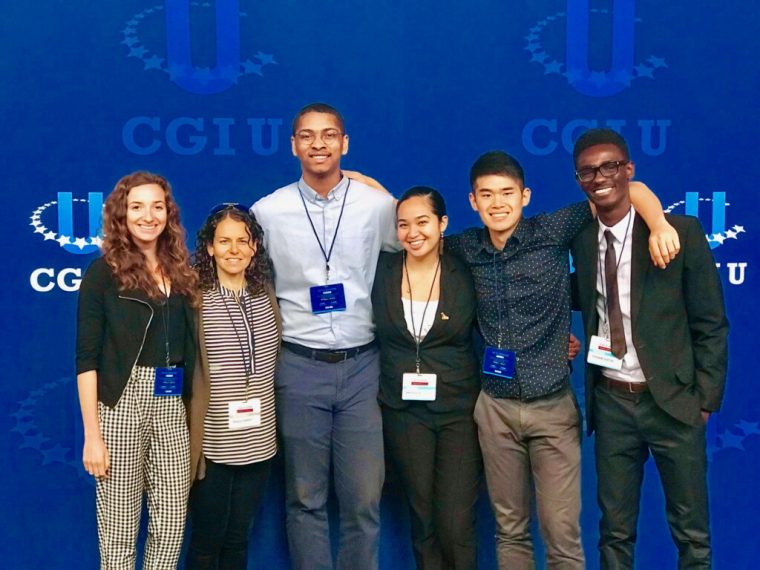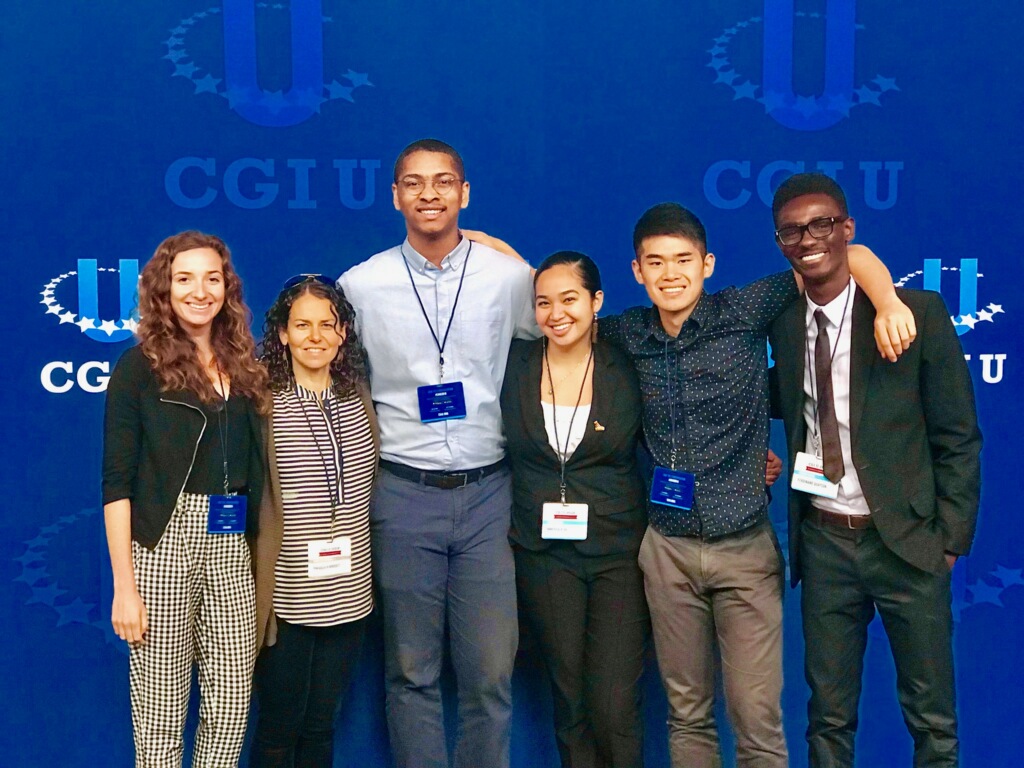 While 94 percent of children from wealthy Filipino households attend high school, only 69 percent from poor households continue to get a high school education after graduating from grade school (UNESCO).
Through a nonprofit venture called SALIN Ed., Frederick Corpuz '20 is working to create an inexpensive, sustainable alternative to classroom learning that enables 10- to 12-year-olds in the Philippines to become independent, successful learners through an online program.
To advance his social entrepreneurial skills and better his venture, Corpuz applied to participate in the 11th annual Clinton Global Initiative University (CGI U) conference, held Oct. 19–21 in Chicago, Ill.
He and four other Wesleyan students were accepted through a competitive application process. They attended plenary sessions, working sessions, and other special events that enabled them to network with their peers, build skills, and identify potential partners.
"Attending CGI U connected me to like-minded peers and introduced me to individuals and organizations doing amazing work for social good," Corpuz said. "I learned about different manifestations of micro-financing and the advantages of digitizing money of the poor. I am excited to leverage what I've learned and apply [what I've learned] on SALIN Ed. in the coming months."
Other Wesleyan attendees included Anthony Price '20, Katie Shewfelt '20, Momi Afelin '19, and CGI U campus representative Ferdinand Quayson '20 and Makaela Kingsley '98, director of Wesleyan's Patricelli Center for Social Entrepreneurship. The Wesleyan students joined more than 1,000 others from around the country for a weekend of networking and inspiration.
"CGIU brings together people from all backgrounds who find unity in their shared passions," said Afelin, who spearheads Rural Access, a grassroots organization dedicated to empowering local youth to be vessels of health education in rural Guyana and Ethiopia. "Whether their passions lie in health access, gun reform, or addressing gender inequality in education, everyone at CGIU had something incredible to share and more importantly, left with something incredible learned."
Through his organization, Be the Change Venture, Price works to connect and empower young people to be leaders in their communities and become successful in the workforce.
"The CGI U conference is an invaluable tool for those who seek to make an impact on the world," Price said. "Spending three days with a cohort of individuals who all seek to dedicate their life to improving the conditions of others was both humbling and rewarding."
Featured speakers included former U.S. President Bill Clinton, founder and chair of the Clinton Foundation; Chelsea Clinton, vice chair of the Clinton Foundation; and former U.S. Secretary of State Hillary Clinton.
During the conference, the attendees also attended a lunch hosted by Peapod cofounder Andrew Parkinson '80. Several alumni gathered at Peapod's headquarters to hear from our students, and learn more about the landscape of social entrepreneurship at Wesleyan today.
Additional speakers included Muzoon Almellehan, UNICEF Goodwill ambassador; Amy Carter, deputy director of Family Interest Grants, Community and Civic Engagement at the Bill and Melinda Gates Foundation; Julio Martinez Ellsberg, member of the International Relations Commission; Susan Herman, president of the American Civil Liberties Union; Uzodinma Iweala, CEO of The Africa Center; Mai Khoi, an independent artist and activist; Jens Ludwig, director of the University of Chicago Crime Lab and McCormick Foundation Professor; and Lt. Col. Joe Plenzler, retired Marine Corps combat veteran and cofounder of #VetsForGunReform.
"CGI U was an enlightening and galvanizing experience," said Shewfelt, who created the social venture Engage Elect Empower. "The panelists gave me skills and strategies I'm excited to apply to my own work, but even more impactful were my peers' personal stories. Learning of the immense challenges students my age have overcome to create positive change—especially young women living in societies that do not value them—has inspired me to work harder and seize every opportunity."
"CGI U pushes students to take action on the local and global issues they are most passionate about," Kingsley said. "As campus representatives, Ferdinand and I are glad to serve as connectors between Wesleyan and CGI U, linking some of Wesleyan's best changemakers with this unique opportunity."
This is the second year that Wesleyan students participated in the CGI U conference.
In the 11 years since CGI U began, Wesleyan students have participated on a number of occasions. Early attendees included SHOFCO co-founders Kennedy Odede '12 and Jessica (Posner) Odede '09. In 2017, AJ Wilson '18 won a Crowdrise fundraising competition for his organization Dream Chasers, and was congratulated by Bill Clinton, Chelsea Clinton, and Congressman Joe Kennedy III.
For more information on CGI U, contact the 2019 campus rep, Anthony Price '20, at adprice@wesleyan.edu. Note that CGI U is especially interested in working students interested in tackling the opioid epidemic. Such commitment-makers may have opportunities to partner with the Clinton Foundation and Clinton Health Matters Initiative (CHMI) networks.