16 Seniors Elected to Phi Beta Kappa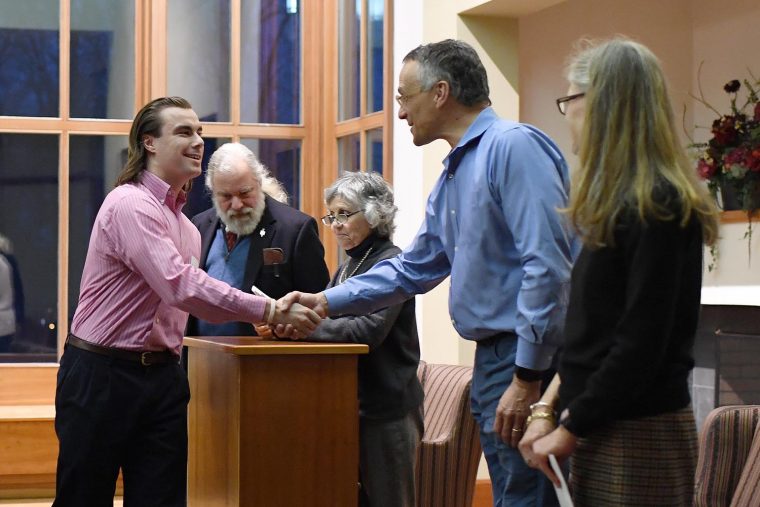 Sixteen students from the Class of 2019 were elected to early decision membership in Wesleyan University's Gamma Chapter of Phi Beta Kappa, Fall 2018. They were honored during an induction ceremony and reception Dec. 5 at the Office of Admission.
To be elected, a student must first have been nominated by the department of his or her major. He or she also must have demonstrated curricular breadth by having met the General Education Expectations and must have achieved a GPA of 93 or above. 
"For students elected in the fall, it is an especially exacting selection process because admittance is based on a student's performance at Wesleyan only through their junior year," explained PBK Gamma Chapter President Steven Horst, professor of philosophy. "Also for this election, students must have finished their General Education Expectations. These new members' accomplishments during their years at Wesleyan should be a source of pride for themselves and their families."
Phi Beta Kappa is the oldest surviving Greek letter society in America, founded by five students who attended the College of William and Mary in Williamsburg, Va., on Dec. 5, 1776. The society's motto is "the love of wisdom is the guide of life"—in Greek, philosophia biou kybernetes, whose initial letters form the name of the society, Phi Beta Kappa.
During the ceremony, the students were congratulated by Horst; Wesleyan President Michael S. Roth; Dean Louise Brown, secretary and marshal for Phi Beta Kappa; PBK treasurer Krishna Winston, the Marcus L. Taft Professor of German Language and Literature; and Karen Collins, the Edward Burr Van Vleck Professor of Mathematics.
The students and their majors include:
Anna Apostolidis, anthropology, German studies
Emma Austin, American studies, sociology
Alison Biester, chemistry, molecular biology and biochemistry
Zachariah Foster, biology, Neuroscience and Behavior Program
Paul Franceschi, art and art history, environmental studies
Lily Martin Gould, Hispanic studies, history
Julianna Harwood, physics
Anna Shen Knes, Neuroscience and Behavior Program, psychology
Sarah Padgett, philosophy, Science and Society Program
Theo Prachyathipsakul, chemistry
Maria Rodriguez-Castro, psychology
Shane Ross, economics, psychology
Isabel Steckel, College of Letters, Italian studies
Alexa Strauss, chemistry, molecular biology and biochemistry
Han Yang Tay, computer science, psychology
Michael Yablong, economics
Additional photos of the initiation ceremony are below: (Photos by Olivia Drake)