Coach Raba Inducted into the Middletown Sports Hall of Fame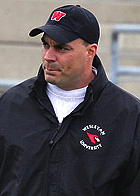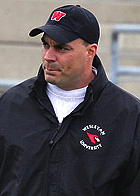 Wesleyan men's lacrosse head coach John Raba was inducted into the Middletown Sports Hall of Fame Jan. 24 at the Red Lion Hotel in Cromwell. Raba is one of 11 individuals and four teams inducted into the 26th class.
"It is an absolute honor and privilege to be inducted into the Middletown Sports Hall of Fame," Raba said. "I feel blessed to be recognized with some of Middletown's finest. I feel extremely fortunate to have worked with so many great administrators, coaches, and players throughout the years. Without their support and effort, this honor would not be attainable!"
Raba has been at the helm of the Wesleyan men's lacrosse program for 22 seasons; in 2018 he led the Cardinals to the University's first-ever national team championship. Wesleyan had the toughest road to the finals as it defeated No. 8 Cabrini (12-7), No. 2 Tufts (12-11), and No. 1 RIT (19-18) before earning an 8-6 win over perennial powerhouse, No. 3 Salisbury.
In his 22 years, Raba has amassed an incredible 265-113 (.701) record with 19 winning seasons, while competing in arguably the most competitive conference in the country. The three-time NESCAC Coach of the Year became the winningest coach in league history this past season. He was also named the 2017 USILA Division III Coach of the Year and is a six-time New England Coach of the Year.
Raba has coached three national position players of the year and 43 All-Americans during his tenure. His teams have qualified for the NCAA Division III Tournament on six occasions and are 14-5 all-time with four semifinal appearances. Additionally, Wesleyan has won two NESCAC Championships and its 23 conference postseason wins are third all-time behind only Tufts (31) and Middlebury (26).