Davison Art Center Acquires 23 Prints from American Artist Jasper Johns in Honor of Former Curator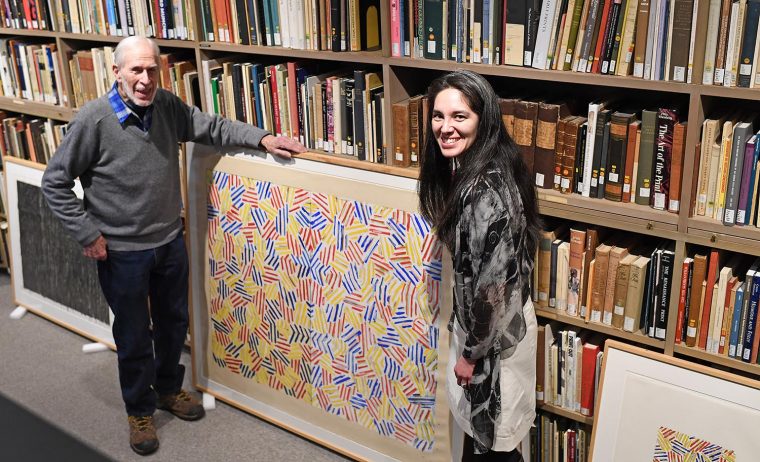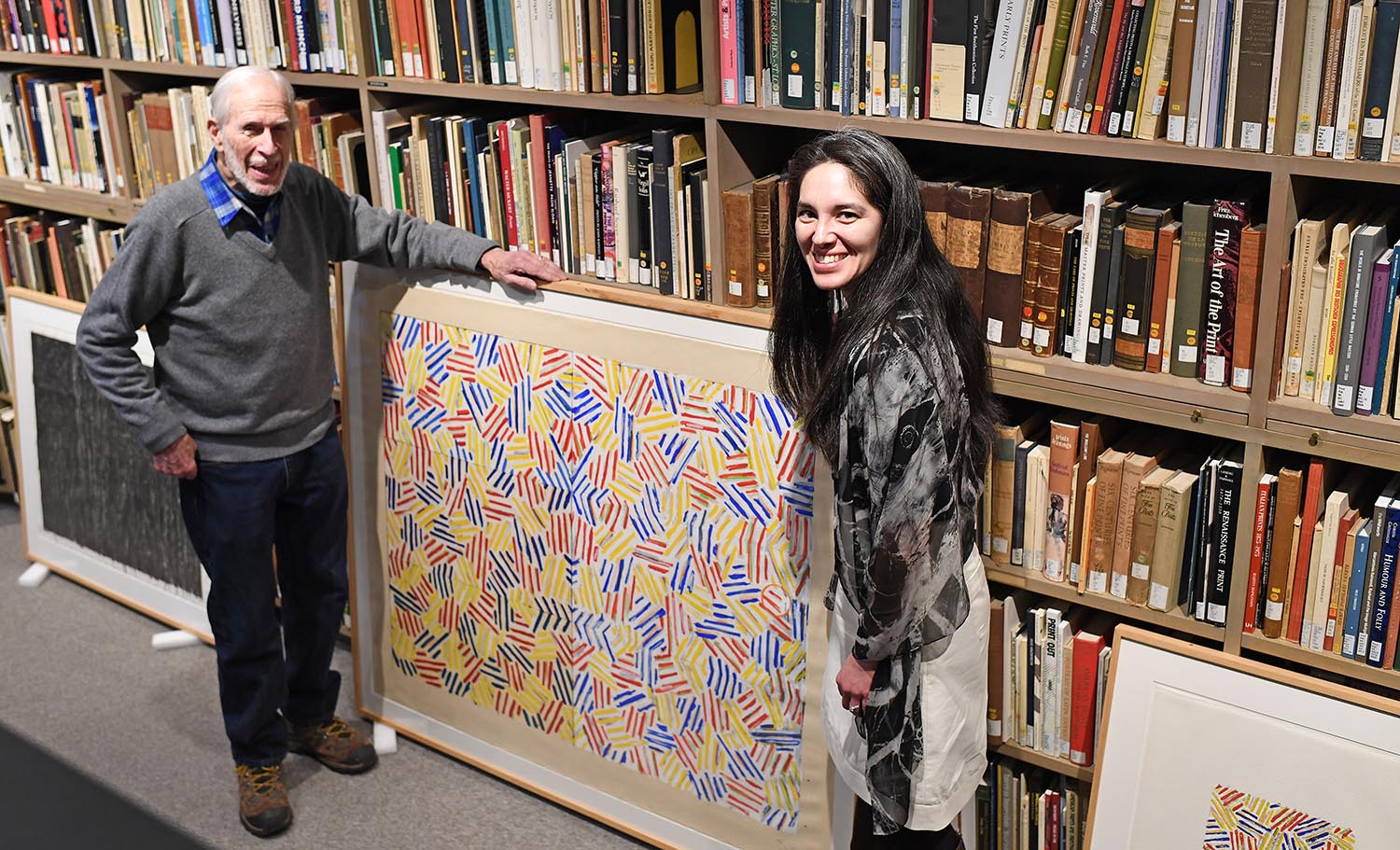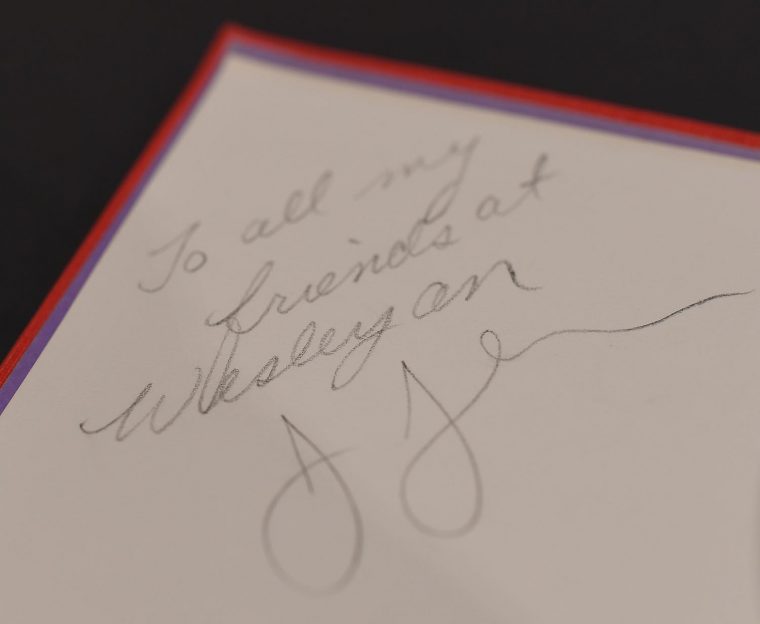 More than 40 years have passed since Richard "Dick" Field P'09 laid eyes on a silkscreen titled Corpse and Mirror.
"I enjoy seeing this. It's part of my past," Field said during a stopover at the Davison Art Center on Feb. 7. "It's like visiting an old friend."
Corpse and Mirror, created by American artist Jasper Johns, is one of 23 prints donated to the Davison Art Center in December 2018 by the artist himself. Johns donated the images to Wesleyan in honor of Field, who served as the DAC's curator from 1972 to 1979.
Johns, an 89-year-old artist, is known for his textured screenprints and paintings of flags, numbers, lightbulbs, and targets. He engaged with pop art, minimalism, conceptual art, and abstract expressionism movements.
"Personally, I am thrilled that Wesleyan has been designated by Jasper Johns to be a recipient of his work," said Miya Tokumitsu, curator of the Davison Art Center. "Also, I am very happy that Dick's legacy will be honored in this way. Although Dick has long since left Wesleyan, he continues to care deeply about the DAC."
Field first encountered Johns' work in 1964 when he purchased a piece titled Ale Cans.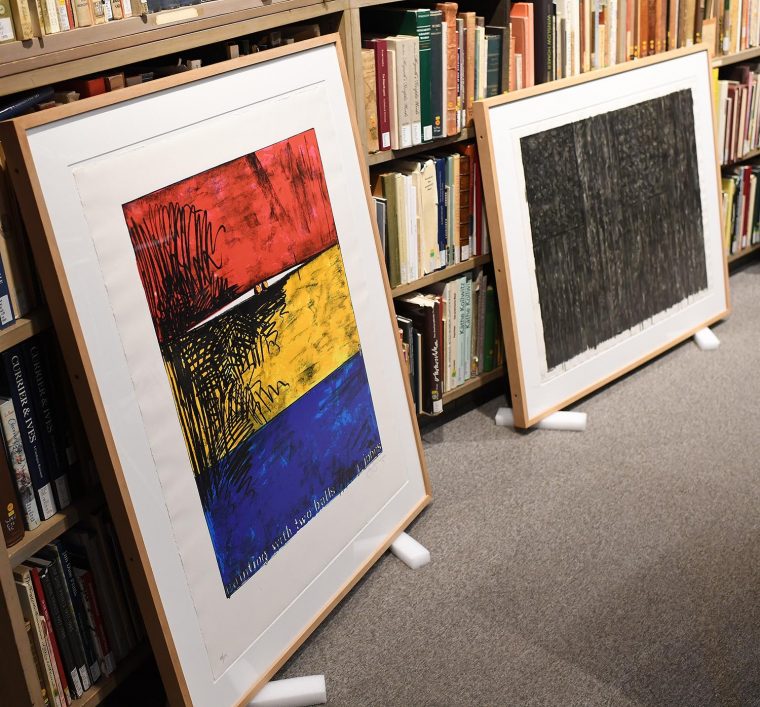 "The purchase was purely intuitive. It was a new work that grabbed me and I didn't know why," Field said.
Hooked by this up-and-coming artist, art historian Field took an immediate interest in Jasper Johns.
"Jasper Johns is more innovative in 20th-century printmaking than anyone else. He also is one of the great moralists of our time," Field said. "Jasper listens to what people have to say about his work; he looks and listens to everything. He incorporates that (feedback) into his work."
In 1969, Field curated an exhibition at the Philadelphia Museum of Art of his work; That same year, he ventured to New York City to meet Jasper Johns in person.
"That was 50 years ago. We've known each other all this time," Field said. " In fact, I just saw him three weeks ago."
In 1978, six years after joining the Davison Art Center staff at Wesleyan, Field curated a show titled Jasper Johns: Prints 1970–77, featuring a plethora of Johns' works. Johns, who came to the show's opening, also spoke with students and attended a reception at the President's House, hosted by former Wesleyan President Colin Campbell.
Field also penned three books and catalogs about Jasper Johns: Jasper Johns: 1960–1970 (Philadelphia Museum of Art, 1970); Jasper Johns Prints: 1970–77 (Wesleyan, 1978); and The Prints of Jasper Johns, 1960–1993: A Catalogue Raisonné (Universal Limited Art Editions, 1994).
Among the donations to Wesleyan are Jasper Johns' Target with Faces, 1968; Untitled (Ruler), 1968; Painting With Two Balls, 1971; Screen Piece, 1972; Target, 1974; Flags II, 1973; Corpse and Mirror, 1976; The Dutch Wives, 1977; and Cicada II, 1981.
"This gift more than doubles our Jasper Johns collection," Tokumitsu said. "Anyone who's interested in screen printing, art history, American studies, or anyone who generally appreciates art will find this collection valuable."
The Jasper Johns donation joins the Davison Art Center's collection of more than 25,000 works of art. To view the collection, contact the Davison Art Center.