Grabel Wins Women of Innovation® Award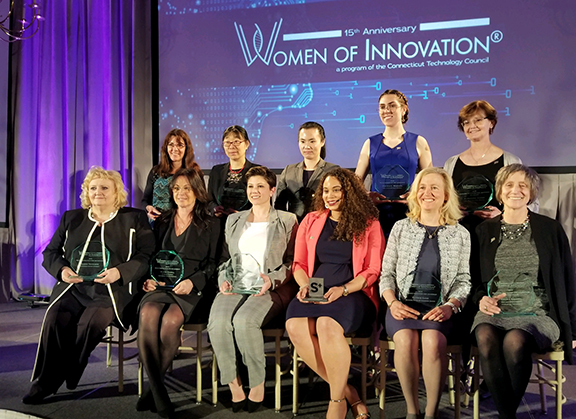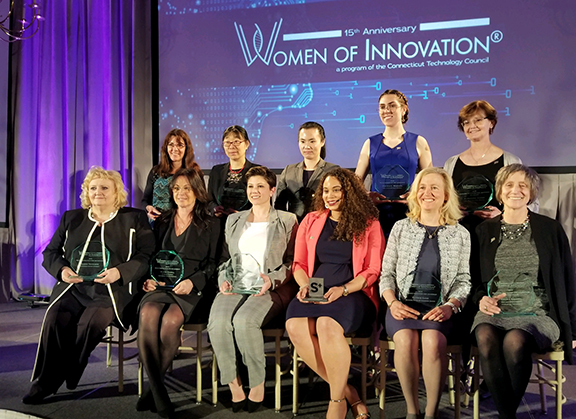 Laura Grabel, the retired Lauren B. Dachs Professor of Science and Society, received an award at the 15th Annual Connecticut Technology Council Women of Innovation® Awards presentation on March 27.
The Women of Innovation® program recognizes women innovators, role models, and leaders in science and technology professions, as well as outstanding young women at the high school and collegiate level pursuing technology studies. Of 50 finalists, 11 were recognized as winners in their respective categories; Grabel took the top spot in the Academic Innovation & Leadership (Postsecondary) category.
Grabel, who also is a retired professor of biology, is an accomplished scientist engaged in understanding how the fertilized egg can become a complex organism. This spring, she is teaching Reproduction in the 21st Century.
In addition to publishing dozens of academic articles and a book on ethical stem cell research, Grabel fosters STEM initiatives that focus on supporting women in science, such as teaching a course on the biology of women at York Correctional Institution, and collaborating with professional choreographers to convey complex scientific concepts through movement and dance in and outside of the classroom.
Grabel was accompanied at the reception by Joyce Jacobsen, provost and senior vice president for academic affairs; Joe Knee, dean of the Natural Sciences and Mathematics Divison, Beach Professor of Chemistry; Jan Naegele, Alan M. Dachs Professor of Science and professor, neuroscience and behavior; and Ishita Mukerji, Fisk Professor of Natural Science, professor of molecular biology and biochemistry, director and professor, College of Integrative Sciences.
The awards dinner kicked off the 2019 Women of Innovation® program for the Connecticut Technology Council, a statewide trade association focused on technology and technology-oriented companies and institutions, providing leadership, guidance, and support in areas of policy advocacy, community-building, and assistance for growing companies.
Grabel was named one of 50 finalists for the award in early March.