Alumni Honored for Distinguished Achievements, Outstanding Service at Annual Assembly, Meeting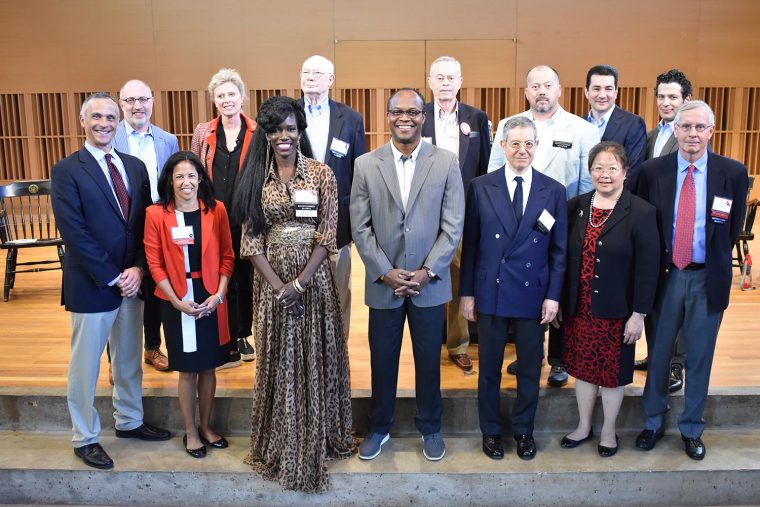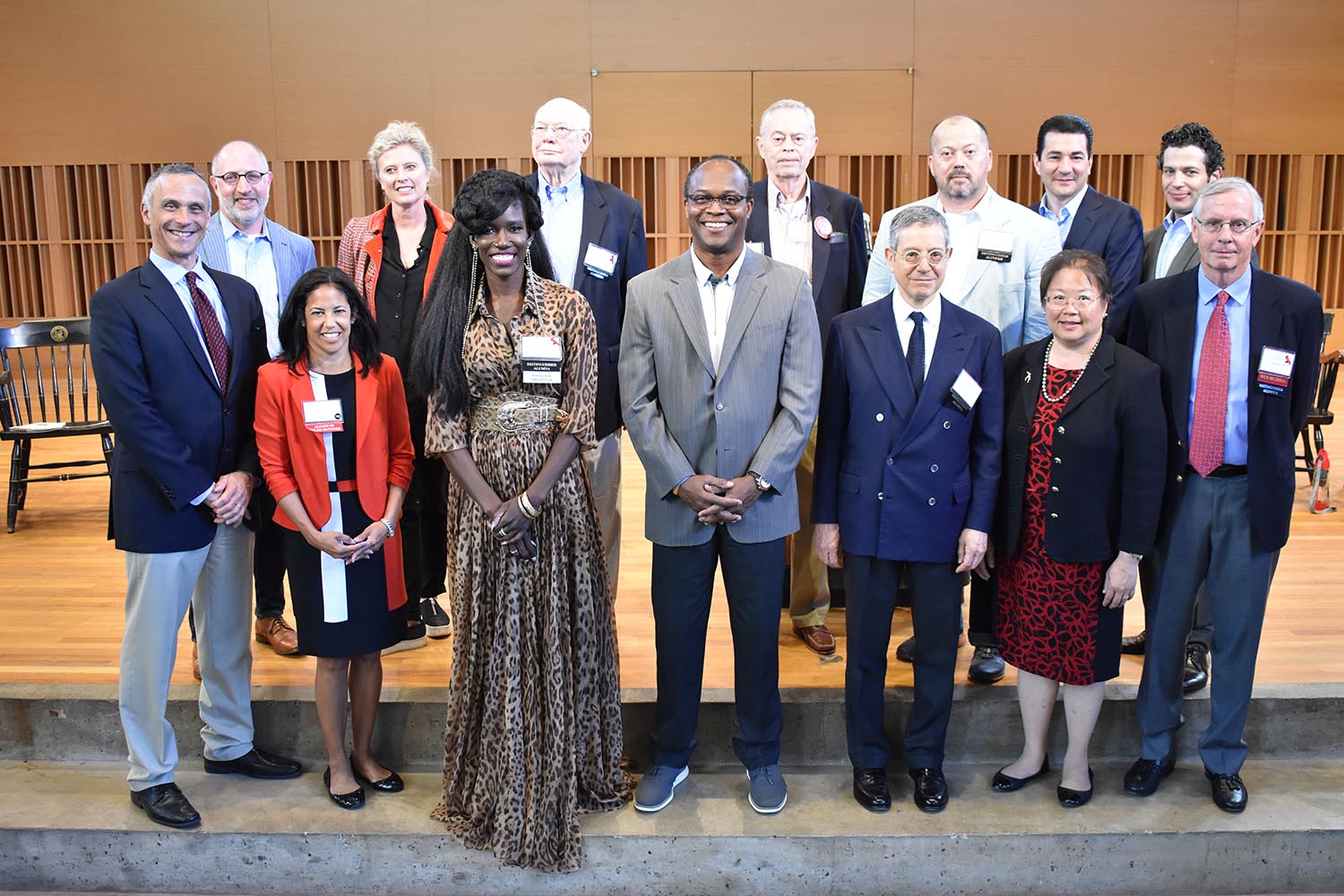 At the Assembly and Annual Meeting of the Wesleyan Alumni Association on May 25, seven alumni received Distinguished Alumnus Awards. Three Outstanding Service Awards were presented, along with the James L. McConaughy Jr. Memorial Award, which is given to a member of the community whose writing conveys "unusual insights and understanding of current and past events." Thomas Kail '99, renowned and award-winning director and producer for theater, film, and television, delivered the keynote, "Finding Your People Matters the Most," tracing the path that led him to his current position through a dedication to service and surrounding himself with others who shared his vision.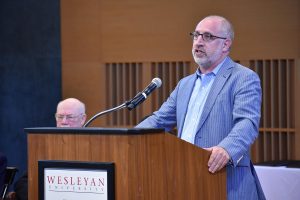 The award recipients are:
THOMAS MICHAEL KAIL '99: Thomas Kail is a director and producer for theater, film, and television. The winner of two Emmys for producing and directing Grease: Live for Fox television, he won a Tony for directing Hamilton in 2016. His latest project is the limited series Fosse/Verdon, on which he served as executive producer for the series and as director of five episodes. He serves as honorary co-chair of the University's Hamilton Prize Selection Committee.
GORDON CRAWFORD '69: Gordy Crawford retired at the end of 2012 after a 41-year career with the Capital Group's Capital Research and Management Company. He is the chairman of the U.S. Olympic and Paralympic Foundation, as well as a lifetime active trustee and past chairman of the board of Southern California Public Radio.
JEFFREY W. DEITCH '74: In the art world, Jeffrey Deitch has performed nearly every role: artist, art critic, curator, museum director, and art dealer. Now operating galleries in New York and Los Angeles, he is the author of a new book on figurative painting, Unrealism, which will be published by Rizzoli in the fall of 2019.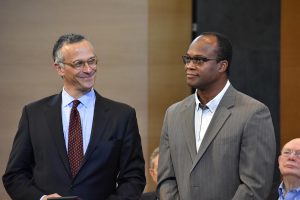 ROBERT F. KING '84: As senior vice president at ESPN, Rob King is an influential multimedia architect at the biggest brand in sports, directly overseeing ESPN's entire portfolio of storytelling assets. A six-time Sports Emmy award-winner and a past Pulitzer judge, King is a member of the Associated Press board of directors, the Center for Investigative Reporting board, and the Poynter Institute's board of trustees.
JENNO TOPPING '89: As current president of Film and Television at Chernin Entertainment, Jenno Topping oversees all of the company's development and production, including the Oscar-nominated Hidden Figures (2016). This past year, Ms. Topping spearheaded "Who's in the Room," Time's Up Entertainment's mentorship program designed to increase the presence of individuals from underrepresented groups in the producer and executive ranks.
SCOTT GOTTLIEB '94: Scott Gottlieb is a physician and health policy expert who served as the 23rd commissioner of the U.S. Food and Drug Administration from May 2017 to April 2019, during which he focused on a wide variety of issues, including drug pricing, medical product innovation, and vaccination promotion. Currently, he has returned to his role as a resident fellow at the American Enterprise Institute, a think tank in Washington, D.C.
BOZOMA SAINT JOHN '99: Bozoma "Boz" Saint John is chief marketing officer at Endeavor, a global leader in entertainment, sports, and fashion. Her career has been marked by induction into Billboard's Women in Music Hall of Fame (2018) and the American Advertising Federation Hall of Achievement (2014), as well as Billboard's Executive of the Year (2016).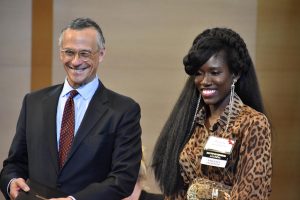 Outstanding Service Award
BERT EDWARDS '59: After retiring from Arthur Andersen in 1995, Bert Edwards enjoyed international consulting for the World Bank. He has served, alongside Ed Murphy '59, for 23 years as co-chair and class agent for the Class of '59. In 1999, he received a Distinguished Alumnus Award.
EDWARD E. MURPHY '59: Ed Murphy is retired from a career in education and the federal government. As a program director at the U.S. Bureau of Labor Statistics, he established an internship program for undergraduates and served as a consultant to the United Nations on international poverty levels. On his own, he reconstructed, from Wesleyan's Archives, the Annual Giving records for the Class of 1959 that had been lost when the University converted to computer storage.
DAPHNE KWOK '84: Daphne Kwok, AARP's vice president of multicultural leadership for the Asian American and Pacific Islander (AAPI) audience, has focused her career and volunteer service on empowering AAPIs. The founding chair of the Wesleyan Asian Alumni Council, she was also President Obama's appointee to chair his Advisory Commission on Asian Americans and Pacific Islanders.
James L. McConaughy Jr. Memorial Award
ALEXANDER SUK HYUN CHEE '89: Alexander Chee is the author of the bestselling novels Edinburgh and The Queen of the Night, and of the recent widely praised collection of essays How to Write an Autobiographical Novel, all from Houghton Mifflin Harcourt. He was awarded the Paul Engle Prize from the Iowa City UNESCO City of Literature, an acknowledgment of his political activism and work on behalf of writers. For Wesleyan, he serves on the Hamilton Prize Selection Committee.
Wesleyan University Service Awards are presented to volunteers who have given sustained service to Wesleyan over time or who have given significant service in a specific area such as admission, career resources, fundraising, reunion planning, regional programs, or class notes. This year the awards go to:
Stuart Silloway, Jr. '59, P'91
John Spurdle, Jr. '59, P'86
Stephen R. Baker '64, MD
Howard Brown '69
Charles Ferrucci, Jr. '69
Bryn Hammarstrom '69
John Mihalec '69
Jeffrey Richards '69
Nathan Pearson, Jr. '74, P'12
Ilene Rosenthal '74, P'17
Harold Sogard '74, P'17
Pamela van der Meulen '74, P'14
James Friedlich '79, P'17
Diane LaPointe '79, P'17
Shogo Maeda '79
Laura Walker '79, P'22
Steven Barg '84
Shawn Dove '84
Michael Schultz '84
Elizabeth Trippe Barr '89, P'21, P'22
Samera Syeda Ludwig '94
Benjamin Mahnke '94
Caissa Damiere Powell '94
Tomer Rothschild '94
Ellen Sluder '99
Inam Ahmed '04
Mary Livingston '04
Brian McKenna '04
David Stone '04
Ka Yat Yuen '04
THE WUSA for Graduates of the Last Decade is presented to volunteers who have given sustained service to Wesleyan in the first 10 years after graduation, or who have given significant service in a specific area such as admission, career resources, fundraising, reunion planning, regional programs, or class notes in their 10th Reunion year or earlier.
Caitlyn McCann '09
Linda Shum '09