Hazel Carby Provides Remarks at 2019 Commencement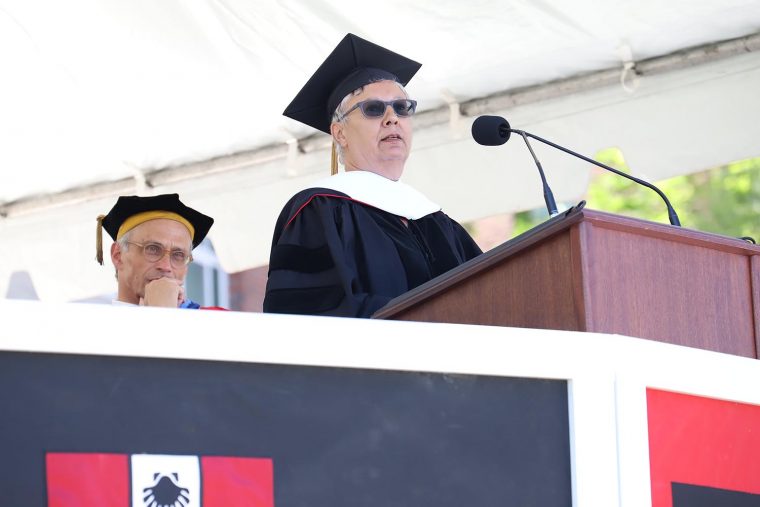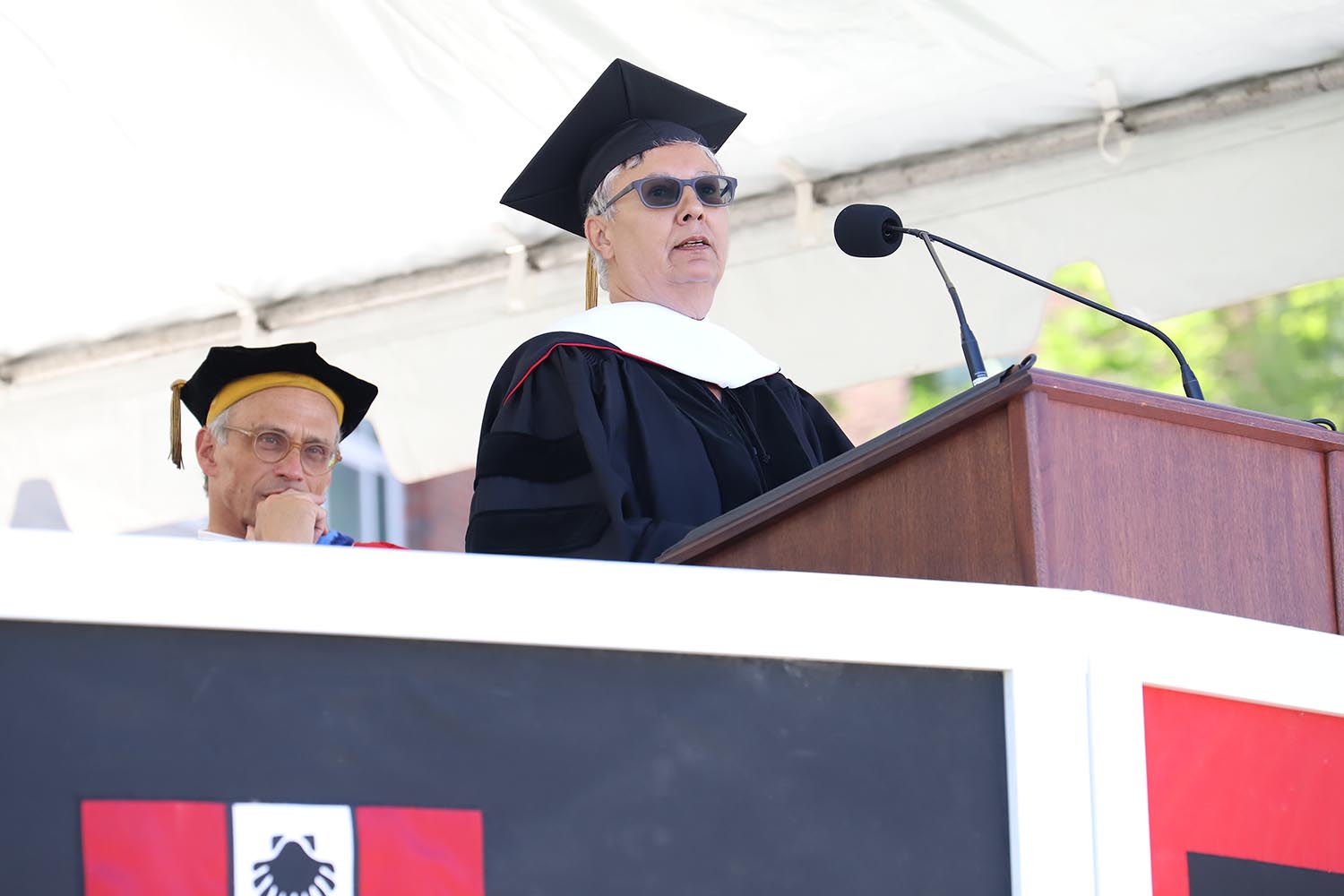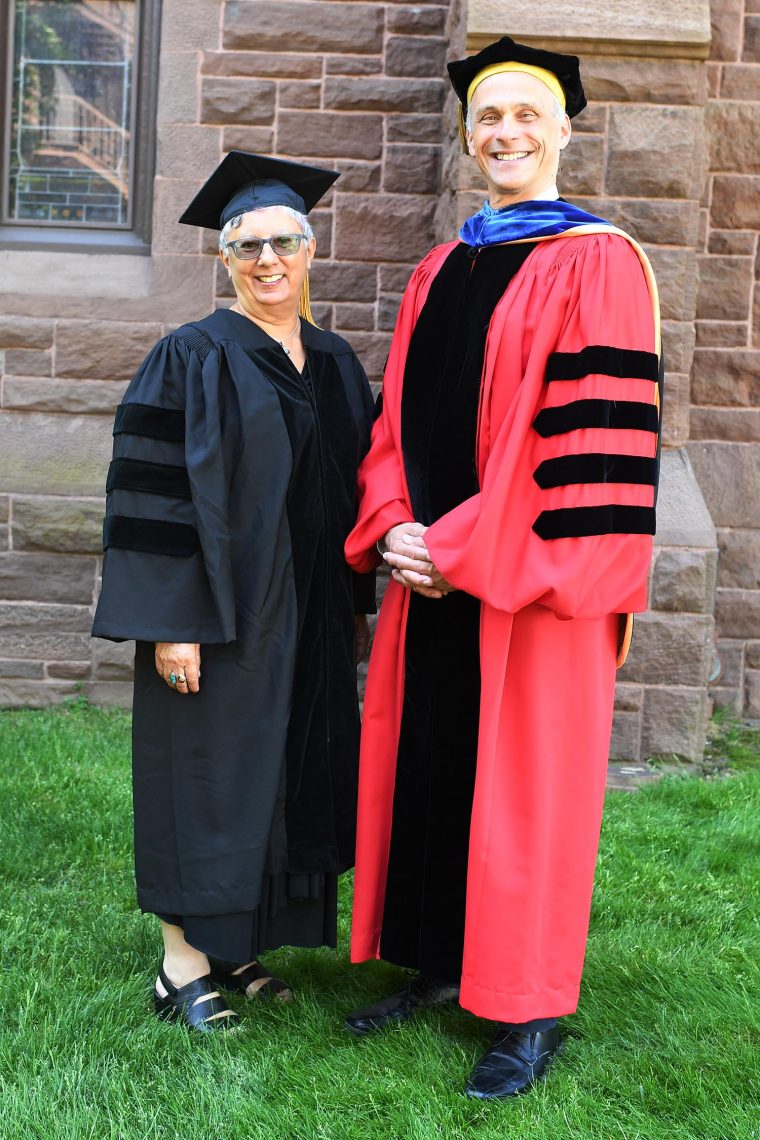 Hazel V. Carby, who taught English at Wesleyan from 1982 to 1989, was named an Honorary Doctor of Letters during Wesleyan's 187th Commencement Ceremony on May 26. The Charles C. and Dorothea S. Dilley Professor of African American Studies and director of the Initiative on Race, Gender and Globalization at Yale University, Carby was lauded for her decades of insightful scholarship, her activism, and her commitment to advancing African American Studies.
Carby's remarks as prepared are below:
As a member of the faculty during the 1980s I found students at Wesleyan to be exceptionally creative, imaginative, and talented and deeply committed to movements for social justice. I was an ardent supporter of anti-apartheid protests during that decade and was inspired by the integrity and ethical stance of students who demanded that the University fully divest the $10.6 million in stocks it held with U.S. companies doing business in South Africa. I admired their spirit and determination as they marched and occupied buildings, singing and chanting as they were arrested and dragged onto buses by the Middletown police. While I am happy to celebrate with you the achievements of the past 50 years and the long continuing anti-racist struggle embodied in the field of African American and black diaspora studies, I want to temper celebration with a sober reminder that it is our actions not in the next 50 years but in the next 12 years that will determine the quality of life on earth.

The forces of white supremacy and racial capitalism have been reinvigorated and granted legitimacy by the executive, political, and legal branches of this carceral state. At the same time what we face in the future is being simultaneously denied or silenced: imminent climate catastrophe; soil poisoned with toxic herbicides and pesticides; the acidification and pollution of our oceans; the mass extinction of species and collapse of biodiversity; and billions of people dispossessed from their land by floods, droughts, fires, and crop failure. "The health of ecosystems on which we and all other species depend is deteriorating more rapidly than ever. We are eroding the very foundations of our economies, livelihoods, food security, health, and quality of life worldwide."

From the Amazon to the Arctic, indigenous peoples are vigorously opposing the extraction and transportation of fossil fuels, they are fighting to preserve tropical and boreal forests from destruction by rapacious oil and mining corporations. Indigenous rangers continually clear tons of plastic waste from the remotest beaches in Northern Australia, plastic has even reached the bottom of the deepest trench in the Pacific Ocean. The Lummi Nation is feeding live salmon to starving Orca pods off San Juan Island in Washington.

Will we commit to join this struggle and instigate perhaps the largest social movement in history: a movement in solidarity to emancipate ourselves from fossil fuels, from our dependence on toxic chemicals, from the unfettered consumption of the natural resources of the earth and the voracious appetite for the profits that accrue from investments in extractive industries? Instead of being content to be passive subjects reduced to being a mere source of data for social media can we, must we, resurrect and reclaim an activist political citizenship which raises a collective voice, marches, protests, and rebels against extinction?