Researchers Explore the Effects of Dam Removal on Bottom-Dwelling Aquatic Animals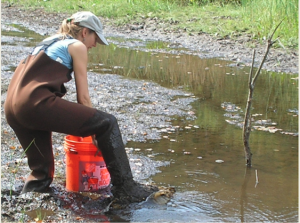 Although dam removal is an increasingly common stream restoration tool, it may also represent a major disturbance to rivers that can have varied impacts on environmental conditions and aquatic biota.
In a paper titled "Dam Removal Effects on Benthic Macroinvertebrate Dynamics: A New England Stream Case Study, five researchers from Wesleyan examined the effects of dam removal on the structure, function, and composition of benthic macroinvertebrate (BMI) communities in a temperate New England stream. The benthic—or "bottom-dwelling"—macroinvertebrates are small aquatic animals that are commonly used to study biological conditions of water bodies.
The paper is published in the May 21 edition of Sustainability, an international, cross-disciplinary, scholarly, peer-reviewed and open-access journal of environmental, cultural, economic, and social sustainability of human beings.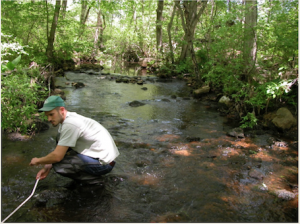 The paper's coauthors include Helen Poulos, adjunct assistant professor of environmental studies; Barry Chernoff, the Robert Schumann Professor of Environmental Studies; Kate Miller PhD '13; Ross Heinemann '09, MA '13; Michelle Kraczkowski PhD '13; and Adam Whelchel from the Nature Conservancy in New Haven, Conn.
The results of their study indicated that the dam removal stimulated major shifts in BMI community structure and composition above and below the dam.
"Our research shows that the effects of dam removal on the river were not predictable. During the fours years of the study after dam removal, the river did not return to its original state in the areas where the dam was removed," Chernoff explained.