Shapiro Translates Coran's RhymAmusings
Norman Shapiro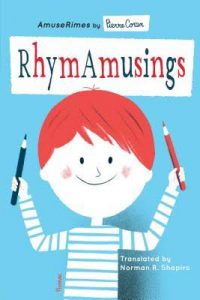 , Distinguished Professor of Literary Translation and Poet in Residence, is the translator of Pierre Coran's book, RhymAmusings, published by Black Widow Press in 2019.
"These 78 amusing rhyme-vignettes by preeminent Belgian children's poet and novelist Pierre Coran speak with an adult sophistication and endearing grace to the 'child in all of us,'" Shapiro wrote about the book.
Among the poems are "Six Hundred Six Sour Cherries," "The Little Goldfish," "Why Do Potatoes Have Eyes," "Scat, Cats," "The Whale in My Hat," and "The Flea and the Elephant."
Publication of the book was aided by a grant from the Thomas and Catharine McMahon Fund at Wesleyan.
Shapiro is an Officier de l'Ordre des Arts et des Lettres de la République Française and a member of the Academy of American Poets. His many translations have won several major awards over the last 50 years.