Wesleyan Employees Participate in Regional Emergency Preparedness Drill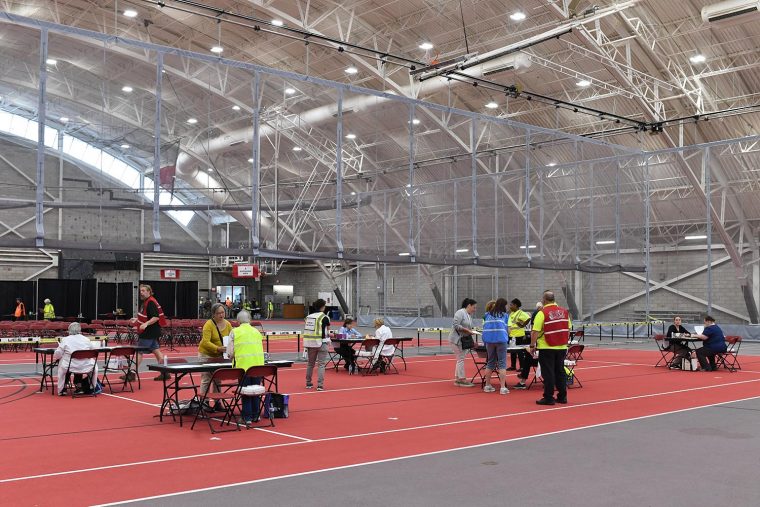 Wesleyan's Campus Community Emergency Response Team (C-CERT), Public Safety, Physical Plant, and other staff participated in a joint exercise on June 11 to test the area's ability to respond to a real-life emergency.
Wesleyan partnered with health and public safety departments from Mass Dispensing Area (MDA) 36—which includes Cromwell, Durham, Middlefield, and Middletown, Conn.—and the Middletown and Portland CERT teams on the drill. The full-scale six-hour exercise took take place at the University's Freeman Athletic Center and Coles Road Fire Station in Cromwell. Many local senior citizens and members of the Wesleyan community volunteered to play the role of patients.
Emergency responders from regional health, police, and fire departments, as well as personnel from Wesleyan University, Middlesex Hospital, and members of the public role-played a scenario in which a mass exposure to anthrax in a neighboring state has occurred. The drill included activating the local emergency operations plan and opening a POD (point of dispensing) at Wesleyan to provide simulated medication to the public. Representatives from various local and state agencies observed and evaluated the exercise. During a real emergency, Wesleyan's Bacon Field House is the Regional Distribution Site for the Strategic National Stockpile supplies for Middletown, Cromwell, Durham, and Middlefield.
The exercise was supported through multiple public health preparedness grants. Photos of the drill are below: (Photos by Olivia Drake)