Theater's Oliveras Performs in World Premiere of Kiss My Aztec!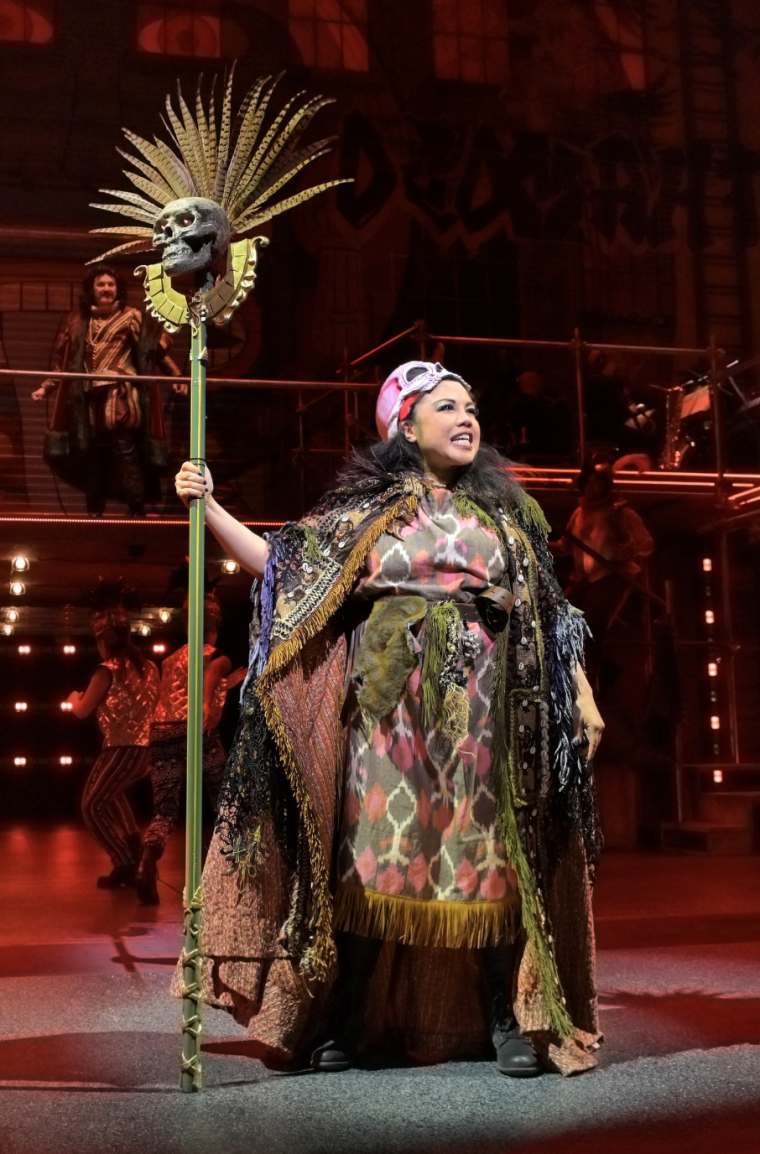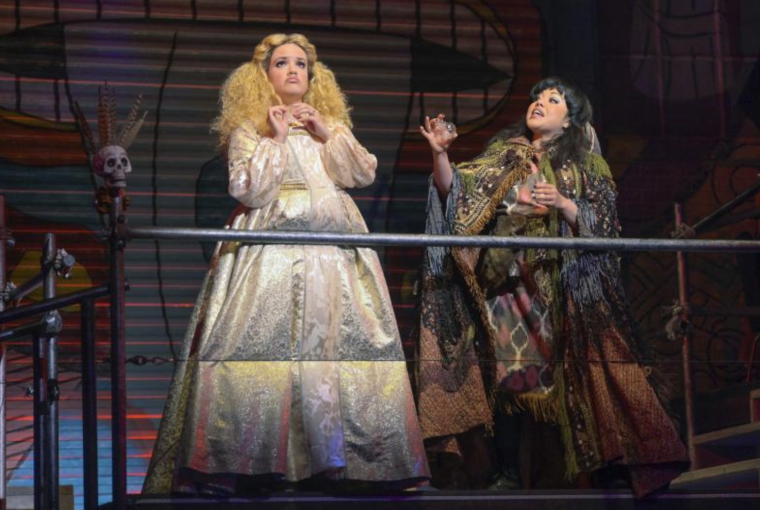 This summer, award-winning actor, singer, producer, and new assistant professor of theater Maria-Christina Oliveras acted in the world premiere of Kiss My Aztec, a new musical on Latino history.
Written by John Leguizamo and Tony Taccone, winners of the 2018 Special Tony Award for Latin History of Morons, the musical debuted May through July at the Berkeley Repertory Theatre. Performances will continue at La Jolla Playhouse starting Sept. 8.
Oliveras became involved in the musical's developmental process in 2014, when it started out as a play and evolved over time.
"I am a new works junkie. There is nothing like 'brain-childing' a piece from its inception," Oliveras said in a recent interview with Broadway World. She described the show as a "non-traditional epic musical comedy with teeth. It is brash, bold, hilarious and vulgar. An Aztec take or retake of history in the vein of Spamalot or Book of Mormon. We are not aiming for historical accuracy. And we are 'equal opportunity offenders.'"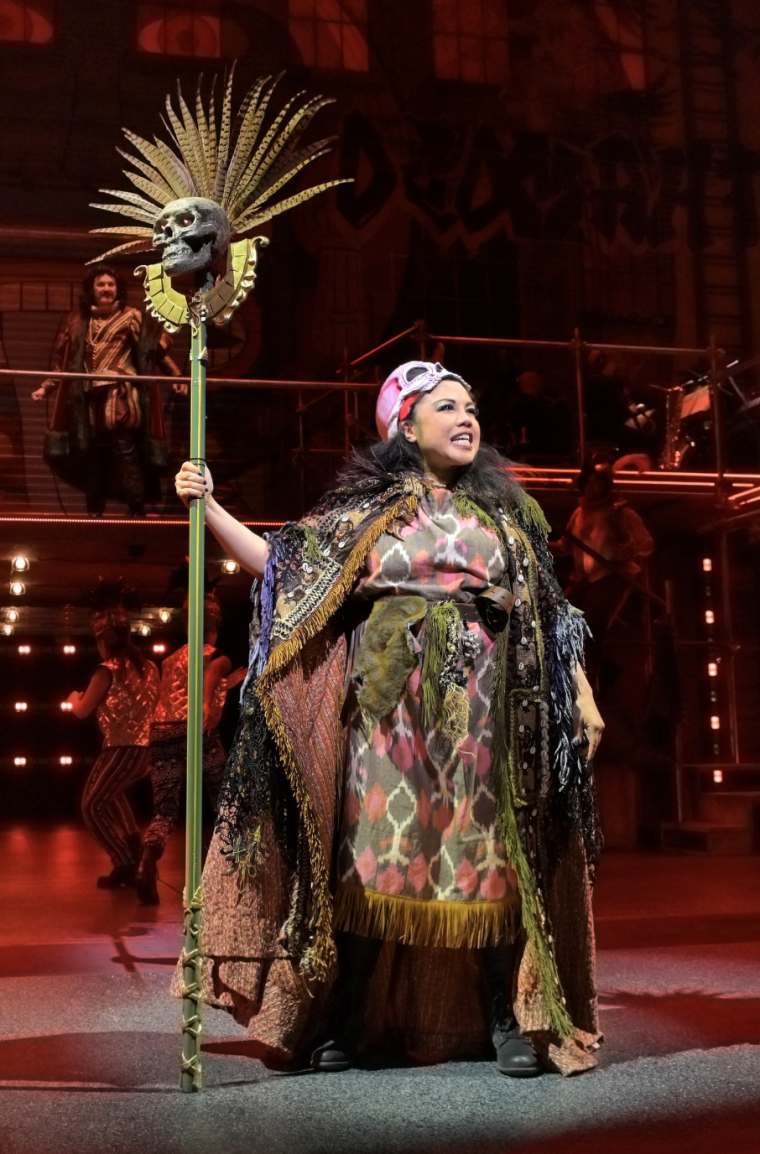 "It's a fun period piece, and we aim to make it funny and accessible. That said, the guts and reality of this romp are pretty dark, and the issues that it taps into are still as resonant in 2019 as they were in 1560: colonization, oppression of a people by a wealthy white elitist patriarchy, misogyny, genocide, inequity and discrimination of anything deemed other. The parallels are overwhelming, as history continues to repeat itself," she explained.
Oliveras played the role of Tolima, an Aztec witch who serves as a rebel spy in the Spanish Court.
"I love playing her. She is a powerful witch, sorcerer, magician, shaman, earth mother, protector of the ancestors. She's a clown-big, brash, bold, funny, subversive, wily, and her ballistic high stakes desperation to serve the cause and save the Aztecs is pure joy." Oliveras said. "Plus, I get to sing and dance and rap!"
Oliveras has performed extensively on and off Broadway—regionally, internationally, and in film and television. Dedicated to new works and underrepresented stories that reflect the diversity of our world, her career is distinguished by her transformational character work in a number of world premieres.
Oliveras, who has a BA from Yale University and an MFA from the National Theatre Conservatory, will join Wesleyan's faculty this fall, teaching Acting II. She previously served on the faculty at Fordham University Lincoln-Center, Yale University, Primary Stages, and Stella Adler Conservatory, and frequently serves as a guest speaker at universities throughout the country.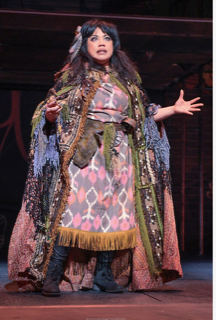 "I've always known Wesleyan for its excellence, and all my colleagues who are alumni have raved about their experiences here," she said. "After my on-campus visit, I knew I wanted to be a part of this community."
Oliveras met with fellow faculty, staff and students and spoke specifically on ways to build the theater program that would best serve the diverse range of interests and backgrounds of the population.
"I am most excited about engaging with the students—not only cultivating their artistry and individual authentic voices but also offering up my perspective as a professional actor on how to navigate life as an artist after Wesleyan," she said.