Wesleyan Welcomes 781 Students on Arrival Day (with video and photo gallery)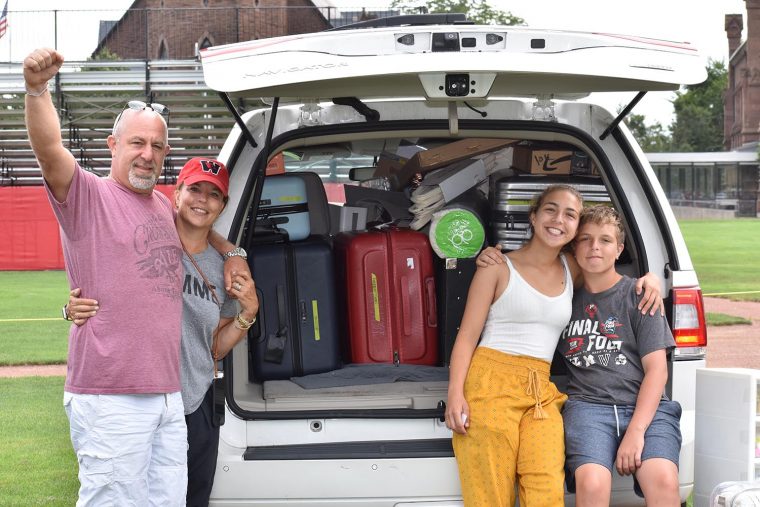 On Aug. 28, 781 members of the Class of 2023—along with their families—flocked to campus for Arrival Day. Hauling armfuls of personal belongings and comforts from home, students settled into their new home-away-from-home amid fond (and a few teary) farewells.
President Michael Roth '78 provided a personal welcome, helping carry students' belongings into residence halls and offering warm greetings to the new members of the Wesleyan family. Athletic teams also helped carry the load, hoisting plastic tubs of cold-weather clothing and draped bedding over their shoulders.
Clark Hall volunteers had organized their sidewalk space, chalking it into squares labeled with room numbers to keep belongings all in one place. Inside the new room, families helped their first-year students to settle in and brand-new roommates found common ground and made plans for their space. Wesleyan's mascot, a bright red Cardinal, fluttered about to add to the spirit of the day.
A total of 13,358 individuals applied for a spot in the Class of 2023, the most in Wesleyan history. Of those, Wesleyan admitted 2,187 and 781 matriculated. An additional 52 transfer students enrolled this fall.
Below are some stats about the Class of 2023:
45% men and 55% women
52% attended public high schools
A record-breaking 18% are from outside the USA
44% are students of color (including international)
24% identify as Asian/Asian American
14% are international students (view story)
8% are the children of Wesleyan alumni
15% are among the first generation in their family to attend a four-year college
48% are receiving financial aid
80% have already studied a foreign language
84% graduated in the top 20% of their high school class
English, biology, economics, film, and psychology are the top projected majors (identical to the Class of 2021 and 2022).
"The range of talents, cultures, and family backgrounds in this group is exceptional, even by Wesleyan's high expectations," said Nancy Meislahn, vice president and dean of admission and financial aid.
During New Student Orientation, the first-year students are participating in small group sessions led by orientation leaders; an academic forum; a "We Speak We Stand" program focused on the prevention of sexual assault and relationship violence; stargazing at the Van Vleck Observatory; a "Middletownopoly" walking tour; an a capella concert; a presentation of autobiographical monologues written by current students; an open mic night; a square dance; religious group gatherings; and a Silent Disco at Olin Library. Orientation will conclude Friday with the annual Common Moment event that brings new students together in movement.
And as part of Wesleyan's First Year Matters program, students will also attend a lecture and discussion with Kennedy Odede '12, co-author (with his wife, Jessica Posner '09) of this year's common read Find Me Unafraid: Love, Loss, and Hope in an African Slum.
Photos of Arrival Day are below and on this Wesleyan Flickr album. (Photos by Tom Dzimian. Cynthia Rockwell and Katie Aberbach assisted with this article)