Blaine '92 Brings One-Woman Show and Brain Surgery/Art Tour to Campus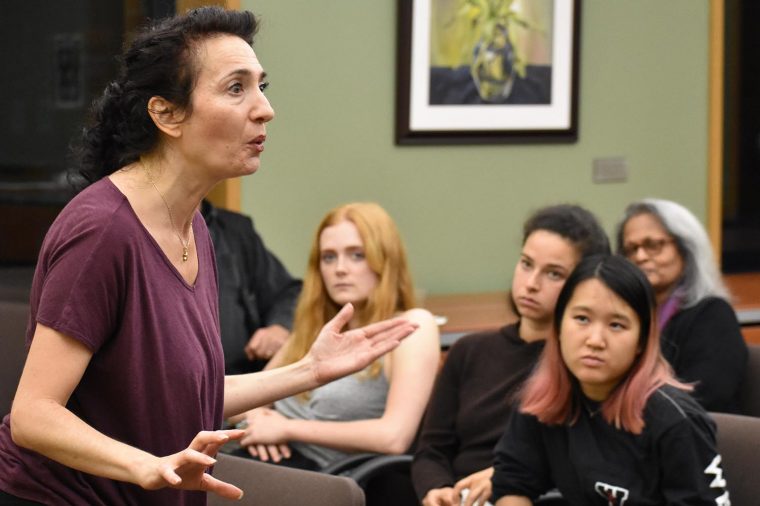 On Sept. 25, Jennifer Blaine '92 performed The Vicissitudes of Travel in Usdan 108.
Hosted by the neuroscience and pre-med students of the MINDS Foundation and the Basal Gang, The Vicissitudes bridges the gap between medical science, mental health, and performance art.
In the solo show performed by Blaine and co-written with Karen Getz, Blaine's portrayals of each member of a family comes to life against the sparse set that invites the audience's imagination to fill in the gaps. Terrified by the idea of losing her brother, "Sister" goes on a journey through her brother's brain surgery that blends visual art, memory, and tangled neurons in an attempt to connect with "Brother" before it's too late.
During the post-performance discussion, Blaine and the students in the audience delved into the healing journey, the creative process, and the role of art in medicine.
"Every time I perform The Vicissitudes I am amazed at what it evokes for people. People enjoy a character, find themselves laughing one moment and the next are moved by a poignant revelation," Blaine said. "As the creator and performer it's both terrifying and exhilarating to perform the piece for new audiences since even I don't know what will happen. We begin the journey as strangers, but by the end of the piece we have such a deeply bonded experience that segues into meaningful dialogue and sharing that's unique to each particular group."
At the Wesleyan performance, Blaine was particularly struck by the insightful line of questioning and sharing.
"Students' questions about the text unearthed things I had never even thought about," Blaine said. "One of the missions of the performance is to connect the invisible community affected by brain issues and create a way that we can be present, listen to one another, and have more compassion. I believe we achieved that. I hope this performance can be the beginning of a dialogue with the Wesleyan community about these issues."
The event was coordinated by Kush Patel '20 of Wesleyan MINDS, graduate student Helen Karimi from The Basal Gang, and Meg Zocco, director of parent development.
After performing at Wesleyan, Blaine will bring The Vicissitudes to Jefferson Hospital in Philadelphia, where she will also hold workshops for medical students.
Photos of the performance are below. (Photos by Tom Dzimian)