What's the Buzz About Pollinators? Class Visits Local Apiary to Find Out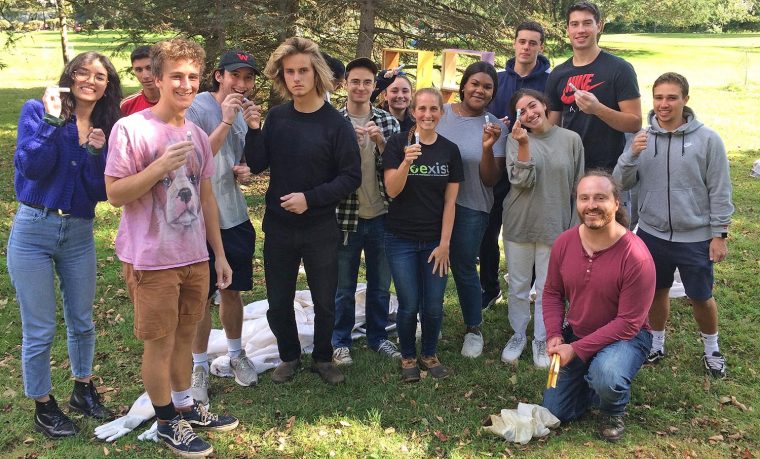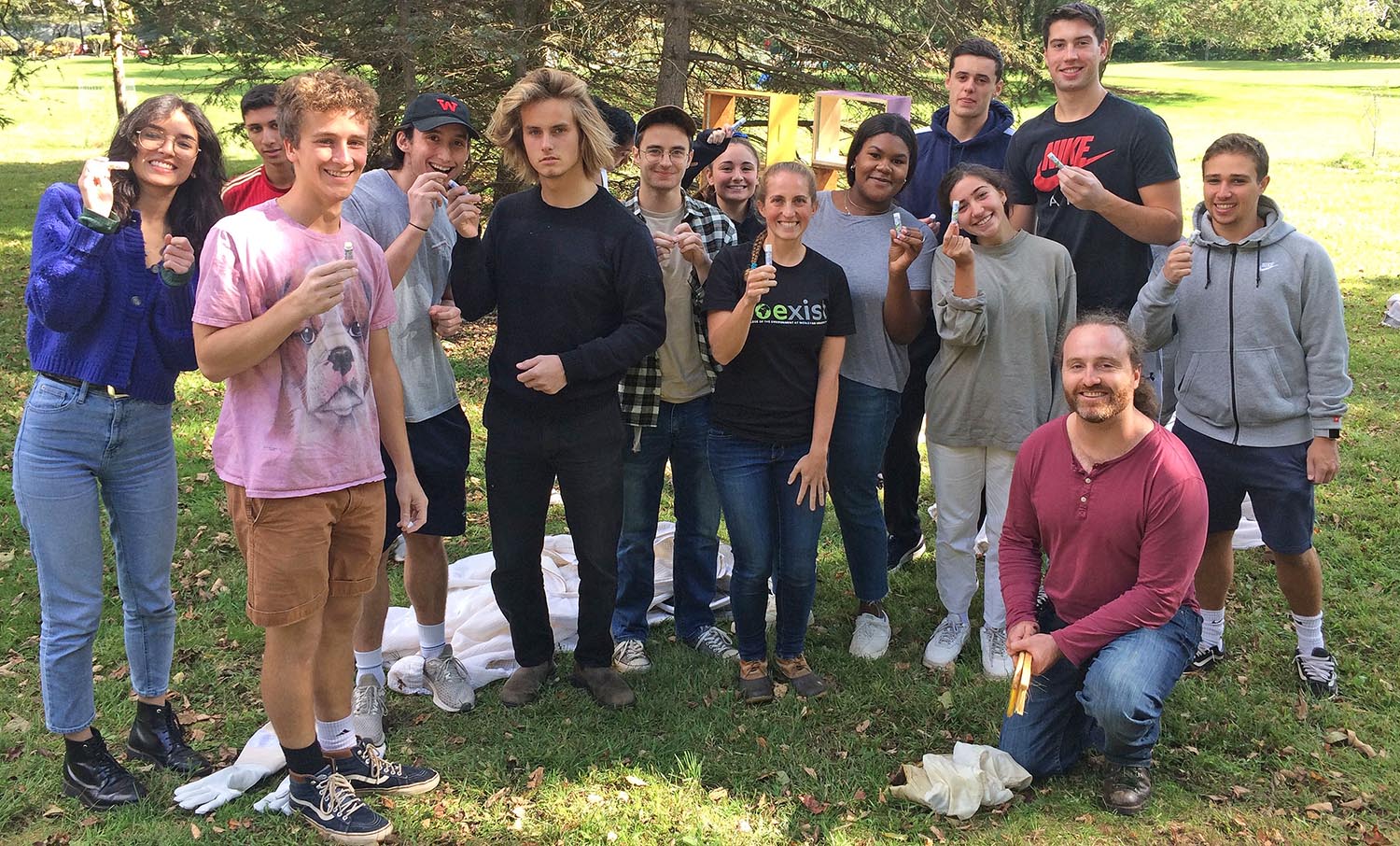 Students in a Sustainable Agriculture and Food Systems class recently stepped out of the classroom … and into beekeeping suits. The buzzworthy hands-on experience was part of a field trip to an apiary in Norwich, Conn.
"The course explores strategies to create a sustainable agriculture and food system," said Rosemary Ostfeld '10, visiting assistant professor of environmental studies, who teaches the class. Her students have already been gaining an understanding of some of the key environmental impacts associated with our agricultural system, and read Rachel Carson's seminal Silent Spring. The purpose of the field trip on Sept. 18 "was to learn more about pollinators—specifically honeybees—and some of the reasons their populations have been declining in recent years," Ostfeld said.
Hosting the students were beekeeper Drew Burnett and his assistant Curtis Witt. Burnett is the founder of Drew's Honeybees, a honeybee-centric, all-natural, USDA organic skincare company. Drew's Honeybees donates 20 percent of its profits to the State of Connecticut's Agricultural Experiment Station to fund pioneering research into the causes of and solutions to Colony Collapse Disorder.
After the students donned the beekeeping suits, Burnett opened several of his hives to point out the different types of honeybees living in them, including the workers and drones.
"In a stroke of luck, we observed the queen in each hive we opened," Burnett said.
Burnett discussed the various sections of the honeycomb, including those that contain honey, as well as honeybee larva. He also explained how honeybees prepare for and survive the winter, and shared some of the issues honeybees are facing today, such as the presence of Varroa mites. Another topic of discussion was the role of business in addressing environmental crises, as well as some of the specific challenges Drew's Honeybees has faced.
The presentation—and the entire visit—served as a valuable complement to the course, Ostfeld said.
"Simply reading about pollinators and listening to a lecture is not the same as getting to see how beekeeping works firsthand," Ostfeld said. "Drew and Curtis were 'un-bee-lievable' hosts, and it was exciting to learn about beekeeping and how his company exists to do good."
Burnett said a highlight of the visit was "seeing the students' keen interest in the particulars of honeybee husbandry and their amazement at the docility of bees. I was heartened by their engagement with the environmental crises facing their generation," he said.
Read a Q&A with Ostfeld about sustainable agriculture on this College of the Environment coexist blog post.
Photos of the field trip are below. (Photos courtesy of Rosemary Ostfeld)