"The Language in Common" on Exhibit in Zilkha Gallery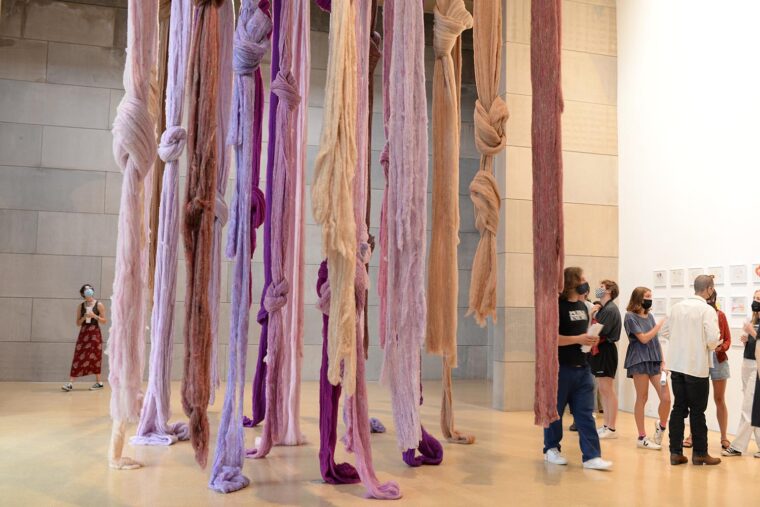 Unspun wool. Silver-spray painted stones. A worn leather suit. Sketches from an iPad. A video of children studying.
Each object offers its own narrative. Set again the viewers' assumptions and impressions, a whole new set of meanings are created.
A new art exhibition titled "The Language in Common," curated by Benjamin Chaffee, associate director of visual arts, attempts to offer more questions than answers.
The exhibition, featuring installation, sculpture, video, sound, drawing, poetry and performance, brings together five international and intergenerational artists, including Cecilia Vicuña, Tanya Lukin Linklater, Julien Creuzet, Jasper Marsalis, and Alice Notley. It opened to the public Sept. 14 and will be on display through Dec. 12.
The opening reception, held this past week, was the Center for the Arts' first in person art reception since the beginning of the global pandemic. "We've had no social experience of art (since COVID started), I would say. I don't think I realized since the pandemic how important the social aspect of art is," Chaffee said.
The title comes from an essay written by Steve Lyons and Jason Jones, published by e-flux journal in 2020. "Their essay lays out the possibilities for establishing commonalities on the political left and argue for the existence of a space, imagined or real, outside the demands of capitalism. The authors local that space as already existing within Indigeneity and propose that thought the 'language in common' it is accessible to all," Chaffee said in his opening remarks.
The seeds for the exhibit were planted several years ago when Danielle Vogel, assistant professor of English, Creative Writing, approached Chaffee about inviting Vicuña to install one of her quipus at Wesleyan. The quipu is an indigenous Andean form of communication made of series of knots tied in string used as a three-dimensional representation of written language. Chaffee loved the idea.
"In thinking about building a show around Vicuña's work, we wanted to place her alongside other artists working between poetry and art. By focusing on these formal connections we hoped the show would highlight how artists who may share a similar 'poethics' can work with very different materials," Chaffee said.
Lunch meetings turned into a formal planning for a new class called Between Forms, an advanced project-based workshop for poets and artists interested in the crossover between poetry, visual art and performance.
Pairing these two disciplines in the classroom is not common place, although there are many artists who write poetry and many poets who make visual art, Chaffee said.
The idea for an exhibition begins broadly – a concept, an image, a juxtaposition of ideas. Then Chaffee moves from his visceral take to a more nuanced approach, creating a framework for the exhibition. The ideas crystallize through research and review of artists who might be interesting and or have some way to speak to a particular idea. "I work from not knowing towards knowing," Chaffee said.
The space itself becomes a player in the work – no space is neutral, particularly the Zilkha Gallery, with its high windows and tall concrete walls. "Usually exhibition spaces are less present than this one," Chaffee said.
In the installation process when artworks are placed in the space, he walks around checking the interplay between objects, seeing where the eyes are drawn, how light reacts, how one feels moving between the pieces of art. In this exhibit, where the works on display are diverse in form and material, this process became perhaps even more important.
"When I am putting together a group show organized around a concept, one of my goals is not to tell someone what to see, Chaffee said.
When you move through the gallery, past Marsalis' rocks and leather jacket, past the video of youth by Lukin Linklater, near Vicuña's quipu, which dominates, and turn to look at Notley's drawings, the experience is both intimate and expansive.
Chaffee recalled a conversation between the writer Gertrude Stein and her partner Alice B. Toklas. Stein woke up after having an unsuccessful operation to remove stomach cancer. "What's the answer?" she asks Toklas. Toklas is silent. "In that case, what is the question?" Stein said.
In this moving exchange, Chaffee finds a key to the collection of works on display. "What a better entry into this exhibition, into the space between language and art and our somatic apparatuses," Chaffee said at the opening reception.
There will be a related series of events taking place over the semester:
A performance and artist talk by Cecilia Vicuna, Oct. 13 at 6 p.m. in the Ezra and Cecile Zilkha Gallery, hosted by Writing at Wesleyan
An online poetry reading by Tanya Lukin Linklater on Oct. 6 at 4:30 p.m. from her book "Slow Scrape." 
An online artist talk by Tanya Lukin Linklater and Raven Chacon on Nov. 2 at 6 p.m.
An online artist talk by Julien Creuzet on Nov. 15 at 12 noon. 
Ezra and Cecile Zilkha Gallery is open from noon to 5 p.m. Tuesday through Sunday.
View photos of the Sept. 14 opening reception below:  (Photos by Willow Saxon '24)