New Play Reflects on the Ongoing Effect of Racism on the American Dream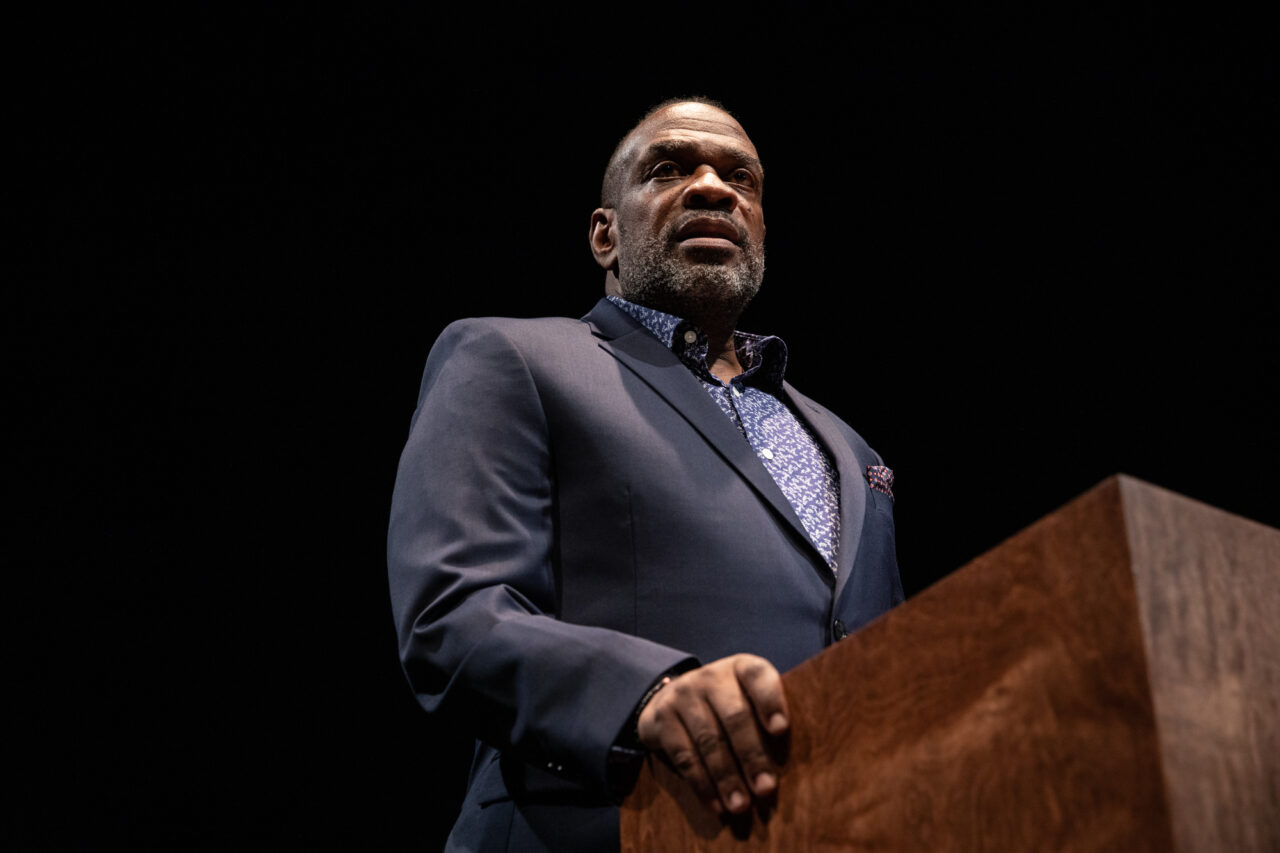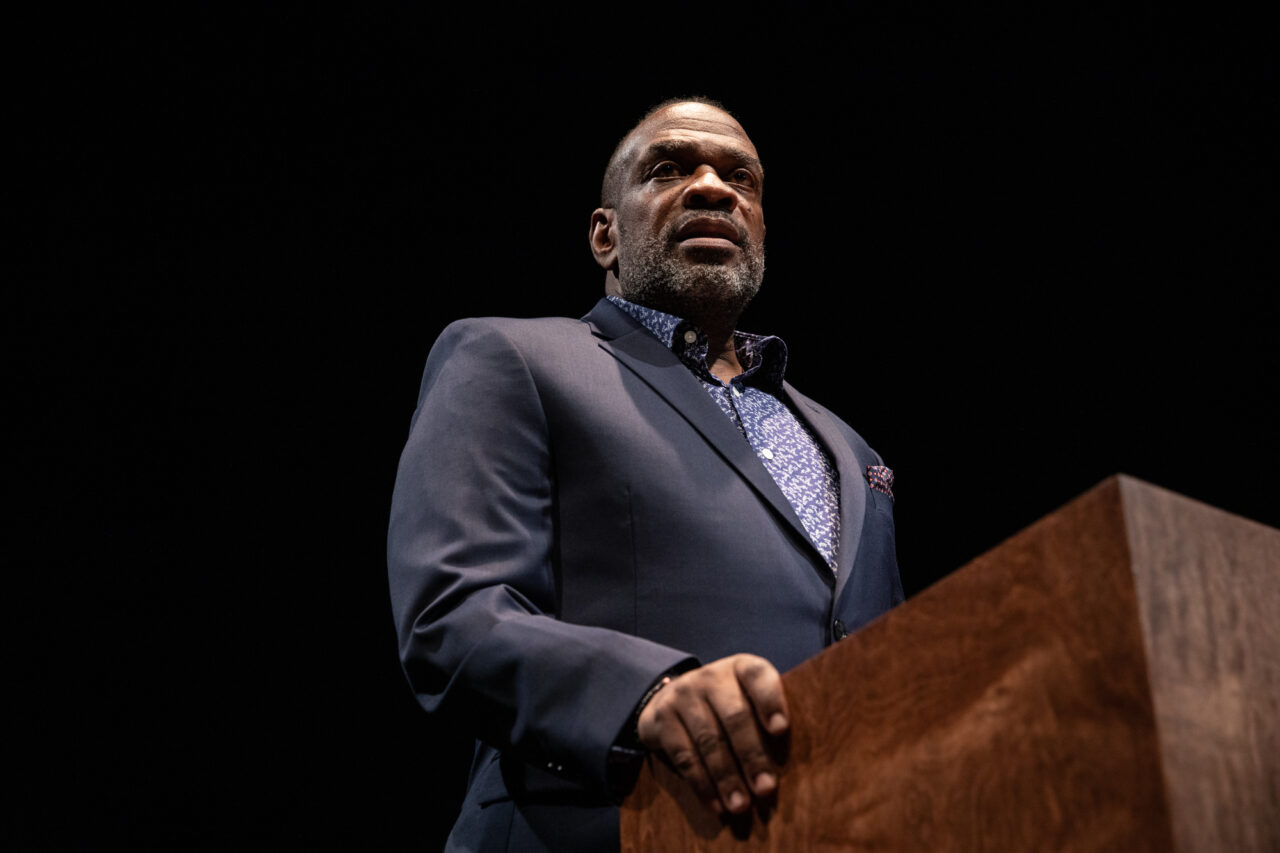 Actor Greig Sargeant was watching a debate on YouTube in the fall of 2019 and he started getting very angry. It wasn't new footage, though – the clip was over 54 years old.
In February 1965, writers James Baldwin, one of the most powerful figures of the Civil Rights Movement, and William F. Buckley, Jr., the father of 20th century patrician conservatism, had been invited to the Cambridge University Union in England to debate the proposition "The American Dream is at the expense of the American Negro."
"It was definitely relevant for me, being a Black man and seeing this debate that happened in 1965 and thinking to myself, 'I could have this debate today,'" said Sargeant. "And thinking that in all this time, what has really changed? And what is going on? This was all before, the world went even crazier with the stuff that happened in the months to follow [in 2020], but, the impetus and the drive to push this project forward was based on, people needed to hear this conversation again and be reminded."
In an effort to reckon with the contemporary resonances of Baldwin and Buckley's debate, Sargeant and fellow actor Ben Jalosa Williams will perform a verbatim staging of it in Baldwin and Buckley at Cambridge, taking place Thursday, February 24 and Friday, February 25, 2022, at Wesleyan's Center for the Arts Theater. This is the New England premiere of the production, which had its world premiere in September 2021. Tickets are free for Wesleyan students, faculty, and staff.
Years before, a friend's father had said to Sargeant that at some point he had to play James Baldwin. Sargeant called his colleague John Collins, director and founder of the New York-based ensemble Elevator Repair Service, and asked him to take a look at the transcript of the debate.
"I was also really moved by it," said Collins. "I hadn't seen it either. And [I] was just floored by Baldwin's half of the debate. And not for nothing, I was also really intrigued, you know, sort of perversely by Buckley's half. Not because I found anything persuasive about it, but because it sounded familiar. It sounded familiar to me, you know, these arguments were not alien to the 21st century and that was of course troubling. But it made the combination of the powerful eloquence of Baldwin's speech and the familiar ring of Buckley's arguments, made the whole thing feel like something, not the least bit historical, but present, very much of the moment."
Elevator Repair Service has had a rich history of adapting unconventional texts for performance since 1991, including William Faulkner's The Sound and the Fury, which premiered in 2008 and was the first work that Sargeant performed with the company.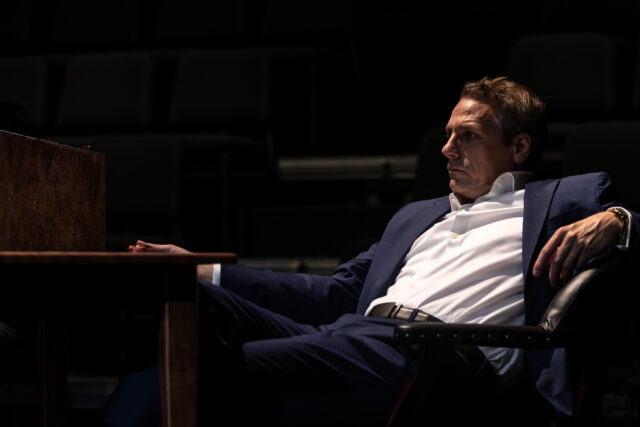 Williams initially joined Elevator Repair Service in 2003 when they were working on an adaptation of F. Scott Fitzgerald's The Great Gatsby at The Collapsable Hole in New York. He previously portrayed William F. Buckley, Jr. in the company's No Great Society in 2006.
"I think there's something akin to a kind of psychosis with Buckley saying that you have to be empathetic and putting on a mask of empathy and making a gesture of empathy, but not caring at all," said Williams. "But, in a subtler way, it's an idea of what does a comfortable, what does it look like to be comfortable with white supremacy?"
Wesleyan's Associate Director for Programming and Performing Arts and Adjunct Assistant Professor of Theater Fiona Coffey saw the first work-in-progress showing of the work in January 2020 at Abrons Art Center's Underground Theater in New York, along with Professor and Chair of the Theater Department Ronald Jenkins. "[The performance was] filled with emotion, expression, desire, and an impassioned assertion of civil rights that I felt was important for our Wesleyan students and community to experience," said Coffey.
The pandemic delayed the performance itself, but the relationship between Wesleyan and Elevator Repair Service had already been cemented. In March 2021, Wesleyan presented the virtual panel discussion "A Conversation about History and Process," during which Sargeant and Williams showed video excerpts of their performances from the Abrons Art Center, as well as the Prelude Festival in October 2020, and spoke with Collins about the development and process of creating the work. The discussion was moderated by Assistant Professor of Theater Katie Pearl and Fitzroy "Pablo" Wickham '21.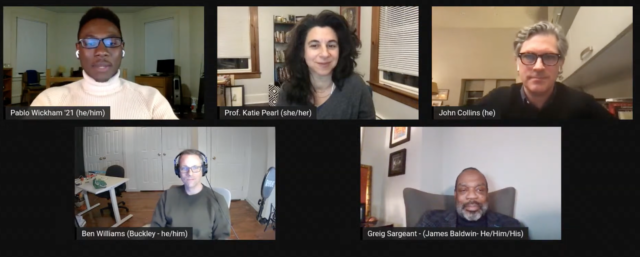 When Sargeant first started working on the project, he thought more along the lines of a recreation out of respect for James Baldwin. "As things progressed, and the world went mad, this project became more about the testament of now. [I think about] getting the point across to the people that have…come [to] see this show, to hear a message," Sargeant said.