Art Studio Majors Display Senior Theses at Zilkha Gallery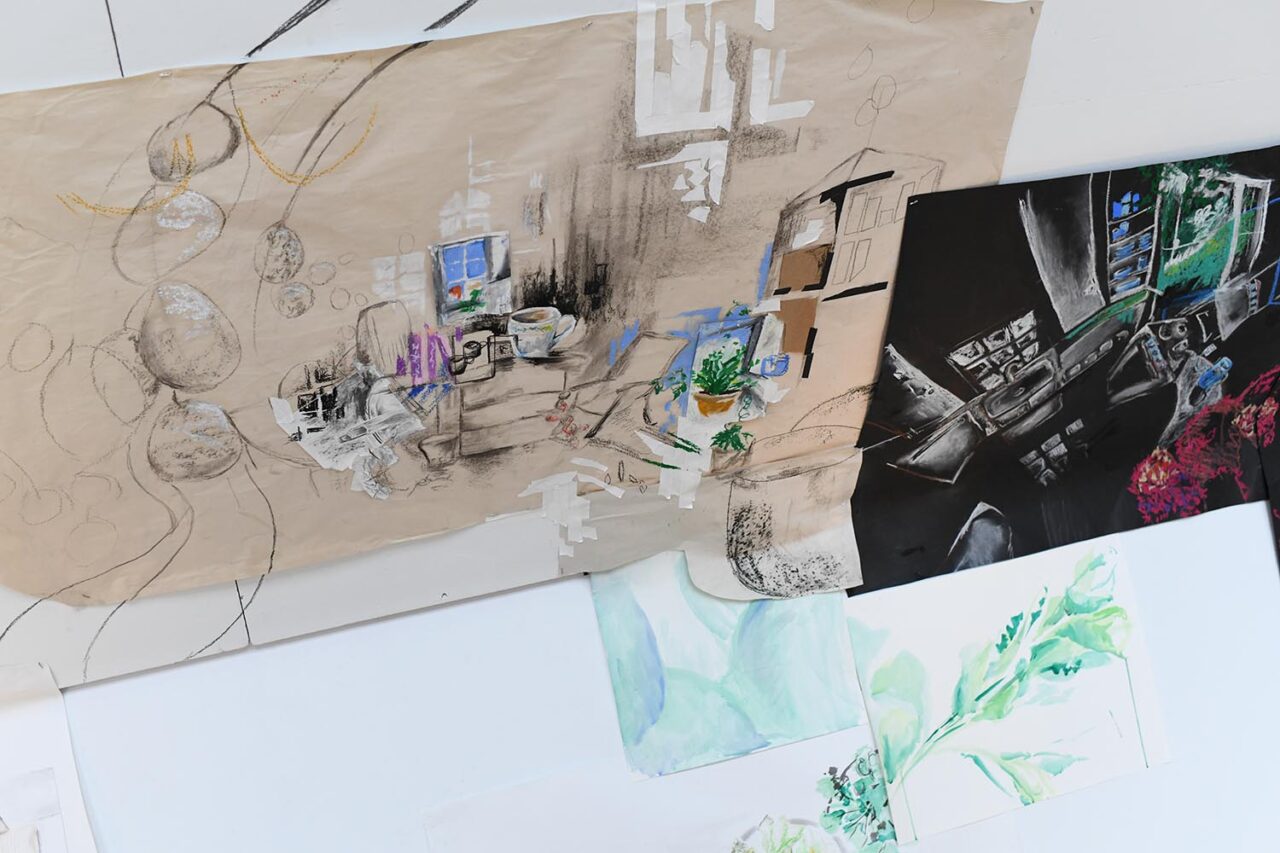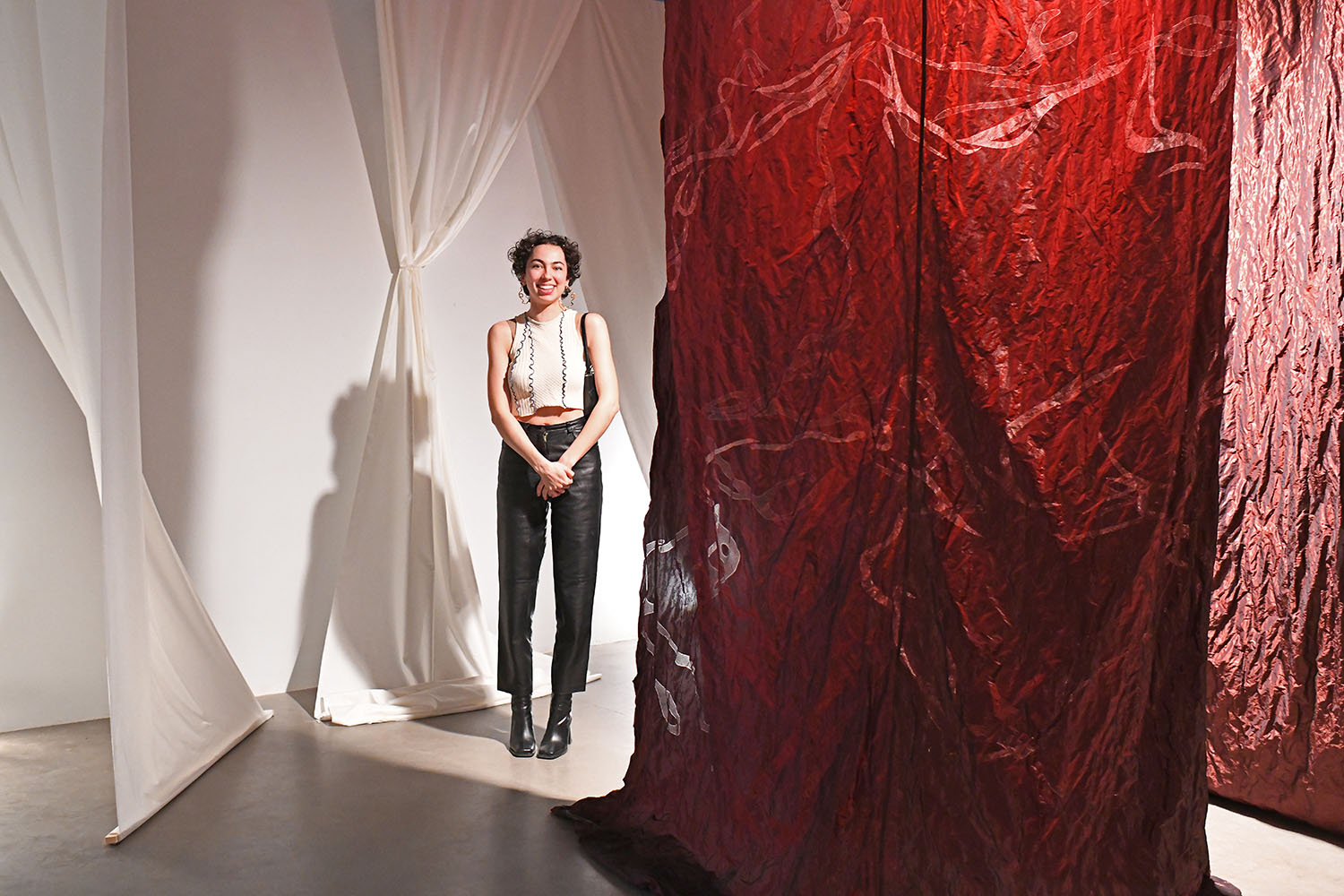 After four years of developing and honing their artistic skills, 30 art studio majors from the Department of Art and Art History have completed senior thesis projects this spring and are sharing their final works with the public.
The annual Senior Thesis Exhibition, held in the Ezra and Cecile Zilkha Gallery, is the culmination of a two-semester thesis tutorial. The exhibition is critiqued by the faculty advisor and a second critic, and must be passed by a vote of the faculty of the art studio program.
The senior thesis allows the art studio majors to engage in a solo, rigorous, self-directed creative study.
"My paintings explore and aim to subvert the conventions of physical spaces and the conventional behaviors they dictate," Nina Criswell '22 said about her art. "I use layering and transparency to disrupt these spaces with the presence of disfigured bodies as a way of speaking to tensions between the ritualistic and the disruptive, the mundane and the violent, the public and the deeply private. The clarity of these sites is obfuscated with the presence of these bodies, and we are reminded of the fallacy of architectural permanence."
Julia Kan '22, who has an interest in domestic spaces and how those spaces are represented created a thesis titled Edges Meet. She finds inspiration in the ways object are arranged, how light enters a space, and how walls meet in corners. "But I was finding there's so many drawings you can make of rooms before it gets a little monotonous," she said. "So I really wanted to experiment with my materials and colors and take a lot of liberties in representing space and make it interesting. I have a lot of drawings connected to each other in unexpected ways. I like to break out of the rectangle and draw on the surface my drawings are hanging on."
Kan's installation mimicked the size of her thesis studio at Wesleyan, which had a low angled ceiling. "I wanted to recreate that intimate space, and show [how there] were all these drawings all over the walls and ceiling."
In her thesis Gooze, Mia Gleiberman '22 composed her work against an entire wall space in the Zilkha Gallery.
"I felt really constrained by having to be stuck in a literal box or rectangle so I got excited by the notion of getting rid of that and not having to make a picture in a rectilinear shape," she said. "It's suppose to be whimiscle playful show and given the scale of these I thought it would be odd not to capitalize on how high the wall is."
The objects—which are inspired from shapes inside the human body—slouch, navigate corners, and pile at the bottom of the wall where they can be touched and even sat on, as one gallery goer did during the show's opening on March 30.
"There's a non-precious aspect of these works," Gleiberman said. "When you see a fine painting, it becomes something inaccessible—you're afraid to get too close. I wanted something interactive and was really compelled by the ideas that this show will never look this way again. I want to make painting fun."
Wesleyan Posse Fellow Forrest Walker '22, who served with the U.S. Marine Corps for more than four years, focused his art studio thesis on his military experience—not only help him better understand his own experiences—but to "help widen the aperture" for those who want to talk about war.
"[This thesis] represents images that maybe create a mediated experience, a surreal experience, that would affect someone who is on the pro war spectrum and affect someone differently who's a devout pacifist and thinks who thinks all wars are bad," he said.
On the opposite side of a large, gestural banner, Walker crafted a life-size soldier based on a green Army man toy. The face area is a mirror.
"I thought it would be interesting to help the viewer see themselves … people that don't have [military] experiences, to have a helmet on, or carrying gear, or pointing a weapon at somebody. … to let the viewer see themselves inside something that we don't necessarily want to see ourselves in."
The exhibition opened March 22 and will take place for five weeks. Every Tuesday, the work of six new art studio majors is exhibited with opening receptions taking place on Wednesdays. Zilkha Gallery is open noon to 5 p.m. Tuesday through Sunday and is free of charge.
During week one, senior theses were shared by Karen Xu '22, Romina Beltrán Lazo '22, Jared Christopher '22, Nina Criswell '22, Daniela Sweet-Coll '22. During week two, the gallery featured the works of Eli Baden-Lasar '22, Mia Gleiberman '22, Julia Kan '22, Kelsey Morgan '22, Haishi Teng '22, and Forrest Walker '22. View upcoming student exhibits online here.
Photos of the first senior art thesis exhibit are below: (Photos by Olivia Drake)
Mia Gleiberman '22, Gooze: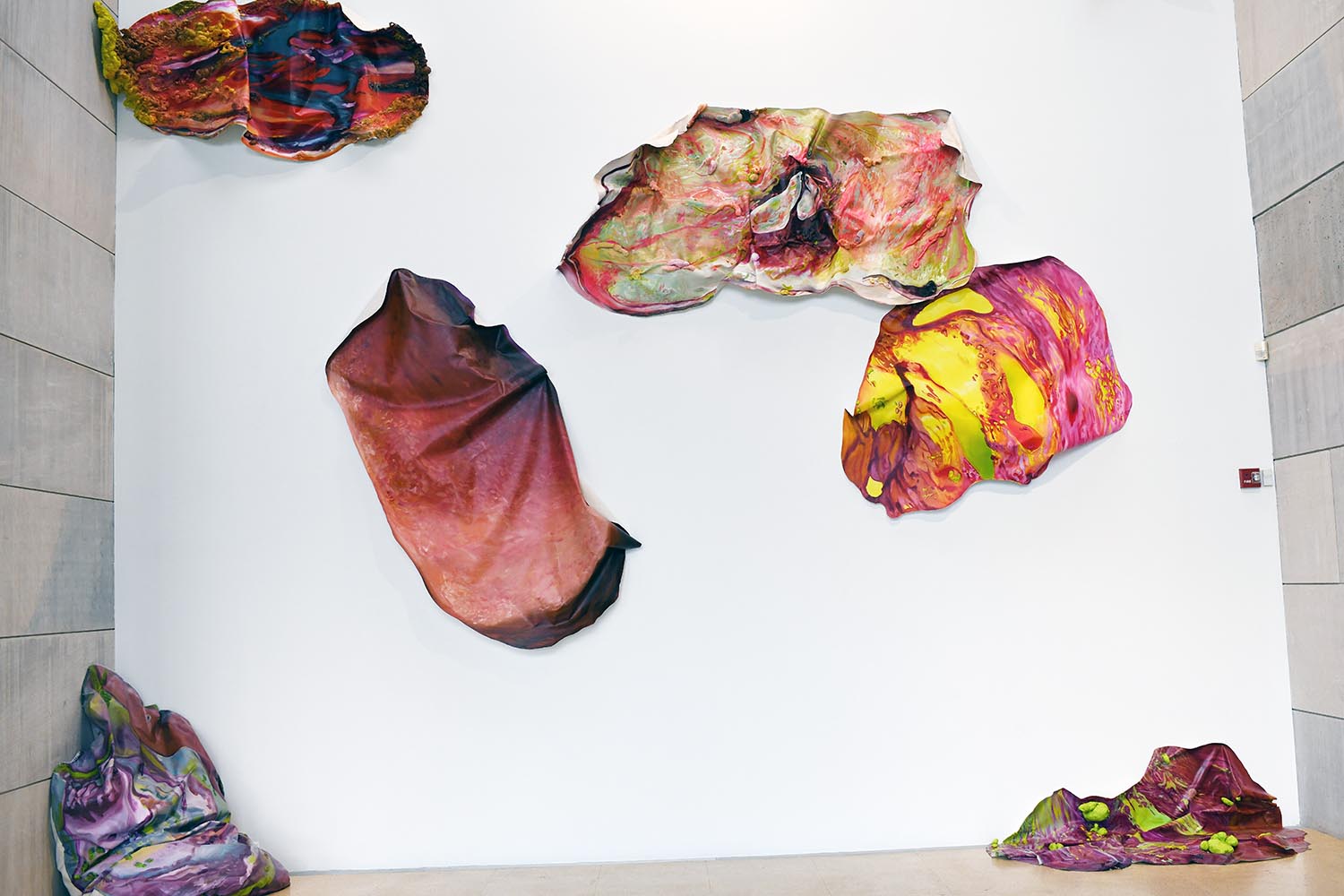 Julia Kan '22, Edges Meet: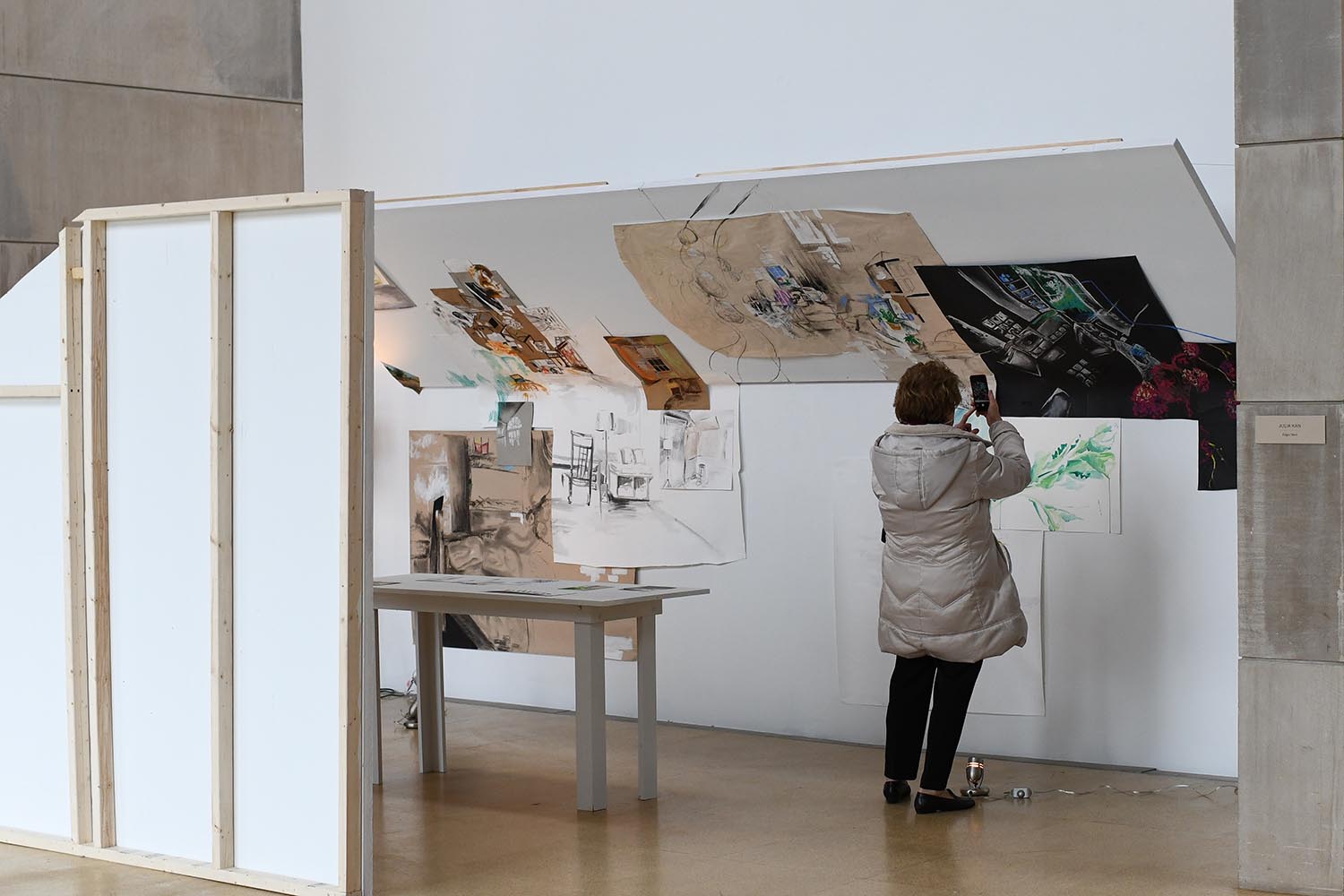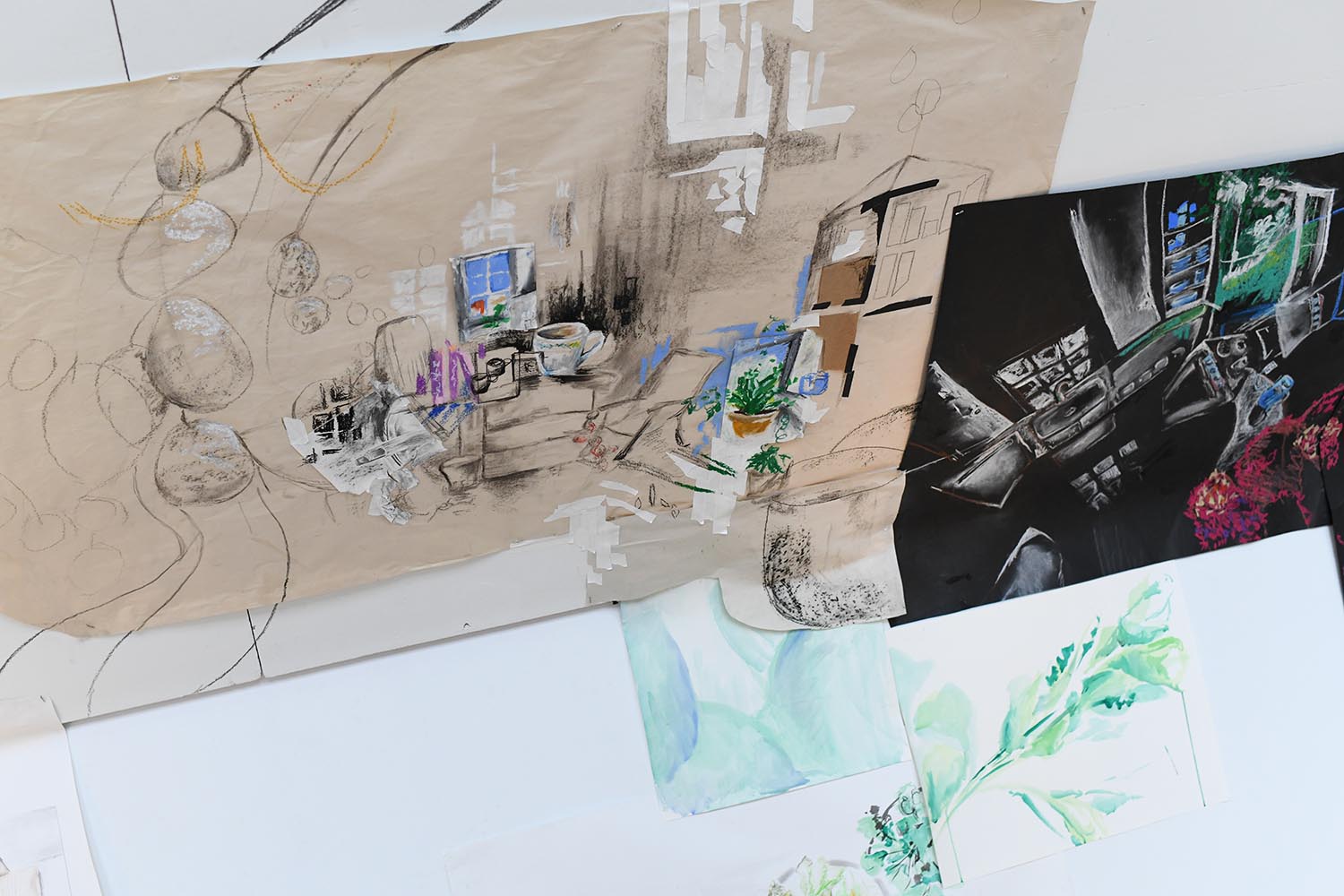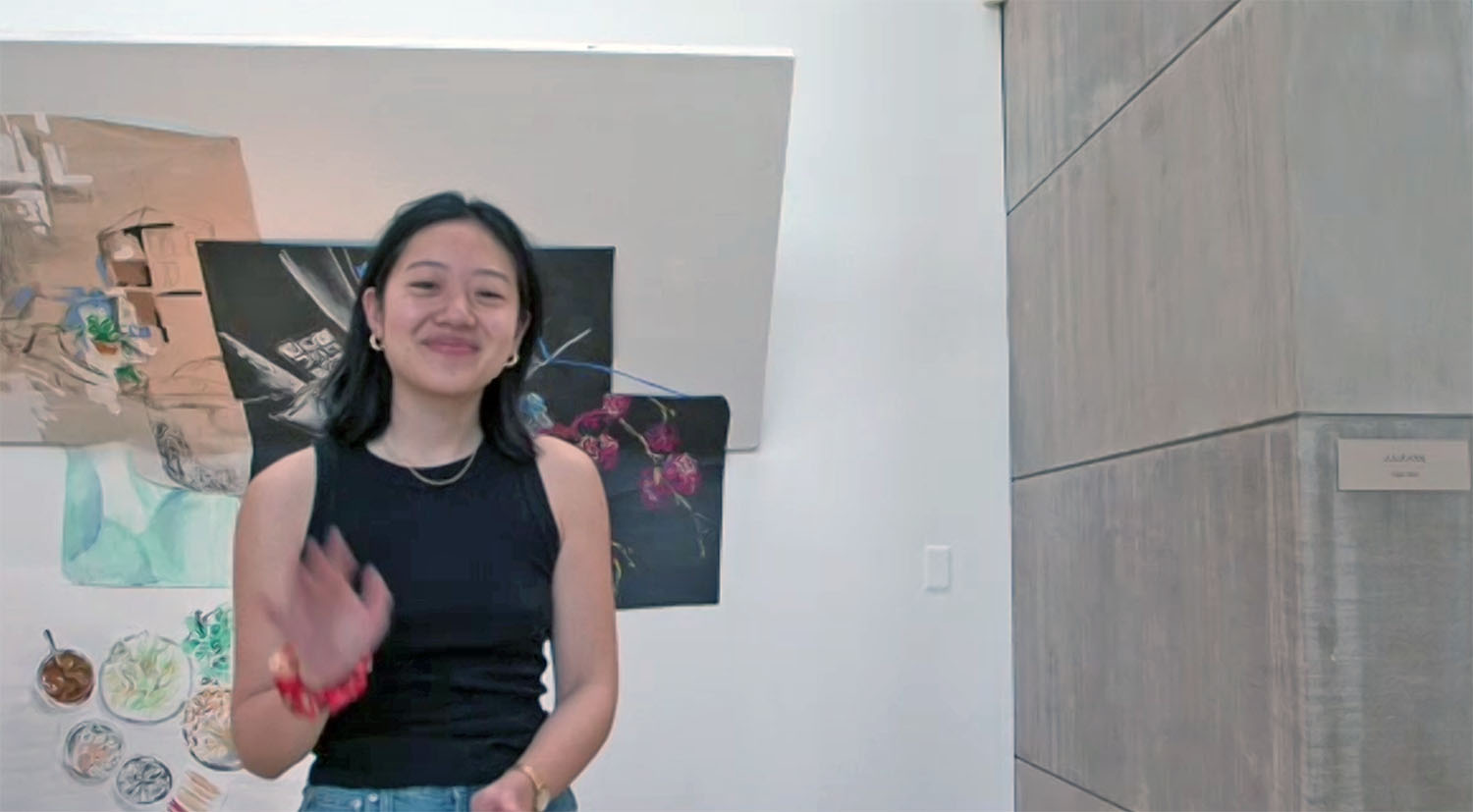 Forrest Walker '22, into their assigned zones: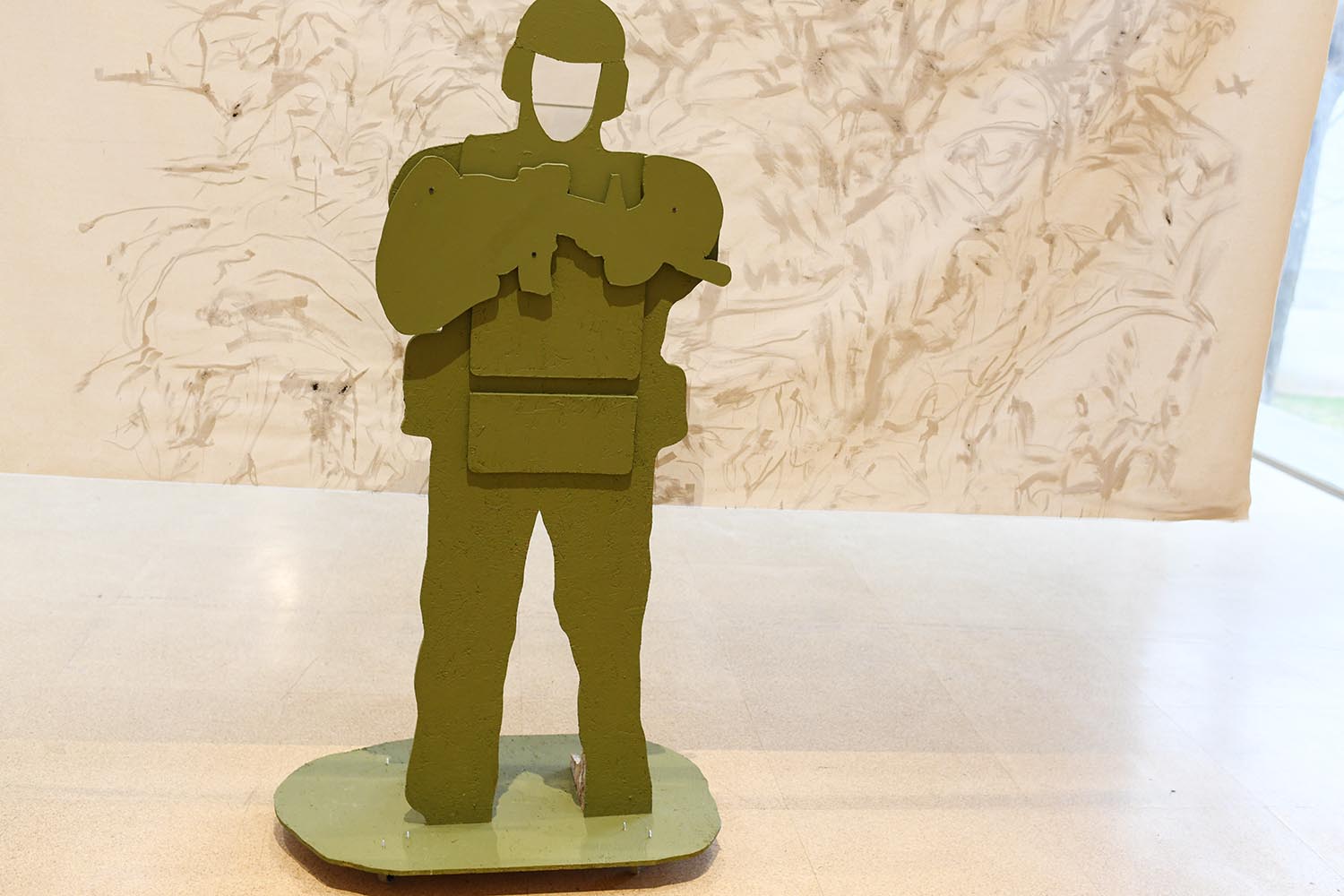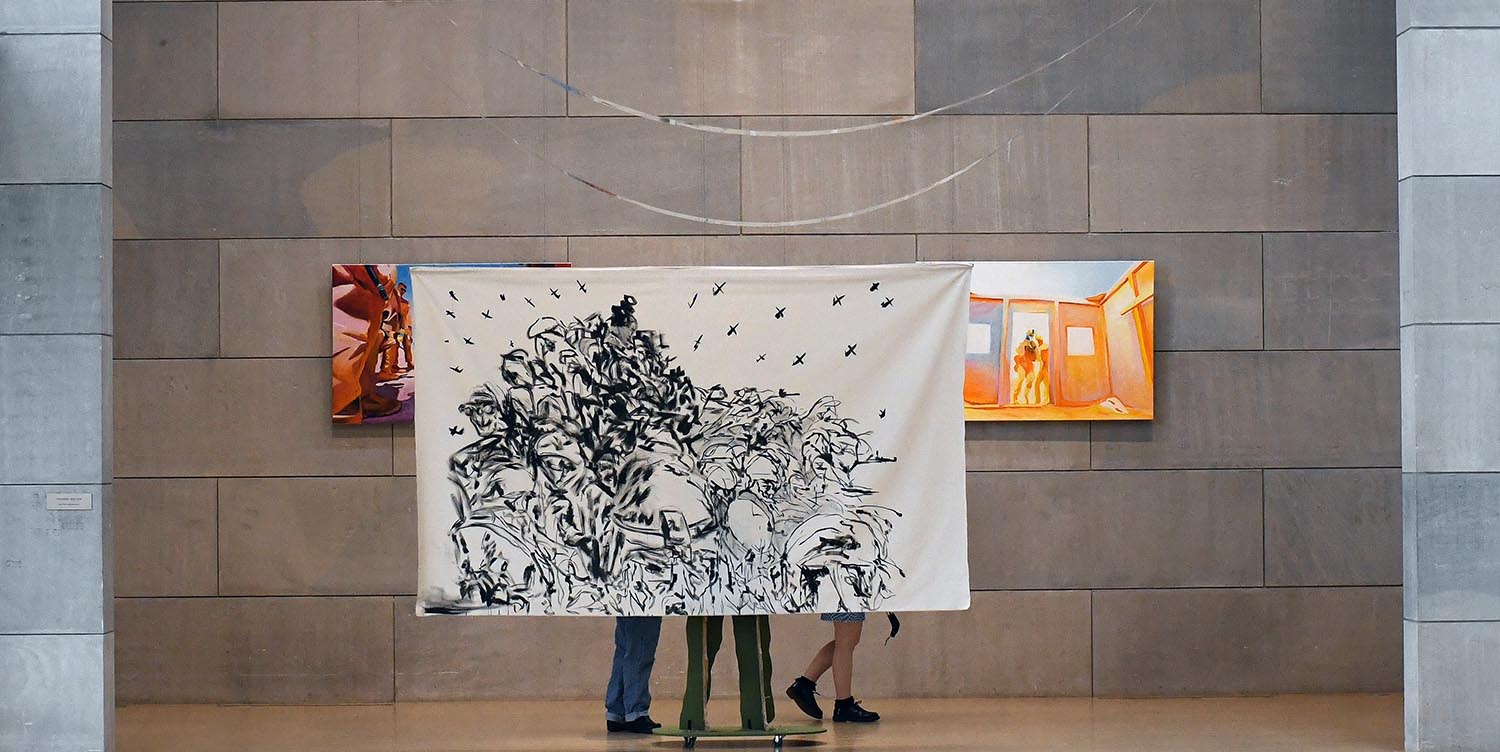 Karen Xu '22, Massive Power Ball: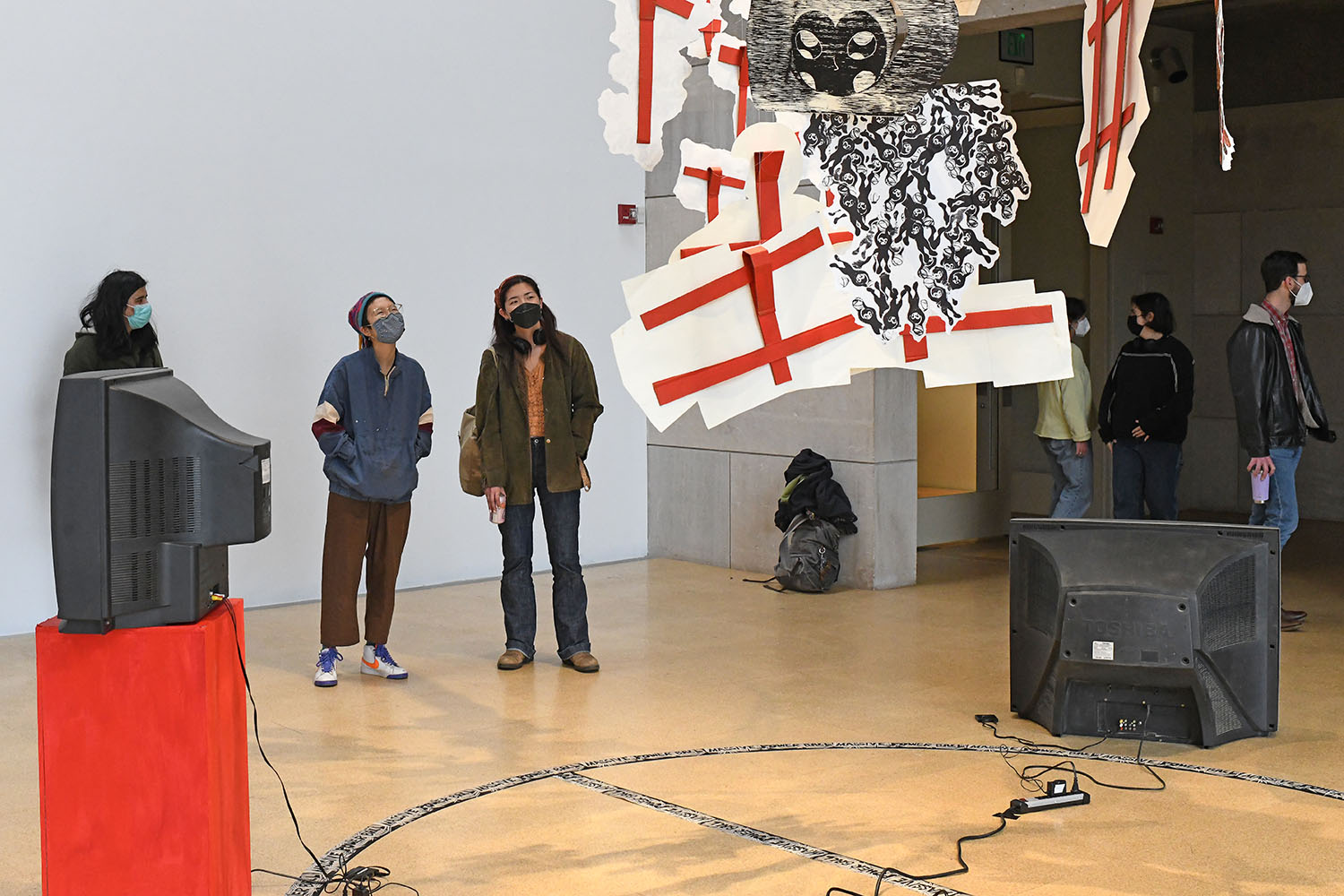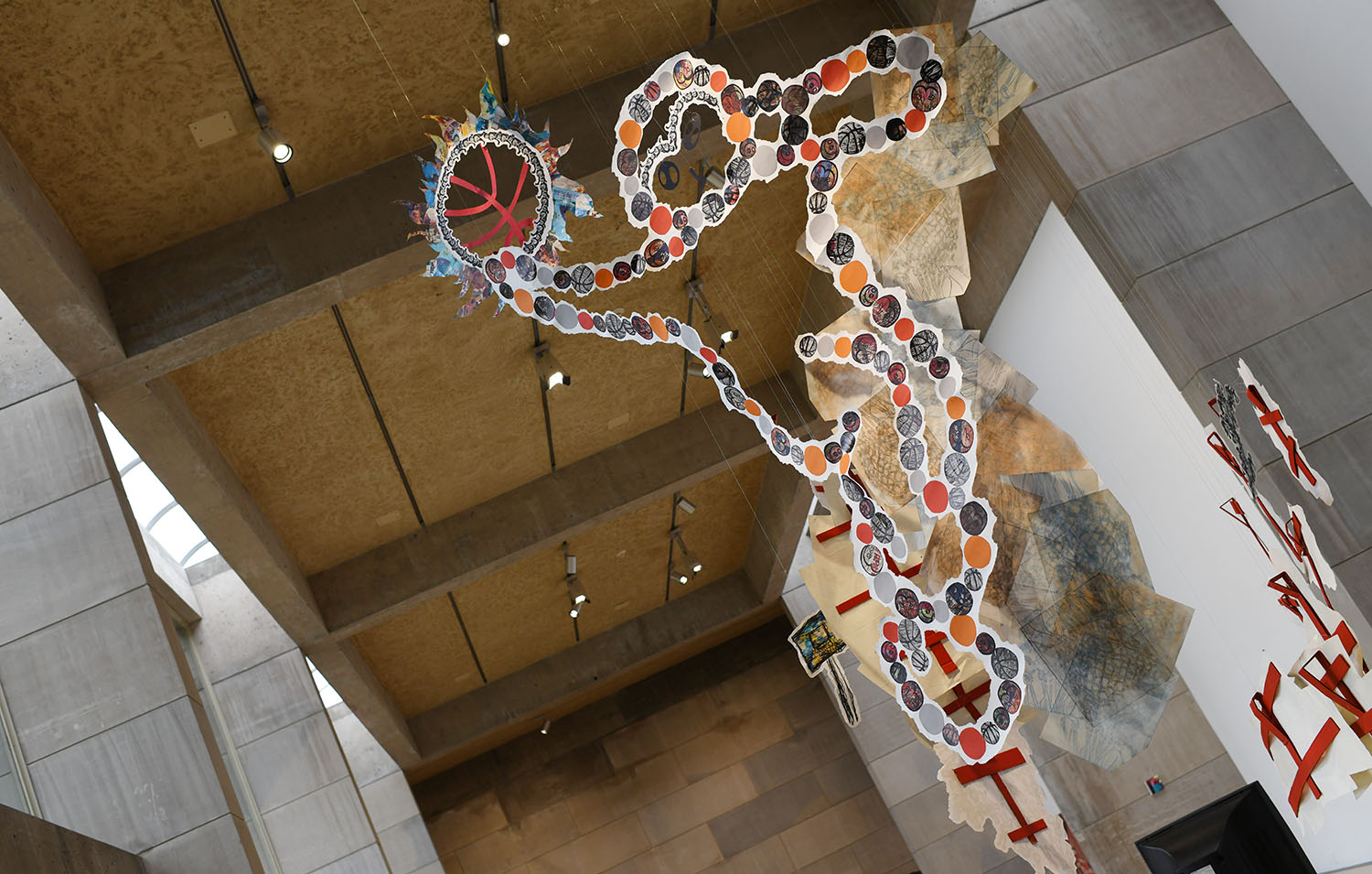 Jared Christopher '22, Paintings in Plain Sight: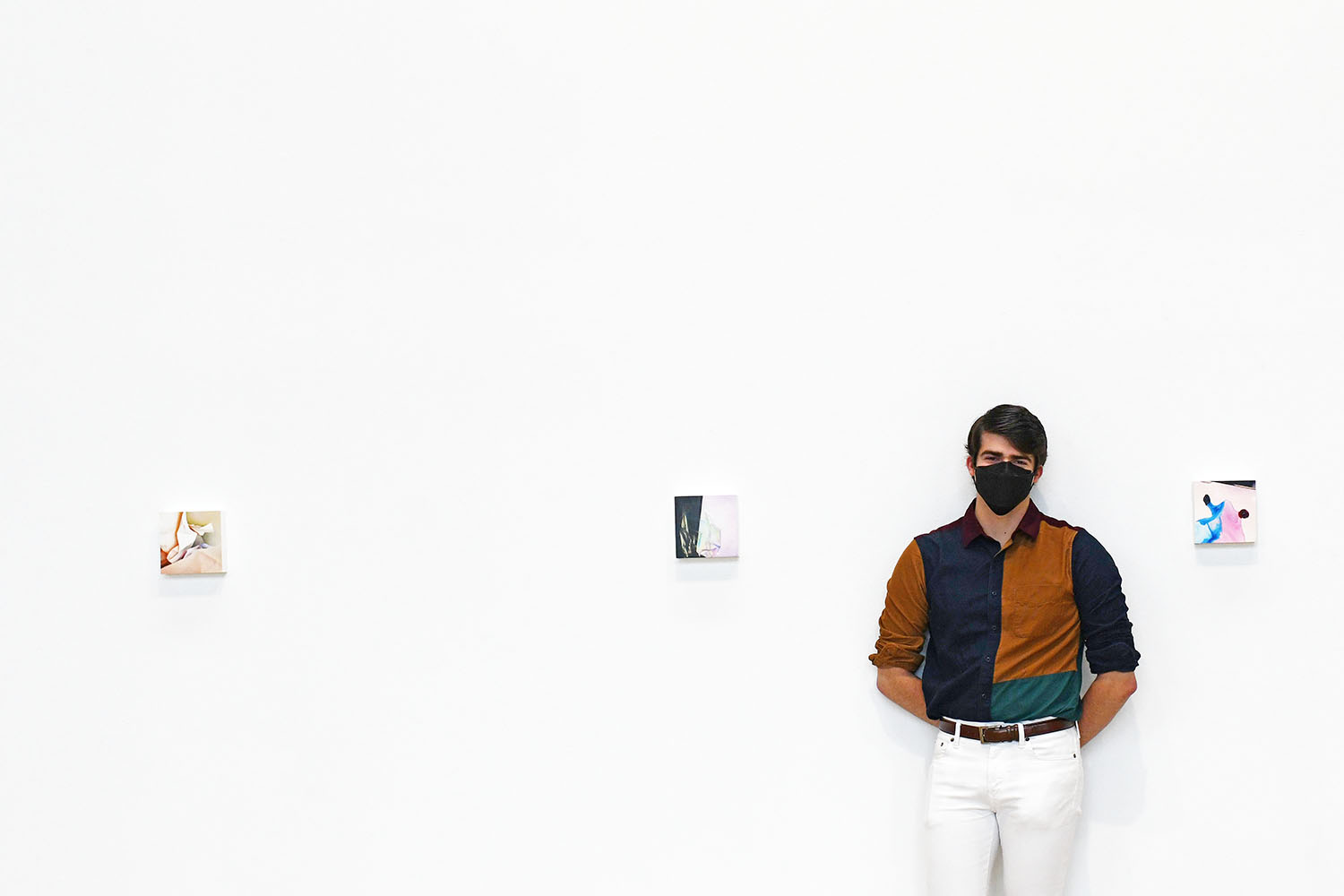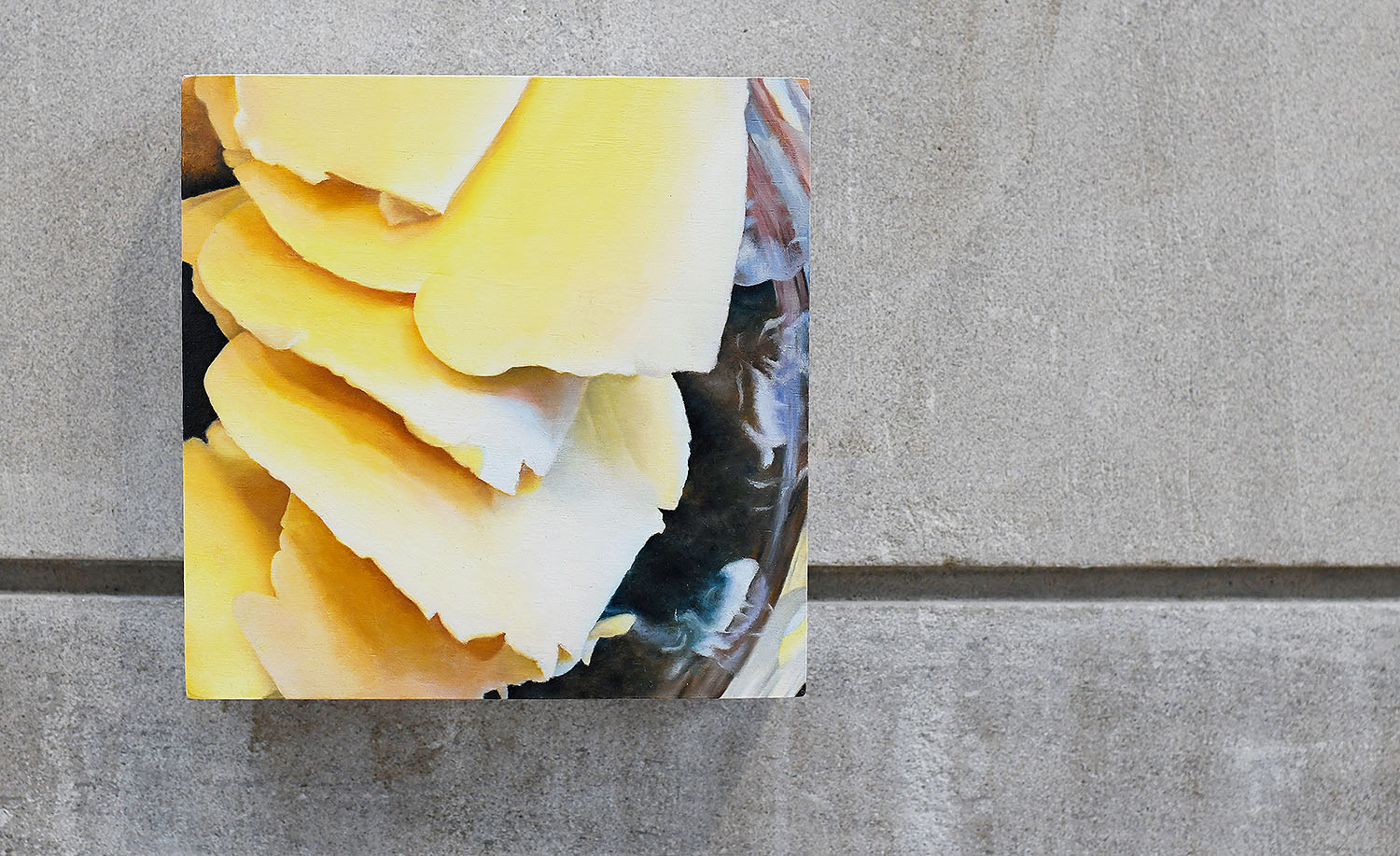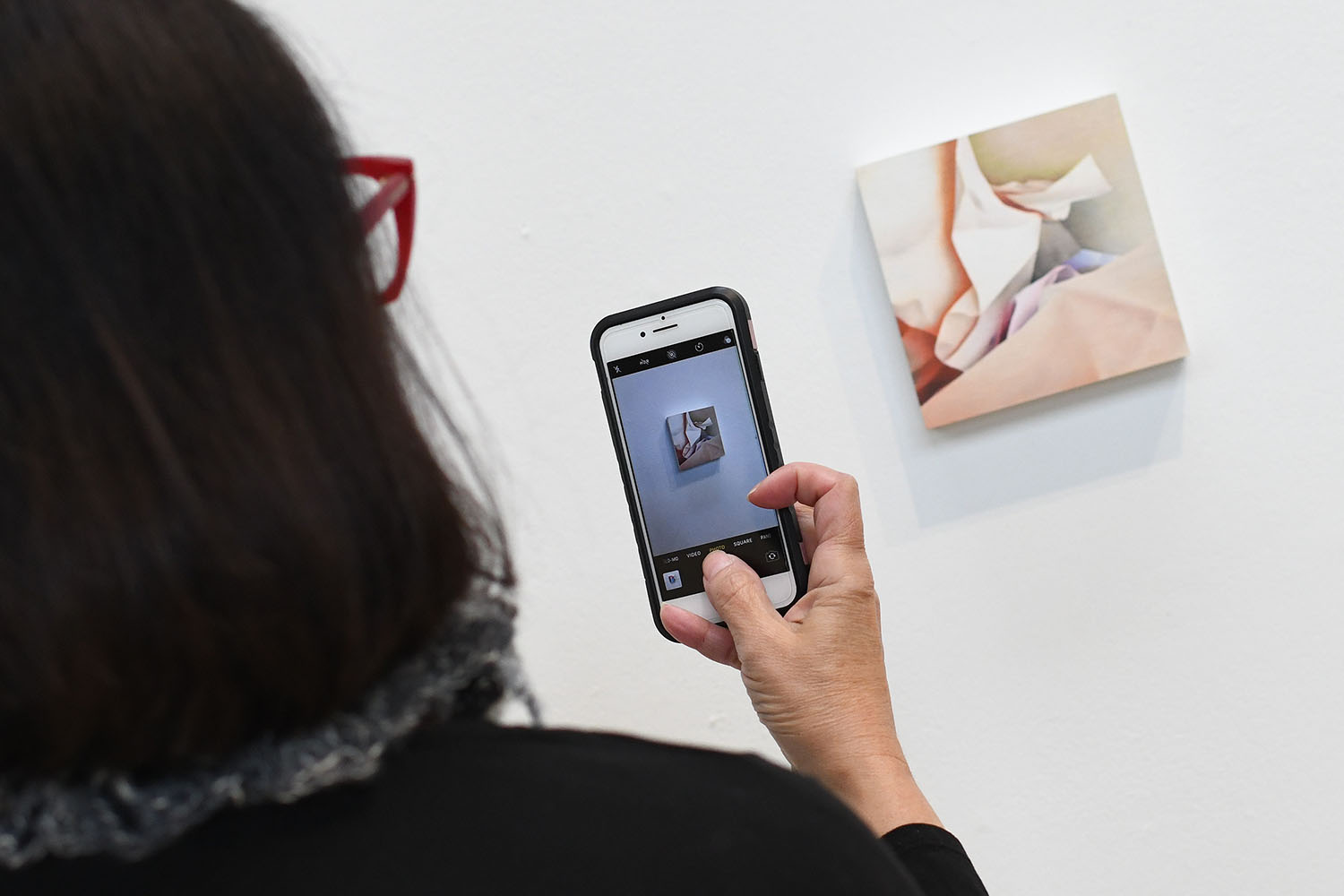 Kelsey Morgan '22, Tender Dissociations: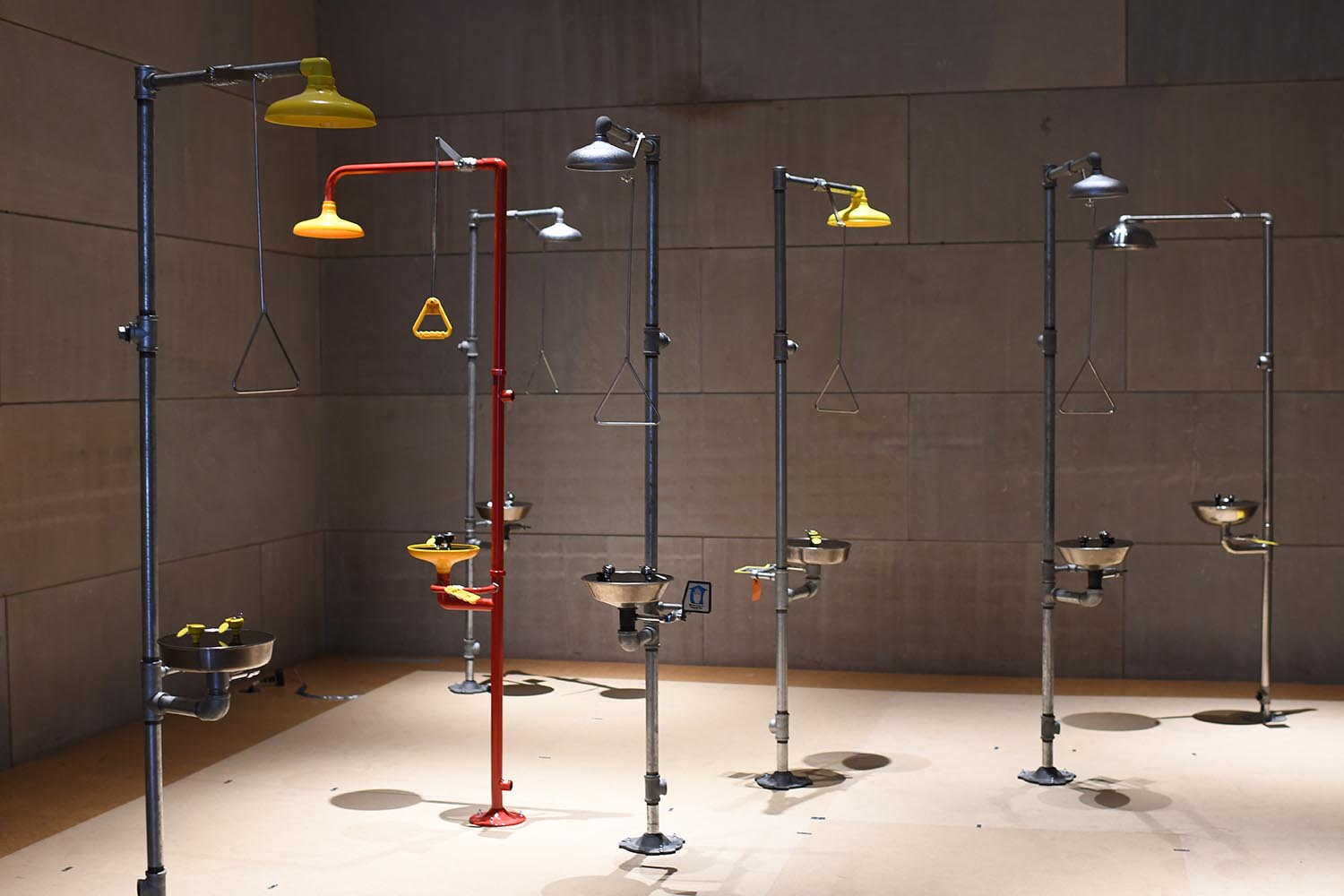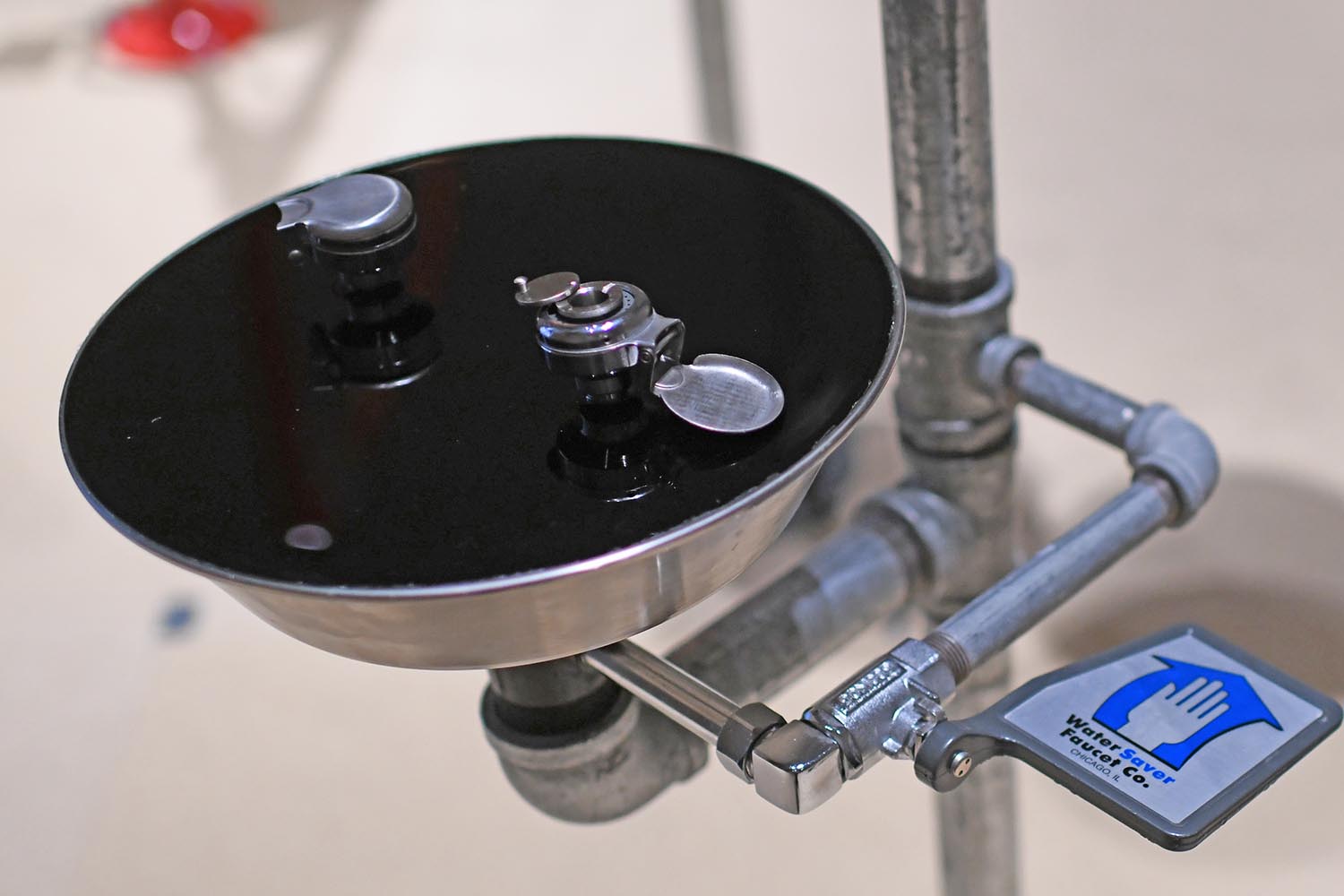 Nina Criswell '22, But We're in Public: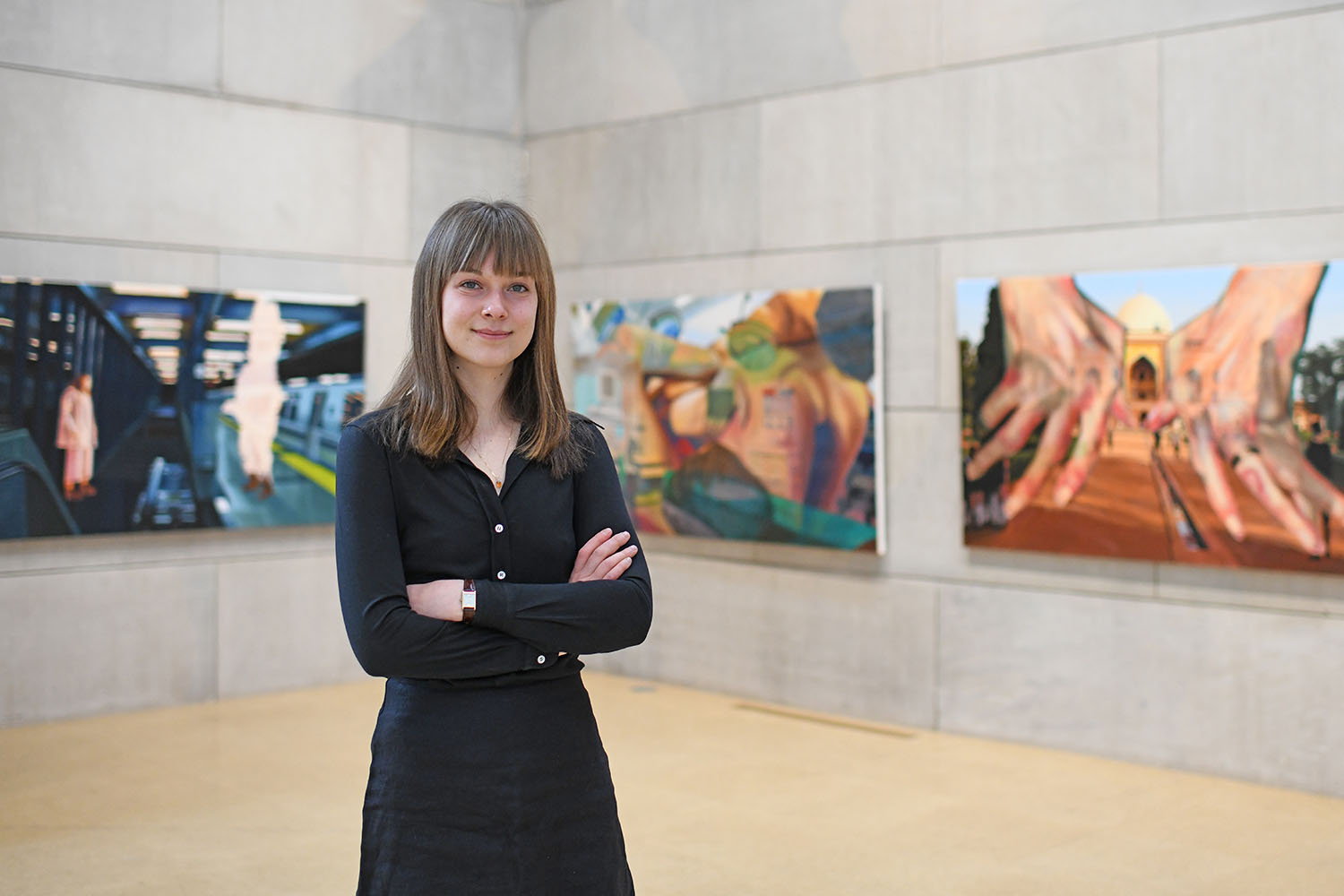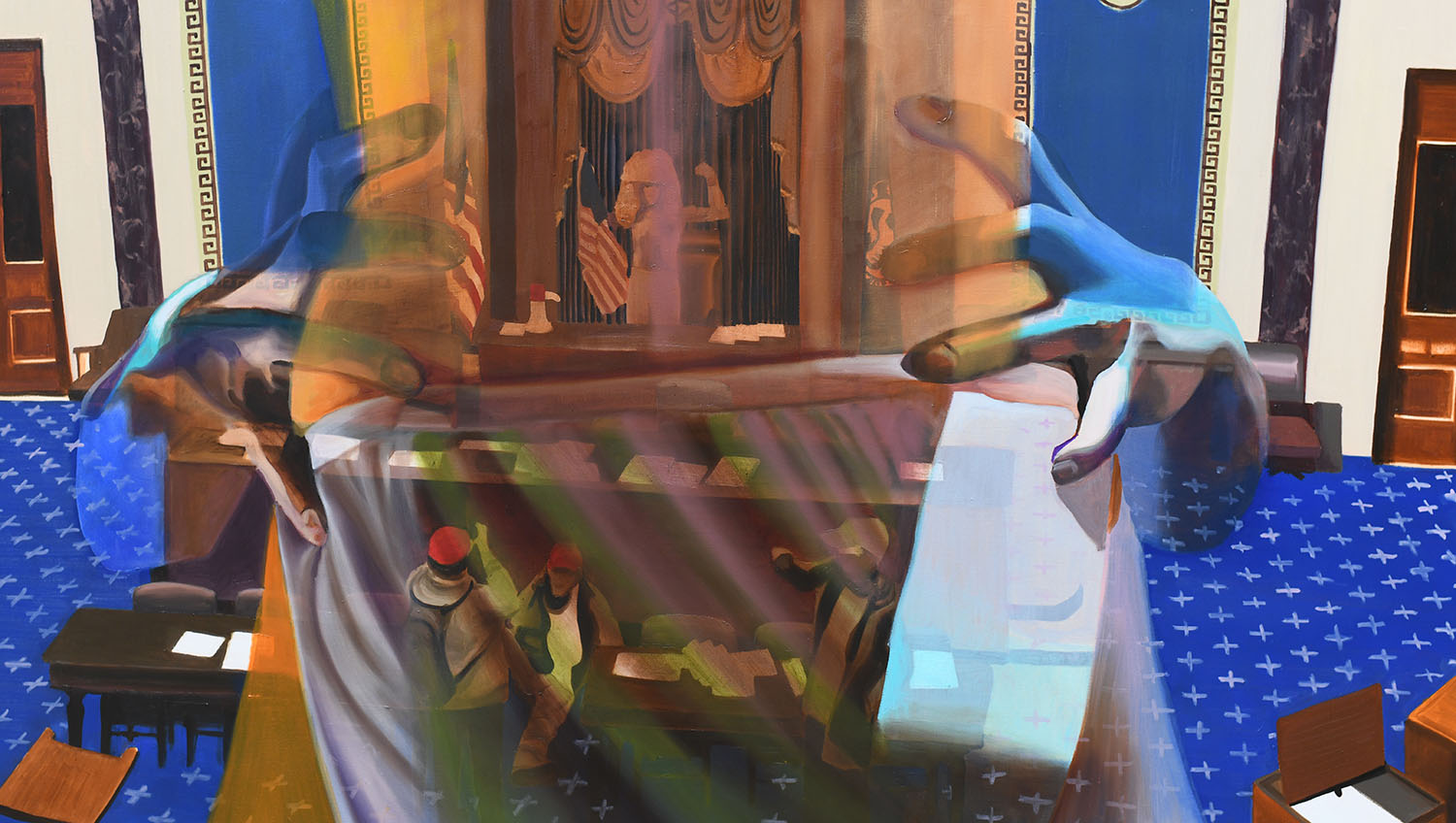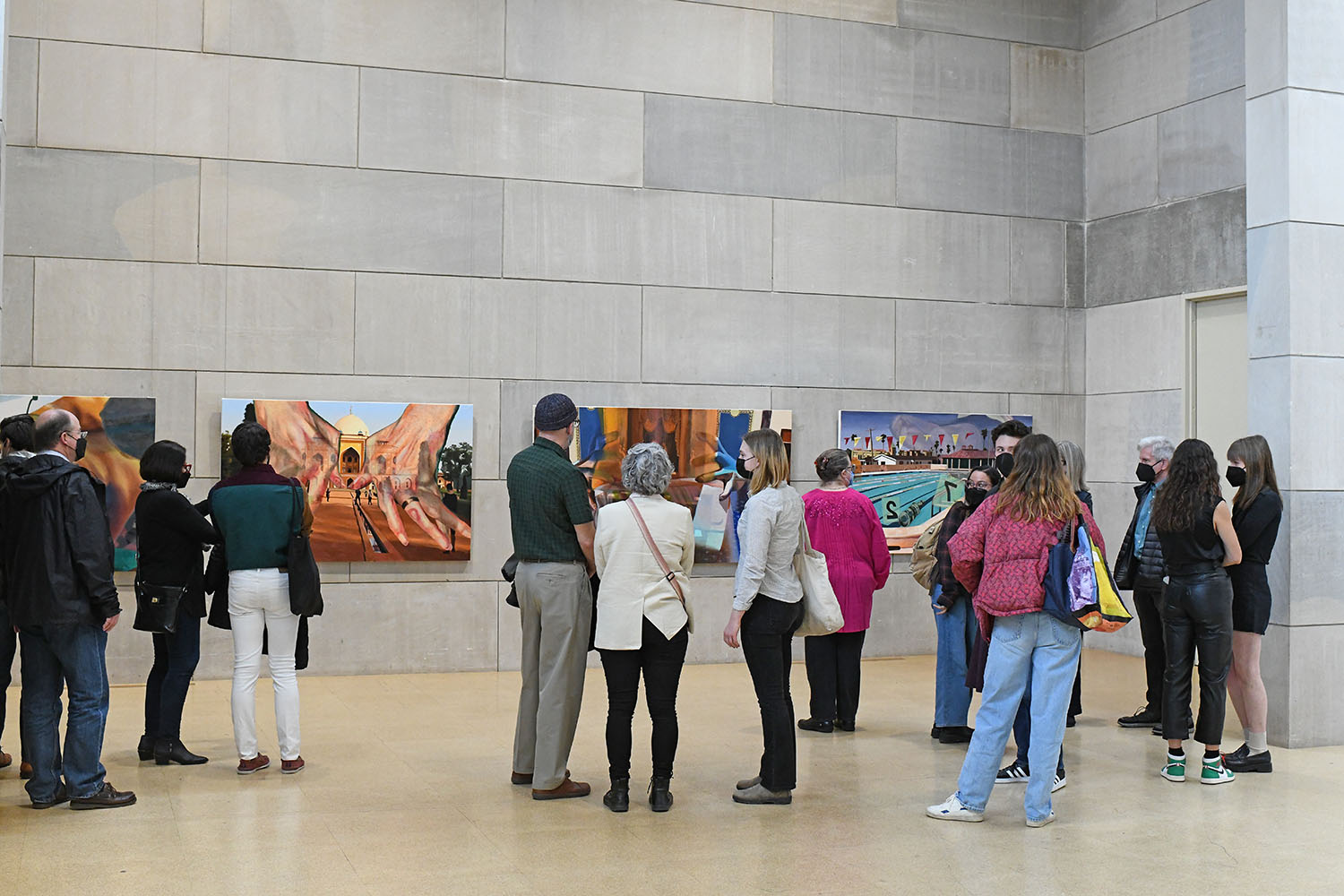 Romina Beltrán Lazo '22, Lunares de' Agua (Water Moles):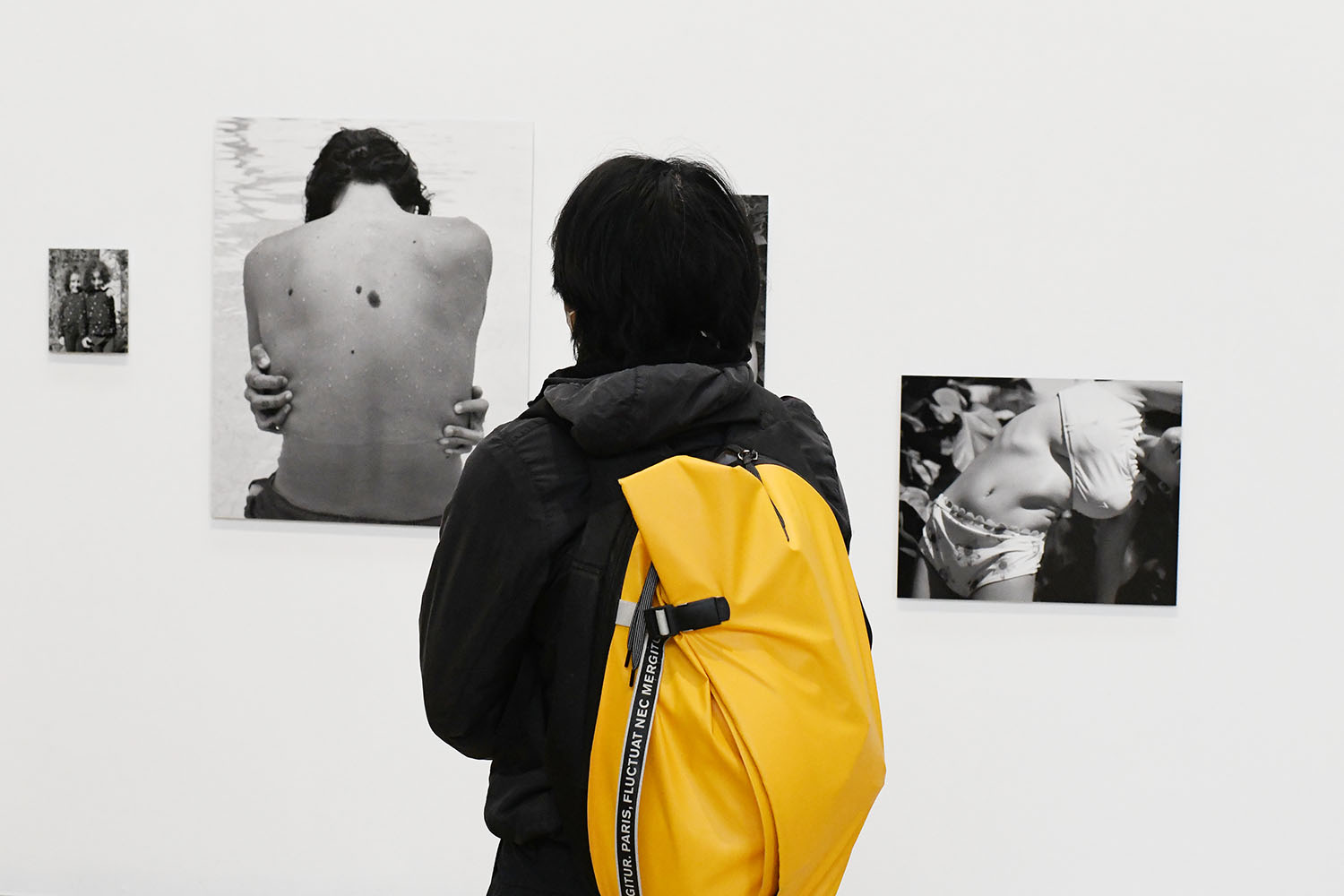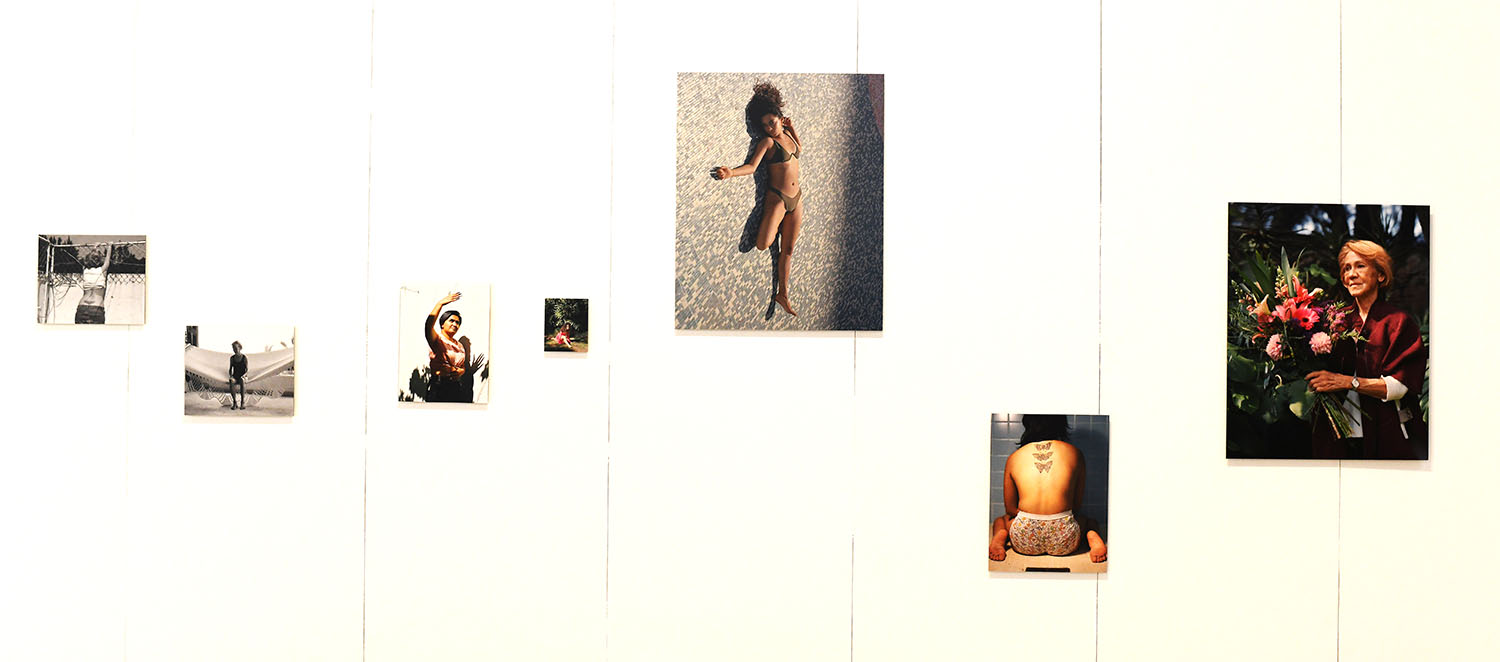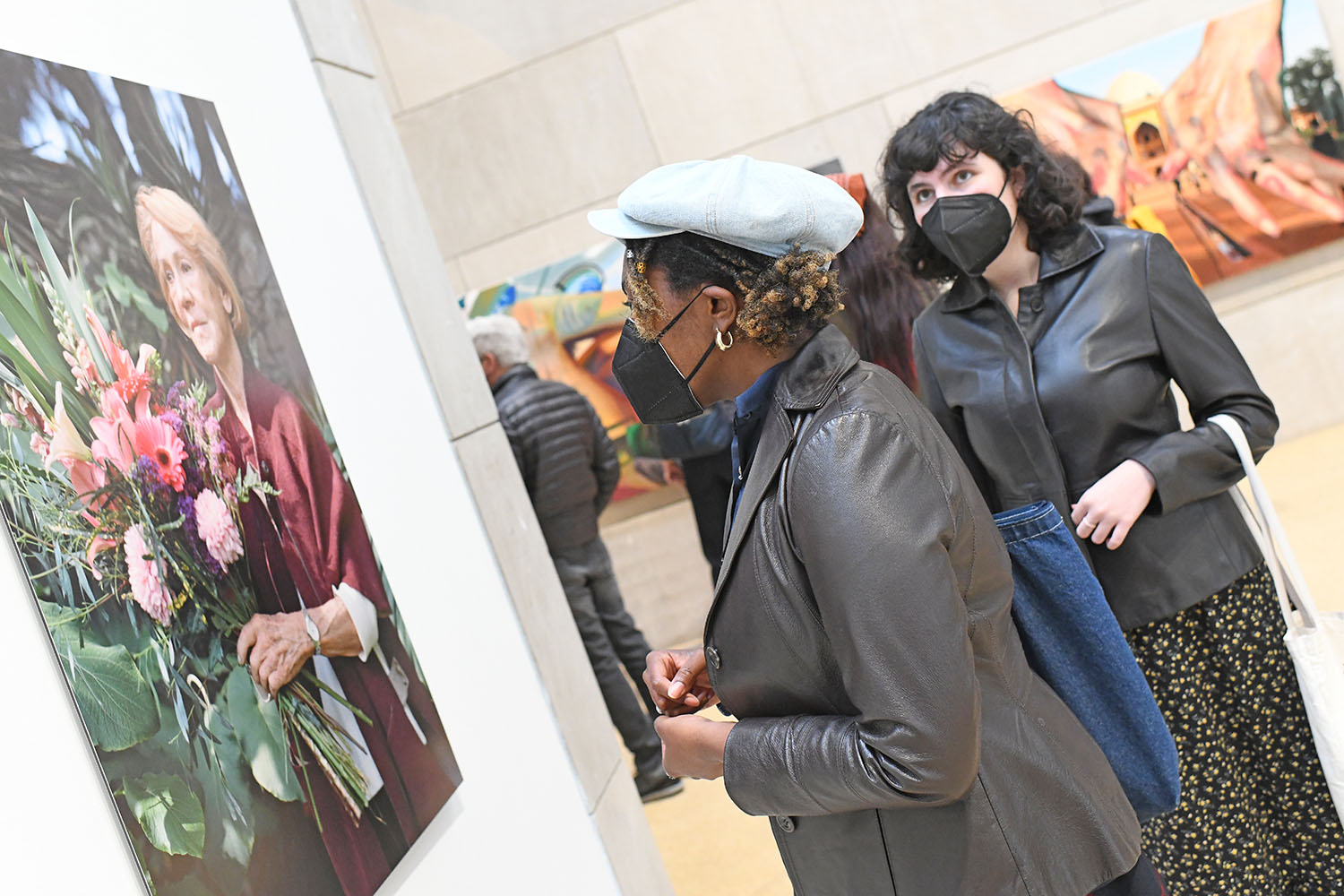 Jiayao Zhu '22, Syntopia: