Wesleyan Community Comes Together To Celebrate Reunion and Commencement 2022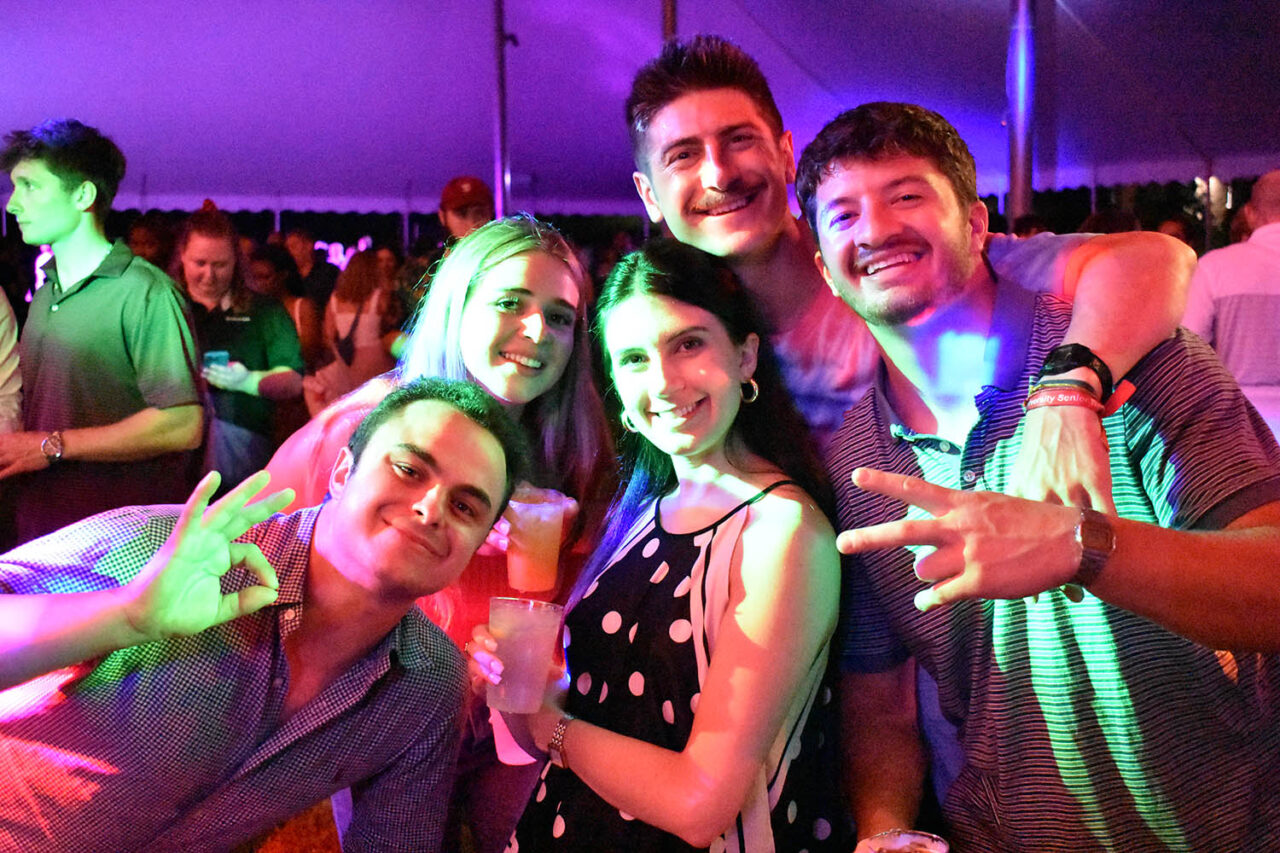 Photos from throughout the Reunion weekend can be found here.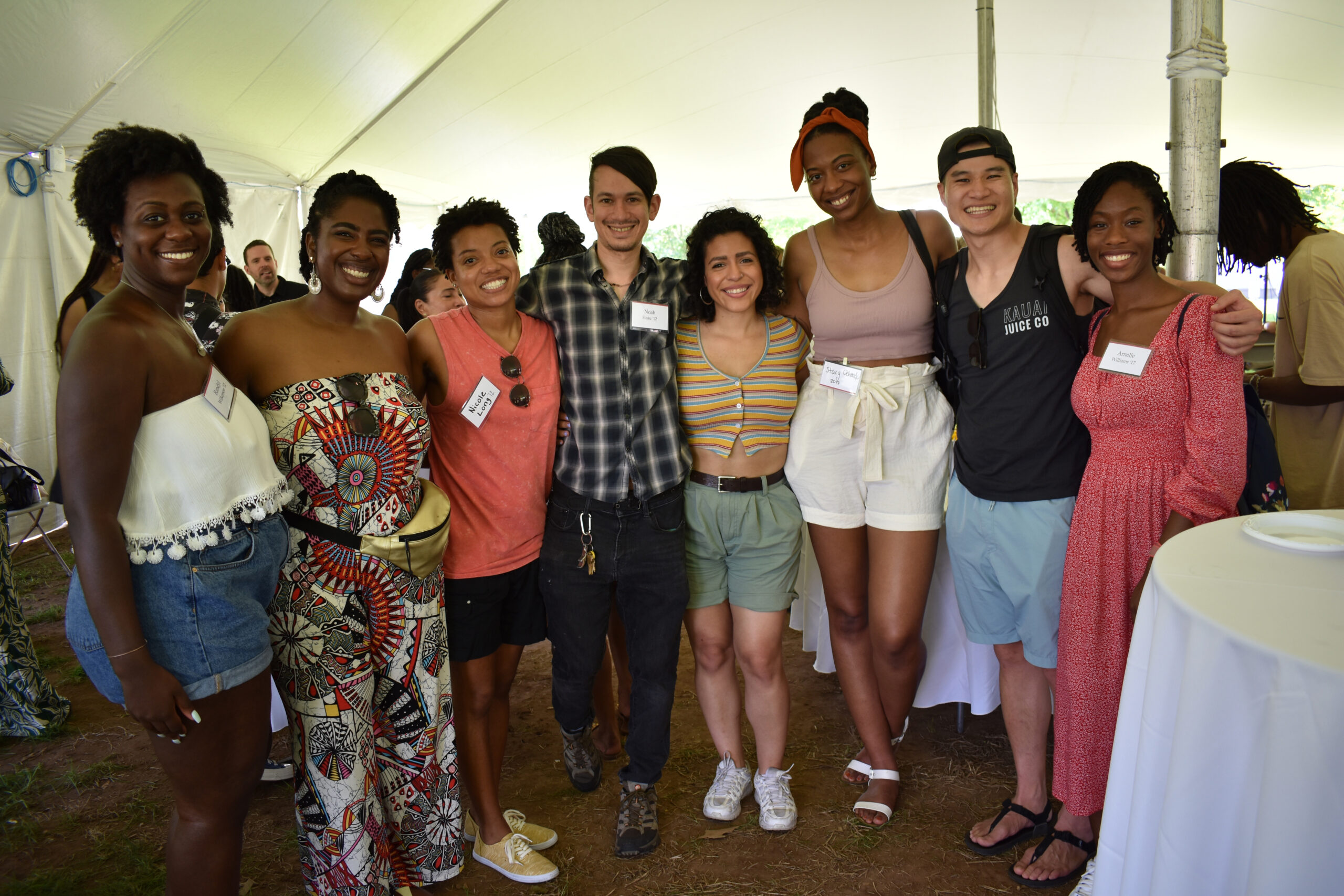 The Wesleyan University community gathered together May 19–22 for Reunion and Commencement Weekend 2022. As is Wesleyan's tradition, the classes ending in 2 and 7 returned to campus to celebrate their reunions with a weekend of lectures, performances, dinners, and ceremonies.
With generations of Wesleyans assembled together, the weekend was a celebration of the University's past and its future.
**
Alumni started returning to campus in earnest Friday morning, gathering under a tent outside Russell House for lunch and to look for familiar faces.
David Lakein '92, Juan Luque '92, and Scott Shapiro '92 and a group of guys have come together at every Class of 1992 reunion since their graduation. They weren't friends during their time at Wes – in fact many didn't know each other at all. Through all the reunions, the friendships grew.
"The thing about reunion, if you are a Wesleyan aficionado, is that anyone you see who is your year, there is an immediate connection," Lakein said.
Lakein and Luque spoke of old rivalries between Alpha Delta Phi and Eclectic (water balloons may have been involved – the specifics are lost to history.) Luque described meeting New England Patriots coach Bill Belichick '75, Hon. '05, P'07 at a previous reunion and gently chiding him about signing talented but difficult wide receiver Randy Moss, another example of the friendly, open environment found around campus.
David Perryman '87 joined the trio for lunch and immediately locked into the friendly banter. He just met Lakein yesterday: "And now he's the godfather of my three children," Perryman joked.
**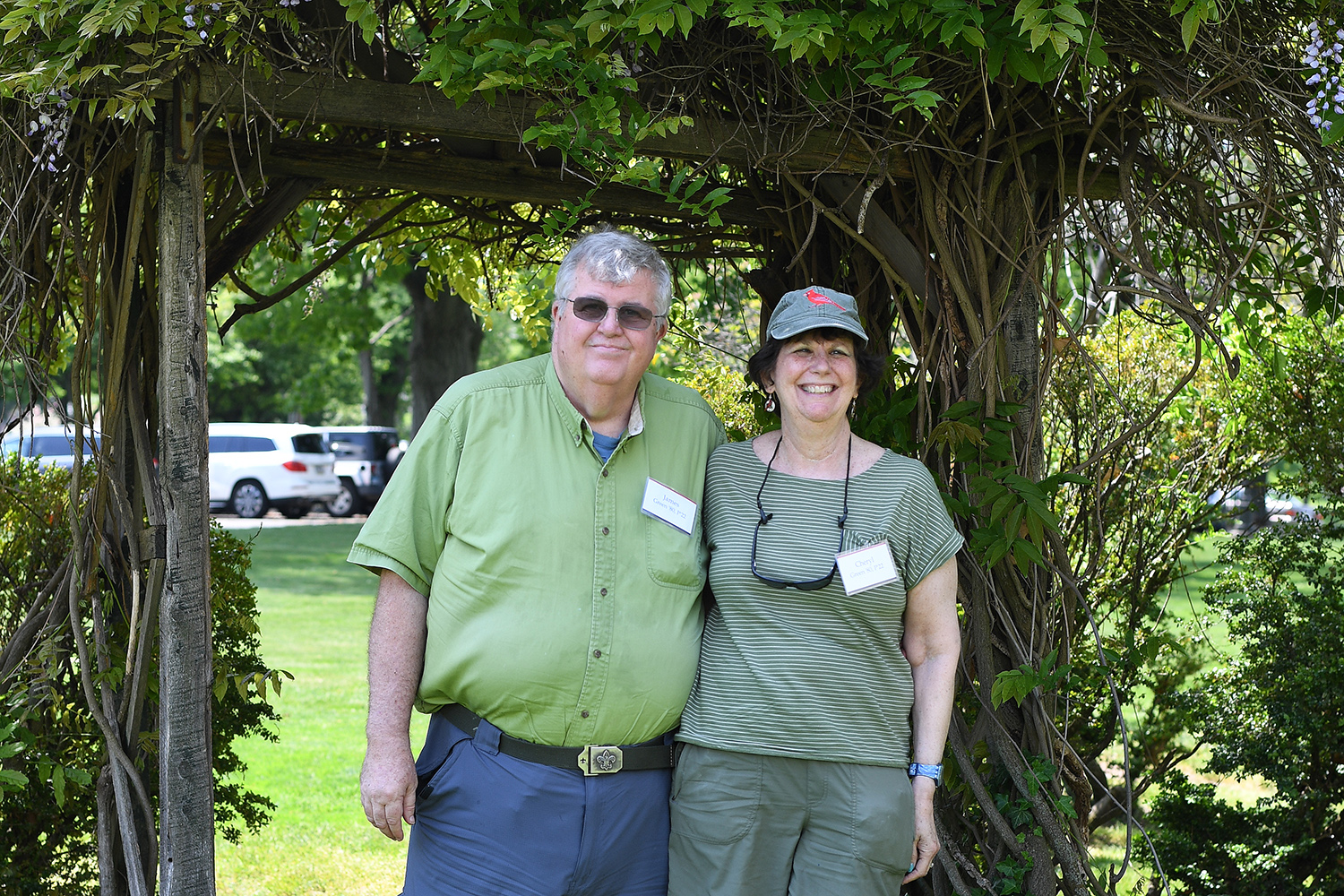 Cheryl Green '80, P'22, will always remember her first day of freshman orientation – August 28, 1976. She was hanging out in her dorm, Foss 7, and she and her roommate decided to go downstairs because they'd heard someone had come back from being abroad.
That was the first time she met James Green '80, P'22, who would become her future husband. "He always said that he never heard someone speak the way I did," said Green, a Massachusetts native.
The two became friends and occasionally dated. They always stayed in touch but life took them in different directions – James to medical school, Cheryl to law school. Still, 15 years after meeting, they got married.
Thirty-two years after their own graduation, they are back to celebrate another milestone – their son Mitchell, a chemistry and Earth and environmental science double major, is graduating on Sunday.
"This is really hard for me. I am very excited because he's graduating. It's the end of another era," Cheryl Green said. "It has been such a great fit (for Mitchell.) Seeing it through his eyes is great. It brings back so many memories for me."
**
Marvin Cabrera '92 plans to run the campus at some point over the weekend. A New York City native, he ran cross country and indoor track his senior year at Wesleyan (and, for the record, says he's in better shape now than he was back then.)
Cabrera always wants to come back to campus, not just to reconnect with friends, but also to re-engage with the intellectual life of the community. He plans on attending a WESeminar presented by the Center for Prison Education, the senior thesis art exhibition at Zilkha Gallery, and the talkback with Lin Manuel Miranda '02, Hon. '15 after the screening of his film tick, tick … BOOM!
"Wesleyan changed my life. It laid the foundation for the way I think about the world, whether it is about race, gender, or class," Cabrera said. "I haven't found another place like this in my life."
**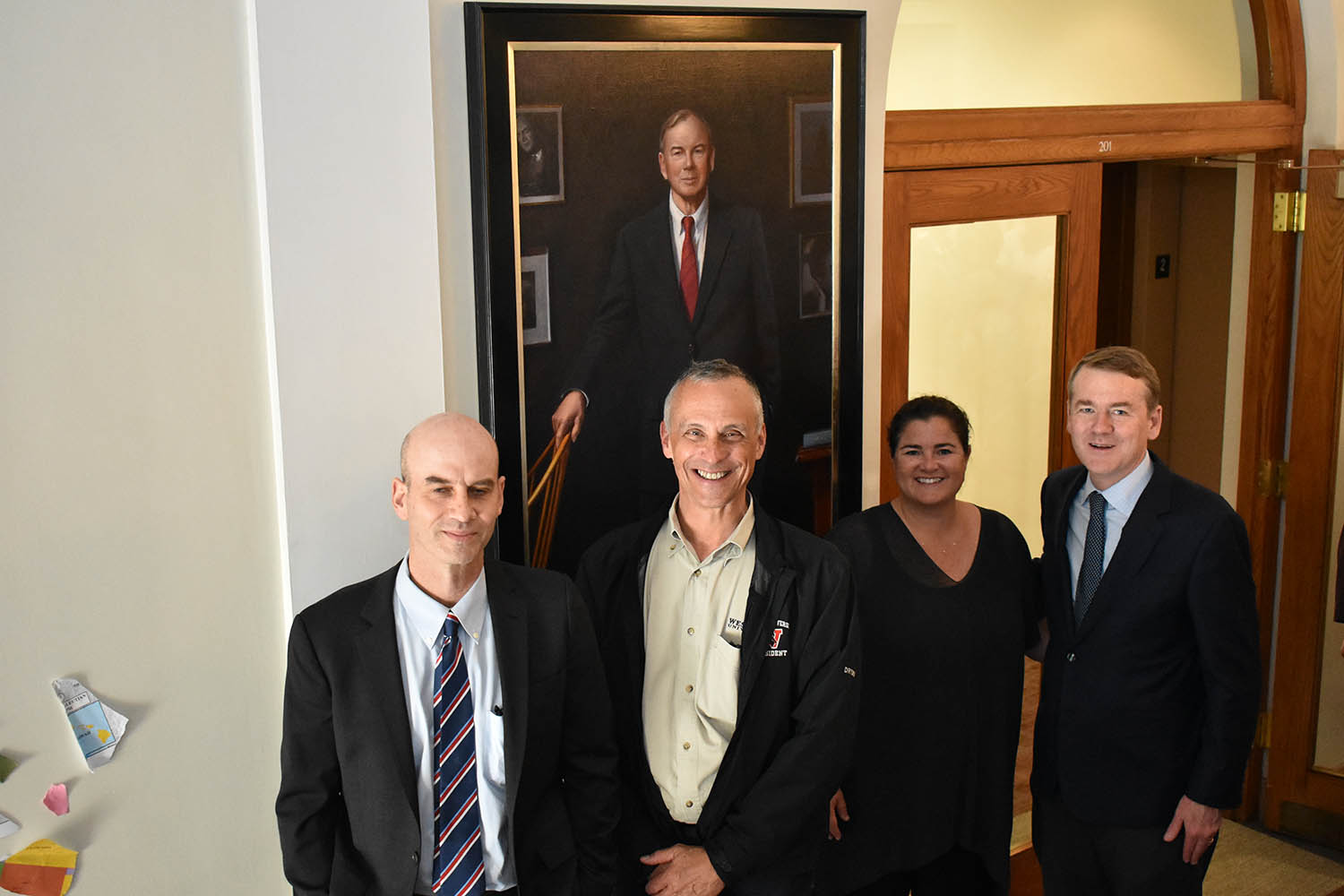 Later that afternoon, as Holly Bennet '94 stood in front of the recently unveiled portrait of her father, former Wesleyan President Douglas Bennet '59, Hon. '94, P'87, '94, now on display on the second floor of Olin Library, her first words were about working with the artist, David Baker '91.
 "He went through thousands of family photographs and lore. He went back and forth with me about the size of Dad's hands. I wanted him to be painted at the helm of his boat and David said it was totally inappropriate," Bennet said, prompting a laugh from the crowd.
When her brothers James, a noted journalist, and Michael '87, Hon. '12, the United States Senator from Colorado, uncovered the portrait, the crowd reacted with a gasp and a loud round of applause. The dignified portrait showed Douglas Bennet standing in a study, small portraits of politicians Ed Muskie and Hubert Humphrey in the background and a copy of the Federalist Papers on the table next to him.
"I want to point out that he has the start of a smile, which usually came right at the start of a line of inquiry," she said, prompting another laugh.
President Michael S. Roth '78 said that each day throughout his tenure he has benefitted from President Bennet's previous good work. He described the former president as "someone whose love for Wesleyan was as deep as anyone I've ever met." Douglas Bennet served as president from 1995 to 2007 and died in 2018.
"I started on a very firm foundation. I started with a beautiful campus, with dorms that had been rejuvenated, with a confident organization that had been renewed, with plans for becoming an ever-greater liberal arts institution," Roth said. "Every year I've been in the job I realize how lucky I am to follow—or to try to follow—in Doug's footsteps."
**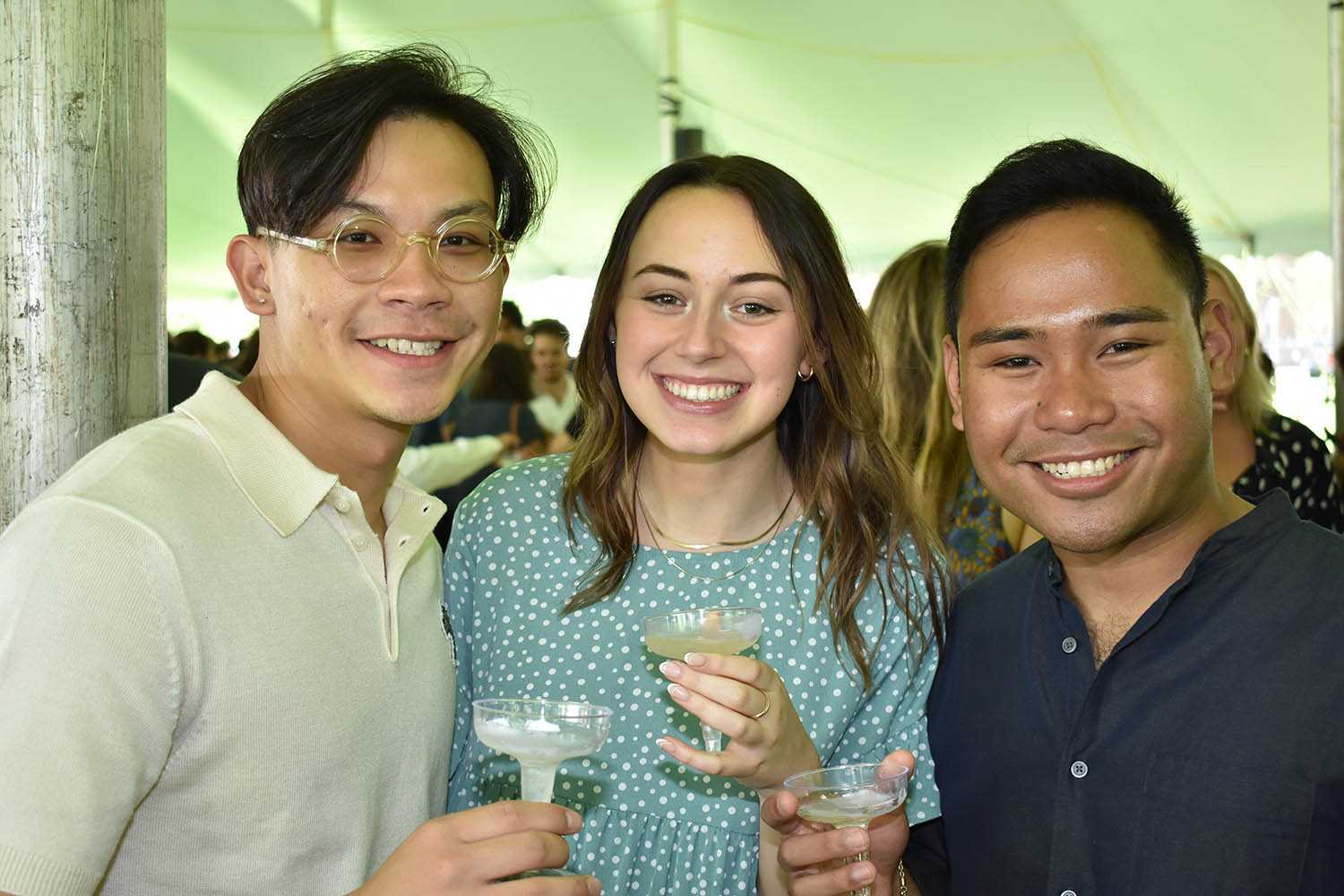 Corin Cort '17, Selena Gonzalez '17, Naomi Wright '17, and Taylor Dauphin '15 enjoyed a midafternoon bit of champagne and watched the soon-to-be-graduating seniors and their families celebrate under the tent on Andrus Field. The friends don't see each other as much as they did back in the day, but they were excited to be back on campus.
"I feel like it is difficult to process," Cort said. "It hasn't felt like five years—it has felt longer."
"It's nice to be back and see things that are still the same," Wright said.
The past five years, while difficult because of the pandemic, have been a fruitful period for the group. Cort works for a media advertising agency and is getting her MBA from New York University. Gonzalez attends Harvard Medical School. Wright lives in Los Angeles and works for LeBron James's production company. Dauphin attends Arizona State University for a masters in organizational leadership.
"It's amazing to think about what has transpired in five years, all the things we accomplished that we didn't see coming," Gonzalez said.
**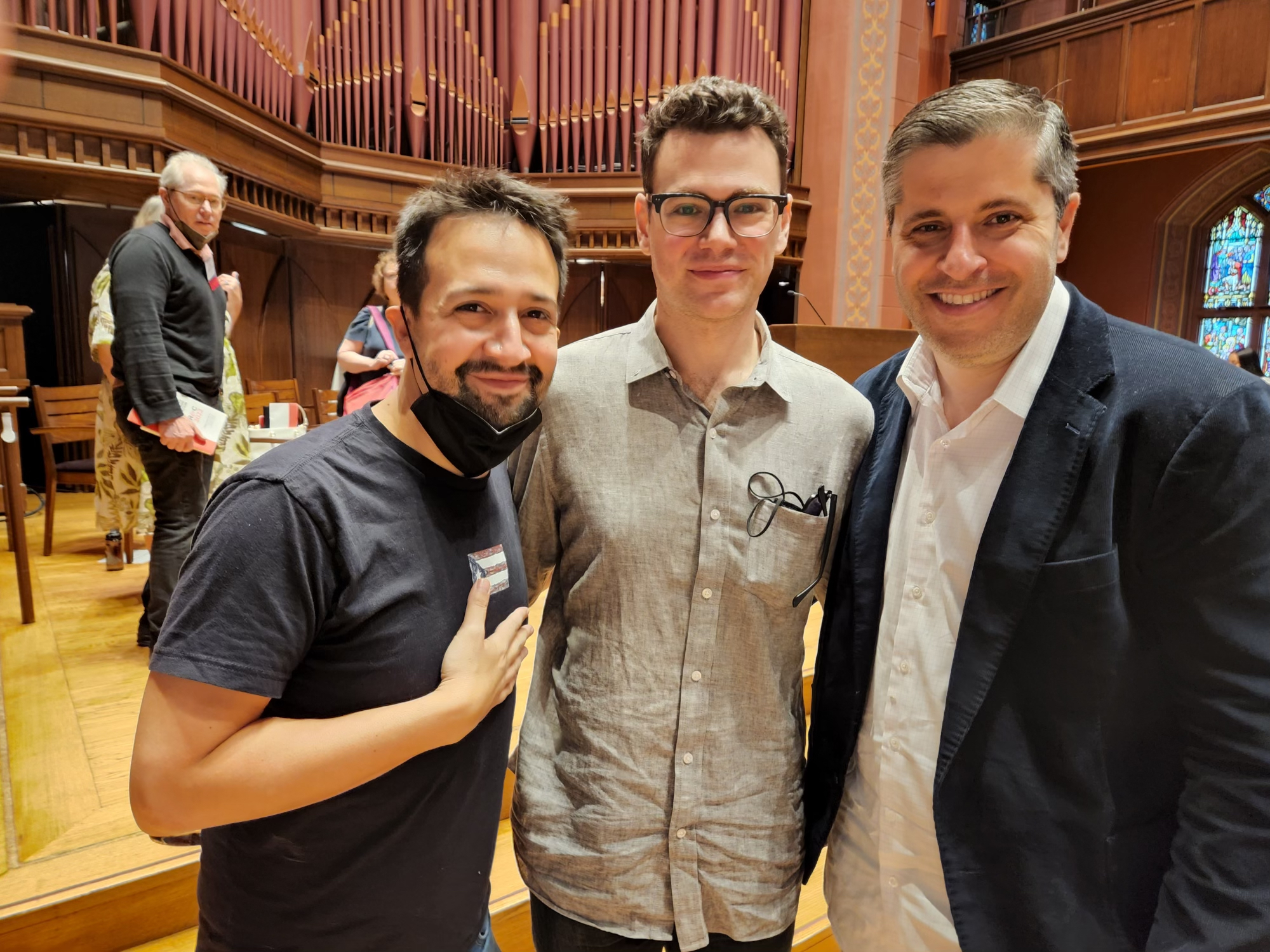 Lin-Manuel Miranda's '02, Hon. '15, first acting role at Wesleyan was the lead in Jesus Christ Superstar. He performed with the Wesleyan sketch comedy troupe Desperate Measures. He sang with the Mazeltones— and worked on a senior thesis musical he claims will never see the light of day. (He also did the first version of In the Heights.) While at Wesleyan Miranda wrote, well, like he was running out of time.
"I felt like I needed to leave (Wesleyan) with stuff—I'm a playwright and here are my plays," Miranda recalled at a talkback Friday night. Miranda spoke about his creative process working on the Oscar-nominated film tick, tick … BOOM! to a full house in the Goldsmith Family Cinema who had just seen a screening. Alex Horwitz '02, a director (and Miranda's former roommate at Wes) led the discussion.
Miranda joked with his friends backstage before the event, reminiscing about his time at Wes, and then popped out for the post-screening conversation to a standing ovation.
He said that it was during this period of creative learning and upheaval that he first experienced Jonathan Larson's unfinished musical tick, tick … BOOM! As a young man, he was floored by Larson's work. "I was exactly where you were when I first saw tick, tick … BOOM!," Miranda said to the Class of 2022 members in the audience.
He had no way to anticipate that he would end up directing the film adaptation of Larson's musical, a project that ended up being a love letter to Larson's work.
But that initial inspiration came at Wesleyan. He remembered considering Wesleyan for school and on his visit attending a film class taught by Jeanine Basinger, Corwin-Fuller Professor of Film Studies, Emerita, that ran a couple of hours over. "I wanted to go to a place where people are so passionate about what they are talking about that the classes go two hours longer. To me, that's heaven," he said.
**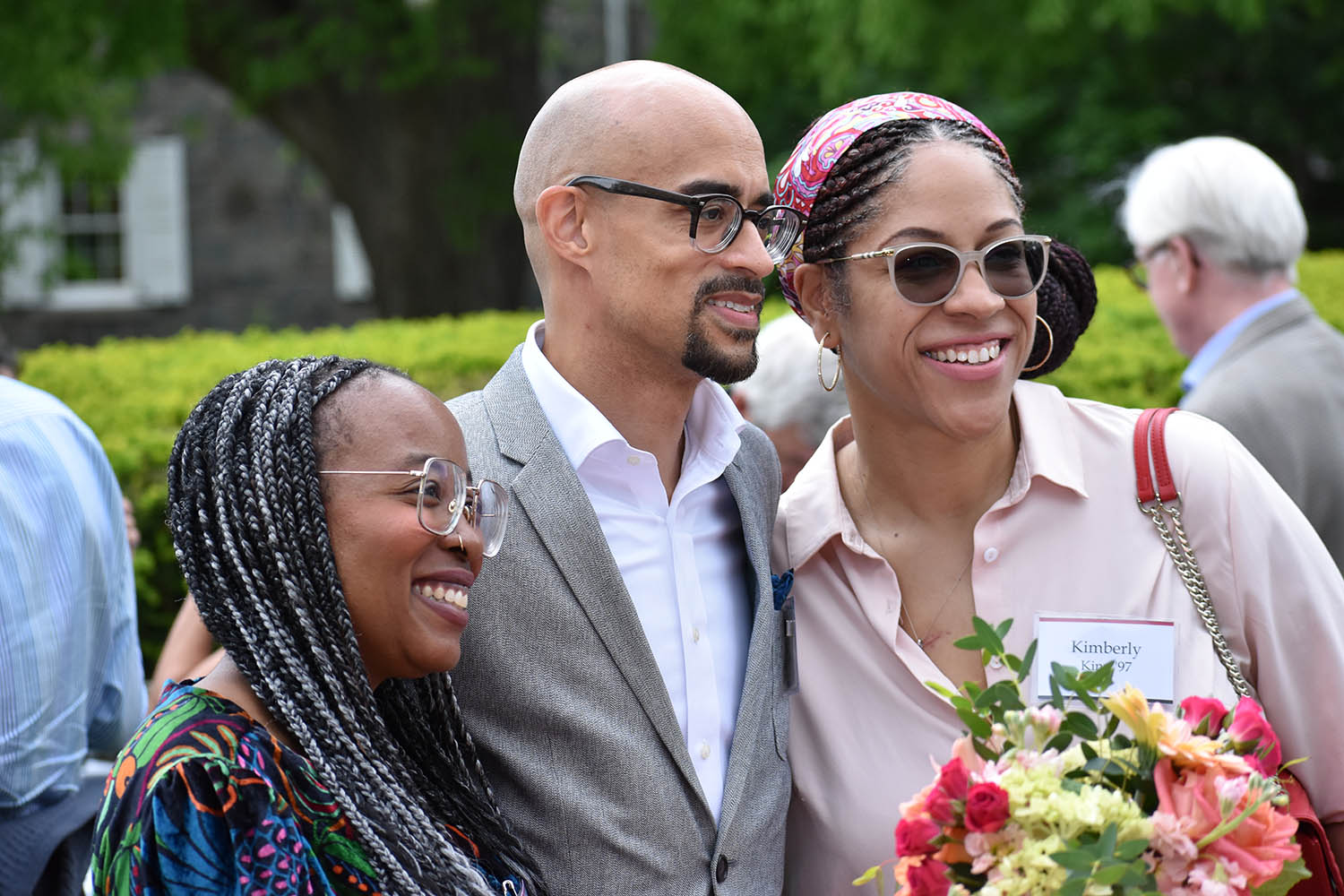 Temperatures on campus soared Saturday, but so did the spirit on display. As a Dixieland band played When the Saints Go Marching In, alumni stepped off for the annual Parade of Classes, marching from Huss Courtyard outside of Usdan to Memorial Chapel for the Wesleyan Assembly and Annual Meeting of the Alumni Association. Carrying banners, some stepped in time to the music, others made a gentler trek in golf carts, and assembled in front of the chapel. The Class of 1972, celebrating their 50th Reunion, had a large turnout for the parade itself.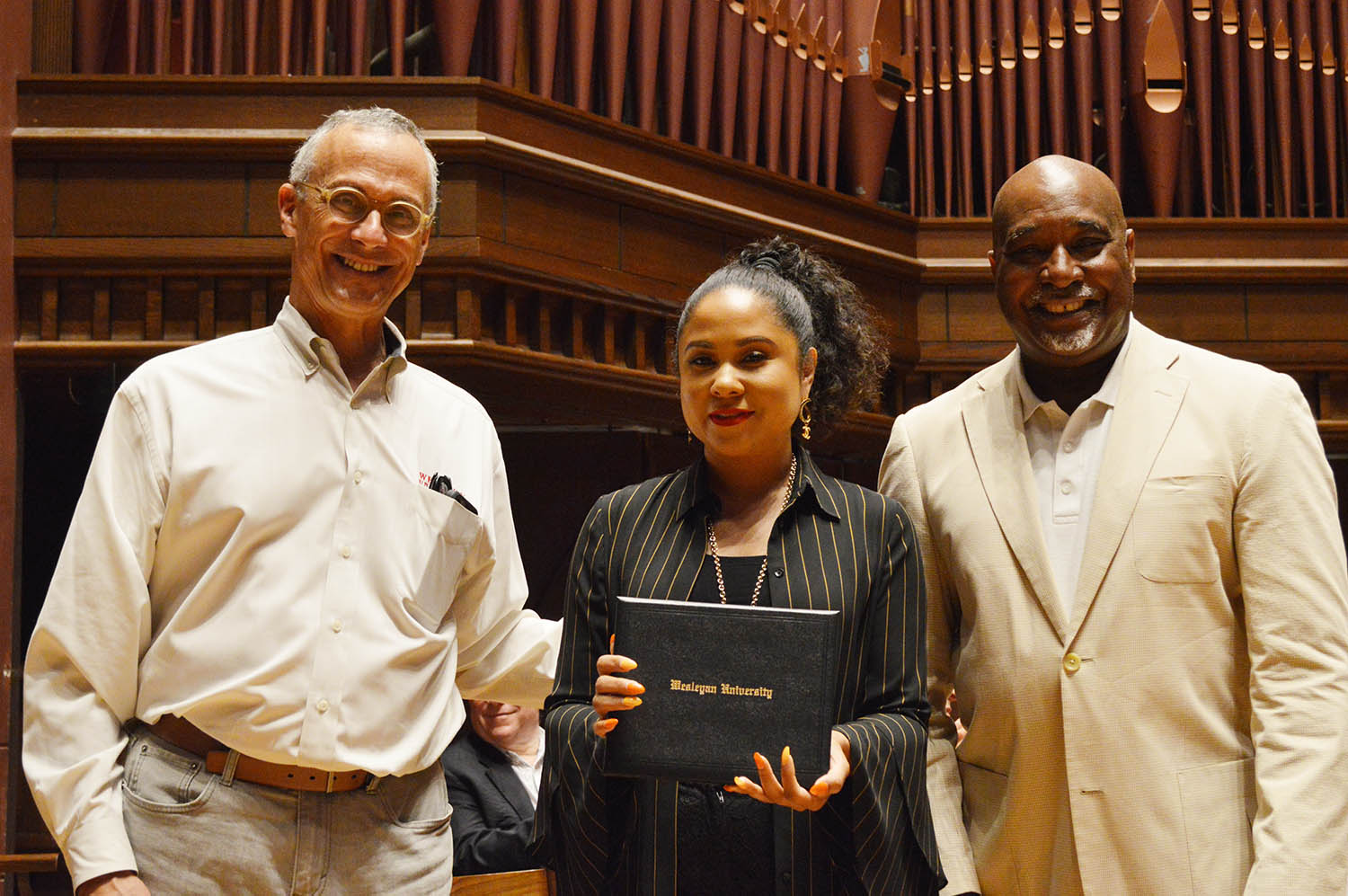 The Alumni Association presented their annual awards at the meeting. David W. Knapp '49 received a special round of applause as the most senior alumnus registered for the weekend. "It's an important year in encouraging reconnecting with one another and Alma Mater," said David Hill '86, Chair of the Alumni Association.
Angela Mae Yee '97, host of Power 105.1's The Breakfast Club, was a Distinguished Alumni Award recipient and the meeting's featured speaker. Each morning Yee speaks to an audience of about eight million people, but she was intimidated speaking in front of Wesleyan's group of distinguished alumni. "I wrote this whole thing and I didn't use any of it," she said.
But coming up with something new and interesting on the fly is very much a Wesleyan trait. Yee said attending Wesleyan gave her the ability to adapt. Inspired by her creative friends, Yee realized that she "didn't need to stick to the script" – she could fashion her own path forward. "It is such an amazing place to be," Yee said.
**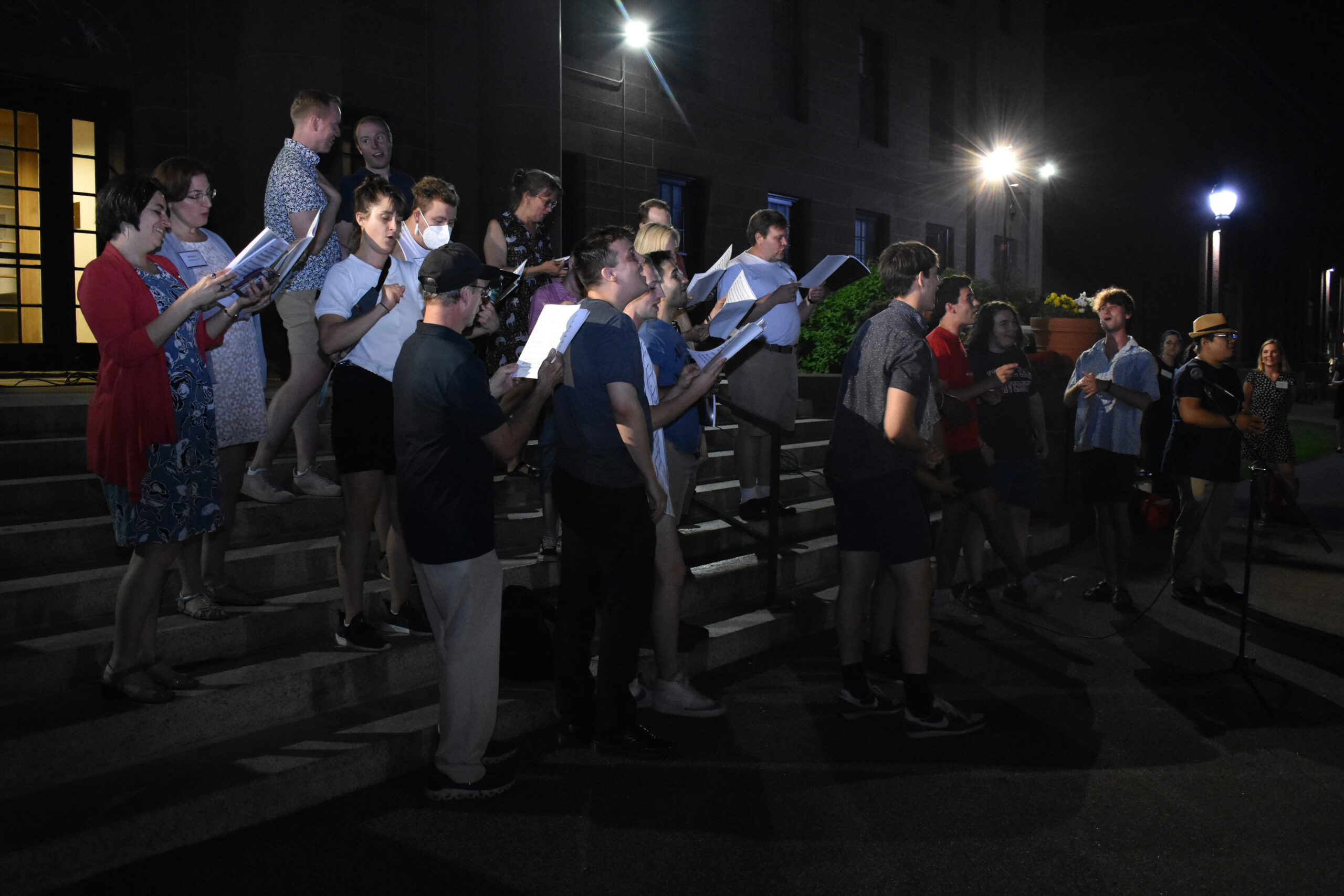 As the afternoon progressed, hundreds gathered under the tent on Andrus Field to celebrate, or huddled under the trees on Foss Hill to capture a bit of shade and lie on the grass, perhaps the same way they did when they were students at Wesleyan. The campus was awash in the sounds of happy conversation, people calling out greetings to one another, and plenty of laughter.
In the evening, each class gathered for their respective receptions and dinners, all leading towards the Traditional All-College Sing on the steps of North College.
The Wesleyan Spirits ran through a medley of New England College songs, a few drinking songs, and a spirited rendition of the Alma Mater and Wesleyan Fight Song. "If you want to come up here, you can," the leader of the group said to the crowd and a few alumni took him up on the offer to sing along.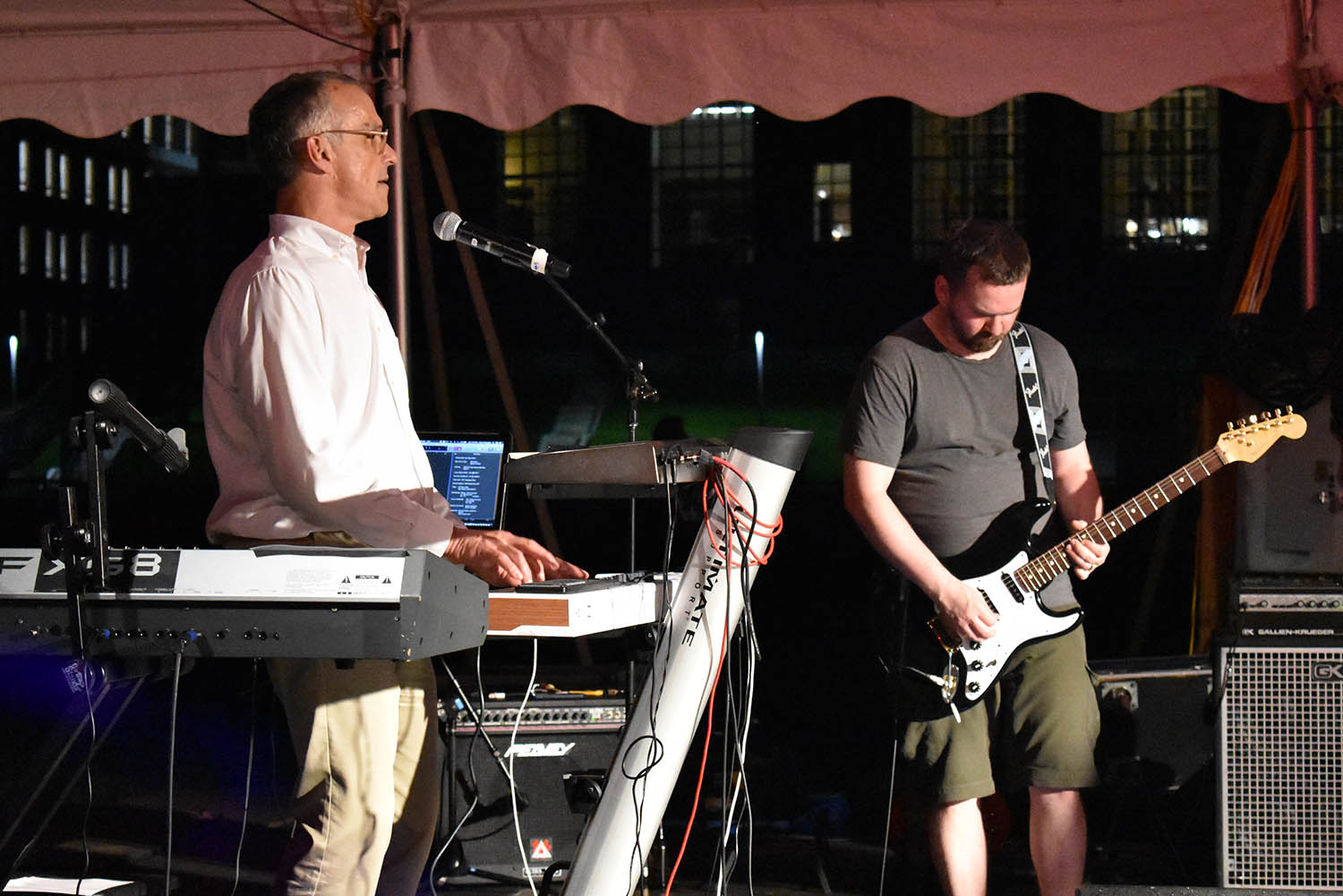 Afterward, it was back under the tent on Andrus for music and dancing. "The Future Heavies" a band led by drummer and Wesleyan Director of Arts Communication Andrew Chatfield MALS '19 played a set of 1980s and 1990s hits. They were joined by President Michael Roth '78, who sang and played keyboard on a blues tune called "Isolation Blues."
As the night wore on and older alumni gave way to more recent class years on the dance floor, another celebration of what makes Wesleyan unique drew to a close. David Perryman '87 offered a sentiment early in the festivities that could've been echoed by many alumni across the decades: "I just feel like I am not done with Wesleyan," he said.