"Sharing the World With Each Other:" Spring Performances at CFA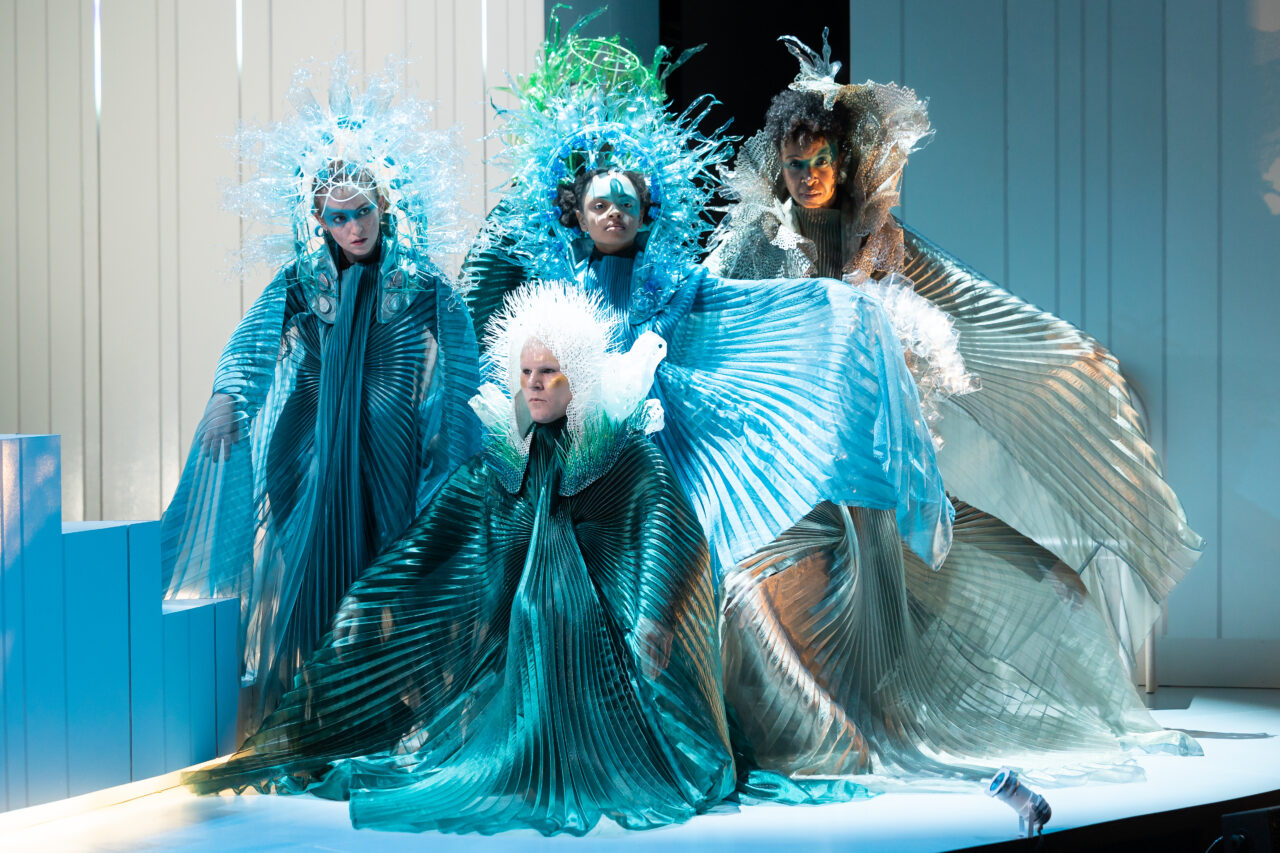 Wesleyan University's Center for the Arts has announced the highlights of its 2023 spring season, including world premiere dance and Connecticut premiere theater and music performances, as well as solo exhibitions by both alumni and current faculty.
"The Center for the Arts is thrilled to be hosting several projects that consider, with such care, different scales of human existence, memory, and sense of belonging," said Joshua Lubin-Levy '06, Director of the Center for the Arts. "From the urgency of 'Ocean Filibuster,' which takes up humanity's relationship to the vastness of the ocean, to the intimacy of Carrie Yamaoka's '79 in situ artworks that refract the physical space of the Ezra and Cecile Zilkha Gallery—this spring we welcome visitors to join us in finding connections among a wide array of programs that each, in its own, instigates a new sense of what it is to share the world with each other."
The performance of "Red Line" on Saturday, March 4, 2023 will be the world premiere of a collaborative dance conceived and directed by Assistant Professor of Dance and Embodying Antiracism Initiative Faculty Fellow Iddi Saaka, who seeks to use dance to probe issues of race and racism that cut across all facets of American society. The work draws on the experiences of five scholar-artist collaborators–Saaka, Alycia Bright-Holland, Kwamena Blankson, Issa Coulibaly, Venlo Odom, and Center for Prison Education Fellow Shirley Sullivan–to interrogate how a place of origin can open opportunities for some but close doors to others.
Three performances of "Ocean Filibuster" on Friday, May 5 and Saturday, May 6, 2023 will be the Connecticut premiere of a genre-crashing music theater experience from Assistant Professor of Theater Katie Pearl and her company PearlDamour, an interdisciplinary team with artist Lisa D'Amour. Originally commissioned by American Repertory Theater in collaboration with Harvard University's Center for the Environment, Obie Award-winning performer Jenn Kidwell explores the intimate, critical relationship between humans and the ocean.
Two concurrent solo exhibitions are on display in the Ezra and Cecile Zilkha Gallery through Sunday, March 5, 2023. "Liquid Gold," the first chapter in a series of installations that looks at the history of breastfeeding as it has been narrativized, advertised, and suggested for Black mothers in America, features a video installation and a sculpture by Assistant Professor of Art and Luther Gregg Sullivan Fellow in Art Ilana Harris-Babou. "seeing is forgetting and remembering and forgetting again" includes works at the intersection of drawing, painting, photography, and sculpture by Carrie Yamaoka '79 that reference the effects of memory on visuality. Yamaoka exhibited her senior thesis project in the gallery in 1979, and was also part of "The Alumni Show" in November and December 2003 in celebration of the 30th anniversary of the Center for the Arts.
The Middletown Public Schools Art Exhibition returns to the Wesleyan campus after being virtual during the COVID-19 pandemic in 2021 and 2022. The 42nd annual exhibition showcases a wide variety of visual art from children in kindergarten through twelfth grade and will be on display from Saturday, March 11 through Sunday, March 19, 2023.
The Music Department presents two milestone events this spring. The 20th annual Wesleyan Jazz Orchestra Weekend will feature the Connecticut debut of cellist, composer, conductor, and educator Akua Dixon and her Grammy Award-winning string quartet, Quartette Indigo, on Saturday, April 29, 2023. The string ensemble will premiere several new works. And the 10th annual Wesleyan University Orchestra Children's Concert will take place on Saturday, March 4, 2023. Families can learn about the instruments of the orchestra and how they work together in a fun, hour-long interactive musical exploration.
Tickets and reservations for spring events are on sale now online at https://www.wesleyan.edu/boxoffice. See all upcoming events at the Center for the Arts at https://www.wesleyan.edu/cfa.