The Second City Teaches Improvisation to Wesleyan students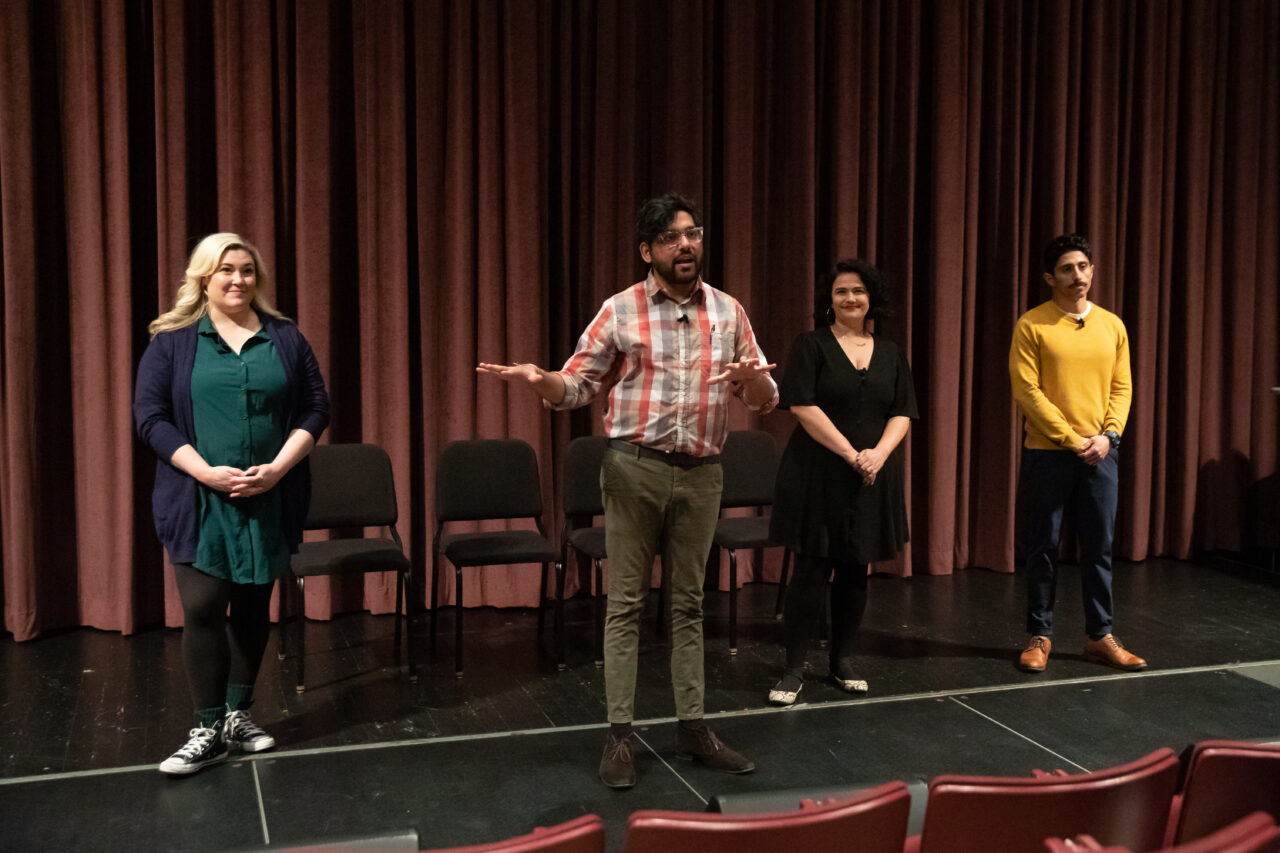 Through a series of fun masterclasses and performances, members of The Second City integrated the company's tenets of improvisation into the curriculum of four Wesleyan performance courses.
Since its premiere in 1959, The Second City has revolutionized improv as an art form and launched the careers of iconic performers ranging from John Belushi, Dan Aykroyd, Bill Murray, and Gilda Radner to Mike Myers, Amy Poehler, Tina Fey, and Keegan-Michael Key.
When Dean of the Arts and Humanities Roger Mathew Grant learned that The Second City would be available to come to Wesleyan, he thought about how improvisation is a foundational part of the curricula for the Theater and Dance Departments. "I realized this would be such a fun and enriching opportunity for students in those departments," said Grant, who worked with faculty to capitalize on this opportunity.
Wesleyan Trustee Andrew E. Vogel '95, who also serves on the board of Second City, facilitated the partnership between Grant and Second City and provided generous support for the workshop series.
On Monday, February 6, there was a Keynote Kickoff event in Ring Family Performing Arts Hall at the Center for the Arts. A Closing Jam was held in Ring Family Performing Arts Hall on Thursday, February 9. The show was heavy on audience interaction, asking the students for suggestions or to participate in sketches on stage.
Second City members Carisa Barreca, Saurabh Pande, Sayjal Joshi, and Vernon Mina also dropped into several classes—Acting I, Acting II, "Introduction to Dance," and "Dance as Activism"—to further demonstrate the skills that they use to be successful both on and off stage.
"I really appreciated the students' enthusiasm for the work and faith in the process," Mina said. "They opened up and had great questions and observations."
Exercises at the kickoff event displayed the company's three tenets of improvisation. Second City believes improv exists in a space of non-judgement. Performers should trust their instincts as long as all of the participants are safe. Improvisers should also offer complete support for their colleagues in a scene. "I️ learned more about the value of spontaneity," said Samantha Greenwald '24, who attended the keynote event. "I️ really admired how the members of The Second City were so quick on their feet. It was awesome to watch."
The members of Second City held masterclasses in "Acting II," taught by Assistant Professor of Theater Maria-Christina Oliveras, and "Acting I," taught by Assistant Professor of Theater Lauren Yeoman.
"Courage is a muscle, and Second City provided the best workout for my students," said Oliveras. "They inspired fearlessness, spontaneity, moment to moment presence, delight in surprise, and joyous curiosity."
"I really wanted my 'Acting I' class to get to more deeply explore 'being in the unknown'­—allowing an experience to unfurl between them instead of pre-determining how a scene 'should' go," Yeoman said. "I watched their workshop with Second City get many of them excited by this concept rather than intimidated by it…Many of the students especially loved the fresh take that Second City gave them on the golden rule of most improv methods: the principle of 'yes, and…'," said Yeoman. "The scene took off like a rocket, and the audience loved it."
Graduate student Jada Reid also experienced the ensemble's visit to the "Introduction to Dance" class she is auditing. "I learned a lot about trusting my instincts, not judging how my body is drawn to move in space, and how to welcome in curiosity rather than shun it away," said Reid.
Grant plans to continue to grow Wesleyan's collaboration with Second City in a meaningful way. "What I found most inspiring while they were on campus is that Second City's improvisational orientation speaks to communication and collaboration in the broadest possible sense," said Grant.