From Q-Tip Pollination to Strategy Caucuses: Jewett Center Hosts Workshops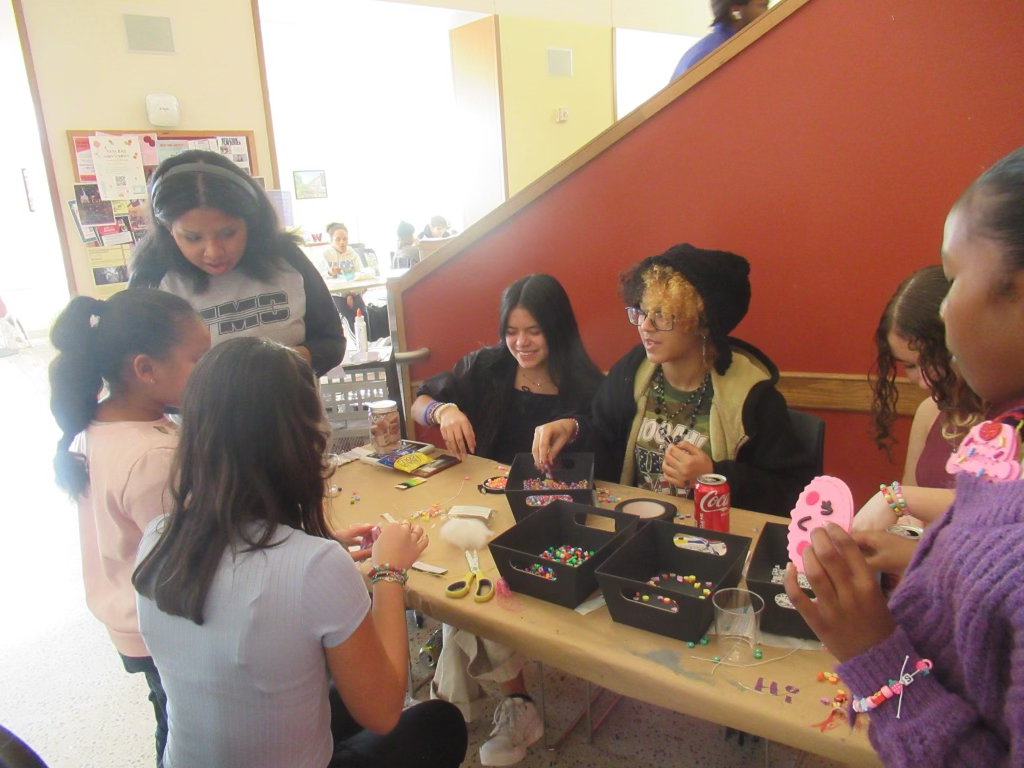 By Maia Bronfman '24
Diana Martinez, associate director of the Jewett Center for Community Partnerships, held around 100 one-on-one interviews to plan the Growing Power event on February 18 at Usdan University Center, a day devoted to community building and criminal justice reform.
Residents from across Connecticut attended workshops on campus on gardening, Black herbalism, fishing, chicken-keeping, and leadership.
"All it takes is one generation to disconnect, all it takes is one generation to get it back," Martinez said about sustainable land-use and community practices.
In a morning session, Kristianna Smith, Stacey Barka, and Erin Livensparger taught a Gardening 101 workshop. Smith and Barka are both involved in the Fire Ring Farm in Portland which Livensparger owns and operates.
"I'm a flowers fix it kind of person," Smith said. "You underplant with clover, then you grow borage, and your bees bounce from flower to flower."
Bug infestations gone, bees sedated, Smith said we could learn biomimicry from our gardens, too. "There are harmful chemicals seeded among us, but we can conquer the infestations," Smith said.
Alycia Jenkins, campaign organizer for the Sierra Club, asked Smith about her apartment plants which were flowering but not growing fruit. "You are the bee," Smith said. "If you have an apartment with no windows that open you have to go from flower to flower with a Q-tip and pollenate."
"Like IVF for plants," Barka joked.
"More like IUI," Smith said.
Jenkins said gardening should be part of a global curriculum about land practices and not profiteering. Shanelle Morris, who attended the workshop with Jenkins and works as the program director for the Rural Hartford Youth Program, agreed that gardening should be at the center of our education.
"It's the center of our existence," Morris said. "We learn about ourselves through interacting with the earth and each other. It's how we heal ourselves."
In another glimpse into how humans interact with nature, James Belin, Jr, owner of Life 1122 Carpentry and a fishing charter captain, taught Fishing 101 in the Daniel Family Commons. He described his work introducing fishing to Connecticut communities as small scale and independent. That kind of approach, he said, is best for building communities.
In contrast to the existing "tight lipped fishermen network in Connecticut," Belin said, "If I catch a fish, I tell every person in the state."
Lorenzo Jones, co-founder and co-executive director of The Katal Center for Equity, Health and Justice and owner of the Chicks Ahoy Farm in Bloomfield, also led a leadership workshop. Chicks Ahoy focuses on land and farming access in Black and Brown communities across Connecticut. The Katal Center employs other methodologies to work toward ending mass incarceration and the drug war.
"We build strategy caucuses. We identify organizations and people to partner with—educators, litigators, researchers, librarians, firefighters, store owners.," Jones said.  "The way to make your strategy more eclectic is to be radical about including methodologies, especially ones you are not confident in."
While organizing the event, Martinez remembered that Jones said to her, "You don't win because you're right, you win because you're strong."
"That means you have to be right and strong," Martinez said. "The processing of organizing Growing Power changed how I think of my own power as an individual within a system. Especially considering young people who are conditioned by the powers that be. The ability to guide a young person to recognize and use their autonomy to be a power within a system, that is life changing for everybody."