Local Artifacts on Display at Second Annual Archaeology Program Open House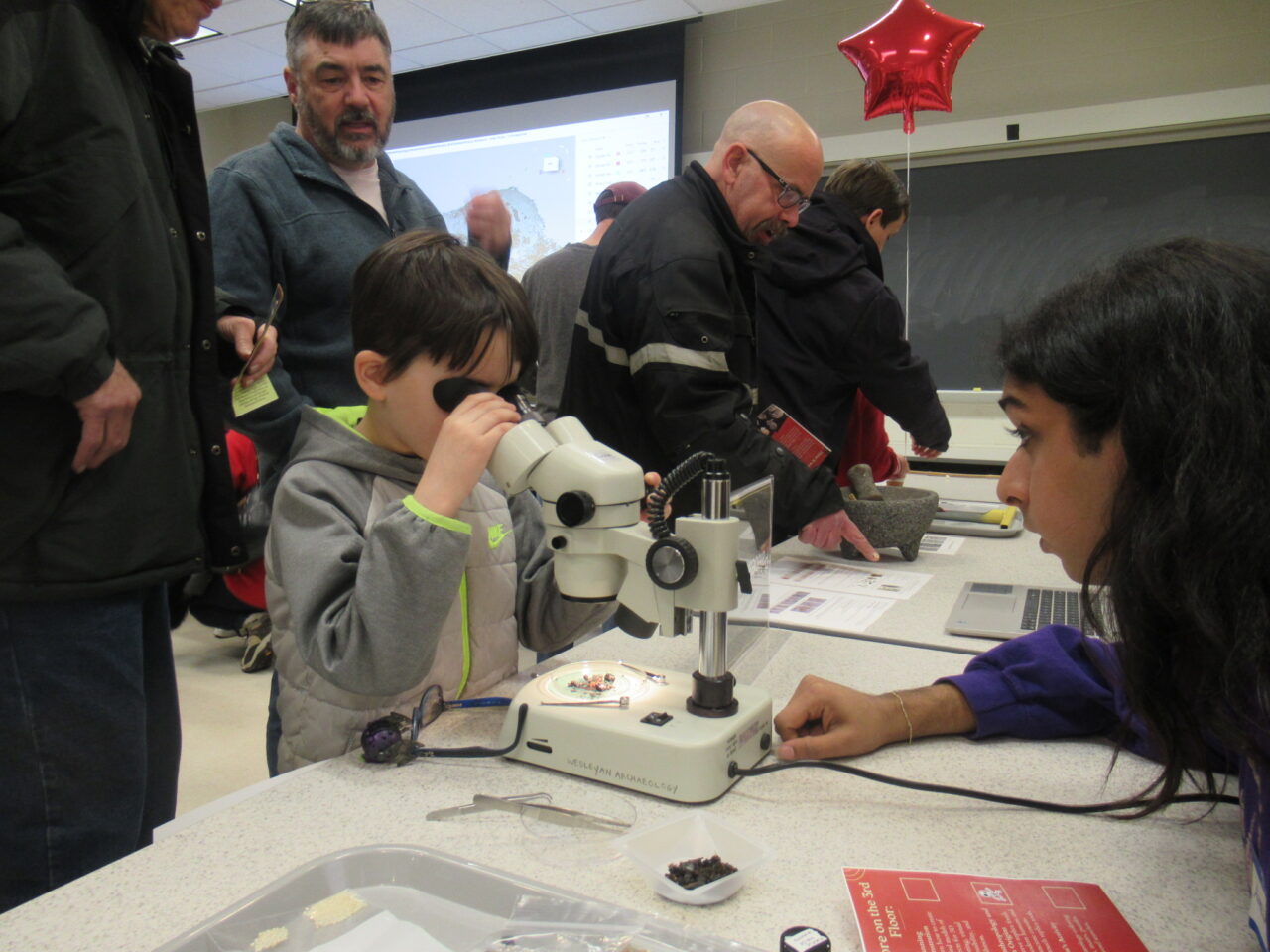 By Maia Bronfman '24
So many people were interested in Wesleyan's Archaeology and Collections Open House earlier this month, Archaeology Collections Manager Wendi Field Murray didn't stop talking for two-and-a-half hours.
"I had so many great conversations with people of all ages. A young boy who brought a sketchbook to draw all the interesting things he was seeing; an individual who helped excavate the Beman Triangle site 10 years ago; a Wesleyan student who had never seen the collection; an older gentleman who collects historic glass insulators," Murray said.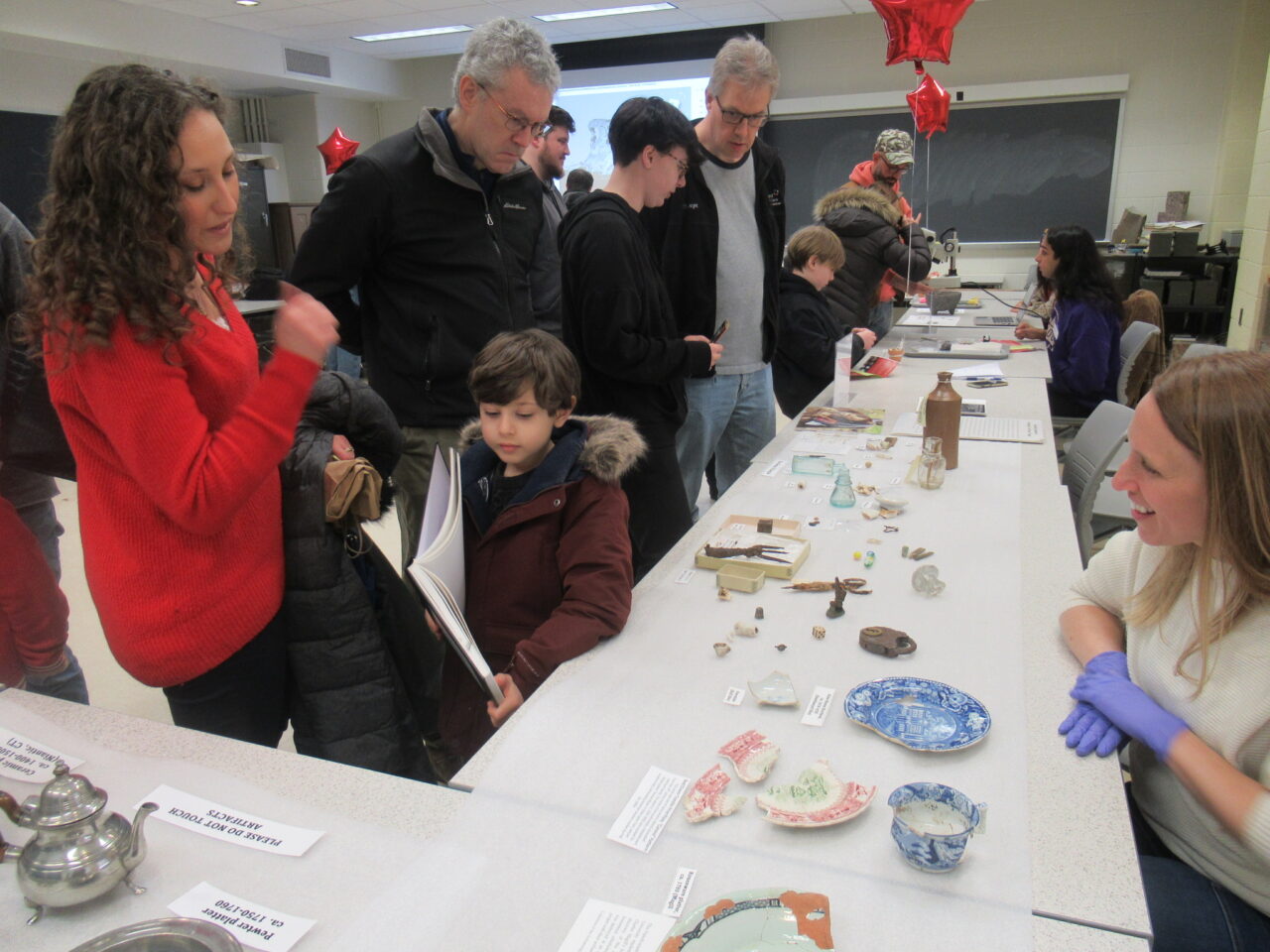 There were over 150 attendees at the open house held in the Exley Science Center on March 4 viewing stations set up throughout the 3rd and 4th floors focused on Environmental Archaeology, Paleoethnobotany, 3D scanning, Paleoanthropology and Energy and Environmental Science lab work. Artifacts from Archaeology and Anthropology Collections and the Joe Webb Peoples Museum of Natural History were also on rare display for the annual occasion.
"I think that we were all excited that people came … Seeing the enthusiastic response really galvanized my commitment to make these collections more visible beyond our campus, and to think of innovative ways we could more consistently engage with the community," Murray said.
Anya Le '25 was in the Joe Webb Museum speaking with visitors. Le is connected to the museum through its collection of taxidermized birds, which she is organizing and digitizing. She pointed to a taxidermized bird atop a display case in the museum.
"That one was in a professor's office," Le said about the difficulty of record keeping and organizing collections as the George Brown Goode Biological Collections Student Curator. It's the nature of the job, she said, that student workers cycle through and leave bits of knowledge behind which are now her responsibility to discover.
At the Paleoanthropology station, an elementary school student from Middletown asked Nick Bowman '23 if they could see into the brain of ancient humans, referring to the replica skulls he had set out on his table. Another asked about cartilage decomposition.
"It was a pretty advanced question," Bowman said about the elementary schooler's query.
Visiting Assistant Professor of Classical Studies Catharine Judson emphasized that the hands-on nature of archaeology should mean opportunity for its public facing work.
"There are so many elements to archaeology: humanities, social sciences, and hard sciences. It's fun to think of the translation from scientific information to public information, to make it accessible. But the public-facing side of archaeology is underdeveloped … Wesleyan is doing the most public facing work I've seen," Judson said, because of the local artifacts in the Wesleyan collection, the institutional focus and the work of individual students, like Ruby DiCarlo '23.
"Archaeology and general collections, especially the Middletown objects, should be seen by a wide variety of people. It's public history, it's context to the place where people are living," DiCarlo said.
But there are ethical questions in talking about objects and writing archaeological narratives.
"Whose history will you highlight? How do you interpret another group's belongings, without a presumption of intellectual authority over their identity or experience? What is the implicit bias in your collection, and how will you communicate that to a visitor? How will you make the interpretation of an object accessible to different age groups?" Murray said about the questions that went into planning the exhibition of local artifacts.
Murray said that this year they wanted to focus on local history. The priority was to represent as many different dimensions of Middletown's history as Wesleyan's collections could support. "The ornate ceramics from the Charles Magill or Watkinson houses are stunning to look at and easy to talk about, but they represent the wealth and privilege of white Middletown merchants in the 18th and 19th centuries—hardly representative of this area's history or the collective experiences of its residents over time," Murray said.
In selecting objects for display, Murray and her team included Native American objects like Wangunk stone tools and Niantic pottery, a collection of projectile points from Connecticut and New York, ink bottles and pipe stems belonging to African American homeowners living in Middletown's Beman Triangle during the 19th century, and children's toys excavated from the homes of wealthy merchants living downtown in the early 1800's.
"Obviously no collection will be truly representative, but hopefully making these objects more visible and accessible helps to personalize that history in a way that books usually can't," Murray said.