Artists and Academics Discuss Climate Change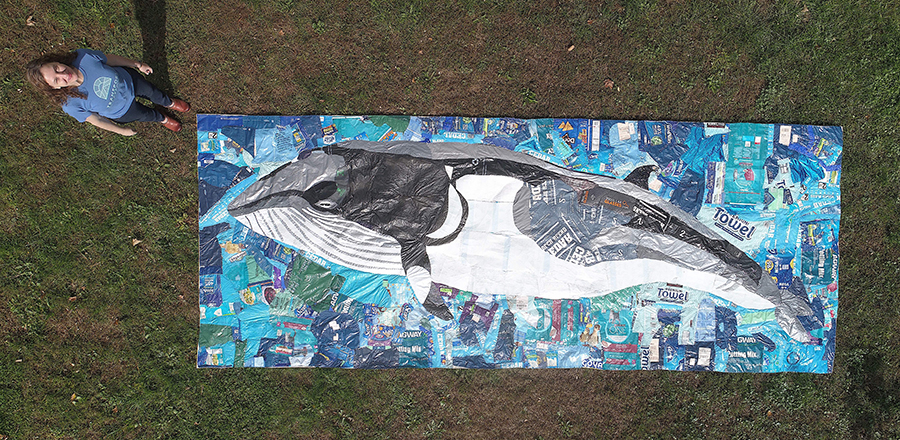 A group of artists and academics came together in the first of a series of climate change conversations to examine how art can impact policy.
This event is part of the Ocean Filibuster: Art and Action series—a semester of art and activism, science and storytelling—building to the Connecticut premiere performances of PearlDamour's "Ocean Filibuster" in the CFA Theater from Thursday, May 4 through Saturday, May 6, 2023. For more information and related events, please visit www.wesleyan.edu/cfa/ocean.
The first panel discussion on March 28 considered the relationship between artmaking and policy—how artists, scientists, and policymakers can be more powerful, and more able to shape change, when they partner together, and enter each other's spheres.
While preparing for the premiere of "Ocean Filibuster" this spring, Assistant Professor of Theater Katie Pearl has focused on understanding the environmental issues facing Connecticut, and helping people learn how to get involved, including testifying at local legislative sessions. "I'm feeling like that's the most important thing you can do," Pearl said.
(Read more about Pearl's work.) 
Pearl, Assistant Professor of Earth and Environmental Sciences Raquel Bryant, artist and researcher Katharine Owens, and Save the Sound's inaugural Environmental Justice Specialist Alex Rodriguez looked at the relationship between "imagined futures and mappable realities." The event was moderated by Michael Feldman '84, creator of the Theater and Policy Salon in Washington, D.C. and a strategic advisor in the arts.
Through her "Justice in Geoscience" project, Bryant has brought together an interdisciplinary team of artists, scientists, humanists, and social scientists to think about the next 50 years of action. "The urgency of now is very palpable when we start thinking about climate change," Bryant, a micro-paleontologist, paleo-oceanographer, and a paleo-ecologist, said. "Through art, you can imagine new worlds, right? You can imagine the future—the future can be in your hand when you use art as a medium. You need art along with science to be able to cope with that as a human."
But science isn't the only tool available to combat the climate crisis. Bryant looks to Black and Indigenous scholars when she is trying to understand how to find joy and create community amid turmoil and chaos. "Just because I'm a scientist doesn't mean I can't dance in the street, and doesn't mean I can't protest in the street," Bryant said. "There's different tools and different approaches, and we need all of them."
She will be part of a fireside ocean jam­—an informal, outdoor cabaret on campus on Friday April 21­ with Pearl. "Science is not going to save us," Bryant said.
Artist and researcher Katharine Owens, a professor of Politics, Economics, and International Studies at the University of Hartford, is creating a series of durable, hand-sewn, life-sized murals of sea animals harmed by plastic pollution created from non-recyclable plastics. The largest one she has done so far is a 60- by 20-foot sperm whale. "Part of the story I'm trying to tell with the art project is about the way we frame the issue of plastic pollution in the scientific literature," Owens said.
Owens believes the comfort of art can both help us cope with things and is also a powerful tool for understanding something deeply. "For me, the act of sewing is very contemplative, it's very anxiety-reducing," said Owens. "When I think about the most important educational experiences in my life, they often had a creative component or tactile component." Owens is hosting a community endangered sea creature mural-sewing event on campus on Friday April 14.
Save the Sound's inaugural Environmental Justice Specialist Alex Rodriguez said the climate crisis is already here. "It's not happening tomorrow, it's happening right now," Rodriguez said.
He started the Youth Eco Advocacy Corps at Save the Sound—a regional environmental organization focused on climate, protecting clean water and public land, and restoring ecosystems. The project aims to refine the stories of people under age 30, encourage them to take action, and help them understand how communities can navigate intimidating systems of power.
Visiting Assistant Professor of Earth and Environmental Sciences Kathleen Miller Ph.D. '12 worked with Owens, and advised Pearl on the process of legislative and policy change. "What I'm really excited about is connecting students to action," Miller said. "It matters more than you know."
Ocean Filibuster and related events are supported by Wesleyan University's Center for the Arts, Theater Department, College of the Environment, and Allbritton Center for the Study of Public Life. Additional support provided by the New England Foundation for the Arts and National Endowment for the Arts.