Connecticut Premiere of "Ocean Filibuster" Takes Place May 4-6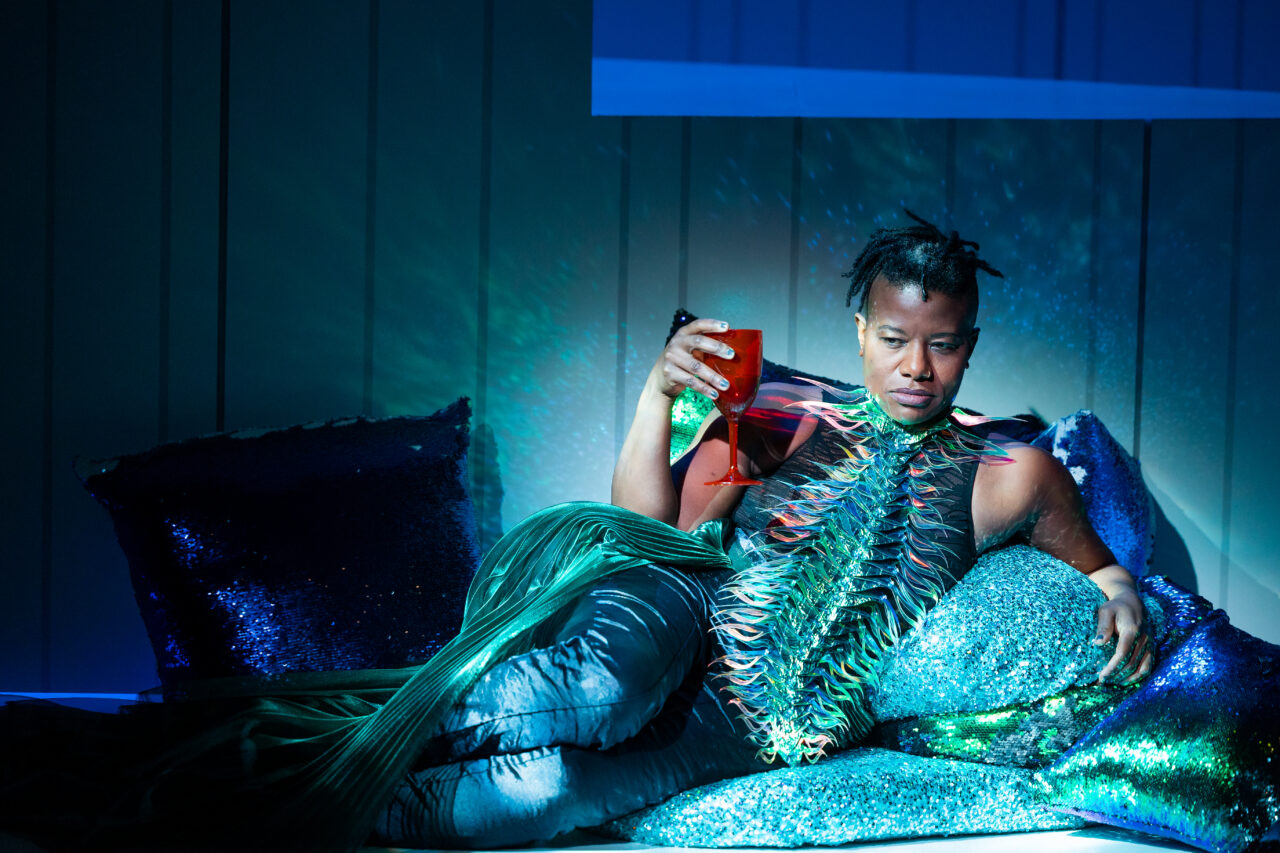 Does theater really change somebody? That is the question that director and Assistant Professor of Theater Katie Pearl always asks herself when she does a show about an issue she cares about. In her most recent work "Ocean Filibuster," Pearl explores the intimate, critical relationship between humans and the ocean.
"I make a play because I want to have a conversation with the topic," Pearl said. "I like to think of the rehearsal room as a little radical ecosystem. As a director my job is to create a community that is in the conversation that the play is wanting to have."
The Connecticut premiere performances of her company PearlDamour's music theater experience "Ocean Filibuster" take place in the Center for the Arts Theater from Thursday, May 4 through Saturday, May 6, 2023. After Wesleyan, "Ocean Filibuster" will head to New Orleans, then to North Carolina's Duke University in the fall, and the Ocean Sciences Meeting in 2024 in collaboration with Assistant Professor of Earth and Environmental Sciences Raquel Bryant.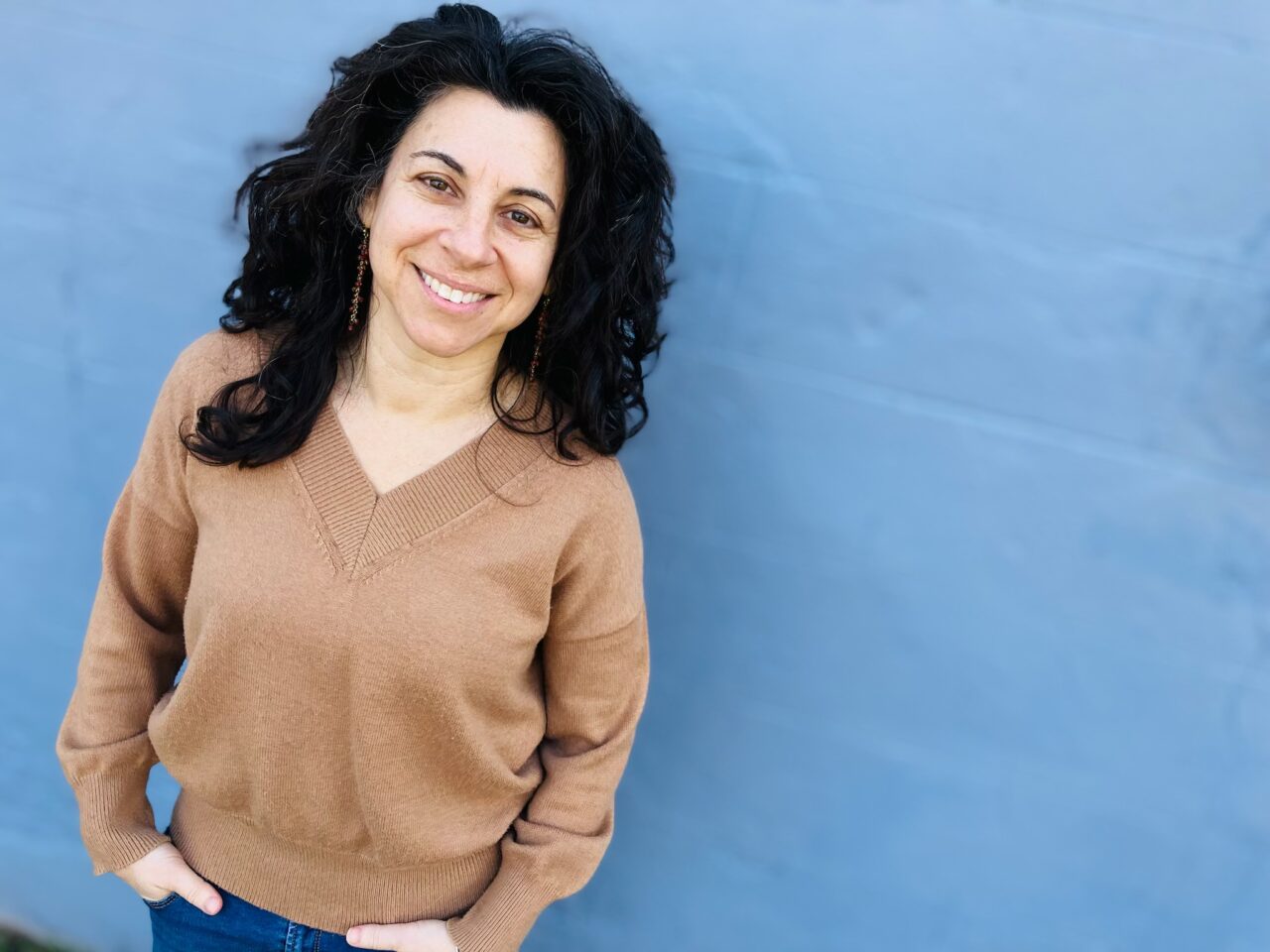 Pearl believes that when engaging with some of the complicated topics offered in the theater, its not enough to just stage the play alone. In addition to the performance, there will be a series of talks and other activities exploring environmental issues. "How can I think of plays as constellations of events, and each star in the constellation is a different doorway into the same topic, and the play becomes one of those points?" Pearl said.
Michael Feldman '84, creator of the Theater and Policy Salon in Washington, D.C, and moderator of a March 28 panel discussion on art making and policy, amplified Pearl's thinking. "How does your science, art, advocacy create space for imagining possible futures?" asked Feldman of the panelists. "Is that progress towards climate action? Towards ocean conservation? Or is it warnings of the harm that we're going to face in actionable ways–talking about potential damages while you talk about the solutions?"
She considers her performance piece—an important form of community and storytelling in itself­—an opportunity for building a relationship to an issue. It can also be an excuse to have a broad, interdisciplinary conversation about the topics that the show addresses. Her hope is that experiencing the show and the surrounding events will prompt participants to take immediate action in their own towns. "One of the reasons I love doing the show is because I keep learning so much, and I'm constantly inspired by the local activism that is happening all around me," Pearl said.
Pearl first became interested in work that merged movement and theater at the University of Washington, where she learned about the work of noted director Anne Bogart. After getting her B.A. in Drama in 1994, Pearl connected with the Welsh theater company Brith Gof, which sparked her excitement in creating site-specific work. She started working with like-minded writer and New Orleans-native Lisa D'Amour, coming together to stage their first interdisciplinary work as the team PearlDamour, "The Grove," outdoors in Austin, Texas in 1997. She and D'Amour were interested in upending traditional theater conventions. "What would happen if we flipped all those relationships on their heads?" Pearl said.
It is a quest for knowledge that motivates Pearl and D'Amour to tackle an idea. "We choose to do a project because we don't know something," Pearl said of her company. "We always have to bring in either creative collaborators who have different skills, or reach out of our bubble to talk to people who know things that we don't."
In 2016, American Repertory Theater's Ryan McKittrick saw PearlDamour's work "Lost in the Meadow" in Pennsylvania, and commissioned the company to create "Ocean Filibuster" in collaboration with Harvard University's Center for the Environment.
In creating the piece, Pearl and D'Amour started with the scientific facts, talking to experts in oceanography, and then let themselves begin to imagine how that could take them to different places. They decided to set the work just far enough into the future that part of the world is underwater, but still a recognizable place. "Wonder is something we've always been interested in," Pearl said.
After doing a first read-through workshop with Taylor Mac, PearlDamour cast Obie Award-winning performer Jenn Kidwell in the dual lead roles of "The Ocean" and "Mr. Majority." "It really feels like all of us have both sides of the argument in us," Pearl said. The work premiered in March 2022 in Cambridge, Massachusetts.
The "Ocean Filibuster" show is currently rehearsing five days a week, with three-hour rehearsals Tuesday through Friday evenings and on Saturday afternoons. "What's so satisfying about being a theater artist … is mostly about being in the rehearsal room," Pearl said. "I realized the thing that feeds me about making theater is the interaction, the conversation."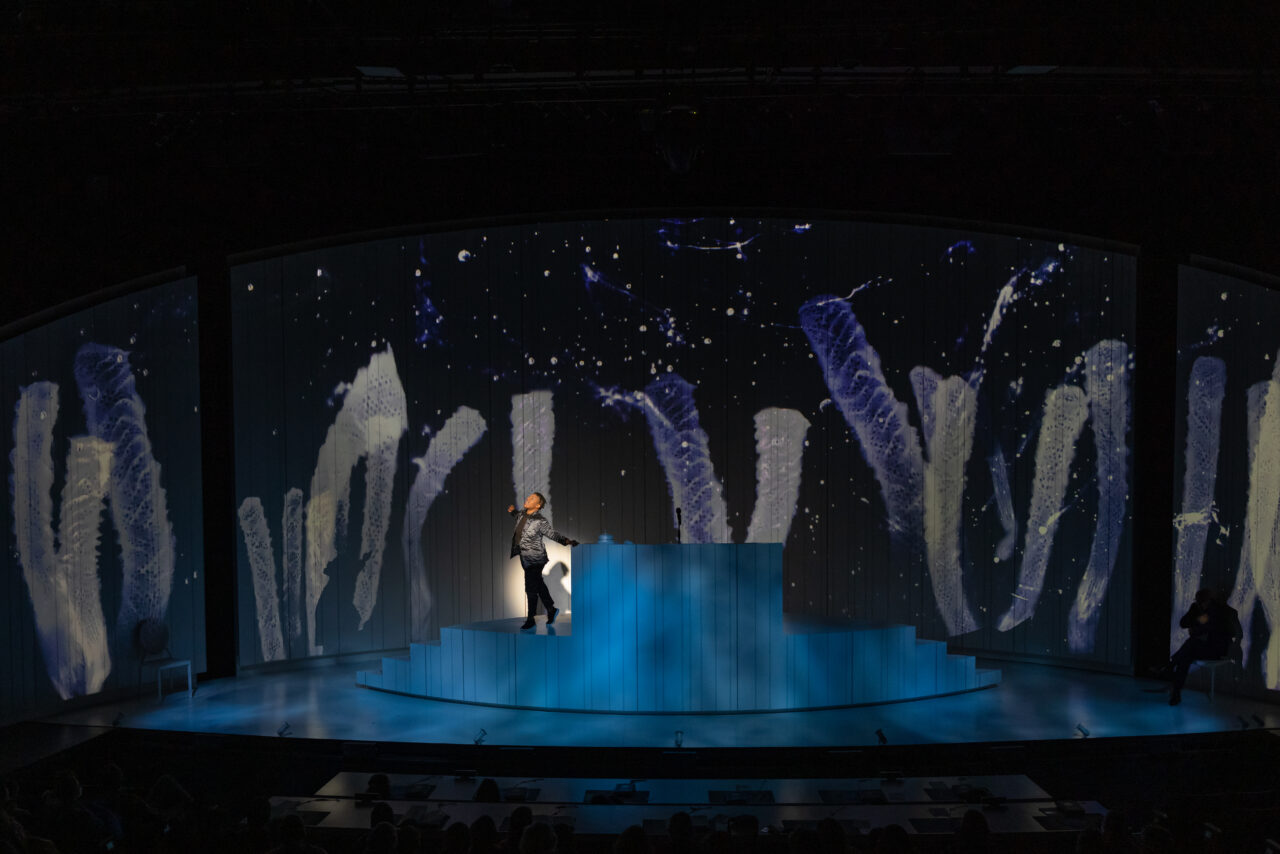 Ten Wesleyan students will be on stage as a chorus, and performing during the intermission of the show. Other students have technical roles stage managing as well as doing dramaturgical work, including research around local environmental issues with the Connecticut River Conservancy and the Connecticut River Coastal Conservation District, and the investigation of different performance artists who are making climate-responsive work to help contextualize "Ocean Filibuster."
"The students here really rise up to meet you as partners in a shared investigation," said Pearl. In the classroom or the rehearsal room, they have the chance to build their own version of utopia. "For me, that involves talking and listening," Pearl said.
The interactive intermission features whimsical ways to engage in ocean science, including looking at the ocean floor at a mini-lab in the lobby, learning about thermohaline currents through dance movements, and visiting an immersive ocean plastic installation by Assistant Professor of the Practice in Theater Courtney Gaston and her students. And two Wesleyan student actors dressed in-costume portray the Connecticut River in pain from harm caused by invasive plant species of water chestnuts, and the Coginchaug River as scared of pollution from storm runoff. The audience can interact and remove pieces of pollution from the actors' costumes to actively help clean the rivers.
"One of the challenges of representing the ocean on a stage is that they have to rely on language to communicate to the audience," said Pearl. "And human language is so subpar when it comes to trying to express what I imagine the ocean is capable of expressing."
Pearl believes it can be hard to change people's minds, to penetrate the individual apathy around environmental issues. She knows that doing a play isn't going to change the world. "I do feel like taking action, actively involving yourself is a real antidote to depression around all this …  if you have a question, make a project about it," Pearl said.
Read more about some resources and ways to get involved and support the environment.