WesFest 2023: Wesleyan's Community, Culture at the Top of Mind for Prospective Students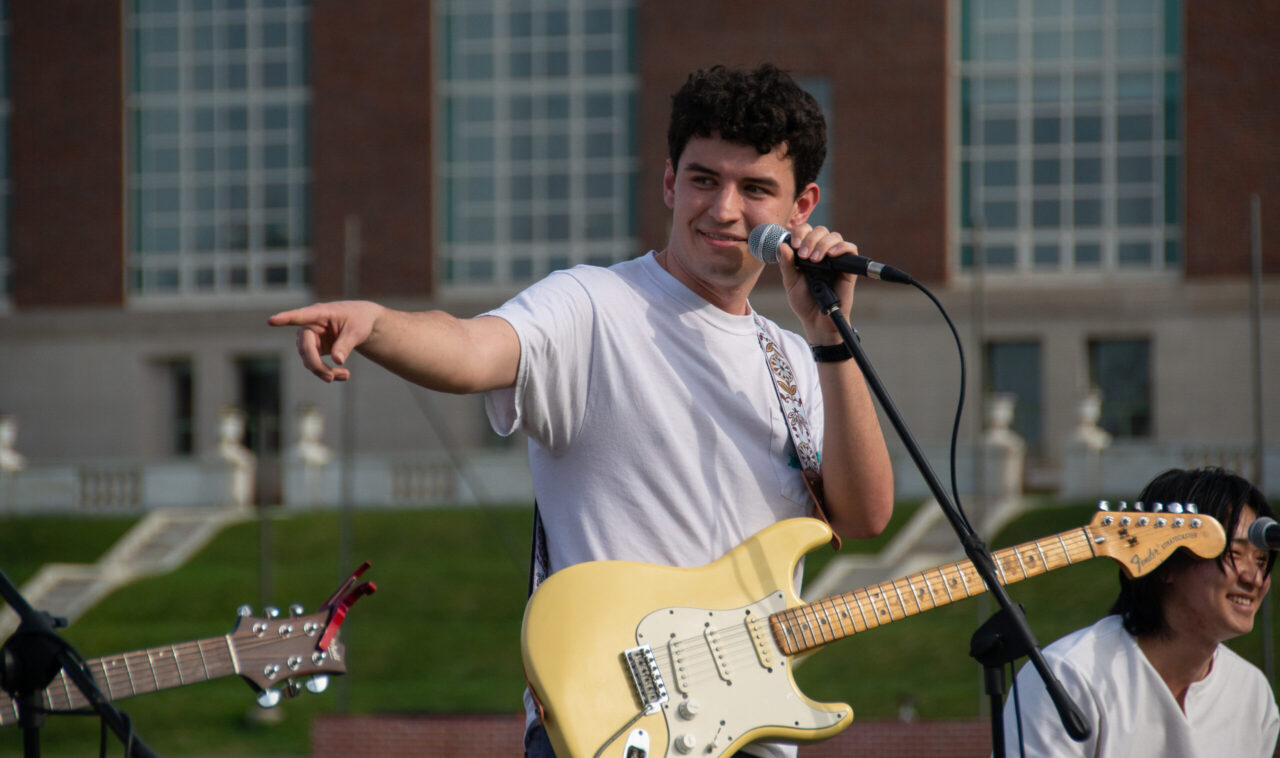 The ability to explore, open-mindedness, diversity of thought, the culture, the community, an emphasis on the arts—these were all reasons that prospective students gave for why they were considering enrolling at Wesleyan in the Fall.
"We try to create a culture where people can listen to each other; because by listening to each other, we discover things about ourselves and about the world that we wouldn't otherwise," President Michael S. Roth '78 said at WesFest 2023 on April 14.
For Elizabeth Littell, 18, of Portland, Maine, the community at Wesleyan is the main attraction, she said.
"Everyone is just so open minded and accepting of everyone's perspective, and is willing to forge a community, even if we have our differences," Littell said. "Also, with the culture here, it just seems like everyone has something really cool and interesting about them. I'd love to be in that environment."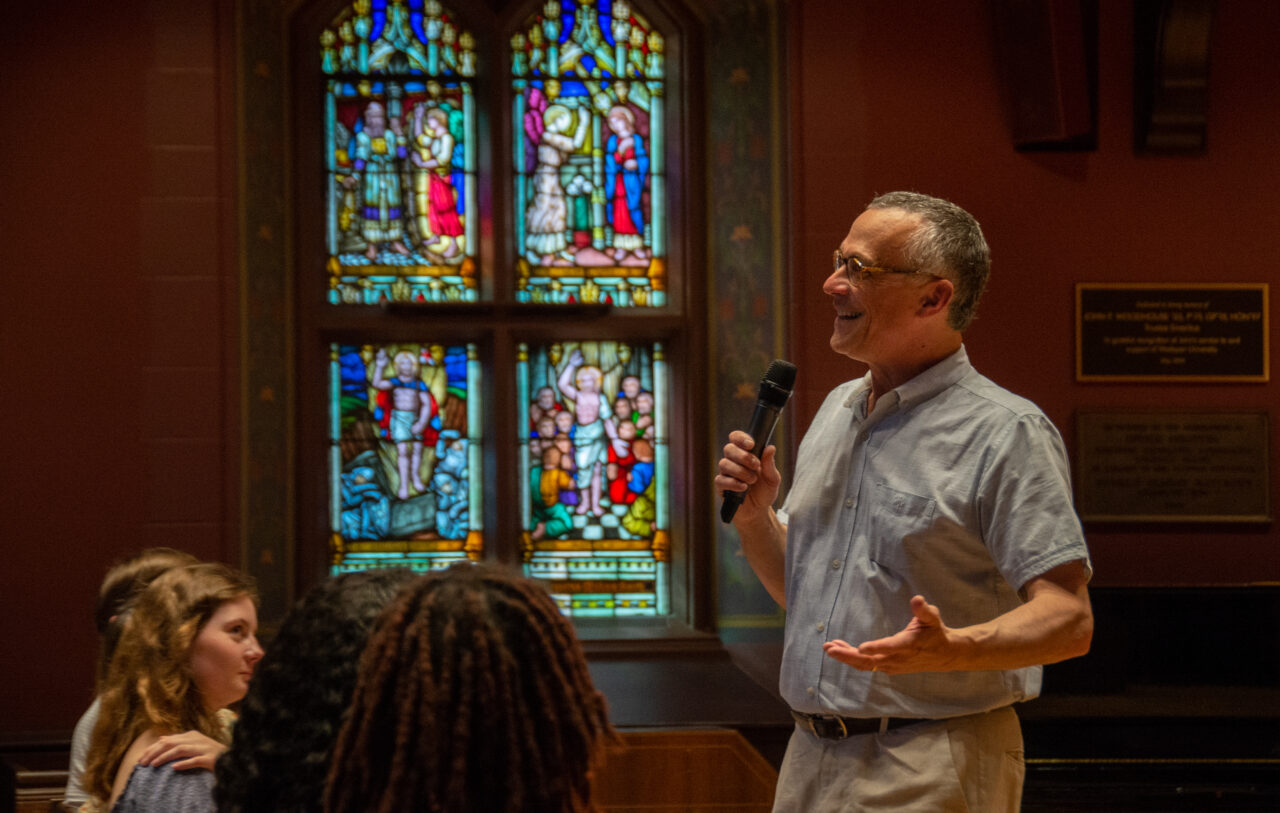 Littell has not yet committed to a school yet, but said, "I think if I choose to go here, I'd be happy." She is considering studying political science and is interested in social justice, she said.
She was one of hundreds of students, parents, and guardians who ventured to Middletown for the annual WesFest on April 14 and 17. After a welcome from Roth and Amin Abdul-Malik Gonzalez '96, Vice President and Dean of Admission and Financial Aid, attendees had several events to choose from on each day.
They attended talks, panel discussions, open houses, toured campus, sampled food from Usdan Marketplace and Café, met with future peers, and entertained potential extracurriculars at the student activities fair. While walking around the fence at Andrus Field and sitting inside the pews of Memorial Chapel, each prospective student got a taste of what the life at Wes would be like.
"I invite you to check biases or pre-conceived notions at the door, to explore, to experience, to expand your horizon," Gonzalez said. "To challenge yourself to find the best fit, not just for the next year, or even the next four years, but to challenge yourself to find the community that you want to belong to and be a member of for the rest of your life."
This class of students were accepted from the second-largest applicant pool in school history, with a 16 percent acceptance rate, Gonzalez said. Of the accepted students, 56 percent are students of color, more than half come from public schools, 18 percent are first generation students, 11 percent are international students, and four percent are the children of alumni. More than half of applicants opted against reporting their scores since Wesleyan is a test optional school, he said.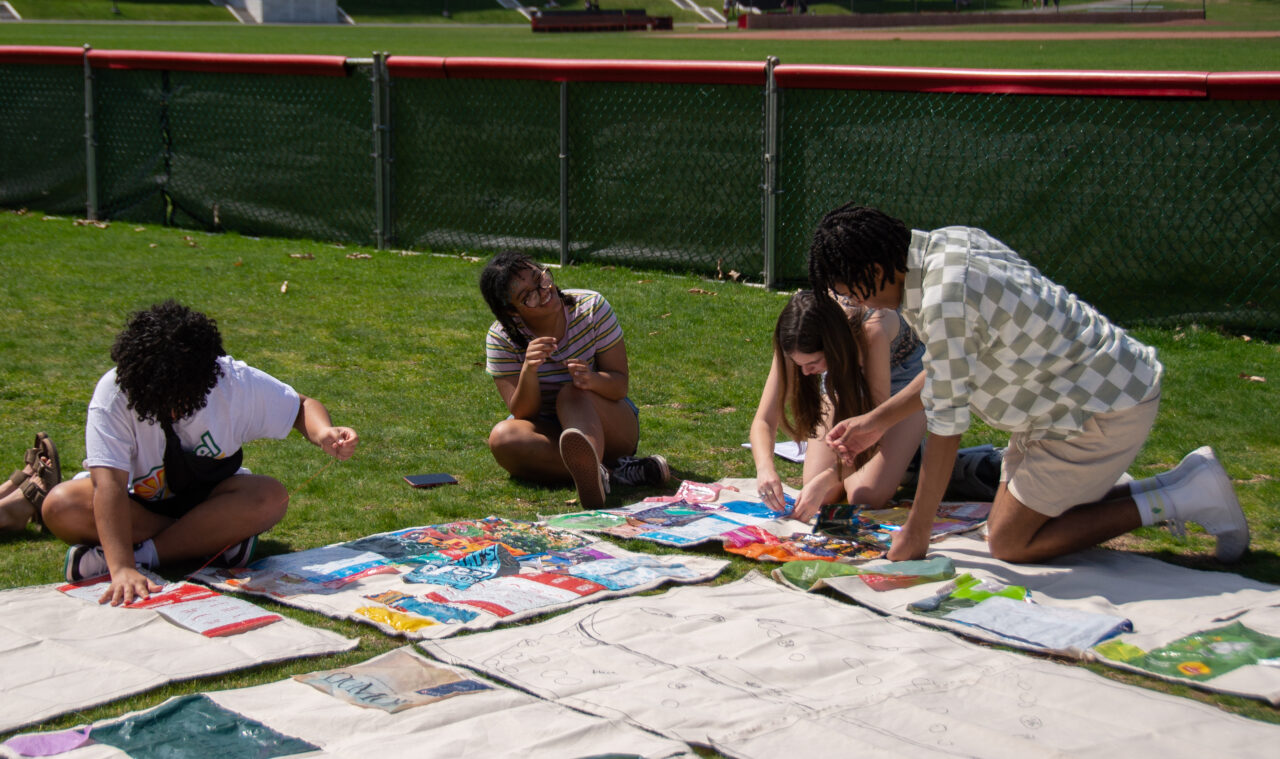 "Everyone's so unique and that's something that I wanted because I don't like being in echo chambers," Michael Scott, 18, from Baltimore, Maryland, said. "I want the ability to meet different people from different walks of life. Just looking around, you just see so many different people. I'm just so excited to meet as many of them as I can."
WesFest was the first opportunity for Scott to see Wesleyan's campus, despite being accepted as an early decision applicant. He called the experience vindicating since he was able to see students with a similar vibe to him.
Like many 18-year-olds going through the pre-college process, Scott said he did not know what exactly he wanted to study. Wesleyan's commitment to letting students explore different disciplines and study multiple topics was a deciding factor in his choice to apply early decision—a type of application that binds the student to enroll should they be accepted.
Caitlin Striff-Cave, 17, of West Hartford, Connecticut, particularly likes Wesleyan's emphasis on the arts and humanities, she said. She is considering Wesleyan and would like study English or history if she decided to attend.
"I saw on the [WesFest] agenda there were film screenings of Heathers, a post film conversation, and a lot of different arts groups, comedy groups and things like that on campus, which I find a lot of joy in," Striff-Cave said.
She also liked how everyone was friendly and willing to answer her questions, she said.
"Everyone's super independent and looks very unique," Striff-Cave said. "Like they're figuring out who they are."