Watson Fellow Jocelyn Velasquez Baez to Explore Ethical Understandings of Traditional Medicine in 6 Countries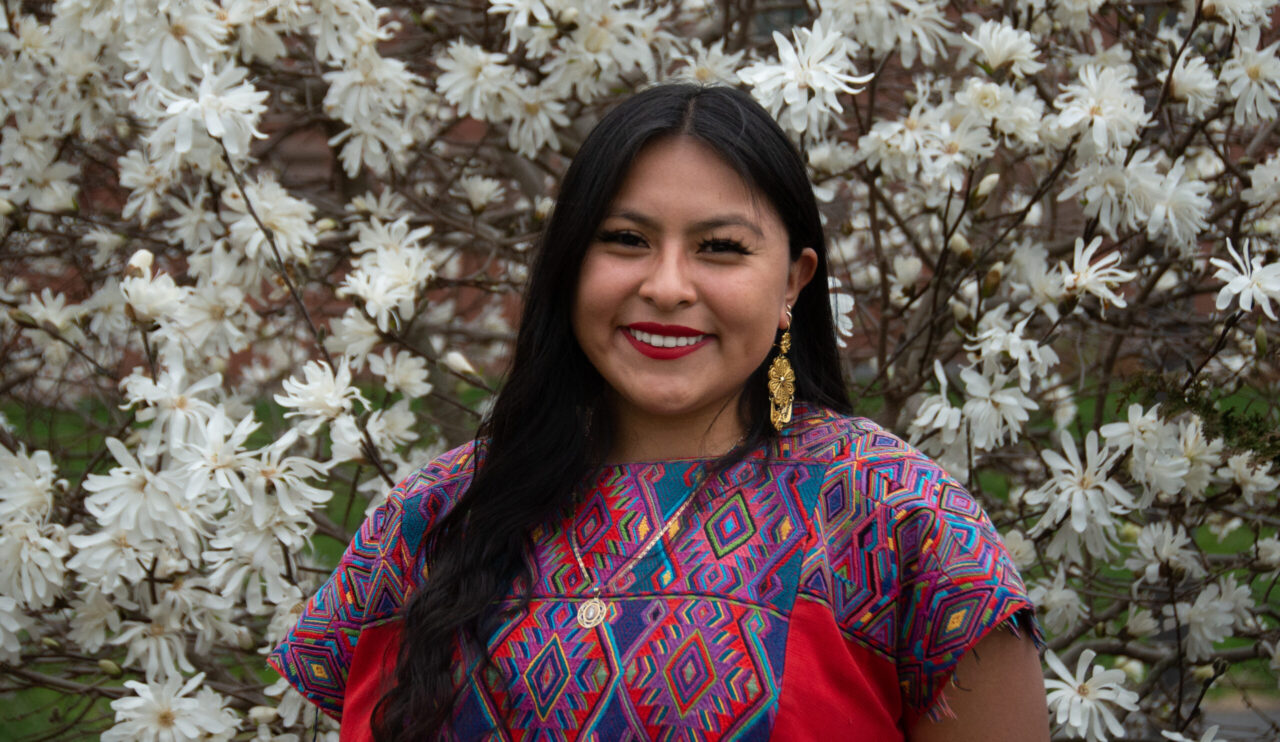 Thomas J. Watson Fellow Jocelyn Velasquez Baez '23 will travel to at least six countries in a year's time to explore how the integration, adaptation, and practice of traditional medicine is perceived in diverse Indigenous and ethnic communities around the world.
The Watson Fellowship, sponsored by the Watson Foundation, allows recent graduates from 41 partner institutions to do year-long independent exploration projects outside of the United States.
Velasquez Baez will travel to the Philippines, Ecuador, Nepal, Ghana, New Zealand, and Canada—with the hope of more—to visit and learn from various Indigenous and ethnic communities in each country over the course of 12 months. She is going to explore to this question: How can health systems be ethically and culturally grounded?
"I am truly honored and excited about the upcoming Watson year. It will be an opportunity for me to build strong relationships with Indigenous and ethnic community leaders, scholars, advocates, and others from around the world, who continue to resist dominant health systems," Velasquez Baez said. "I am confident that learning from their experiences and intergenerational knowledge will help me decolonize my approaches to science and medicine."
Velasquez Baez, who identifies as K'iche' Maya, has been surrounded by traditional medicine since she was young, helping her grandmother make "different mixtures of herbs, teas, and elixirs." At some points in her life, she questioned its validity in comparison to Western medicine. Over time and through hands-on experiences with Indigenous Maya peoples in Guatemala and an internship at the Johns Hopkins Center for American Indian Health, she found out why traditional medicine is crucial and protected by many communities.
At several points throughout history, traditional medical practices have either been co-opted or ignored by the West—like pharmaceutical companies, most from the United States, patenting genetic resources of plants that are associated with Māori knowledge. It has created a distrust between those inside and outside of some communities, she said. Velasquez Baez hopes to bridge that gap through relationship building and storytelling.
"In order for me to learn and pass on knowledge, I need to have strong relationships with people," Velasquez Baez, a Molecular Biology & Biochemistry and Science in Society double-major, said. "Learn from their experiences, their stories and see what like the primary issue is and how to come up with like a solution."
Erica Kowsz, Assistant Director for Fellowships at the Fries Center for Global Studies, notes that "Jocelyn is exceptional not only because of her passion for traditional and Indigenous medicine but also because she shows such a strong sense of how to pursue relationships responsibly."
Kowsz, who spent 10 years working with Indigenous groups in North America and northern Europe as a cultural anthropologist before beginning her career in fellowship advising, said it took years of relationship building to earn the trust of the communities she worked in. "These experiences often make me skeptical about a student's ability to succeed in collaborating meaningfully with Indigenous communities on the relatively short timescale of only a few weeks or months," Kowsz said, but she has faith in Jocelyn's ability to succeed with her Watson project because of her sensibility about how to be a guest in another community.
"I'm thrilled that Jocelyn will have the opportunity to put this approach into action during her Watson year, and I'm excited to see what she goes on to accomplish in her life and career in the long term," Kowsz said.
Velasquez Baez will be appearing in Fisk Hall Room 201 on April 24 at 4:30 p.m. for a Q&A session on applying for the Watson Fellowship. RSVP to this event here.