Student Speaker Levin '23 Will Miss People at Wesleyan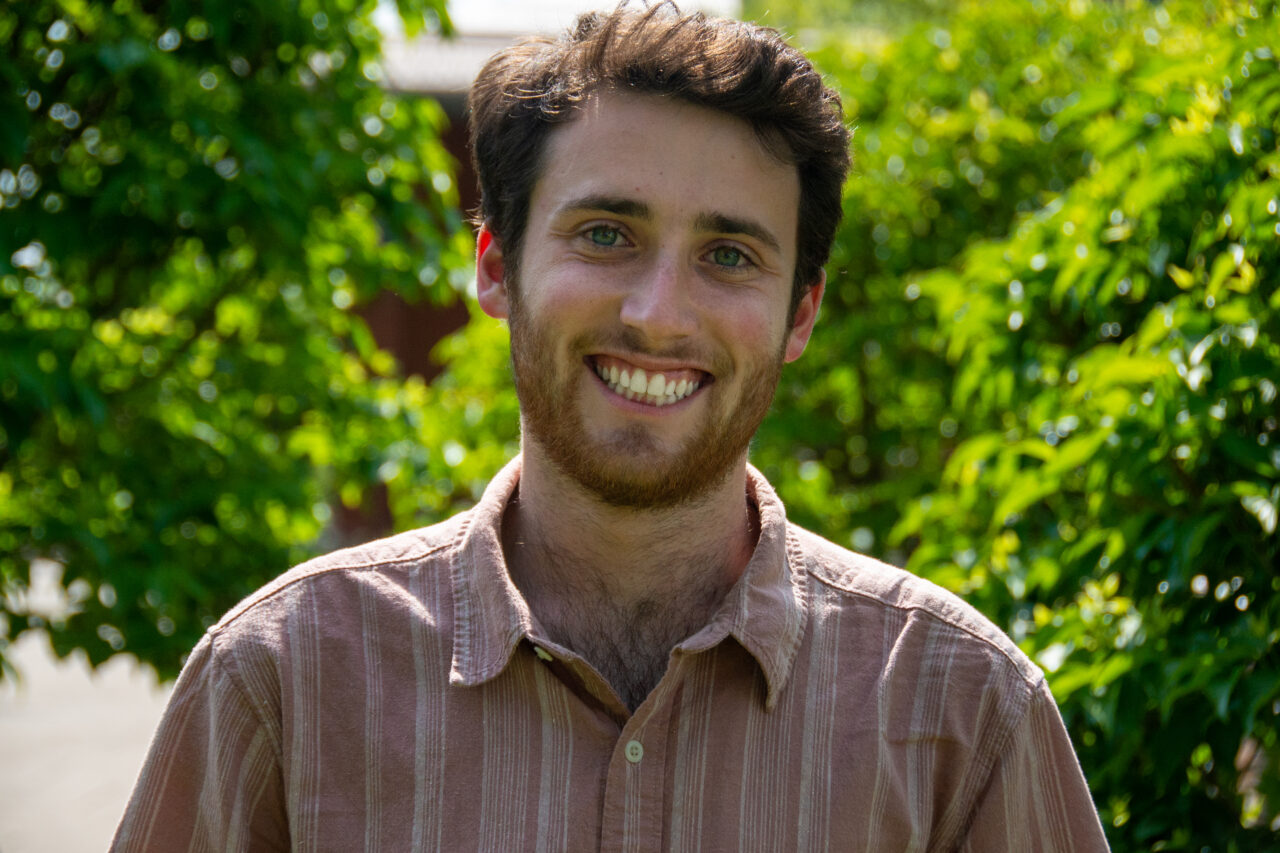 Before Ben Levin '23 was a Wesleyan student, he visited a friend on campus. They ventured into a classroom together to find a student working through a math problem on a chalkboard while blasting punk rock through his headphones. The student then took off his headphones and passionately explained what he was working on.
"It felt like I was in a movie scene," Levin, chosen to speak at Commencement on May 28, said. "I was excited because it was really the first time where I thought 'this is the kind of person I really want to surround myself with,' even though I didn't know the school yet. That was a pivotal moment."
More than four years later, the credits are almost ready to roll on Levin's time at Wesleyan. The whole time, he's been surrounded by the very kind of people that brought him to Middletown from his home in Nyack, New York. They are what he will miss most.
"No matter what, you'll always have a friend around," Levin, a Government and Education Studies double-major, said. "I'm really going to miss that."
Part of his Wesleyan journey was working for the Office of Admissions as a tour guide—introducing prospective students to the very experience and people that brought him here in the first place.
Levin made the most of his time here, he was highly involved. Mock trial. Club tennis. Admissions. Research. Teaching apprentice. Mazel Tones. The resume goes on. He had a hand in everything, everywhere, and all at once.
At Sunday's Commencement, Levin plans to talk about his fear that he wouldn't be taken seriously in college due to his smaller stature growing up, and how Wesleyan helped him personally, he said. For him, college represented a fresh start where he found home in a community of welcoming people. "I think Wesleyan has made me more confident in my own abilities," he said.
He is looking forward to the speech and the opportunity to reflect that it presents, he said. After growing in so many ways here, he said it offers the chance to give something back to the school and community.
"It's a really nice experience and an honor," Levin said of the speakership. "I wanted to do it because it's the kind of thing that I'll remember and it's marking a key moment in my own experience."
Levin is excited for what the future holds. He will travel to the Czech Republic in August to teach English on a Fulbright Scholarship. He does not yet speak Czech, but he's been learning through an online application.
In the long term, he hopes to work in law or public policy before possibly going back to teaching later in life. He has been doing research on a project centering on education clauses in state constitutions and possible ways to make public education more equitable under the supervision of Paul Tractenberg '60, professor of law Emeritus at Rutgers University, he said. "I feel like I have more to contribute than I've ever felt before," Levin said.