Student, Two Staff Members Receive 2023 Peter Morgenstern-Clarren '03 Awards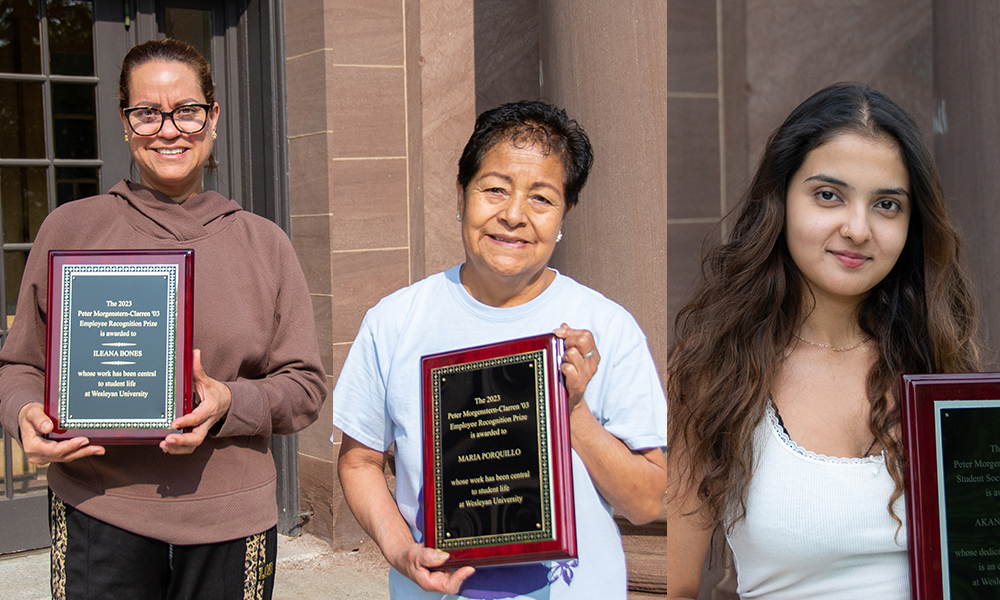 It started with Akansha Singh's '23 babysitter in India, Rashmi, who struggled to find a job after completing school. Rashmi married at 17 and had a child, a daughter she does not plan on educating because of the lack of job opportunities available, Singh said.
After working at a non-profit that educated women in rural areas of India for a year after high school, Singh, an Applied Data Science major, realized this experience was more pervasive than she initially thought. Around 67 percent of educated women in rural India are not employed, according to a 2015 United Nations report. Because of this, Singh later started with her mother Outspoken, a non-profit focused on helping educated Indian women find work.
"When I undertook this project, I realized that her story was not a one-off case confined to her life, but in fact resonated with the reality of many young girls who belonged to families where education is perceived as a redundant, avoidable 'luxury' rather than an indispensable necessity," Singh wrote.
Singh received the 2023 Peter Morgenstern-Clarren '03 Student Social Justice Award for her efforts to help educated Indian women find work. Custodial staff Maria Porquillo and Ileana Bones received Peter Morgenstern-Clarren '03 Employee Recognition Prizes for their work in helping to maintain Olin Memorial Library for over 20 years.
Dr. Hadley Morgenstern-Clarren and the Honorable Pat Morgenstern-Clarren sponsor the award in memory of their son, Peter, who pursued social justice when he was a student at Wesleyan. He helped to secure benefits for Wesleyan's custodial staff, participating in the United Student and Labor Action Committee, and contributing his leadership to the campus chapter of Amnesty International.
"Akansha [Singh] has identified and acted on such an important issue, both in India and other places across the world," Pat Morgenstern-Clarren said. "The nomination of Ileana and Maria, jointly, by the library staff is particularly joyful and really exemplifies what we had in mind when we created the separate prize for employees."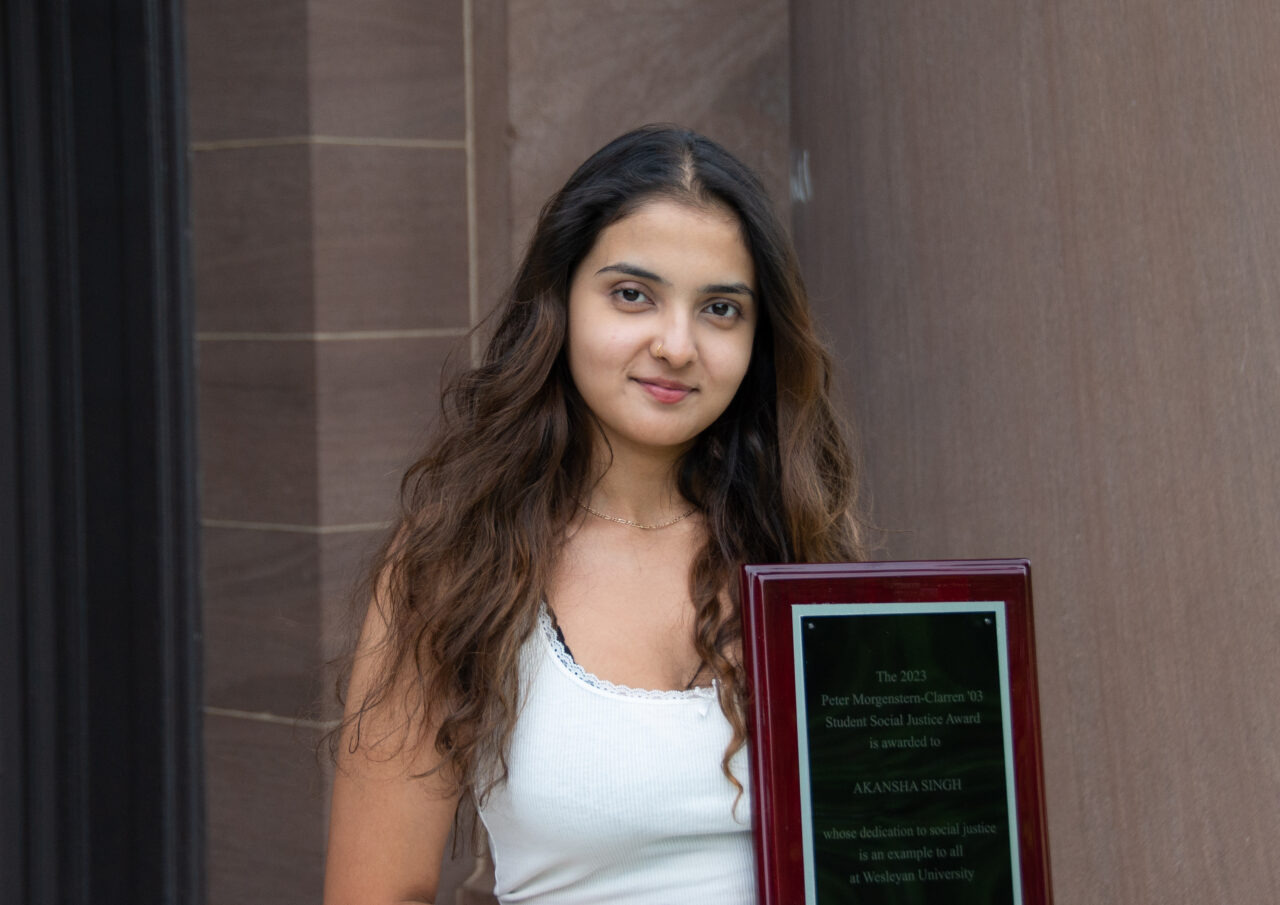 Singh's organization helps women in rural India prepare for the job search by assisting with application materials, digital and financial literacy, and English-language skills, she said. Among the many educational gaps between the all-boys and all-girls schools in India, English fluency is a major one, she said. All-boys schools tend to get more funding and more English-related instruction than all-girls schools. Most companies in India are looking for at least some English-speaking ability, which puts a great strain on the ability of educated women to obtain work, she said.
Singh said she believes her work can change the world. "Even one life changed is so monumental and it's such a knock-on process where if I change a life, they change a life," she said.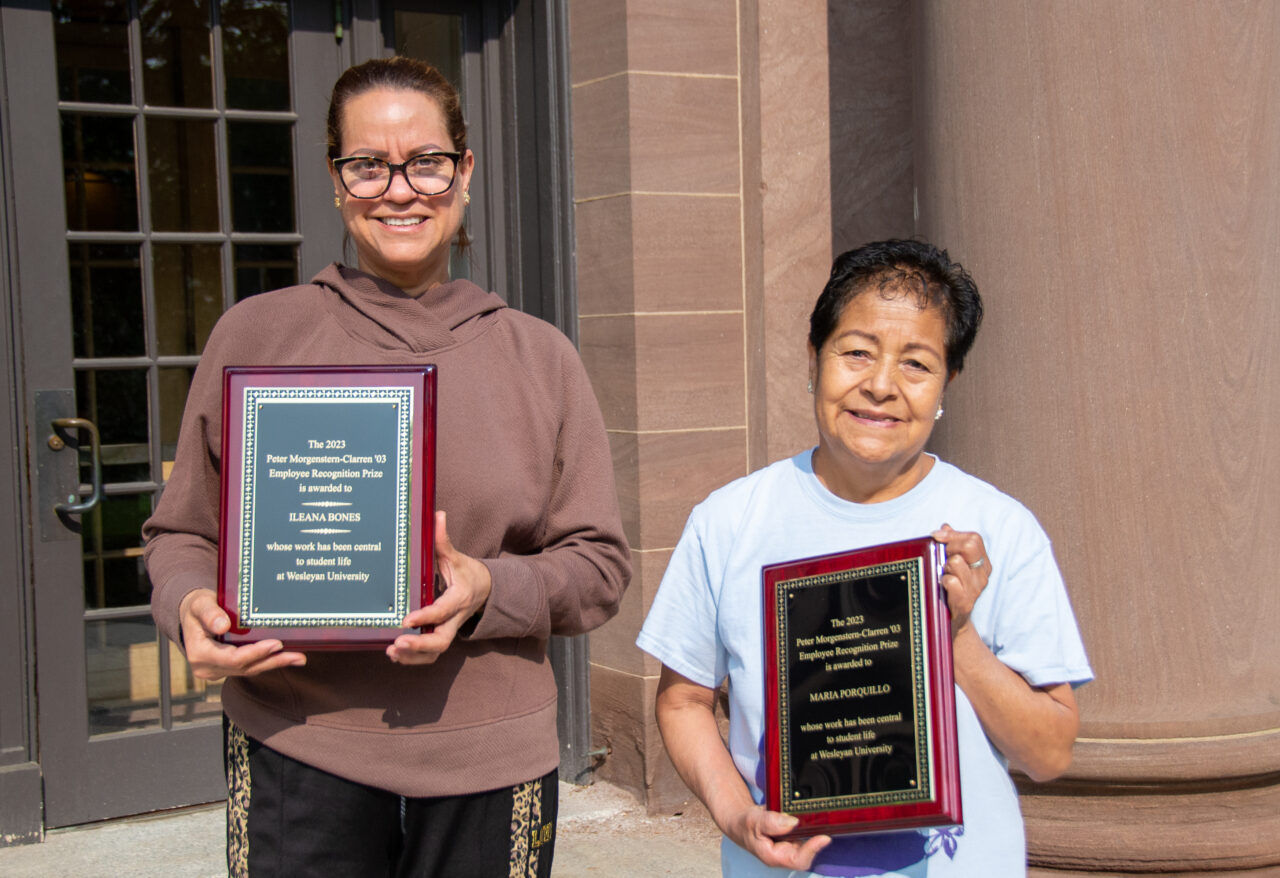 While much of Singh's impact has been abroad, Porquillo and Bones' have had a crucial impact right here on Wesleyan's campus. They have been indispensable fixtures in making Olin a comfortable place for students to succeed academically and socially over the last two decades, according to a letter from the entire library staff nominating them for the award.
"Ileana [Bones] and Maria [Porquillo] have been dedicated to taking outstanding care of Olin Library for over 20 years, supporting the work of hundreds of students, faculty, and staff," Olin staff wrote. "They have maintained the facilities and physical collections in this historic building in excellent condition (not an easy task), providing a healthy, welcoming, and supportive environment for all."
Porquillo and Bones said they were both surprised, but "we are very appreciative for the library staff and the University for the nomination," Bones said.
"We have been working for Wesleyan for almost 30 years, and it's part of our life," Bones said. "We are here every day."
They are responsible for keeping Olin clean and tidy—a job they do with a lot of love, Porquillo said. The library staff recognized their work and their flexibility in its nomination of the duo. They have also saved the library's collection from damage caused by small leaks or areas that need repair, and they took on the extra cleaning necessary during the COVID-19 pandemic.
"We are fortunate to have them here," Jennifer Hadley, Music Library Outreach and Collections Assistant and DEIJ Program Coordinator, said. "They take care of every detail so seamlessly and proactively that their efforts are often invisible to visitors, but we can see how much labor, attention, dedication, and pride they put into keeping this large and highly-used building in beautiful shape."