Wesleyan in the News: July 2023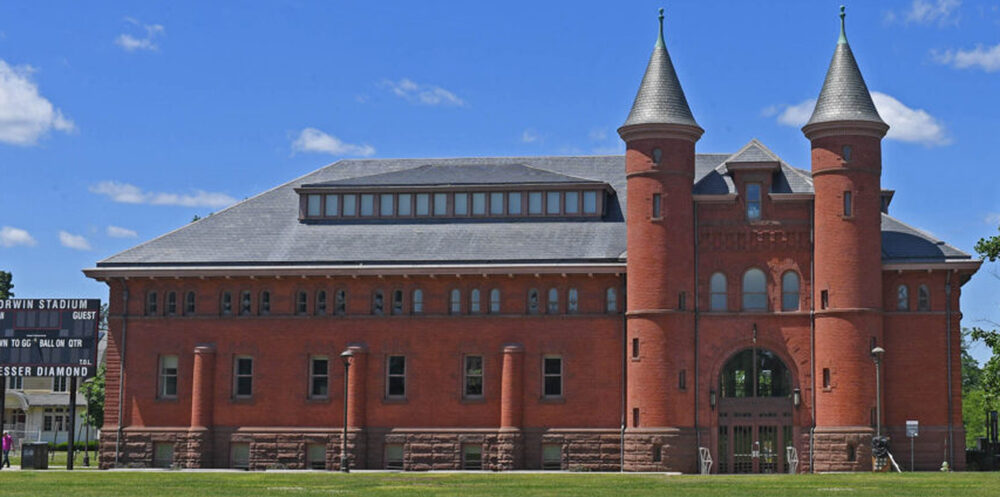 Wesleyan's esteemed faculty, staff, and alumni often appear within media coverage to provide their expertise and experience. This was the case in July as Wesleyan voices were included in the coverage of the Supreme Court of the United State's decision on Affirmative Action by several outlets.
Media Coverage on the Supreme Court's Decision on Affirmative Action
The Supreme Court of the United States voted to strike down 45 years of court precedent allowing for race-informed admissions—often referred to as affirmative action—on June 29 in the case of a 6 to 3 vote along ideological lines. Following the decision, Wesleyan President Michael S. Roth '78 and Amin Abdul-Malik Gonzalez '96, Vice President and Dean of Admission and Financial Aid, released a statement condemning the decision and made several media appearances to discuss its impact on the college admissions process.
Roth was interviewed for the Wall Street Journal's follow-up coverage of the decision on June 30. He said he was "very sorry to see affirmative action, as we've known it, end," but was relieved to see the line in Justice John Roberts' majority opinion allowing for the consideration of an applicant's lived experience.
"I'm relieved that the court is not trying to micromanage admissions to the extent that it disallows us from getting information about an individual student's life experience," Roth told the Wall Street Journal.
He was one of several university presidents featured in a Boston Globe piece on the next steps universities are going to take. Roth said well-resourced schools seeking diverse candidates must advertise generous institutional financial aid policies for low-income students, since many students can be deterred from applying to private colleges due to tuition costs before knowing what financial aid packages are available.
"Getting the word out to students where they are is going to be even more important, given the court's ruling," Roth told the Globe. "We just have to work really hard to not fall into a homogeneous campus or a homogeneous applicant pool."
Roth told CTPublic that he believes Wesleyan will still "be able to create a diverse campus environment" despite the ruling. He added that the "court's insistence that race neutrality or color blindness is the only way to do that seems misguided."
He also made an appearance on MSNBC's Morning Joe on June 30 to discuss the decision. He again criticized the idea of a color blind policy, saying it is out of touch with the realities of the country considering that many people of color in the United States deal with prejudice, discrimination, and obstacles from a young age.
"I see this as a government intrusion into colleges' and universities' admissions policies, to defend a notion of color blindness that is really at odds with reality in the United States," Roth said.
He also said he thinks the larger issue is how public universities, who are flooded with applications each year, will be able to achieve the diversity they hope to without the ability to spend as much time on each applicant. Wesleyan will continue to put each applicant's background and experience in context with the rest of their application.
"I think the real issue here is that higher education and K-12 education in the United States is still built on racial discrimination and the court is pretending that's not the case," Roth said. "The real issue here isn't who gets into Harvard or who gets into Wesleyan—that's a tiny, tiny percentage of the students who are looking for colleges and universities. The real issue is how do we build a more equitable education system in the United States? This decision won't help us in that regard."
In another rebuke of the Court's decision, Roth penned an op-ed for Salon to provide context for how education has been tied to freedom throughout U.S. History. Roth pointed out that Black people enslaved in America were often kept from becoming literate because slaveholders viewed literacy as a path to freedom by enslaved people. Now more than a century-and-a-half later, Roth said there are "more subtle means of denying members of historically marginalized groups the opportunity to be students."
"Privileges of access abound for the wealthy; now, in the name of a phony meritocracy, these opportunities are shrinking for Black and brown Americans," Roth wrote. "I trust that we in Higher-Ed will keep in mind the historic link between education and freedom and will find ways to broaden access to our institutions so that they will do more than replicate contemporary social hierarchies."
Roth and Gonzalez's statement was also included in affirmative action related publications by the Chronicle of Higher Education, Inside Higher Ed, Connecticut Post, Hartford Courant, NBC Connecticut, and CT Mirror.
Also in the News
Former Connecticut Governor and U.S. Senator Lowell Weicker Hon. '94, passed away on June 28. Weicker, who co-authored the Americans with Disabilities Act and was a key figure in the Watergate hearings that led to Former President Richard Nixon's resignation from office, spoke at Wesleyan's Commencement ceremony in 1994. Weicker was Connecticut's last Republican Senator, serving three terms in Washington from 1973 to 1989, and was the state's governor from 1991 to 1995.
Director and Producer Mike White '92 was nominated for two Emmy awards for his hit show The White Lotus. He was nominated for "Best Writing for a Drama Series" and "Best Directing for a Drama Series." The show, its actors, and its creators received 23 nominations in total, including "Best Drama Series," five nominations for "Best Supporting Actress in a Drama Series" and four nominations for "Best Supporting Actor in a Drama Series."
Director of the Shapiro Center for Writing and Criticism Merve Emre wrote a piece for The New Yorker on the contemporary classroom. She explored how the ways transference—a person transferring their feelings toward person onto another—can impact a classroom.
Professor of African American Studies and Sociology Courtney Patterson-Faye appeared on theGrio with Marc Lamont Hill to discuss the inequitable origins of the Body Mass Index (BMI), a weight measure long used by doctors based on a thin white man's body. Patterson-Faye advocated for the medical field to take a broader look at patients in order to properly treat them, rather than focusing on a patient's weight as a leading cause of medical problems.
Professor of History and Environmental Studies William Pinch spoke to BBC for a story on Anupgiri Gosain, an ascetic or holy man in 18th-century India. Pinch published Warrior Ascetics and Indian Empires in 2006, a history of warrior asceticism in India from the 1500s to the present.
Joyce Jacobsen, Andrews Professor of Economics, Emerita, gave advice to Wallethub for a story on how people should act in anticipation of an economic recession. Jacobsen assuaged concerns of a full-on recession due to the current unemployment rates, saying "a continued cooling of the national labor market compared to the 2020-22 period appears likely, but a full-on recession in 2023 still seems unlikely, given the continuing strength of the national labor market."
Choreographer and Research Fellow of the College of the Environment Alison Orr's new book "Dance Works: Stories of Creative Collaboration" was featured in the Austin Chronicle. Orr spoke about dance's connection with activism and how important it is to have artists at the table of important conversations surrounding global issues, like climate change and transportation.
Leander Dolphin '99, managing partner at Shipman & Goodwin LLP, was named to Corporate Counsel Business Journal's inaugural list of "50 Women to Watch." Dolphin is the first African American woman to be managing partner in the firm's history and has served as the sole managing partner since 2022.