Jewett Center Hosts Workshops for First Community Campus Day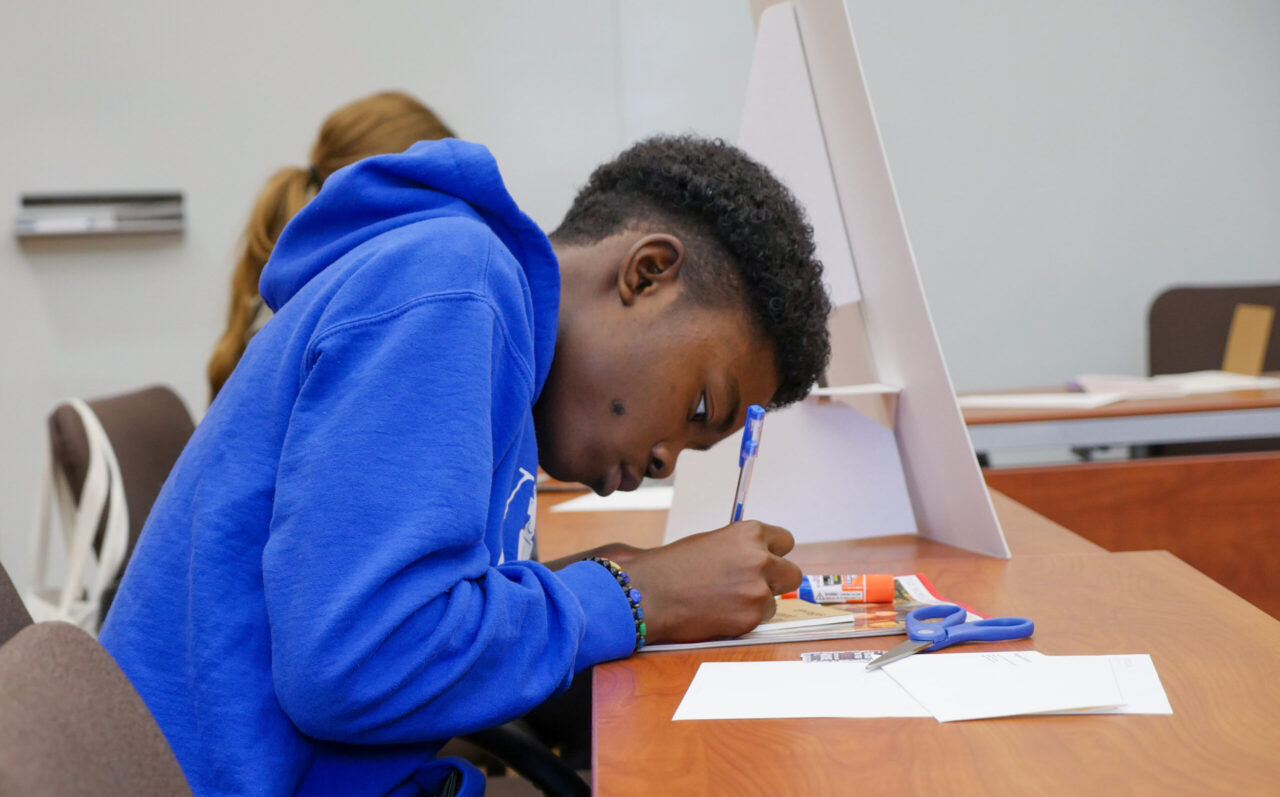 By Rose Chen '26
Wesleyan hosted its first Community Campus Day on Saturday, Oct. 7, an event which invited students grades 7 to 12 to campus for hands-on art workshops in honor of National Arts & Humanities Month. 
The Jewett Center for Community Participation (JCCP) collaborated with the Dance Department, Olin Memorial Library, Art Farm, Oddfellows Playhouse, and WESU 88.1 FM to offer a range of workshops to students from 14 schools, including those who are homeschooled.
Community Campus Day was organized and led by Briana Bellinger-Dawson, the JCCP's Coordinator of Community Participation, who focuses on youth and education facing programs. Bellinger-Dawson previously taught theater and dance at public schools in New Haven, and has previous experience in working at and developing performing arts programs across Connecticut.
"Not every school gets interdisciplinary arts, and not a lot of schools get theater or dance or even music," Bellinger-Dawson said. "I was wondering… what else can we do to bring students to campus, get them engaged and start thinking about college? Wesleyan has this vast vault of interdisciplinary arts and community partners that we work with, like Oddfellows and Art Farm. So, I was trying to figure out ways of bringing all of that together, so that we bring more students and introduce them to things."
Workshops ranged from introductions to hip-hop dance and physical comedy to vision-boarding and book-making. Enfield Poet Laureate Nzima Hutchings taught a session on ekphrastic poetry art fusion, focusing on the use of colors within both writing and painting to communicate different emotions and meaning.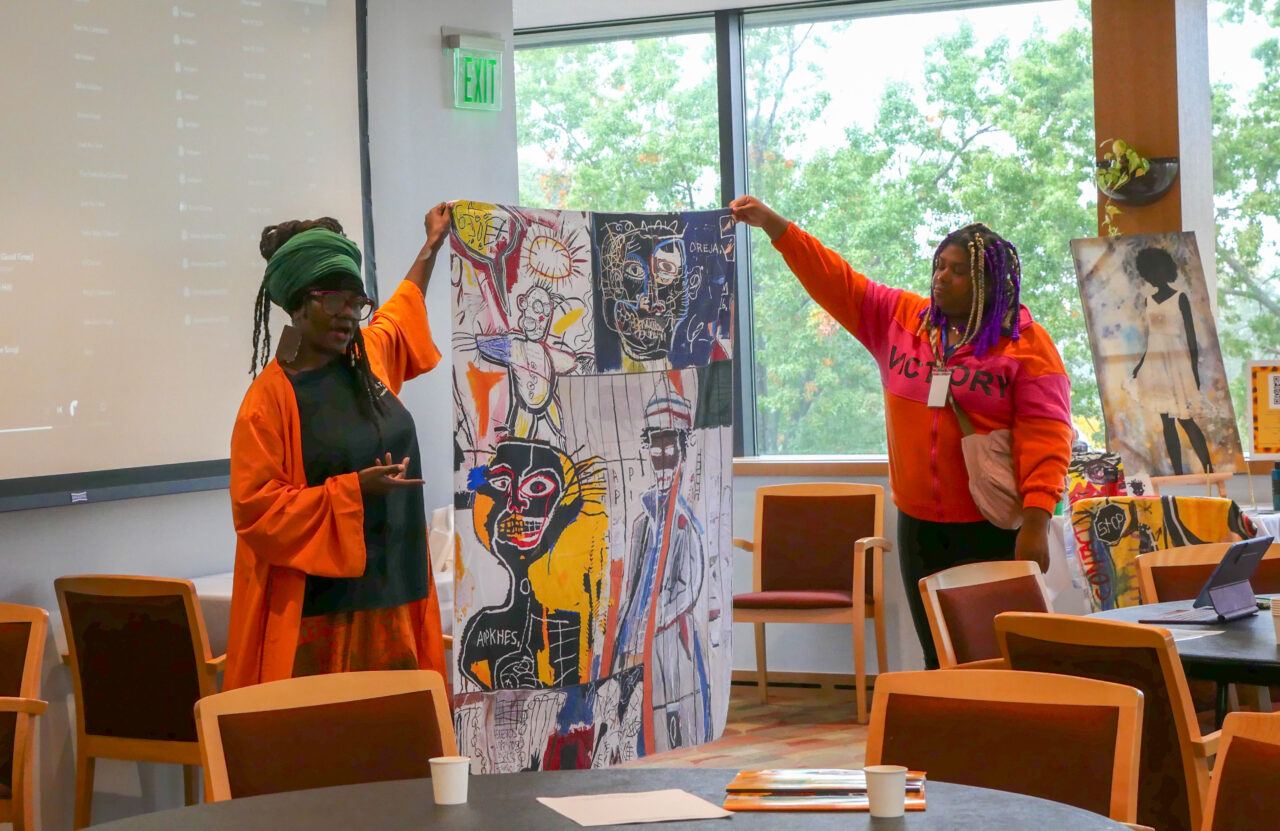 "I love working with junior high and high school ages," Hutchings said. "I find them so passionate, so vulnerable, sometimes stubborn, because they're not sure they want to jump in. But these kids today, they showed their vulnerability, their creativity, they understood what I explained to them in a short period of time, they was able to take what I offered and excel and make masterpieces."
Jayvon, a student who attended Hutching's poetry workshop and 88.1 FM WESU's introduction to community radio, expressed his appreciation for the time and space to explore and learn more about different types of art, which he enjoys as a hobby.
"My favorite part was actually painting, doing art and writing poems," Jayvon said. "I like to express myself that way… and I learned one of the oldest radio shows is right over in our backyard, and I never knew that. I learned a little bit of how they do stuff within different areas."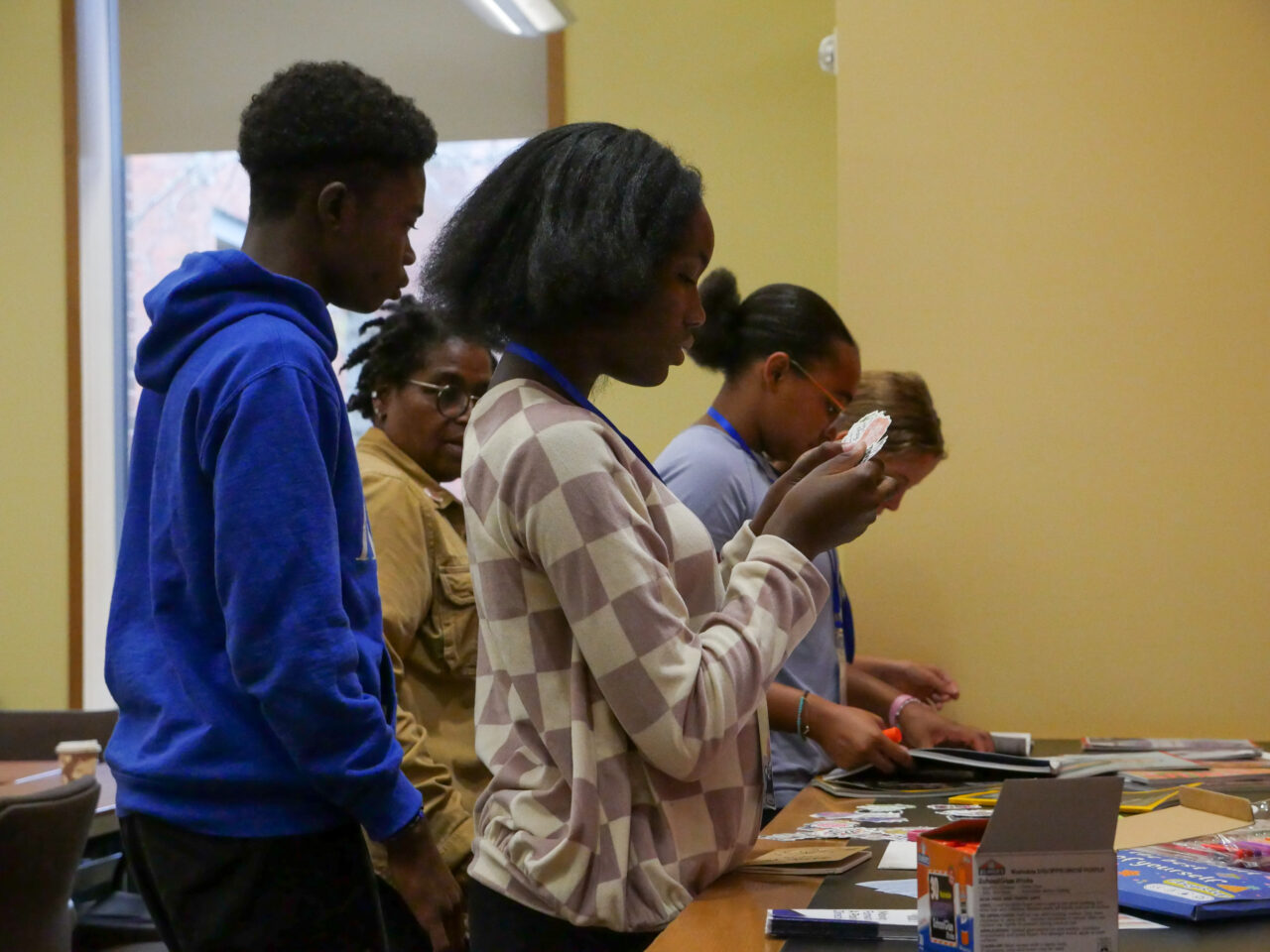 Gyasi David made books with Jennifer Miglus and Amanda Nelson at Special Collections in Olin Library and had fun with theater activities led by Marcella Trowbridge, Art Farm's Artistic Director. 
"It was extremely helpful," David said of Community Campus Day. "If they have another one of these, I'll be back."
Dic Wheeler of Middletown's Oddfellows Playhouse Youth Theater also expressed interest in Wesleyan's continued engagement with surrounding school districts and communities, particularly with arts and theater.
"The students were super enthusiastic," Wheeler said. "I asked them to do lots of crazy stuff, and they went for it… took risks and kind of went out of their comfort zone. It was really sweet to see them take on physical comedy with such good nature and sense of fun… I would have loved to see more kids be able to benefit because there were lots of good classes."